» Site Map

» Home Page

Historical Info

» Find Friends – Search Old Service and Genealogy Records

» History

» QAIMNS for India

» QAIMNS First World War

» WW1 Soldiers Medical Records

» War Graves Nurses




» Book of Remembrance

» Example of Mentioned in Despatches Letter

» Love Stories

» World War 1 Letters

» QA World War Two

» Africa Second World War

» War Diaries of Sisters

» D Day Normandy Landings

» Belsen Concentration Camp

» Voluntary Aid Detachment

» National Service

» Korean War

» Gulf War

» Op Telic

» Royal Red Cross Decoration

» Colonels In Chief

» Director Army Nursing Services (DANS)

» Colonel Commandant

» Matrons In Chief (QAIMNS)

Follow us on Twitter:




» Grey and Scarlet Corps March

» Motto

» QA Memorial National Arboretum

» Memorial Window

» Army Medical Services Monument

» Recruitment Posters

» Museum

» QA Association

» Standard

» QA and AMS Prayer and Hymn

» Books


Former Army Hospitals

UK

» Army Chest Unit

» Cowglen Glasgow

» CMH Aldershot

» Colchester

» Craiglockhart

» DKMH Catterick

» Duke of Connaught Unit Northern Ireland

» Endell Street

» Ghosts

» Hospital Ghosts

» Haslar

» King George Military Hospital Stamford Street London

» QA Centre

» QAMH Millbank

» QEMH Woolwich

» Musgrave Park Belfast

» Netley

» Royal Chelsea Hospital

» Royal Herbert

» Royal Brighton Pavilion Indian Hospital

» Tidworth

» Wheatley


France

» Ambulance Trains

» Hospital Barges

» Hospital Ships


Germany

» Berlin

» Hamburg

» Hannover

» Hostert

» Iserlohn

» Munster

» Rinteln

» Wuppertal


Cyprus

» TPMH RAF Akrotiri

» Dhekelia

» Nicosia


Egypt

» Alexandria


China

» Shanghai


Hong Kong

» Bowen Road

» Mount Kellett

» Wylie Road Kings Park


Malaya

» Kamunting

» Kinrara

» Kluang

» Singapore


Overseas Old British Military Hospitals

» Belize

» Falklands

» Gibraltar

» BMH Malta

» Nairobi

» Nepal


Middle East

» Benghazi

» Tripoli


BMH Dhekelia

Information and history about the BMH Dhekelia in Cyprus


BMH Dhekelia was one of several army hospitals in Cyprus. It remains open within the Dhekelai Garrison but in a much smaller capacity and is run as a maternity unit and MRS for British Forces Cyprus personnel and their families.

It was opened on 22 September 1958.

The picture below is of BMH Dhekelia taken in 1958 (with thanks to QA Corporal Judith Lofthouse).






The Army Medical Services Magazine cites that the BMH Dhekelia foundation stone was laid on 26th May 1955 by His Excellency, Sir R P Armitage, Governor and Commander-in-Chief, Cyprus. After delays due to strikes, curfews and EOKA bombs the hospital opened its doors to its first patient on 22nd September, 1958. It was formally opened on 4th November 1958 by Lady Bower, wife of Sir Roger H Bower, C.-in.C., Middle East Land Forces.

There was an opening ceremony for BMH Dhekelia and a QA with an RAMC Sergeant held the tape that was ceremonially cut.

The photo below is of the opening day ceremony at BMH Dhekelia in 1958. From left to right are Colonel Johnson, Cpl Judith Lofthouse QARANC, Lady Bower, Matron and Sgt. McEwan RAMC.






The next photograph shows Lady Bower cutting the tape.








The book Sub Cruce Candida: A Celebration of One Hundred Years of Army Nursing
has photos of QAs working in the wards of BMH Dhekelia, Cyprus.



Cyprus has always been seen as an exciting posting for the QAs and in the late 1960s and 1970s the Island was used in a recruitment campaign. A copy of the QA recruiting poster and leaflet can be seen below:




Qaranc.co.uk were delighted to hear from Sue Simmons, the nurse in the recruitment leaflet entitled The challenge of Cyprus. Sue recalls working on the childrens ward which included nursing Cypriot children with Thalassemia. Sue kindly shared her memories:

I believe the photo was taken in 1971 or 1972. I am now retired and live in France. I don't know why I was chosen to be in the photo for the QA recruitment leaflet of BMH Dhekelia, more than likely I just happened to be on the ward.

At that time in the early seventies we nursed Greek and Turkish Cypriot children with Thalassemia, and every week on a given day, up to ten children would be infused with blood. I was rostered to look after the children in a separate area of the ward, it was a bit like a circus act at times, the one where plates are kept spinning on bamboo poles. No sooner had observations been taken it was time to start again, blood transfusions were regulated manually and it was a constant battle to keep everything on track. Having said that I thoroughly enjoyed my time on the ward, I got to know the children and their families very well, and I think all the hard work was a precursor for my chosen career in A&E. Sue Simmons



More of these images can be seen on the Army Recruitment Posters page.


Sadly none of the QARANC.co.uk team had a posting to BMH Dhekelia and would love to expand this page with more details about this former army hospital and include a photograph. If you are a former or serving member of the Queen Alexandra's Royal Army Nursing Corps we would love your help.

If you would like to contribute any info, photographs or share your memories of BMH Dhekelia then please contact me.




Forces War Records

Forces War Records are a genealogy site where you can find military records of over 6 million British Armed Forces personnel cross matched with over 4000 Regiments, Bases and Ships. This link includes a free search and a special discount of 40% off membership offer for visitors who use the discount code AF40 if they decide to become a member.
Search Now. A unique feature is their WW1 Soldiers Medical Records section.


If you like this page and would like to easily share it with your friends and family please use the social networking buttons below:





The two photographs of BMH Dhekelia below were taken in 1959 by Ron Bale whose memories of his time in Cyprus can be read on the BMH Nicosia page.






***********************************************


A reader has kindly provided some photos of her Aunt who was a cleaner at BMH Dhekelia. She is compiling an exhibition for the nearby village of Xylotymbou and would like to know the date the building was demolished. She would also like to hear from any Cypriot's who worked alongside the staff at BMH?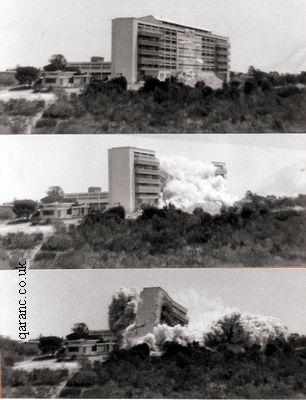 Her Aunt is the third in the black and white photo and her name is Panayiota Panayi (Michael). Her niece would love to hear from anyone who remembers any of the people in the photo or has any photos of the nearby village of Xylotymbou which they can share with her or any other photos where her aunt is included. Please contact the QARANC.co.uk team and we will pass them on. Thank you.





The QA Midwife in the photo above, holding the baby is Sheila Evans.






***********************************************


The following pictures are from the collection of Helen Wemyss. She served in BMH Dhekelia from 1973 to 1975 and was there during the Turkish Invasion in 1974. She says:

I was lucky enough to gain a further posting in 1976 and stayed until 1978. During this time I met and married my first husband so there then became two Cpl Jordans' stationed there. I also watched sadly as BMH Dhekelia was transformed into MRS Dhekelia (Medical Reception Station). I have some wonderful memories of my two postings there.







***********************************************



In 1959 and 1960 I gave birth to my son and daughter in BMH Dhekelia. My then husband was serving in REME and we were based in Famagusta. We later moved to SBA Dhekelia. During 1961 or maybe 1962 we suffered a minor earthquake lasting no more than 2 mins. It was a frightening two minutes but luckily there did not appear to be any damage to the married quarters. The next morning we learned and saw that a huge crack had appeared in the BMH. Apparently it followed the line of the lift shaft. Photographs were taken but sadly I do not have these. I was so pleased to read about BMH Dhekelia and can now pass on to my children all the photos and information contained in your article. Many thanks for the memories. Ellen Bignell.


***********************************************


I was serving in Cyprus in 1976 and was taken ill, and rushed to BMH Dhekelia where Colonel Parker performed a series of operations and I was classified as VSI and my relatives flown out to be at my bedside because I was not expected to survive. But I believe that thanks to the QARANC nurses I did survive.

I never got to thank them, in particular a staff Nurse and 2 members of her team who would get me out of bed when I did not want to get out, or put me back when I wanted to stay out.

It seemed to me rather harsh, but thinking back it had the desired effect of getting the adrenalin pumping, and stopped me from giving up. They and their colleagues in both BMH Dhekelia and back in Aldershot (Cambridge Military Hospital) are what I can only describe as amazing.
Alan Cooper (Driver RCT)


***********************************************


Vivienne Pearce is seeking information about her father who has recently died suddenly. He was either a Staff Sergeant or a WOII called Fred Pearce. He was the clerk of works responsible for the Dhekelia Military hospital construction. She would like to know any information about the construction of the Dhekelia hospital at that time or if any of his colleagues would like to share any memories or photos of his service life. Please contact the QARANC.co.uk team and we will pass them onto his daughter. Thank you.



British Military Cemetery Dhekelia

A reader is seeking the help of any nurses, servicemen or parents who were at BMH Dhekelia during the 1960s to help with information about the rows of babies headstones at the British Military Cemetery in Dhekelia. The graveyard is the resting place of servicemen who lost their lives during the troubles in the 1950s, in Cyprus, Suez and other regional conflicts, but also of over 56 babies' graves in one small section of the cemetery. They are aged between one day and one month and died in 1963, 1964 and 1965 some on the same date.

Thoughts have previously include that it could have been an outbreak of cholera, meningitis or typhoid that caused this high infant mortality rate. Others think the high infant mortality rate may have been caused by the high rate of young married couples serving in the area at the time, over 40,000 British forces personnel and their families were based on the island, with camps in Famagusta, Dhekelia, Troodos, Akrotiri and Agios Nikolaos and Dhekelia was the only cemetery and bodies would not have been repatriated in those days.

The book Who was Sapper Brown? Remembering British Military Burials in Cyprus, by Colonel David Vassallo examines this issue and the results of an analysis by Professor Stephen Evans of the London School of Hygiene and Tropical Medicine. It is available (from April 2014) from the HIVE, RAF Akrotiri for 20 euros and in the UK at the Army Medical Services Museum and the Royal Engineers Museum, for £14 with all profits going towards the upkeep of the cemeteries where our servicemen and women are buried.


Also buried in the cemetery are two QAs who died in 1965, Private M. Latour (aged 21) and Lance Corporal A. O'Driscoll (aged 22 years). Photos of their graves and more information can be read on our book review page of Who was Sapper Brown? Remembering British Military Burials in Cyprus.







If you would like to contribute to this page, suggest changes or inclusions to this website or would like to send me a photograph then please e-mail me.



Official QARANC webpage.

QA Association website.

In The Company of Nurses Book.


***********************************************





Read our posts on:

Facebook

Google+

Twitter


Present Day

» Become An Army Nurse

» Junior Ranks

» Officer Ranks

» Abbreviations

» Nicknames

» Service Numbers

Ministry of Defence Hospital Units

» MDHU Derriford

» MDHU Frimley Park

» MDHU Northallerton

» MDHU Peterborough

» MDHU Portsmouth

» RCDM Birmingham



Field Hospitals

» Camp Bastion Field Hospital and Medical Treatment Facility MTF Helmand Territory Southern Afghanistan






Territorial Army

» TA Field Hospitals and Field Ambulances


Photos

» Florence Nightingale Plaque

» Photographs


Uniform

» Why QA's Wear Grey

» Beret

» Lapel Pin Badge


» Cap Badge

» Corps Belt

» ID Bracelet

» Silver War Badge WWI

» Officer's Cloak

» QAIMNSR Tippet

» Officer Medal


Events

» Armed Forces Day

» Recreated WWI Ward

» Reunions

» Corps Day

» Freedom of Rushmoor

» Re-enactment Groups

» Military Events

» Remembrance

» AMS Carol Service

» QARANC Association Pilgrimage to Singapore and Malaysia 2009

» Doctors and Nurses at War

» War and Medicine Exhibition

» QA Uniform Exhibition Nothe Fort Weymouth


Famous QA's

» Dame Margot Turner

» Dame Maud McCarthy

» Military Medal Awards To QAs

» Moment of Truth TV Documentary

» Sean Beech


Nursing Events

International Nurses Day


Info

» Search

» Site Map

» Contact

» Websites



We are seeking help with some answers to questions sent by readers. These can be found on the Army Nursing page.



» Find QA's

» Jokes

» Merchandise

» Teddy Bears

» Pin Badges

» Wall Plaques

» Fridge Magnet



» The Abandoned Soldier