» Site Map

» Home Page

Historical Info

» Find Friends – Search Old Service and Genealogy Records

» History

» QAIMNS for India

» QAIMNS First World War

» Territorial Force Nursing Service TFNS

» WW1 Soldiers Medical Records

» Field Ambulance No.4

» War Graves Nurses




» Book of Remembrance

» Example of Mentioned in Despatches Letter

» Love Stories

» World War 1 Letters

» QA World War Two

» Africa Second World War

» War Diaries of Sisters

» D Day Normandy Landings

» Belsen Concentration Camp

» Voluntary Aid Detachment

» National Service

» Korean War

» Gulf War

» Op Telic

» Royal Red Cross Decoration

» Colonels In Chief

» Director Army Nursing Services (DANS)

» Colonel Commandant

» Matrons In Chief (QAIMNS)

Follow us on Twitter:




» Grey and Scarlet Corps March

» Motto

» QA Memorial National Arboretum

» NMA Heroes Square Paving Stone

» Memorial Window

» Army Medical Services Monument

» Recruitment Posters

» Museum

» QA Association

» Standard

» QA and AMS Prayer and Hymn

» Books


Former Army Hospitals

UK

» Army Chest Unit

» Cowglen Glasgow

» CMH Aldershot

» Colchester

» Craiglockhart

» DKMH Catterick

» Duke of Connaught Unit Northern Ireland

» Endell Street

» Ghosts

» Hospital Ghosts

» Haslar

» King George Military Hospital Stamford Street London

» QA Centre

» QAMH Millbank

» QEMH Woolwich

» Musgrave Park Belfast

» Netley

» Royal Chelsea Hospital

» Royal Herbert

» Royal Brighton Pavilion Indian Hospital

» School of Physiotherapy

» Tidworth

» Wheatley


France

» Ambulance Trains

» Hospital Barges

» Ambulance Flotilla

» Hospital Ships


Germany

» Berlin

» Hamburg

» Hannover

» Hostert

» Iserlohn

» Munster

» Rinteln

» Wuppertal


Cyprus

» TPMH RAF Akrotiri

» Dhekelia

» Nicosia


Egypt

» Alexandria


China

» Shanghai


Hong Kong

» Bowen Road

» Mount Kellett

» Wylie Road Kings Park


Malaya

» Kamunting

» Kinrara

» Kluang

» Singapore


Overseas Old British Military Hospitals

» Belize

» Falklands

» Gibraltar

» Klagenfurt

» BMH Malta

» Nairobi

» Nepal


Middle East

» Benghazi

» Tripoli


BMH Munster

Information and history about the British Military Hospital in Munster along with photos of BMH Muster and the QAs

BMH Munster was one of several BAOR (British Army On The Rhine) army hospitals in Germany. It closed in 1991 when the refurbished BMH Iserlohn re-opened.

Below is a photo of BMH Munster that occupied one wing of the German Krankanhauus.



A Very Private Diary: A Nurse in Wartime
are the war diaries of QAIMNS(R) Sister Mary Morris who nursed in the 25 British General Hospital in Munster in post war Germany in 1945. He described the building as being previously used as a Wehrmacht HQ. She goes into great detail of conditions at the time including witnessing starving civilians, ruined buildings and having to barricade herself in her bedroom when sleeping due to the high rate of burglary.


In his book Stand by Your Beds!: A Wry Look at National Service
by David Findlay Clark the author talks fondly about sitting in Munster Biergartens enjoying his posting to Germany by sampling the local beer and food, a memory many QAs and RAMC staff who served at BMH Munster may also fondly recall!

David Findlay Clark also writes about a chilling moment during the post World War Two years in Germany when during Operation Coronet he joined fellow officers in a more comfortable shower room courtesy of an olive grey uniformed Wehrmacht soldier. They had previously been using a bucket with a hole and cold water but in looking around the Countryside found a large building still be guarded by the Germans. The Wehrmacht soldier allowed them to use a building that had a large shower room that had to be lowered to the floor and had chambers leading off which had one way metal pipes and no ventilation. It only dawned on them after their shower that they had used what the Germans may have called a "Decontamination Centre" but in reality was a death camp.



Munster Army Wedding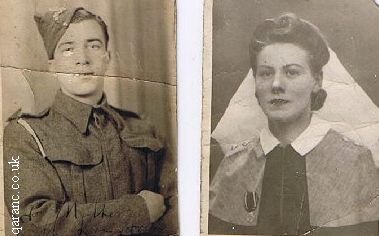 Kathleen McNally has kindly provided the wedding and QAIMNS photos of her mother, Nursing Sister of the Queen Alexandra Imperial Military Nursing Services Lieutenant Catherine "Kay" Curley and her husband Sergeant Alfred Britton who were married in the Army Chapel, Munster, West Germany.


In 1945 QA Lt Curley served throughout Europe including 77 British Military Hospital, 105BMH Den Haan in Belgium, 4 Field Dressing Station Cuxhaven, Hamburg, Ostend in Christmas 1945, Belsen, Wuppental and Hanover,

During World War two Lt Catherine Curley courted Flt Lt J.G. Doyle a pilot in the Royal Canadian Air Force who was shot down and presumed killed in action.


She later fell in love with Sgt Britton whom she met when he was injured driving down a German autobahn. He had previously served in Burma and was sent to Germany for the demobilization of the German Army. The accident he was in was when they were transporting German Prisons of War from one place to another. He sustained a head injury and was nursed by Sister Curley. They married in 1948. Their marriage licence read:


A.F.A. 43a
British Army of the Rhine
2nd Echelon G.H.Q. B.A.O.R.
Officer in Charge of the Register of Marriages Rev. Peter Brady CF(R.C.) at R.C. Church 25 (Munster) Mil Hospital
17th January 1948
Alfred Britton 29 Bachelor 1609677 Sgt Active Services Abroad B.A.O.R.
Catherine Curley 27 Spinster P/316405 Nursing Officer Active Services Abroad B.A.O.R.
Witnessed by R.C.Melville
Ilse Jahn Peter Brady CF (R.C.)
Duly registered by me (V.J.BONAVIA) Colonel Commanding 25 (Munster) Military Hospital




Lt Britton QAIMNS left the army in March 1948.




Her daughter recalls seeing her mum's QA nursing cape which was covered with badges from every nation and every force.

The photo below is from Lt Britton's (nee Curley) collection and is of the staff at BMH Munster. The list of names reads: Sedgefield, Kay (Lt Curley), Kinsella, Lyons, Moffatt (thought to be Lt Curley's best friend), J Lees, Bill Eley, Colonel Hughes, F or T Rayner, Mob Porter, Wilson, Clewley, Pritchard, Young, June Kinkhurst (though the surname may be spelt differently).




If you can help Kathleen with any more information about her parents and their service career the please contact Qaranc.co.uk and we shall pass on any info and pictures. Thank you.

Here are some more photographs from the collection of Lt Britton: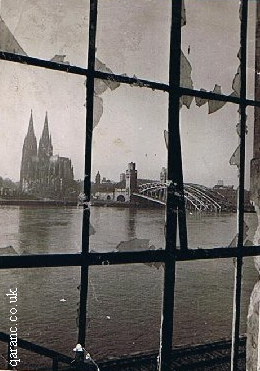 The photograph above is thought to be of post war torn Cologne on the Rhine.





The picture above is of the bride who in the absence of her father was given away by a senior officer who is thought to be either a Major or a Colonel.



The photo above is a friend of Lt Britton (nee Curley) but sadly we do not know her name. If you can help with this information please contact Qaranc.co.uk






Sadly none of the QARANC.co.uk team had a German posting and would love to expand this page with more details about the hospital and include a photograph. If you are a former or serving member of the Queen Alexandra's Royal Army Nursing Corps we would love your help. We would also like to hear from anyone who can provide directions and an address to get to the location of BMH Munster. Contact Qaranc.co.uk



In 1971 to76 the street location was Von Esmarsch Strasse.



Forces War Records

Forces War Records are a genealogy site where you can find military records of over 6 million British Armed Forces personnel cross matched with over 4000 Regiments, Bases and Ships. This link includes a free search and a special discount of 40% off membership offer for visitors who use the discount code AF40 if they decide to become a member.
Search Now. A unique feature is their WW1 Soldiers Medical Records section.


If you like this page and would like to easily share it with your friends and family please use the social networking buttons below:













If you would like to contribute to this page, suggest changes or inclusions to this website or would like to send me a photograph then please e-mail me.



Official QARANC webpage.

QA Association website.

In The Company of Nurses Book.


***********************************************





Read our posts on:

Facebook

Google+

Twitter


Offers

Army Discounts

Free Waterloo Campaign Medal





Present Day

» Become An Army Nurse

» Junior Ranks

» Officer Ranks

» Abbreviations

» Nicknames

» Service Numbers

Ministry of Defence Hospital Units

» MDHU Derriford

» MDHU Frimley Park

» MDHU Northallerton

» MDHU Peterborough

» MDHU Portsmouth

» RCDM Birmingham



Field Hospitals

» Camp Bastion Field Hospital and Medical Treatment Facility MTF Helmand Territory Southern Afghanistan






Territorial Army

» TA Field Hospitals and Field Ambulances


Photos

» Florence Nightingale Plaque

» Photographs


Uniform

» Why QA's Wear Grey

» Beret

» Lapel Pin Badge


» Cap Badge

» Corps Belt

» ID Bracelet

» Silver War Badge WWI

» Officer's Cloak

» QAIMNSR Tippet

» Officer Medal


Events

» Armed Forces Day

» Recreated WWI Ward

» Reunions

» Corps Day

» Freedom of Rushmoor

» Re-enactment Groups

» Military Events

» Remembrance

» AMS Carol Service

» QARANC Association Pilgrimage to Singapore and Malaysia 2009

» Doctors and Nurses at War

» War and Medicine Exhibition

» QA Uniform Exhibition Nothe Fort Weymouth


Famous QA's

» Dame Margot Turner

» Dame Maud McCarthy

» Military Medal Awards To QAs

» Moment of Truth TV Documentary

» Sean Beech


Nursing Events

International Nurses Day


Info

» Search

» Site Map

» Contact

» Websites



We are seeking help with some answers to questions sent by readers. These can be found on the Army Nursing page.



» Find QA's

» Jokes

» Merchandise

» Stamp

» Teddy Bears

» Pin Badges

» Wall Plaques

» Fridge Magnet



» The Abandoned Soldier