» Site Map

» Home Page

Historical Info

» Find Military Friends – Search Old Army Service and Genealogy Records

» History

» QAIMNS for India

» QAIMNS First World War

» War Graves Memorials Nurses




» Book of Remembrance

» Example of Mentioned in Despatches Letter

» War Love Stories

» QA World War Two Nursing

» Africa Second World War

» War Diaries Nursing Sisters

» D Day Normandy Landings

» Belsen Concentration Camp

» Voluntary Aid Detachment

» National Service

» Korean War

» Gulf War

» Royal Red Cross Medal

» Colonels In Chief

» Director Army Nursing Services (DANS)

» Colonel Commandant

» Matrons In Chief (QAIMNS)

Follow us on Twitter:




» Grey and Scarlet Corps March

» Motto

» QA Memorial National Arboretum

» Memorial Window

» Recruitment Posters

» Museum

» QA Association

» Army Standard

» QA and AMS Prayer and Hymn

» Books


Former Army Hospitals

UK

» BMH Cowglen Glasgow

» CMH Aldershot

» Colchester Military Hospital

» DKMH Catterick

» Duke of Connaught Unit Northern Ireland

» Ghosts

» Hospital Ghosts

» Haslar

» QA Centre

» QAMH Millbank

» QEMH Woolwich

» Musgrave Park Hospital Belfast

» Netley

» Royal Chelsea Hospital

» Royal Herbert

» Tidworth Military Hospital

» Military Hospital Wheatley


France

» Ambulance Trains

» Hospital Barges

» Hospital Ships


Germany

» BMH Berlin

» BMH Hamburg

» BMH Hannover

» BMH Hostert

» BMH Iserlohn

» BMH Munster

» BMH Rinteln

» BMH Wuppertal


Cyprus

» TPMH RAF Akrotiri

» BMH Dhekelia

» BMH Nicosia


Egypt

» BMH Alexandria


China

» BMH Shanghai


Hong Kong

» BMH Bowen Road Hong Kong

» BMH Mount Kellett

» British Military Hospital Hong Kong Wylie Road Kings Park

Overseas Old British Military Hospitals

» BMH Gibraltar

» BMH Kamunting

» BMH Kluang

» BMH Malta

» BMH Nairobi

» BMH Nepal

» BMH Singapore

» Belize Hospital


Middle East

» BMH Benghazi

» BMH Tripoli




Books About Army

Books About Army, British Army Nurses And Nursing with reviews and where to buy military books online at discounted prices with free delivery:

Books about army include many books written about the history of the Queen Alexandra's Royal Army Nursing Corps (QARANC). A selection of the in print books about army are listed and reviewed below and there are links to take you to online book shops where military books can be purchased at a reduced price. Some books about army have free delivery available if you spend the minimum amount to qualify.

If you would like your book about army reviewed on this page please contact me.




Merdeka

Merdeka
is a military book that smoothly finds the balance between love, history and warfare. It is set over a two week period during the Independence of Malaya in 1957. Alick Gordon, an officer with the Scottish Border Regiment, leads a team of Ghurkas deep into the jungle with the help of a local tracker to ambush and capture or kill a Communist Terrorist Unit days before Independence. The jungle warfare action is one of the best that we have read and the author, Lachlan Gunn, effortlessly weaves historical facts into the narration of his first novel. Readers quickly grasp that Lachlan is a seasoned soldier through his use of phrases used by the British army of this era and his action scenes. He brilliantly captures the emotions and political views of the locals and the military living and serving at a time of huge civil and social upheaval. Being an ex-commander of a Ghurka Rifle Company he beautifully portrays their bravery and culture in Merdeka.

The QARANC and RAMC feature in Merdeka and a romance soon blossoms between Alick and a QA Sister serving at the Military Hospital Penang at Minden Barracks. This allows Lachlan to draw out the emotions of combat from his hero Alick. There is a huge emotional feel to Merdeka and the effects of combat and killing on the young officer, especially following the strange turn of events during the ambush.

Merdeka is a lively first novel from Lachlan Gunn, nephew of famous prolific Scottish writer Neil M Gunn. Buy this military book for those who like to read action packed novels and books about army history. Lachlan Gunn has a wonderful talent for bringing alive history and weaving it into a narration and is busy writing his second novel and we feel that with talent like this more military books will soon be penned from this gifted author. With his love for the Far East shining through In Merdeka we hope that this is not the last we read about the heroic Alick Gordon. For under £2 on Kindle this is a steal!

Buy Merdeka for Kindle
Buy Merdeka in Paperback



Surviving Tenko


Of all the books about army Surviving Tenko: The Story of Margot Turner
is the most inspirational true story from the Second World War. Every member os the QARANC should read this book for motivation for their own career. Sister Margot Turner started life as a QA just before the outbreak of World War Two where she had an idyllic life nursing in India. With the outbreak of war she wanted to do her duty and requested a posting at the front line. She got her wish and was posted to Singapore just before it fell to the Japanese Army. She was interned for the remainder of the war. After her release she rose through the ranks of the QAs from operating theatre sister, Matron of various military hospitals such as BMH Nicosia was awarded the Royal Red Cross Medal and became the Director Army Nursing Service and the Colonel Commandant of the Queen Alexandra's Royal Army Nursing Corps.

Using recently released archive material Surviving Tenko: The Story of Margot Turner is the definitive biography of this bravest of QAs and is a must for past and present QAs. Buy Now
or read a smaller biography on the Dame Margot Turner page.


Grey and Scarlet

Grey and Scarlet : letters from the war areas by army sisters on active service
was first published in 1944 and second hand copies are still available. The letters are written to the Matron In Chief from Matrons and Nursing Sisters of the QAIMNS and TANS from various World War Two theatres of operation such as North Africa, Malta, Singapore, Dunkirk, Iceland, Gibraltar and the Middle East. These range from Casualty Clearing Stations, Field Hospitals, Hospital Ships and Hospital Trains. They describe historic events between 1939 and 1942 and how the QAs coped with limited resources, bombardments, lack of food and water, uniform problems and adaptations as they tended the sick and injured soldiers.

Grey and Scarlet is notable for the eleven pencil drawings of army patients and nursing sisters by Robert Austin ARA.

Buy Now.
Sisters In Arms: British Army Nurses Tell Their Story
Sisters In Arms: British Army Nurses Tell Their Story
by Nicola Tyrer is an account of the QAs during the two World Wars. It includes first hand accounts of the Queen Alexandra nurses who were in the dressing stations, casualty clearing stations and field hospitals of Dunkirk, D Day, the fall of Singapore and many more locations where the QAIMNS served.

Buy Now.


Sisters In Arms: British Army Nurses Tell Their Story is also available as a talking book read by the actress Barbara Flynn and Sian Thomas. Buy Now.



View British Army Nursing Books - with free delivery available.




Forces War Records

Forces War Records are a military genealogy site where you can find military records of over 3.5 million British Armed Forces personnel cross matched with over 4000 Regiments, Bases and Ships of the British Armed Forces. This link includes a free search and a special discount of 40% off membership offer for visitors from qaranc.co.uk who use the discount code AF40 if they decide to become a member.
Search For Free Now.


If you like this page and would like to easily share it with your friends and family please use the social networking buttons below:










Folklore of Hampshire

The QAs have a long association with the County of Hampshire from the early times of the Netley and CMH Aldershot through to the more recent QA Centre and the modern MDHU Frimley Park unit. So a book about the customs, history, legends, stories, music and dance of Hampshire makes for interesting reading for past and present members of the QARANC and those with a general interest of books about army related themes.

The Folklore of Hampshire
provides interesting background reading such as farmer, harvest and bowling green traditions and customs and some of the songs that originate from Hampshire as well as covering the ghosts of former military hospitals such as Netley and the Cambridge Military Hospital. There is even fascinating reading about the legends of Hampshire such as highwaymen, smugglers and King Arthur's Round Table

Ghost stories from Hampshire include train station ghosts such as the chuckling ghost at Winchester Station. Penny Legg describes the history of the ghost stories and provides first-hand accounts and interviews from those who have encountered ghostly goings on. QAs who served in our old army hospitals will empathise with the witnesses when they recount how they came to dread the creepy nightshift.

Naval readers will find the navy ghost stories of interest which includes the ghost of a Women's Royal Naval Service rating said to have haunted Eagle Block of HMS Mercury. Penny also describes the ghost of the Sergeant Major that is said to haunt the site of Fort Brockenhurst near Gosport.

Ghost stories of Hampshire are not confined to the military but also includes stories such as the ghost of a black dog that haunts Odiham Castle and the phantom footsteps at the Dolphin Inn in Botley

The chapter on the celebrated people of Hampshire include the miracles performed by St Clement and St Swithun and the reasons behind St Swithun's Day. The infamous Witches of Hampshire include Liddy Shears the Over Wallop Witch and the last prosecuted witch, Helen Duncan, who learnt about the sinking of HMS Barham and the destruction of HMS Hood during a séance. These sinking were respectively kept quiet and not known about by the Admiralty which lead to her being prosecuted under the Witchcraft Act and serving time in Holloway Prison.

The section about Fritz the St Bernard who was a former World War Two German police dog taken by the Royal Hampshire Regiment during a battle is a particularly touching story.

Place names of Hampshire and their reasoning for being named are described by Penny. For example the ham in Crookham comes from the times when it was a homestead whilst the Chester in Porchester comes from the Latin for fort.

Folklore of Hampshire is an interesting book that comprehensively covers this County of England and will be of great interest to anyone who has or still does live or work in Hampshire or has an interest in England's heritage.

Buy Now.



If you would like a QARANC related book reviewed at QARANC.co.uk then please use the contact page where you can e-mail me details of the book, or use the address to send me a copy to review.


For more QARANC items like wall shields, figures, uniforms etc please see the merchandise page.




Millions Like Us: Women's Lives in War and Peace 1939-1949

Millions Like Us: Women's Lives in War and Peace 1939-1949
was published in 2011 and written by Virginia Nicholson. This book about army includes memories from QAs who nursed during the Second World War in locations such as Casualty Clearing Stations, aboard Hospital Ships and Trains, at Dunkirk, Belsen Concentration Camp and in post war Germany in the newly established British Military Hospitals.

Millions Like Us is not just a military book though, it gives a fascinating account of the women of Britain and how they coped with rationing, being parted from husbands, fiancés and boyfriends and how the woman at home added to the war effort. The reader learns about life in the Woman's Voluntary Service and the code breakers of Bletchley Park.

It was not just military nurses who would have had to cope with horrific injuries and mutilations during WWII, civilian nurses and VADs describe their feelings after having to recover bodies after air raids and bombings such as the London Blitz and the bombing of Coventry.

Interesting chapters that are not often covered in most army books include narratives from child evacuees, the women of Britain who each day took part in the Mass Observation Diaries and those women conscripted into the services and female conscientious objectors.

Romances and weddings in war torn Europe helped to change attitudes to sex and sexuality as people expressed their physical love and need during the carnage, fear and loss and frank diary readings and interviews gives the reality of people's love lives during a time of personal risk and trauma.

Published by Viking (an imprint of Penguin Books) this military book gives the reader a well-researched volume in an easy to read manner which gains greatly from the first-hand accounts throughout the Second World War and the post war years of adjustment. It is recommended reading for those with an interest in army nursing books, military history, social history and books about the army.

Buy Now.
Sub Cruce Candida: A Celebration of One Hundred Years of Army Nursing
Sub Cruce Candida: A Celebration of One Hundred Years of Army Nursing
is a collection of photographs and the history of QA's from the first days of the QAIMNS in 1902 to the QARANC through the decades right up to 2002. It is written by retired Colonel Eric Gruber Von Arni and Major Gary Searle for the QA Association.
Buy Now With Free Delivery
or read more information.
Qaranc.co.uk highly recommend this book about army nursing Sub Cruce Candida: A Celebration of One Hundred Years of Army Nursing
which has a collection of QA related photographs from the Boer War, Great War, Second World War, Korean War, Falklands Conflict, First Gulf Campaign and photos of peacetime operations and day to day lives of the QAs. It also contains many pictures of former military hospitals such as the CMH, QEMH, Netley, Tidworth and those overseas in places like India, Cyprus, Singapore, Hong Kong, Malta as well as hospital ships, barges and field hospitals.

Sub Cruce Candida: A Celebration of One Hundred Years of Army Nursing is an historical account from the early days of the Army Nursing Services through to the QAIMNS and then the QARANC with photos of QAs throughout the century. Sub Cruce Candida: A Celebration of One Hundred Years of Army Nursing is published by the QA Association with images taken from the Army Medical Services Museum

Buy Now.






A QARANC wall plaque and shield is available to buy through Amazon. The QA shield is hand made and ready to hang on the wall. .

Buy Now.







View British Army Nursing Books - with free delivery available.



If you would like to contribute to this page, suggest changes or inclusions to this website or would like to send me a photograph then please e-mail me.


For the official Army QARANC webpage please go to
www.army.mod.uk/home.aspx
For the QA Association website please go to
http://www.army.mod.uk/medical-services/nursing/30987.aspx


***********************************************

The information request section has moved to the Army Nursing page.




The Real Tenko

The latest book about British Army nurses and nursing describes a dark chapter in the history of the QAs. The Real Tenko: Extraordinary True Stories of Women Prisoners of the Japanese
by Mark Felton is an account of the fall of the Far East to Japan. It comprehensively covers war atrocities performed by the Japanese troops to women stationed in places such as Singapore and Hong Kong. This included Sisters of the QAs who were stationed in hospitals such as BMH Bowen Road Hong Kong and BMH Singapore. The Real Tenko devotes several chapters to recounting, often by those who were there, how each hospital was overrun by the Japanese troops and what happened to the patients, nurses and medical staff.

Though an uncomfortable read at times, due to the horrific actions of the troops of Japan, Mark Felton rationalises their actions by giving the reader an explanation of their culture and attitudes to women and to soldiers who surrender.

Survivors who were taken prisoner or escaped from the Far East during the Second World War give their accounts in The Real Tenko: Extraordinary True Stories of Women Prisoners of the Japanese and this includes QA Sister Kay Christie. From one of her interviews she says:

We fully realized that we were no longer free people. That, along with the fact that Hong Kong had surrendered, gave us a feeling of guilt and degradation which the Japanese never allowed us to forget throughout the time of our incarceration.

Other QAs describe how life as a Far East Prisoner of War and a nurse was unbearable for patients and nursing staff:

A British Air Force officer had to have a foot amputated. Alice Rossie and I assisted the surgeon who had to do it in the most primitive manner. The Japs refused to let the patient go to the local hospital or to send in the right instruments, so someone made a saw out of a knife. Another man had been bayoneted in the stomach when trying to get a drink of water. One day this man was lying on the floor waiting to have his dressing done when the Jap guard came in and ground his heel into the man's wound.

The Real Tenko continues by describing day to day life at the internment camps, how the QAs managed to survive under the rule of the Japanese, how they were liberated and what happened to them in the post World War two years. This includes the account of Dame Margot Turner who survived over three years ain a Japanese prisoner of war camp and went on to become the Director Army Nursing Service and the Colonel Commandant of the Queen Alexandra's Royal Army Nursing Corps.

Buy Now
with free delivery available.


View more British Army Nursing Books - with free delivery available.



Women In The War Zone

Women in the War Zone: Hospital Service in the First World War
by Anne Powell is a collection of first hand accounts from the war diaries, memoires, papers and letters from women who nursed in casualty clearing stations, dressing stations, hospitals, barges, trains, ships and ambulances during the First World War. For example the war diary of QA Miss Mildred Rees describes her time aboard No 4 Ambulance Flotilla Barge during the Somme in France whilst the accounts of QAIMNS Nursing Sister Ida Jefferson comes from her time at Basra in Mesopotamia.

This wonderful book brings together over 60 accounts in one readily accessible resource not just from QAs but also the other women who nursed in the war zones during WWI such as British Red Cross, First Aid Nursing Yeomanry Corps (FANYs), St John's Ambulance Brigade, Territorial Force Nursing Service (TFNS), Voluntary Aid Detachment (VAD) and the Women's Hospital Corps in countries such as Serbia, Poland, Russia, Belgium, France, Dardanelles, Corsica, Italy and Romania. Common experiences include coping with bombardments, shortages of food and water, caring for wounded men straight from the battlefield who were mudded and crawling with lice, dealing with live weapons, lack of sanitation, minimum staff and little sleep and having to nurse in the dark or by torchlight.

Women in the War Zone has a history of the introduction of women doctors to the Royal Army Medical Corps (RAMC) where they served in countries ranging from Solonika, Egypt, India and Malta as well as an extensive history of the Army Nursing Service.

Anne Powell guides the reader through the history of the Great War through these narratives which bring to life the emotions and feelings of military nurses who bore so much and still showed great compassion and bravery.

Buy Now
with free delivery available.



Dame Margot Turner - Will To Live

Dame Margot Turner - Will To Live - Book by Sir John Smyth - Read The QARANC website Review.




A British Army Nurse In the Korean War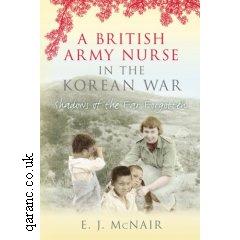 A recently published book about QA nursing during the Korean War is A British Army Nurse In the Korean War
by Elizabeth Jilly McNair. QA Sister McNair saw active service in Korea and Japan and this book is based on her letters home and photographs she took during her 18 months spent nursing at the British Commonwealth General Hospital in Kure, Japan and the British Commonwealth Zone Medical Unit in Seoul, Korea. Buy Now!




Dog Dirt Doris

Dog Dirt Doris is a novel about a QA nurse during the Second World War who nurses in a Field Hospital in Italy. The unusual title is about her life post war where she become homeless. Read more about this fictional story on the qaranc.co.uk Dog Dirt Doris a QA Novel by Howard Ward page or Buy Now
at a discounted price with free delivery available.





It's a Long Way to Tipperary: British and Irish Nurses in the Great War

It's a Long Way to Tipperary: British and Irish Nurses in the Great War
is a new book about nurses and nursing during the First World War. Key features include a history of the QAIMNS which would eventually become the QARANC, testimonials from QA nurses who served in the Great War, extracts from war diaries, wounds and injuries, treatment of gas attack patients, the introduction of triage casualty treatment and evacuation and a nominal role of the nurses killing on active service.
Buy It's a Long Way to Tipperary: British and Irish Nurses in the Great War
at a reduced price and with free delivery available or read the qaranc.co.uk review.


View More British Army Nursing Books - with free delivery available.




Drafty's Blunder

Draftys Blunder
by Bill Wessex is part novel part historical account of the fall of Hong Kong Island to the Japanese army at Christmas 1941. The story follows mechanic Leading Seaman Thomas Tweed, nicknamed Harris, who is drafted to HMS Tamar in Hong Kong just before World War Two. He thinks it his good fortune as such an exotic posting must be a mistake by the Drafting Commander, hence the title Drafty's Blunder.

The novel starts with the idyll of Harris' trip aboard the Destroyer HMS Thracian as he travels to the ports of Gibraltar, Malta and Egypt where he has the opportunity to take shore leave as HMS Thracian undergoes refits and repairs. Here we learn of the pre-war life of the Matelot, along with their unique phrases and antics. For example Yank Straggling may sound like a violent assault but is Matelot slang for getting free drinks from better paid Americans.

Between the narrative Bill Wessex gives an explanation of life aboard ship in an easy flow manner that aids the reader. This includes how sailors prior to WWII had a bath aboard ship when there was no baths and the showers were not working and how to clean a ship's funnel whilst avoiding streaks. The factual dialogue continues as events leading to the outbreak of war develop and Bill Wessex gives accounts of real occurrences that took place in China, Britain, Germany and Hong Kong. This helpful history helps create realism and drama within the novel.

Drafty's Blunder is written by a sailor whose extensive career in the Royal Navy is captured in the book with his personal collection of photographs from his service in the 1950s and 1960s. Though a serious subject it is interspaced with comic events which reflected the normal life of a serviceman. Qaranc.co.uk found the rude songs at the Sod's Opera at the Hong Kong NAAFI Club Christmas party to be a fun read.

The hero of Drafty's Blunder finds love with a local and in the second and third parts of this trilogy we hope to discover if Harris will be reunited with his fiancée, Fei-ming. The reader has to make do with learning about Chinese customs and etiquette such as ordering and eating Dim Sum and drinking Chinese Tea, all new talents that Harris learnt during his romance before the fall of Hong Kong to the Japanese. Unable to get to Fei-ming Harris has to escape without her and his adventures continue when HMS Thracian is scuttled and Harris escapes in MTB13.

A donation to The Royal British Legion is made from the sale of each copy of Draft's Blunder.

Buy Now.
Tales of a Lady in Grey with a Touch of Scarlet by Lt Col Rosemary Sutton
Tales of a Lady in Grey with a Touch of Scarlet
by Lt Col Rosemary Sutton is the memories of a QA nursing officer during the 1960s and 1970s. She remembers many foreign and exciting postings such as Malta, Egypt, Sierra Leone and even BMH Berlin when its most infamous patient was the Nazi Rudolph Hess.

Tales of a Lady in Grey with a Touch of Scarlet was written by Lt Col Rosemary Sutton in 2007. She came form a military family. Her father had been in the army and her grandmother trained a s a midwife as the Louise Margaret Maternity Hospital in Aldershot. Lt Col Sutton had a varied career in the QARANC which spanned over 33 years and took her to many locations such as Egypt, Germany Kenya, Malta and Sierra Leone. Lieutenant Colonel Rosemary Sutton ARRC died in 2009.

Buy Now!
A Few Deeds Short of a Hero
A Few Deeds Short of a Hero
by Robert Widders is the memories of life as a nurse during the first Gulf War as the author learned to cope with caring for casualties during Scud missile attacks and nursing Iraqi wounded as well as British service personnel. His NBC training at Saighton Camp in Chester prior to deployment with No 4 RAF War Hospital proved valuable.

Prior to becoming an RAF nurse Robert Widders was a member of the 219 (TA) Field Hospital in Keynsham Bristol having completed his enrolled nurse training at Southmead Hospital. After the Territorial Army Robert joined the Royal Air Force in the 1990s and describes his life at RAF Halton and taking part in the Nijmegan March in Holland and an expedition to the base camp at Mount Everest.

Rob Widders has the distinction of being the only man alive to have served in all three branches of the armed forces and readers of his book gets a glimpse into tri-service life and the unique humour of service life. His career started at the age of 15 years when he joined the Royal Navy during the 1970s and was awarded the prestige title of Best Recruit. These earlier memories of being a recruit describes having to bull boots, vault boxes in the gym and make up bed boxes each morning before rigorous inspections with a day of square bashing to follow. His naval career allowed him worldwide travel to countries such as Malta and Singapore.

An Army career followed in the Royal Tank Regiment (RTR) as a tank gunner during the 1980s where Rob was part of a Chieftain tank crew in Paderborn Germany. Chapters describe the uncomfortable life for a Tankie during the Cold War. During his army career Rob went AWOL with a friend to seek work as a mercenary in South Africa. This adventure saw the duo travel through France, Spain, Tangiers, the Atlas Mountains, Tunisia, Sicily and Italy before they saw sense and returned to camp in Germany to face a court martial. They were placed under close arrest before their sentence of 28 days at the Military Corrective Training Centre (MCTC). Life in the famous Colchester Glass House is described and reminds the reader that military prison is no picnic as he describes the square bashing, exercises and harsh tiring regime of each day which were in sharp contrast to recruit life in each service that Robert found easy.

Robert Widders has a wonderful style of writing that makes the reader imagine that they are sat with Rob in the NAAFI having a chat, reminiscing and laughing over a pint. Royalties from the sale of A Few Deeds Short of a Hero will be given to the charity Combat Stress.

Buy Now.
Florence Nightingale
Florence Nightingale: The Woman and Her Legend
by Mark Bostridge is the first Biography of the Lady with the Lamp in over 50 years. A full review will appear soon. Buy Now
.





Sean Beech - The Ice Crown

The Ice Crown
is a novel written by former QA Sean Beech who served in Iraq in 2006 as an Emergency Nurse Practitioner with an Infantry Company. Sean was impressed with the tailored education packages that the army offered to soldiers in an effort to address the falling standards of literacy amongst many of the youngsters today. He wanted to help those who left school with lower standards of ability to read and write and is now training to become a Primary School Teacher.

During his time with the QARANC in Iraq he started work on his first novel, The Ice Crown (The Lords of the Moon) which was published in September 2008 with 50% of his profits from the sale of the book and any subsequent works to the National Literacy Trust. This charity helps to provide support for those children, who for whatever reason, are not receiving the support they desperately require in school. Read more about the National Literacy Trust at their website www.literacytrust.org.uk
Buy The Ice Crown
with free delivery available.

Read more about Cpl Beech and his QA career on the Sean Beech The Ice Crown Novel Lords of the Moon Trilogy by QA Nurse page.



Stand By Your Beds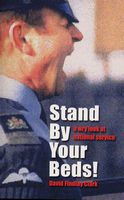 Stand By Your Beds by David Findlay Clark is an account of the author's national service days and captures the wit, wisdom and sarcasm of NCOs and Drill Instructors of national servicemen whilst describing how a young lad from Aberdeenshire survived military life just after the Second World War. Read the QARANC site book review.



Do English Women Never Cry?: British Army Nurses Tell Their Story
is a collection of true stories of British Army Nurses. QA's from the First and Second World Wars tell of their experiences aboard hospital ships, in the Far East in Singapore and in concentration camps and at the beaches of Dunkirk and D Day. More Information or Buy Now.





Under The White Cross: British Army Nurses Tell Their Own Story is written by Nicola Tyrer. She brings together a collection of the forgotten voices of frontline QA and QAIMNS nurses who treated and cared for army casualties during the First and Second World Wars.

QA's have shown much courage and determination during their military careers and until now their true stories have went largely untold to the public. Nicola Tyrer addresses this by telling their tales and adventures from their training through to caring for the troops on the front line. Many of the nurses came from privileged backgrounds and had led a sheltered life that ill prepared them for the brutality and harshness of war. Yet they coped admirably and won the hearts of many a soldier. Their care saved many lives and made the last few hours or minutes more comfortable to many of the casualties of ferocious battles. Many of these courageous QA's gave their own lives to the service during the bombing of field hospitals and torpedo raids at hospital ships. Others died in concentration camps at the hands of the Japanese.

QA's served at Gallipoli, the Somme, Dunkirk, Singapore, D-Day and the Battle of Britain. This book details the battles and their work in extra-ordinary conditions to save the lives of British soldiers.

Under the White Cross: British Army Nurses Tell Their Story is a poignant collection dedicated to the memory of British Army Nurses and the history of British Army nursing.

Pre-order a copy
and have it delivered on the day of publication.


The hardcover edition has 320 pages with photographs and will be published by Weidenfeld and Nicolson on the 9 Aug 2007. The ISBN is 0297846582.


Nicola Tyrer has also researched and written the following books:
They Fought in the Fields: The Women's Land Army - the Story of a Forgotten Victory


Child of Happy Valley: The Childhood Memoir of Juanita Carberry


Child of the Happy Valley: A Memoir
Read more about these books

Present Day

» Become An Army Nurse

» Junior Ranks

» Officer Ranks

» Abbreviations

» Nicknames for QARANC

» Army Service Numbers


Ministry of Defence Hospital Units

» MDHU Derriford

» MDHU Frimley Park

» MDHU Northallerton

» MDHU Peterborough

» MDHU Portsmouth

» RCDM Birmingham



Field Hospitals

» Camp Bastion Field Hospital and Medical Treatment Facility MTF Helmand Territory Southern Afghanistan






Territorial Army

» TA Field Hospitals and Field Ambulances


Photos

» Photographs


QA Uniform

» Why QA's Wear Grey

» QARANC Beret

» QARANC Lapel Pin Badge


» Cap Badge

» QA Corps Belt

» QARANC Officer's Cloak

» QA Officer Medal


Events

» Armed Forces Day

» Army Reunions

» Corps Day

» Freedom of Rushmoor

» Re-enactment Groups

» Military Events

» Remembrance

» AMS Carol Service

» QARANC Association Pilgrimage to Singapore and Malaysia 2009

» Doctors and Nurses at War

» War and Medicine Exhibition

» QA Uniform Exhibition Nothe Fort Weymouth


Famous QA's

» Dame Margot Turner

» Dame Maud McCarthy

» Military Medal Awards To QAs

» Sean Beech


Nursing Events

International Nurses Day


Info

» Search

» Site Map

» Contact

» Military Websites



We are seeking help with some answers to questions sent by readers. These can be found on the Army Nursing page.



» Find QA's

» Army and Nurse Jokes

» Merchandise

» Military Teddy Bears

» Pin Badges

» Wall Plaques

» Fridge Magnet



» The Abandoned Soldier