» Site Map

» Home Page

Historical Info

» Find Friends – Search Old Service and Genealogy Records

» History

» QAIMNS for India

» QAIMNS First World War

» WW1 Soldiers Medical Records

» War Graves Nurses




» Book of Remembrance

» Example of Mentioned in Despatches Letter

» Love Stories

» World War 1 Letters

» QA World War Two

» Africa Second World War

» War Diaries of Sisters

» D Day Normandy Landings

» Belsen Concentration Camp

» Voluntary Aid Detachment

» National Service

» Korean War

» Gulf War

» Op Telic

» Royal Red Cross Decoration

» Colonels In Chief

» Director Army Nursing Services (DANS)

» Colonel Commandant

» Matrons In Chief (QAIMNS)

Follow us on Twitter:




» Grey and Scarlet Corps March

» Motto

» QA Memorial National Arboretum

» Memorial Window

» Army Medical Services Monument

» Recruitment Posters

» Museum

» QA Association

» Standard

» QA and AMS Prayer and Hymn

» Books


Former Army Hospitals

UK

» Army Chest Unit

» Cowglen Glasgow

» CMH Aldershot

» Colchester

» Craiglockhart

» DKMH Catterick

» Duke of Connaught Unit Northern Ireland

» Endell Street

» Ghosts

» Hospital Ghosts

» Haslar

» King George Military Hospital Stamford Street London

» QA Centre

» QAMH Millbank

» QEMH Woolwich

» Musgrave Park Belfast

» Netley

» Royal Chelsea Hospital

» Royal Herbert

» Royal Brighton Pavilion Indian Hospital

» Tidworth

» Wheatley


France

» Ambulance Trains

» Hospital Barges

» Hospital Ships


Germany

» Berlin

» Hamburg

» Hannover

» Hostert

» Iserlohn

» Munster

» Rinteln

» Wuppertal


Cyprus

» TPMH RAF Akrotiri

» Dhekelia

» Nicosia


Egypt

» Alexandria


China

» Shanghai


Hong Kong

» Bowen Road

» Mount Kellett

» Wylie Road Kings Park


Malaya

» Kamunting

» Kinrara

» Kluang

» Singapore


Overseas Old British Military Hospitals

» Belize

» Falklands

» Gibraltar

» BMH Malta

» Nairobi

» Nepal


Middle East

» Benghazi

» Tripoli


British Military Hospital Egypt BMH Alexandria


The history of BMH Alexandria Egypt including events in the Second World War such as the battle of El Alamein

The following pictures are from the collection of QAIMNSR Sister Florence Green Holdgate and were found in a metal trunk in her loft by her Great Nephew along with her Queen Alexandra's Imperial Nursing Service Reserve medal, grey uniform and numerous white cotton aprons and cotton nightshirts. Sister Holdgate nursed at the 15 General Hospital in Egypt during WW1.




Further photos from Sister Holdgate's collection can be found on the QA Officer Medal and the QARANC Grey Uniform pages.


During the Second World War Allied and British casualties who fought to stem the advance of Germany and the troops under the command of Rommel were evacuated to Egypt for further treatment aboard hospital ships from places like Tobruk.

The Matron of No 1 British General Hospital was Miss Miller of the QAIMNS (Queen Alexandra's Imperial Military Nursing Service). During WWII Egypt was at the height of the war and female nurses were on an alert to leave at a moments notice. Most kept a packed bag to make evacuation swift. Miss Miller had a more practical approach - she kept a large hatpin in her head veil to fight off any attacking Germans! (cited in Quiet Heroines: Nurses of the Second World War
by Brenda McBryde).

Many QAs were left in Egypt to care for the wounded soldiers and they were the few females in the area. FANYs (First Aid Nursing Yeomanry), ATS (Auxiliary Territorial Service), WAAFs (Women's Auxiliary Air Force) and WRNS (Women's Royal Naval Service) personal had already been evacuated in mid 1942. The more seriously wounded servicemen were evacuated to Palestine and South Africa.




Forces War Records

Forces War Records are a genealogy site where you can find military records of over 6 million British Armed Forces personnel cross matched with over 4000 Regiments, Bases and Ships. This link includes a free search and a special discount of 40% off membership offer for visitors who use the discount code AF40 if they decide to become a member.
Search Now. A unique feature is their WW1 Soldiers Medical Records section.


If you like this page and would like to easily share it with your friends and family please use the social networking buttons below:






Battle of El Alamein

A service of intercession was held in the Cairo Garrison church and as the remained QAs made their way back to the hospital to await a new influx of casualties so the servicemen went to the Battle of El Alamein. This notorious battle lasted for a dozen days and the Eighth Army Desert Rats under the command of Lt General Montgomery were able to fight off the advancing German Army, though at a cost of over 13,500 British and Commonwealth lives. The many wounded were given emergency treatment at the dressing stations and then evacuated to hospitals like the 63rd British General Hospital (BGH) at Helmieh where the Matron was Miss Monica Johnson QAIMNS who later became the Director of Army Nursing Services and then the Colonel Commandant of the QARANC (Queen Alexandra's Royal Army Nursing Corps). Quiet Heroines: Nurses of the Second World War
tells the story of how two patients on different wards were brought together by the Matron because they were friends from the same regiment and whilst one had lost his hands and the other his eyesight together they could help each other physically and keep their morale high.

Even during Worlds War Two love blossomed and on our love stories page there are two love stories of QAs who fell in love and married servicemen in Egypt during the Great War and the Second World War.


QA Song

Sister Vi Cox was a QA in Egypt in World War Two where she met and married Major George Edward Nelson Watson. They were married in Cairo, and she was given away by Brigadier Arthur Porritt ( later Lord Porritt) of the RAMC. Her best friends were Kay Porritt ( his second wife) and Betty Clarke ( who nursed Winston Churchill - read more about her on the QA World War Two Nursing page).

Vi is now 93 and living in Cumberland. She has many wonderful and amazing stories of her time in Egypt and Dunkirk. She sang this song to her daughter, Patricia, in October 2008 which she described as being sung by many QAs to keep up their spirits:

There's a home for tired nurses, above the bright blue sky.
Where Matrons never grumble, and Colonels never pry.
And all the little sorrows are drowned in cups of tea.
And all the bloody bed pans... rest eternally!

The words and music are based on the well known and well loved hymn written mainly for children which starts There's a friend for little children, above the bright blue sky...


She also recalls how when they used to take off the soldier's dressings, there would inevitably be armies of maggots there, and they would 'run a book' to guess how many maggots there were ! She also says that the reason they wore short capes, was that it was thought that it would be less distracting for the soldiers and patients as their bosoms would then be covered up!



Jane Pugh


Jane Pugh was born in 1915 and served with the QAIMNS from 1940 to 1945. During these World War Two years Jane was posted to Oxford in 1940 and then embarked from Greenock in Scotland on the Queen Mary to Palestine in June of the same year. Sister Jane Pugh served in Greece and Crete before being evacuated back to Egypt where she spent 2 years in the British General Hospital in Alexandria. She was then posted to Tripoli and then Italy. She married a Royal Army Medical Corps (RAMC) doctor called Alan Grant in April 1944 at Naples.

Jane Pugh died in 2005 and is survived by her son David Grant. He would love to hear from anyone who knew his mother or has information about her, perhaps from searching their family history. David has written more about his mother and her service life with more photos at http://www.grantonline.com/pugh-family-genealogy/pugh-jane-1915/jane-pugh.htm which also has David's contact details.







Details of a letter from the Matron in Athens to the Matron-in-Chief about the evacuation from Athens can be read on the QA World War Two Nursing page.



The book The Roses of No Man's Land
by Lyn MacDonald has an account written by Sister Cathy Mellor of her time at No. 15 General Hospital, Alexandria during the First World War. She wrote about first caring for patients in the dysentery ward. They lie there in agony, night and day. Oh, the pity of it all. Great strong men, young, looking as old as men of sixty years.

Sister Adeline Palmer of the QAIMNS(R) worked at the Citadel Hospital in Cairo and described the treatment of dysentery with Emetine injections and enemas of sodium bicarbonate, silver nitrate and tannin.


Another account in the book The Roses of No Man's Land
by Lyn MacDonald comes from VAD nurse Kit Dodsworth of No. 19 General Hospital in Alexandria, Egypt about how she heard of the Armistice being signed after a busy day caring for victims of an influenza outbreak that cost many lives.

Below is a photo of 19 General Hospital Egypt from a postcard marked with the date 5/10/1915. Laurence McDonald found this postcard among his late grandmother's effects. The message on the reverse is headed 'On Active Service'. The signature is unfortunately illegible. His grandmother was living in Aylsham, Norfolk in 1915 and would have been 19 years old.






If you would like to expand this page with more details about this former army hospital and include a photograph or if you are a former or serving member of the QAIMNS we would love your help.

If you would like to contribute any info, photographs or share your memories of BMH Alexandria then please contact me.



Qaranc.co.uk have been told the rather naughty tale about the local peanut seller who would call to the British Military Hospital Egypt BMH Alexandria. He spoke little English and was "helpfully" told by some servicemen that if he called out a certain phrase his sales would rocket. Unfortunately the peanut seller chose to shout out this new and really naughty phrase below the window of Matron. He was escorted off the premises and told not to come back! Sadly the story teller did not tell the Qaranc website what the phrase was that upset Matron.



1st No1 Scottish General Hospital in Cruden Bay

The following photos of a Great Aunt have been handed down through a reader's family. They are of Nurse Annie Thom who was born in Aberdeen. She is thought to have served with the Queen Alexander's Imperial Nursing Service, Territorial Force Reserve. She had always been talked about within the family as 'Matron' Annie Thom, but could have been a Sister.

The photographs have the address of 1st Scottish Cruden Bay which is a reference to 1st No1 Scottish General Hospital (Territorial Force). It is thought that Annie Thom may have served there about 1938-1939 in the Cruden Bay Hotel which was requisitioned by the War Office (it is now a golf course).


This photo to the left is with Lady Killearn, whose Husband was British Ambassador to Cairo in Egypt during the Second World War. It is unknown if the photographs were taken in Scotland or somewhere in Egypt. The date on the reverse of the picture is 25 March 1944.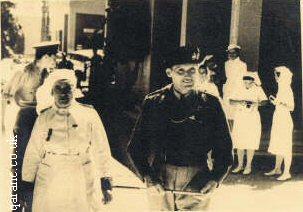 The next image shows Sister Thom with Field Marshall Bernard Montgomery. If you can help with any information about the 1st No1 Scottish General Hospital in Cruden Bay or QA Sister Annie Thom then please Contact Us.



In response to the information request about the 1st 1 Scottish General Hospital RAMC and the 15th Scottish General Hospital at Cairo and Alexandria Qaranc.co.uk were delighted to hear from David Geddes (4 ADFA RAMC Maj rtd) who kindly gave the following information:

This unit after recruiting at Cruden Bay was deployed to Egypt as 15th Scottish General Hospital RAMC. The OC was Lt Col John Herbert Adam Longmore who had also served with the RAMC (T) in WW1 in Salonika. He qualified as a physician in 1915 and was immediately conscripted, emerging from WW1 as acting Major in 1919. It was essentially an Aberdeen unit from the TA staff based at the Royal Infirmary. My father, Walter Geddes volunteered at Cruden Bay in July 1939, and found himself SSgt Geddes after 3 weeks and Chief Clerk of 15th Scottish. He died in 2004. The exec officer was Maj JG Elmslie who died in Inverness some years ago. AW Raffan, an anaesthetist, died in Aberdeen in 2006.

My father trained as a lawyer post war and became County Clerk of Peeblesshire and then the first CEO of Borders Region. I have my father's war time letters home and diaries mentioning many 15th Scottish Staff. There are 700 letters covering his 6.5 years of the war. I am slowly data basing the key facts and having just started have a long way to go. He left 15th Scottish for officer training in Egypt in 1942, in the same week that Col Longmore was posted out to become Director Army Med Services MEF, in the reorganisation before Alamein. They were very close. My father then served with 8th Indian Div. i/c Field Ambulance vehicles, 8th Indian Div. SC transport and 8th Indian Div. HQ staff in Jhansi until mid 1946 when demobbed. He came out as Acting Maj. For my family benefit only - I intend a self-publish project of the family genealogy and Dads wartime service. It spans Norway, South Africa, Mozambique, Ceylon, India, Egypt, Syria, Palestine, Lebanon, Malta, Italy and India! So I may be able to help your correspondent - there are mentions in his writings of QA/ RAMC relationships, socialising and weddings in Egypt.

My interest is to trace Col Longmore, who after receiving the TA Efficiency medal in 1948, disappears altogether.If any readers can help with information about Col Longmore please Contact Qaranc.co.uk and we will pass details onto Major Geddes.

Photographs of Walter Geddes, NCOs and Officers of 15th Scottish can be found at
picasaweb.google.com
It forms part of David's family photos restoration project, which is part of a much bigger genealogy research, which includes the data basing and scrutiny of the 1400 letters his parents exchanged during the war years. These are crammed with detail of both the war and Aberdeen, The 15th Scottish pics commence at number 65 and David hopes to add more once he has completed photo restorations. Amongst his posted images is the wartime charactures of all the officers entitled "The Old Timers".

David continues:I note in my research that the 15th Scottish Admin Exec officer JG Elmslie died recently in Inverness and Alfie Raffan one of the 15th Scottish anaesthetists also died recently in Aberdeen. Time is sadly running out for first hand research. He would have been on hand when my father's appendix was removed in 1941. My father was fond of the Matron - "a tartar" he described her as - but an entirely caring and decent one! She appeared to 'mother' him while he was with the unit.
David Geddes


There is another photograph of Sisters of the QAIMNS, taken on the same day, with Field Marshall Montgomery in the book Sisters In Arms: British Army Nurses Tell Their Story
by Nicola Tyrer. The caption reads "Field Marshall Montgomery, commander of the Eighth Army, visits No.2 General Hospital shortly after their capture of Tripoli at the beginning of 1943. Montgomery was exceptional among army top brass in expressing his appreciation of the work of the QAs."


Here are some more photos from the collection of Matron Thom which give a fascinating insight into life in Egypt during the Second World War:

The picture below is of Matron Thom on the right with a colleague.





The image below is of Matron Thom in her tent accommodation in Egypt.





This photo show Matron Thom and the surrounding tent hospital and related tented facilities.





The TANS Identity Bracelet photo below reads

Sister A. F. Thom
Pres.
T.A.N.S






The photograph below was taken at a New Year's Eve Ball during World War Two. Matron Thom can be seen in the middle of the photo holding a piece of paper. A caption is with this photo and reads: I'm not sick or sorry for myself. The stout one right in front is an Aussie. Cross is the stout one behind. The one behind me is a New Zealander. The V.A.D. standing at the back without a cap is Miss Milne. Her Father is a cousin of Provost Watts. The man beside her belongs to Manchester and is engaged to a Cullen girl who teaches in Aberdeen. This was taken at the New Year in fact on Hogmanay. Printed in the corner of the photo is M Stephan Rue Oeluse No 18 Ibrahimieh Tel 20660.






The following information was provided via the British Genealogy Forum B-G Forums sponsored by Parish Chest Ltd:

Nurse Ann Forsyth Thom,
30th May 1941 promoted to Sister
30th Dec 1941
8th June1944

The King has been graciously pleased to give orders for the following promotions, in and appointments to, the Royal Red Cross:-
To be Members of the Royal Red Cross, First Class
Miss Ann Forsyth Thom Matron (215005),Territorial Army Nursing Service
Territorial Army Nursing Service
The under mentioned Principal Matrons Relinquish their commns, 1st Aug. 1950 and are granted the hon rank of Principal Matron
A. F. Thom (2150050)



Service Record

The service record of Matron Thom was kindly provided by her family. It reveals that Ann Forsyth Thom was born on the 14 November 1890, lived at 1 Carden Terrace, Aberdeen and joined the TANS (Territorial Army Nursing Service) on the 15 September 1939 from Aberdeen Royal Infirmary. Her service number was 215005. Ann Forsyth Thom underwent State Training at The Aberdeen Royal Infirmary from the 1st April 1916 to the 31st March 1919. She served as a Nursing Sister from September 1939 to November 1941. Sister Thom embarked with the Mediterranean Expeditionary Force on 25/6/1940 and hospital postings included 54 General Hospital 23/8/1940 Temp and 64 General Hospital in charge Surgical 6/11/1940 to 7/8/1941.

The photo below shows Ann Forsyth Thom standing with a colleague. If you can help to identify the uniform from the World War One era then please contact us.





She was promoted to Acting Matron, a post she held until April 1943. She was then promoted to Acting Principal Matron from the 2 April 1943 to 28 November 1943. From 29 November 1943 to 28 January 1944 she became Matron. From 29 January 1944 to 27 February 1945 she was Acting Principal Matron and Matron from 28 February 1945 to 12 October 1945. Matron Thom served at No. 15 General Hospital Cruden Bay, No. 19 General Hospital Ormskirk, No.18 General Hospital, No.2 General Hospital and No.13 General Hospital. Matron Thom also served at Lerwick Military Hospital, Shetlands from 25/2/1945 to 26/5/1945.

The service record of Matron Thom reveals that she was awarded the Africa Star with clasp in 1944 and became a member of the Royal Red Cross First Class in June 1944, having previously been awarded the ARRC 2nd class. Matron Thom was Mentioned in Despatches on the 24 June 1943. Her other WW2 medals were the 1939-1940 Star, The Africa Star with 8th Army clasp, Defence Medal and War Medal 1939-1945 with Oak Leaf. Her family are researching if she could have served in the Imperial Territorial Service during the Great War, prior to her nurse training. During this research they received this from the Northern Health Services Archives, Victoria Pavilion, Woolmanhill Hospital, Aberdeen:


I have found that prior to starting her training at Aberdeen Royal Infirmary, Ann F Thom, home address Maryland, Dyce, worked as a member of a Voluntary Aid Detachment (VAD) at Oldmill Hospital in Aberdeen, the poorhouse and associated hospital blocks which had been requisitioned by the military from 1 June 1915. She began there on 4 August 1915 and resigned on 4 March 'on completion of her contract'. This would presumably have been the standard six-month contract that VAD members were expected to sign when they had finished the original one-month probationary period.

Miss Thom went on to do her nurse training at Aberdeen Royal Infirmary, then at Woolmanhill, beginning on 1 April 1916 and finishing on 1 April 1919. The nurse training register does not record any further training or posts held, either at the Infirmary or elsewhere.

Miss Thom was for some considerable time the matron of the Rubislaw Nursing Home in Aberdeen, appearing as one of the nurses assisting at deliveries as early as July 1932. The Home was originally based at 1 Carden Terrace and then around 1935 or 1936 moved to 55 Queen's Road. It was bought over by Aberdeen Maternity Hospital in 1953 but Miss Thom does not seem to have been on the staff by this time, and may even have left by 1950.


More information about Matron Thom has recently been found in a letter from 7358626 Sgt Norman W Strath RAMC, Hospital Ship Llandovery Castle, c/o PSTO Egypt, Thurs 15 April 1943 addressed to Captain Walter Geddes Royal Indian Army Service Corps. Alexandria, Egypt. Captain Geddes had left 15th Scottish to do Officer Training, and had been commissioned and already promoted. The Hospital ship sailed from Suez to Cape Town with seriously wounded in the earlier stages of the North African campaign, but by this time was going from Port Said to Benghasi and Tripoli, to bring back wounded from the western end of the North African campaign, to the base hospital facilities of 15th Scottish - still in Cairo. It reads:

Amongst the passengers of our previous voyage we had Matron Thom (old 15th Asst. Matron) and Sister Gladys Cumming. It was really grand seeing them again and Miss Thom had a lot to say about the incident at Cruden Bay. She did not lose anything by her actions as she is now a full Matron and received the A.R.R.C. last year. Gladys is as ever and still talks as much as ever. I used to meet her on deck during the evening when we walked up and down the deck for an hour talking about the "old days" etc. Miss Thom gave me a standing invitation to the Sisters' mess at No 2 General Hospital but so far, every time we are in "T" there is such a terrific rush that shore leave is out of the question.








If you would like to contribute to this page, suggest changes or inclusions to this website or would like to send me a photograph then please e-mail me.



Official QARANC webpage.

QA Association website.

In The Company of Nurses Book.


***********************************************





Read our posts on:

Facebook

Google+

Twitter


Present Day

» Become An Army Nurse

» Junior Ranks

» Officer Ranks

» Abbreviations

» Nicknames

» Service Numbers

Ministry of Defence Hospital Units

» MDHU Derriford

» MDHU Frimley Park

» MDHU Northallerton

» MDHU Peterborough

» MDHU Portsmouth

» RCDM Birmingham



Field Hospitals

» Camp Bastion Field Hospital and Medical Treatment Facility MTF Helmand Territory Southern Afghanistan






Territorial Army

» TA Field Hospitals and Field Ambulances


Photos

» Florence Nightingale Plaque

» Photographs


Uniform

» Why QA's Wear Grey

» Beret

» Lapel Pin Badge


» Cap Badge

» Corps Belt

» ID Bracelet

» Silver War Badge WWI

» Officer's Cloak

» QAIMNSR Tippet

» Officer Medal


Events

» Armed Forces Day

» Recreated WWI Ward

» Reunions

» Corps Day

» Freedom of Rushmoor

» Re-enactment Groups

» Military Events

» Remembrance

» AMS Carol Service

» QARANC Association Pilgrimage to Singapore and Malaysia 2009

» Doctors and Nurses at War

» War and Medicine Exhibition

» QA Uniform Exhibition Nothe Fort Weymouth


Famous QA's

» Dame Margot Turner

» Dame Maud McCarthy

» Military Medal Awards To QAs

» Moment of Truth TV Documentary

» Sean Beech


Nursing Events

International Nurses Day


Info

» Search

» Site Map

» Contact

» Websites



We are seeking help with some answers to questions sent by readers. These can be found on the Army Nursing page.



» Find QA's

» Jokes

» Merchandise

» Teddy Bears

» Pin Badges

» Wall Plaques

» Fridge Magnet



» The Abandoned Soldier