» Site Map

» Home Page

Historical Info

» Find Friends – Search Old Service and Genealogy Records

» History

» QAIMNS for India

» QAIMNS First World War

» WW1 Soldiers Medical Records

» War Graves Nurses




» Book of Remembrance

» Example of Mentioned in Despatches Letter

» Love Stories

» World War 1 Letters

» QA World War Two

» Africa Second World War

» War Diaries of Sisters

» D Day Normandy Landings

» Belsen Concentration Camp

» Voluntary Aid Detachment

» National Service

» Korean War

» Gulf War

» Op Telic

» Royal Red Cross Decoration

» Colonels In Chief

» Director Army Nursing Services (DANS)

» Colonel Commandant

» Matrons In Chief (QAIMNS)

Follow us on Twitter:




» Grey and Scarlet Corps March

» Motto

» QA Memorial National Arboretum

» Memorial Window

» Army Medical Services Monument

» Recruitment Posters

» Museum

» QA Association

» Standard

» QA and AMS Prayer and Hymn

» Books


Former Army Hospitals

UK

» Army Chest Unit

» Cowglen Glasgow

» CMH Aldershot

» Colchester

» Craiglockhart

» DKMH Catterick

» Duke of Connaught Unit Northern Ireland

» Endell Street

» Ghosts

» Hospital Ghosts

» Haslar

» King George Military Hospital Stamford Street London

» QA Centre

» QAMH Millbank

» QEMH Woolwich

» Musgrave Park Belfast

» Netley

» Royal Chelsea Hospital

» Royal Herbert

» Royal Brighton Pavilion Indian Hospital

» Tidworth

» Wheatley


France

» Ambulance Trains

» Hospital Barges

» Hospital Ships


Germany

» Berlin

» Hamburg

» Hannover

» Hostert

» Iserlohn

» Munster

» Rinteln

» Wuppertal


Cyprus

» TPMH RAF Akrotiri

» Dhekelia

» Nicosia


Egypt

» Alexandria


China

» Shanghai


Hong Kong

» Bowen Road

» Mount Kellett

» Wylie Road Kings Park


Malaya

» Kamunting

» Kinrara

» Kluang

» Singapore


Overseas Old British Military Hospitals

» Belize

» Falklands

» Gibraltar

» BMH Malta

» Nairobi

» Nepal


Middle East

» Benghazi

» Tripoli


National Service
Photographs and history of National Service with a review of the book Stand By Your Beds! by David Findlay Clark that takes a wry look at RAF Padgate in the 1950s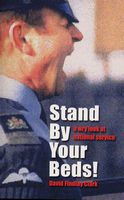 National Service, or Peacetime Conscription, was a compulsory two year spell in the services for men aged between 18 and 24 years and after the Second World War took place between the years 1949 and 1960. Early conscriptions only served 18 months though were in the reserves for four years until the Korean War saw this extended to 24 months and only a six month service in the reserves.




Forces War Records

Forces War Records are a genealogy site where you can find military records of over 6 million British Armed Forces personnel cross matched with over 4000 Regiments, Bases and Ships. This link includes a free search and a special discount of 40% off membership offer for visitors who use the discount code AF40 if they decide to become a member.
Search Now. A unique feature is their WW1 Soldiers Medical Records section.


If you like this page and would like to easily share it with your friends and family please use the social networking buttons below:







History Of National Service

For many these were considered their lost years of their youth, for others it was a time of opportunity, adventure and fun combined with square bashing, spit and polish, boots, blanco, brasso and bully and about all friendship. Foreign travel in the 1950s and 1960s was expensive and difficult and it did give some the opportunity of serving abroad in countries like Cyprus and Germany, though not always in a peaceful role. Many saw active service in war zones like Malaya, Eriteria, Kenya, Somaliland and Korea whilst others worked towards a trade to stand themselves in good stead in civvie street. Sadly many were killed whilst on active service or training and other were injured and disabled. The year it was first introduced saw the Queen Alexandra's Imperial Nursing Service (QAIMNS) become the Queen Alexandra's Royal Army Nursing Corps (QARANC) and many will have been cared for by the scarlet and grey ladies of the QAs or perhaps more commonly the men of the Royal Army Medical Corps (RAMC) during sick parade.



National Servicemen

The military services of the Army, Royal Navy and Royal Air Force all had national servicemen and David Finlay Clark states this as being about 160,000 men a year. Their ages varied between 18 and 24 because some, like the author, deferred their service until they had studied at University and completed their degrees or had finished a trade apprenticeship. Some men were already employed in essential services such as farming for a post war ration Britain, the merchant navy or coal mining. Whilst some men worked just as hard, if not more so, as Bevin Boys down the pit to bring coal from the mines for a recovering post was Britain.




No 16 Flight D Squadron 2 RT Wing RAF Padgate November 1946.



Stand By Your Beds

The author David Findlay Clark served as a national servicemen for two years in the Royal Air Force during the early 1950s where he rose in rank from Aircraftsman Second Class (AC2) to Flying Officer (FO). He survived and became a clinical psychologist in the National Health Service and then a Director of the Grampian Health Board Clinical Psychology Services. This combination qualifies David Findlay Clark to take a wry look at the national service days with this lively memoir as he analyses the behaviour of the NCOs and Drill Instructors.

David Findlay Clark begins Stand By Your Beds! with an historic overview of society in the post World War Two years with information about Winston Churchill, the economy, the changing political field, changing class attitudes and education. The typical pay was under £2 a week and the writer compares this to the average £10 a week for a tradesman in civilian life. He discusses problems between national servicemen and regular soldiers, airmen and sailors such as regulars earning twice as much but feeling that they were wasting their training by leaving as soon as their minimum service was met. He ends the first chapter by discussing whether the short sharp shock would really end juvenile delinquency and make men of boys as they stand by their beds.



RAF Padgate

David Findlay Clark then talks about his own experience of leaving his home in Banff near Aberdeen to start his career at RAF Padgate in Lancashire. Much like any modern day recruit he describes his trepidations, fears and anxieties as he walked through the security and into the camp. So began a whirlwind of being issues service kit, getting a haircut, having ID photos taken and learning to march. But of much more importance was learning to obey the Stand Still! orders of the Corporal and his fellow NCO training staff including the much feared Drill Instructor and the sadistic Physical Training Instructor.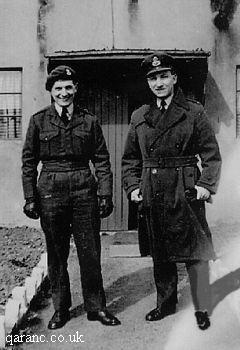 The above photo is of Pilot Officers Farmer & Clark (right) at Macmerry.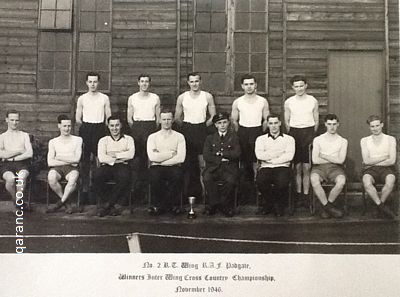 No. 2 R. Wing RAF Padgate winners inter wing cross country championship November 1946.




Medical Inspection

Within a day all servicemen underwent a medical with the unit medical team. David Findlay Clark discusses this as being more about looking for signs of venereal disease (VD) in an inspection called Free From Infection (FFI). Fortunately he passed though did have some flea bites from the biscuits - the nickname for the military issue mattress.

Next came the immunisation rounds and modern day QAs would baulk at the accepted practice of using the same needles which were flung into a solution of iodine and fished out a few seconds later as a method of sterilising. It's a miracle so many men survived!

Only those who have served in the military and have had to ablution in shared facilities will know why one of the first purchases in the NAAFI was a plug. Though like many before and even after David Findlay Clark used wet toilet paper and a well placed heel!



Recruit Training

From here recruits were posted after one week to recruit training bases and David Findlay Clark was posted to RAF Kirkham. Here he learnt to polish the hut stove, take part in bull nights where anything that did not move was polished, and use a lightly oiled 4 by 2 to pull through and clean his rifle. A bull night included using a bumper to polish the floors to a high shine, which the qaranc.co.uk team have fond memories of still doing decades later, making bed blocks, blanket roll and displaying one's kit for inspection.

The next three months of recruit training involved the delights of square bashing and for those whose marching or kit did not come up to scratch they learnt the joys of polishing the guardroom dustbin for hours on end.



Much of the humour in Stand By Your Beds! comes from the stories from the author and also the catchphrases of the Drill Instructors and NCOs such as one instructor telling his recruits just how lucky they are having him as an NCO because:

There's a DI Corporal there who's so smart 'e can only take drill on dull days. Recruits in front of 'im on a sunny day goes blind when 'is cap badge flashes in their eyes an' there's some of 'is Flight 'as to go to sickbay with cuts on their 'ands cos 'e 'appened to walk too close to them with 'is trouser creases!

They learnt to fire and take care of an assortment of weapons which include the Bren gun, Sten gun and the .303 Lee Enfield Service rifle. Even amongst the dangers of the rifle range there was an opportunity for humour which the author shares with the reader of Stand By Your Beds!



The terrors of unarmed combat frightening many a recruit as he faced with a heavily muscled PTI about to throw him around the gym. Anger could at least be vented on the dummies during bayonet charging practice or refuge sought during rope climbing and assault courses if they did not have a fear of heights.



NAAFI

The canteen and NAAFI do not escape the wry look of David Findlay Clark as he examines the rumours of Bromide in the tea to reduce the libido. He wonders whether the low libido was caused by fear and sheer physical exhaustion and Bromide was all a rumour!



Passing Out Parade

After the twelve week period of basic training the recruits completed a passing out parade, had a spot of leave and were then posted to General Duties (GD), to an Officer Cadet Training Unit (OCTU) or for technical or flying training. In the case of the author of Stand By Your Beds! he was drafted to RAF Middle Wallop for flight training before a posting to OCTU at RAF Spitalgate near Grantham and RAF Cranwell.



Officer Cadet Training

Regime became slacker with only bull nights once per week and they were now entitled to night and weekends off. Many went to London and enjoyed stays at the Union Jack Club near Waterloo. Many drank in local pubs and the author narrates many a happy night spent in Andover.

As Officer Cadet training continued David Findlay Clark learnt the secrets of inspections such as where to look for dust and be guaranteed to find some. In those days before central heating it was the end bar of the bed frame nearest the stove.

After passing out the establishment proved to David Findlay Clark that it had a sense of humour by posting a lad from Banffshire in Scotland who hoped to see some of the world to RAF Leuchers! Despite going back to his native Scotland adventures began for Pilot Officer Clark. more of which can be read when you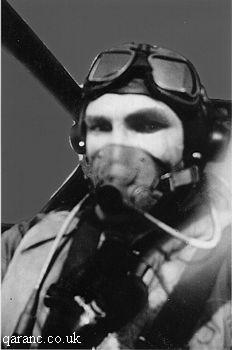 The above picture is the author, David Findlay Clark in a Meteor 7 at 30,000 feet.



The author of Stand By Your Beds! has kindly given www.qaranc.co.uk permission to include this extract from his book:

The second major event to stand out in memory as being outside normal duties was much more dramatic and tragic. I happened to be Duty Officer one day and was more or less confined to the camp from morning till the flag came down at night. It was early afternoon and I was on my way from some errand to the Guardroom when I noticed a bright yellow painted 'Firefly', which I thought might be from a nearby Royal Naval air station, doing a series of relatively low-level power dives at a fairly steep angle a couple of miles to the west. It did seem a curious set of manoeuvres and I remarked on it to a passing fellow officer. He said he'd seen this done some days before and that he thought, though it was no more than hearsay, that it was on lease to Ferranti as a research aircraft on which to test new radar or other electronic gear.

Halfway to the Mess the engine note changed, (it was propeller driven) and there was a great bang. I looked across the fields and there was a column of black smoke rising near the edge of a wood about a mile away. It was obvious that the plane had crashed and it looked serious. I rang the SADO and asked whether we had any responsibilities as the nearest Unit. He thought we did, both for rescue and for mounting a guard on any wreckage. 'It's all yours Clarkie-boy,' he said. 'I'm far too busy' as he pushed away some papers and stretched his legs languidly on the edge of his desk and grinned. 'After all, I'm not Duty Officer today. You are. You'd better get a truck, call out the guard and a few of the Sick Berth chaps and get over there. If the Rozzers call, I'll tell them you're on your way.'



Stand By Your Beds! has many photos taken by the author or of the author and period photographs such as recruits being shown how to fire a Sten gun by an officer, a passing out parade and the Airmen's basic kit layout for inspection.

The recommended retail price of Stand By Your Beds! a wry look at national service written by David Findlay Clark is £12-99. it was published by Cualann Press. The ISBN is 0-9544416-9-9 and the book runs to 207 pages.

It was first published in 2001 and this review is of the second edition from Autumn 2006 which includes new material based on letters and correspondence with readers. It was printed by Bell and Bain, Glasgow.

David Findlay Clark has also written Help, Hospitals and the Handicapped, One Boy's War, Remember Who You Are: The Story of a Son of the Manse.




National Service Medal

National servicemen lobbied recently for a National Service Medal and their campaign was adopted by the National Service Veterans Alliance (NSVA). They felt that a medal would go some way to reflect the commitment and sacrifices that many people made and honour those that had died. It eventually resulted in the making of one for men and women who served in the British Armed Forces, by conscription, from January 1939 to December 1960. It can also be awarded to the surviving next of kin of the serviceman and servicewoman.

It is hallmarked solid silver and has the image of the Britannia figure with a lion on the other side. This represents the mother country of Britain whilst the lion represents national service people. The ribbon has broad blue bands and a central thinner gold stripe to signify the RBL (Royal British Legion). These colours are separated with narrow red and white stripes to reflect the colours of the British flag. The funds from the sale of them are given over the Poppy Appeal and the medal is sponsored by the Royal British Legion. It cannot be worn as an official medal but is seen as an important memento.



Private Fred Turner was thought to be the last national serviceman. He was a member of the ACC (Army catering Corps) and had the last service number that was issued was 23819209. His last posting was with the 13/18 Hussars and Private Fred Turner was discharged from the army on the 7 May 1963.



Film and television programmes have featured nationalservice throughout the decades.

The Army Game

For example the old black and white comedy The Army Game with Frank Williams, William Hartnell, Alfie Bass, Charles Hawtrey, Bill Fraser featured the antics of regular and national servicemen. It centred around life in a fictious army camp of Nether Hopping and how the soldiers such as Private Bootsie, 'Professor' Hatchett and Corporal 'Flogger' Hoskins as they get one over the Sergeant Major Bullimore and then Sergeant Major Snudge.



Carry On Sergeant

William Hartnell also played another RSM like character of Sergeant Grimshawe in Carry on Sergeant in 1958 before becoming the first Dr Who. His conscripts included the actors Kenneth Connor, Kenneth Williams, Bob Monkhouse and Charles Hawtrey. His corporal was Bill Owen who many will fondly remember as Compo in last of the Summer Wine.



Get Some In!

Get Some In! was a comedy about national service in the RAF. It starred a young David Jason as recruit Ken Richardson and Tony Selby as NCO Corporal Percy Marsh who put the fear of God into the recruits. His efforts were later rewarded with a promotion to Sergeant. Other actors in get Some In! included Robert Lindsay as Jakey Smith though by series 5 he was played by Karl Howman and a dour Scotsman character of Aircraftsman Bruce Leckie played by Brian Pettifer.

Get Some In! was broadcast from 1975 to 1978 for six series on ITV by Thames Television. There were 34 episodes which included a Get Some In! Christmas special.



Bad Lads Army

In July 2002 ITV broadcast a reality television programme called Bad Lads Army. The idea was to take a group of youths who had committed a variety of crimes and make them live like national service recruits. These TV conscripts were made to live in the same conditions as 1950s national servicemen and undergo the same training. The fourth series of Bad Lads Army moved onto special forces and featured paratrooper training. A fifth series has not yet been confirmed but it is hoped that it may feature the Royal Marine Commandos or the Special Air Service (SAS).

The drill sergeants and NCOs were all former army regulars and included Corporals such as Corporal Nauyokas and Corporal Murray. The narrator of Bad lads Army was the actor Dennis Waterman and the presenter was Lord Brocket.



In August 2007 David Cameron, the leader of the opposition, The Conservative Party, proposed a modern day return to nationalservice as being a possible answer to youth crime and disorder. David Cameron 21st century version of national service proposals were for a six week National Citizen Service programme for those troubled youths aged 16 years. It was part of the Conservatives It's Time to Inspire Britain's Teenagers campaign. Its aims were to challenge 16 year olds whilst allowing their energy to put something back into society. He proposed that it not be a strict return but a mixture of community service and residential courses which culminated into a challenging mission.




If you would like to contribute any info, photographs or share your memories then please contact me.









If you would like to contribute to this page, suggest changes or inclusions to this website or would like to send me a photograph then please e-mail me.



Official QARANC webpage.

QA Association website.

In The Company of Nurses Book.


***********************************************





Read our posts on:

Facebook

Google+

Twitter


Present Day

» Become An Army Nurse

» Junior Ranks

» Officer Ranks

» Abbreviations

» Nicknames

» Service Numbers

Ministry of Defence Hospital Units

» MDHU Derriford

» MDHU Frimley Park

» MDHU Northallerton

» MDHU Peterborough

» MDHU Portsmouth

» RCDM Birmingham



Field Hospitals

» Camp Bastion Field Hospital and Medical Treatment Facility MTF Helmand Territory Southern Afghanistan






Territorial Army

» TA Field Hospitals and Field Ambulances


Photos

» Florence Nightingale Plaque

» Photographs


Uniform

» Why QA's Wear Grey

» Beret

» Lapel Pin Badge


» Cap Badge

» Corps Belt

» ID Bracelet

» Silver War Badge WWI

» Officer's Cloak

» QAIMNSR Tippet

» Officer Medal


Events

» Armed Forces Day

» Recreated WWI Ward

» Reunions

» Corps Day

» Freedom of Rushmoor

» Re-enactment Groups

» Military Events

» Remembrance

» AMS Carol Service

» QARANC Association Pilgrimage to Singapore and Malaysia 2009

» Doctors and Nurses at War

» War and Medicine Exhibition

» QA Uniform Exhibition Nothe Fort Weymouth


Famous QA's

» Dame Margot Turner

» Dame Maud McCarthy

» Military Medal Awards To QAs

» Moment of Truth TV Documentary

» Sean Beech


Nursing Events

International Nurses Day


Info

» Search

» Site Map

» Contact

» Websites



We are seeking help with some answers to questions sent by readers. These can be found on the Army Nursing page.



» Find QA's

» Jokes

» Merchandise

» Teddy Bears

» Pin Badges

» Wall Plaques

» Fridge Magnet



» The Abandoned Soldier