» Site Map

» Home Page

Historical Info

» Find Friends – Search Old Service and Genealogy Records

» History

» QAIMNS for India

» QAIMNS First World War



» Territorial Force Nursing Service TFNS

» WW1 Soldiers Medical Records

» Field Ambulance No.4

» Chain of Evacuation of Wounded Soldiers

» Auxiliary Hospitals

» War Graves Nurses




» Book of Remembrance

» Example of Mentioned in Despatches Letter

» Love Stories

» World War 1 Letters

» QA World War Two

» Africa Second World War

» War Diaries of Sisters

» D Day Normandy Landings

» Belsen Concentration Camp

» Voluntary Aid Detachment

» National Service

» Korean War

» Gulf War

» Op Telic

» Royal Red Cross Decoration

» Colonels In Chief

» Director Army Nursing Services (DANS)

» Colonel Commandant

» Matrons In Chief (QAIMNS)

Follow us on Twitter:




» Grey and Scarlet Corps March

» Order of Precedence

» Motto

» QA Memorial National Arboretum

» NMA Heroes Square Paving Stone

» Memorial Window

» Army Medical Services Monument

» Recruitment Posters

» Museum

» QA Association

» Standard

» QA and AMS Prayer and Hymn

» Books


Former Army Hospitals

UK

» Army Chest Unit

» Cowglen Glasgow

» CMH Aldershot

» Colchester

» Craiglockhart

» DKMH Catterick

» Duke of Connaught Unit Northern Ireland

» Endell Street

» First Eastern General Hospital Trinity College Cambridge

» Ghosts

» Hospital Ghosts

» Haslar

» King George Military Hospital Stamford Street London

» QA Centre

» QAMH Millbank

» QEMH Woolwich

» Medical Reception Station Brunei and MRS Kuching Borneo Malaysia

» Musgrave Park Belfast

» Netley

» Royal Chelsea Hospital

» Royal Herbert

» Royal Brighton Pavilion Indian Hospital

» School of Physiotherapy

» Tidworth

» Wheatley


France

» Ambulance Trains

» Hospital Barges

» Ambulance Flotilla

» Hospital Ships


Germany

» Berlin

» Hamburg

» Hannover

» Hostert

» Iserlohn

» Munster

» Rinteln

» Wuppertal


Cyprus

» TPMH RAF Akrotiri

» Dhekelia

» Nicosia


Egypt

» Alexandria


China

» Shanghai


Hong Kong

» Bowen Road

» Mount Kellett

» Wylie Road Kings Park


Malaya

» Kamunting

» Kinrara

» Kluang

» Singapore

» Terendak


Overseas Old British Military Hospitals

» Belize

» Falklands

» Gibraltar

» Kaduna

» Klagenfurt

» BMH Malta

» Nairobi

» Nepal


Middle East

» Benghazi

» Tripoli


Netley Hospital

Information photographs and history about Netley Royal Victoria Military Hospital the Cemetery and Country Park:


After the Crimean war Queen Victoria ordered a military hospital to be built in the UK. Its purpose was to train army nurses and doctors and to treat military patients to ensure their swift return to duty. Netley was chosen as the site because it was near to Southampton so that hospital ships from around the British Empire could safely dock and disembark patients.

The book Sub Cruce Candida: A Celebration of One Hundred Years of Army Nursing
has a collection of photographs of the Royal Victoria Military Hospital Netley.



The image below is a postcard of Netley Hospital which was available to patients so that they could write home. It was common practice for army hospitals to have postcards produced for sale to patients and visitors for their use before the day of every home having a telephone.






Another tradition was to have them with a photo of individuals or groups wearing their uniform. There is an example on the World War One Postcards of the Royal Army Medical Corps page.



Photos of postcards courtesy of Alexandra Edwards (nee Rainey)
The coloured one is from the 1920's, and the black and white one below is a view across the Solent. It was posted to Mademoiselle Germaine Marlier, Rue de la Banque, Bar le Duc, Meuse, France on 18 September 1903 in Southampton and redirected to her in Meuse, on 20th September.




There is no message nor signature, so she could have sent it to herself as the inscription on the front says: a lovely souvenir of the Chateau Alexandra wonders if she knew it was a hospital or had she been to visit someone? Sadly we'll never know......

As can be seen from the photograph of Royal Victoria Hospital Netley above it looked magnificent and was considered to be the largest military hospital in the world at the time. Though the view from inside was different. Patients and staff had a view of the coal bunkers and other out houses because the wards faced North east. The architect did not allow for isolation units nor an adequate provision of fresh air. This was later addressed in later military hospitals such as the Cambridge Military Hospital. Those who worked in the administration blocked did however enjoy a stunning view across the Southampton Water.







Foundation Stone

The foundation stone, a 2 tonne Welsh granite stone, was laid by Queen Victoria on 19 May in 1856. Queen Victoria arrived at Royal Victoria Hospital Netley by Royal Yacht. The Jetty by the hospital was specially built for her visit and a scarlet carpet covered the walkway. This occasion was marked by the firing of a Royal Salute. Unfortunately one gun fired prematurely and two sailors were killed outright whilst others were injured. The laying of the foundation stone ceremony still went ahead. Beneath the stone a copper casket containing the plans of the hospital, the first Victoria Cross, a silver Crimea medal with all four campaign bars and coins of the realm were laid. An inscription on the stone said:

This stone was laid on the 19th day of May in the year of our Lord, 1856, by Her Most Gracious Majesty Victoria, Queen of Great Britain and Ireland as the foundation stone of the Victoria Military Hospital intended for the reception of the sick and wounded soldiers of her Army.




I have published a book which tells the story of The Grey Lady Ghost of the Cambridge Military Hospital which reveals her origins in the QAIMNS and where she meets a QA veteran of Afghanistan. She still walks her wards and tells her story by taking Scott Grey, a QARANC nurse, to the battlefields of World War One and beyond. This is the first in the series of Grey and Scarlet Novels by CG Buswell. Read the first chapter for free.




If you like this page and would like to easily share it with your friends and family please use the social networking buttons below:





Building Information

The design of Royal Victoria Military Hospital Netley was by the War Department architect Mennie (cited in the book Queen Alexandra's Royal Army Nursing Corps (Famous Regts. S)
by Juliet Piggott).

The site was purchased at a cost of £15,000 and building costs were £350,000. It was the largest military hospital in its day with 138 wards housing about 1000 beds. The brick building was about a ¼ mile long (1,424 feet) and set in 27 acres of grounds. By the time the site was closed it covered some 200 acres. As can be seen in the photos of Netley Hospital on this page there was a central dome with two brick wings that had Portland stone dressings. There were three floors to the Royal Victoria Military Hospital Netley.

Florence Nightingale had wanted to help design the hospital but plans had already been drawn and construction started before her return from the Crimean War. She did try to appeal to Lord Panmure and then Lord Palmerston the Prime Minister to have the plans of Netley Hospital altered but this would have cost an additional £70,000 and building work had already started. She was however able to help write up military nursing regulations.

First Patients


The first patients admitted to the Royal Victoria Military Hospital Netley was on the 19 May 1863. The first patients and war casualties arrived by boats and ships to the purpose built 170 metre long pier at Southampton Water. This is how Queen Victoria would arrive for her regular visits. During such visits she awarded medals to the soldiers which included three Victoria Crosses. These VCs' were awarded to Private Frederick Hitch of the 24th Regiment in recognition for his bravery at Rorke's Drift (the Zulu War) in 1879, Piper Findlater of the Gordon Highlanders and Private Vickery of the Dorset Regiment for actions in the Tirah Campaign on the North West Frontier of India.




Photo courtesy of Alexandra Edwards (nee Rainey) this large aerial shot includes a little of the pier on the bottom right. Date and source unknown.


The pier remained in use for a further five years. The pier was demolished in 1955, it is thought because it had become unsafe.

The railway link, which was a branch line from Netley station, was built some nine years before the Jetty was built, and linked Netley Hospital with the main line and a connection to Southampton Central Station. Ambulance trains made the transfer of patients much easier from Southampton to Netley Hospital. This railway enabled a steam train to be driven to the site after which the wheels were removed and for the next seven years it was used to drive giant cement mixers, whilst the building was being constructed. When finished the wheels were replaced and the train went back to Crewe. Much of the stone and materials for the construction also came by rail.

The jetty was built some two years after completion of the building and turned out to be a bit of a white elephant. The hospital ships which were to dock there would run aground, due mainly to the fact that it was not long enough to reach deep water. As a result the hospital ships went on to Southampton where the patients were transferred to hospital trains. The original little branch line was extended, and sidings added to allow the patients to be transferred directly to the wards. As for the jetty it was left for the patients to enjoy and use for their leisure.


Army Medical School

The Army Medical School moved to Royal Victoria Hospital in 1863 from Fort Pitt in Chatham where it had originated in 1860 (cited in the book Queen Alexandra's Royal Army Nursing Corps (Famous Regts. S)
by Juliet Piggott).

The Army Medical School then moved to London in 1902. For the first few years is was in temporarily premises and moved to the Royal Army Medical College Millbank in 1907.


Miss Jane Stewart

Miss Jane Catherine Shaw Stewart was the first Superintendent of Female Nurses for the Royal Victoria Hospital in Netley. Miss Jane Shaw Stewart moved to Netley on the 25 May 1868 (cited in the book Sister Janet: Nurse and Heroine of the Anglo-Zulu War 1879
). She was supported by six Nursing Sisters from St. Thomas' Hospital in London. Miss Jane Stewart had been a Nursing Sister during the Crimean War. She had an unusual approach to her colleagues and it was reported that she shouted at the nurses and argued with the doctors. She was passionate about nursing and worked hard to improve the lives of army nurses. She was also in the post of Superintendent General of Female Nurses at the newly built Royal Herbert Hospital.


Mrs Jane Deeble

Miss Stewart left Netley hospital in 1869 (though some sources state May 1868) and was succeeded by Mrs Jane Deeble, the widow of an army surgeon who died at Abyssinia. Six more nurses were employed at the same time and these were Ann Clark, Lucy Emm, Jane Kennedy, Jessie Lenox, Rebecca Strong and Lucy Wheldon.

Before 1869 nurses would wear a uniform of a starched apron worn over a brown dress. Mrs Deeble introduced the grey ward dress with short scarlet cape that are now worn by QA officers.

Mrs Deeble was later promoted to Matron and in 1879 she went to the Zulu War with 14 nurses to care for the wounded at Pietermaritzburg and Addington in Natal. They went aboard the ship the Dublin Castle from London to Cape Town along with reinforcements to the Anglo Zulu War. The Dublin Castle would then return to Britain with wounded and sick who would then be taken to Netley Hospital (cited in the book Sister Janet: Nurse and Heroine of the Anglo-Zulu War 1879
).

Miss Deeble retired as the Lady Superintendent of Netley Hospital in the year 1889 and was replaced by Miss Norman (cited in the book Queen Alexandra's Royal Army Nursing Corps (Famous Regts. S)
by Juliet Piggott).


Matrons of Netley Hospital

Other Matrons of Netley Hospital were:

Miss H Campbell Norman (RRC)
Dame Maud McCarthy


Dr John Watson

Netley Hospital even went into the fictional history books for training Doctor John Watson, the friend and partner of Victorian detective Sherlock Holmes. These references can be read in the first book by the author Sir Arthur Conan Doyle which was A Study In Scarlet.


The National Society for Aid to the Sick and Wounded in War

The National Society for Aid to the Sick and Wounded in War was set up in 1870 after the outbreak of the Franco Prussian War. They provided funding to train nurses at Netley Hospital who would then continue to serve at military hospitals for two to three years whilst being paid by the National Society. There is more written about them and their terms of service in the book Queen Alexandra's Royal Army Nursing Corps (Famous Regts. S)
by Juliet Piggott. For example their probation pay was twelve pounds and would rise to thirty pounds a year during their two year period at a military hospital.

Three of these National Society for Aid to the Sick and Wounded in War nurses transferred to the Army Nursing Services after their 3 year service and two served in Egypt in 1884. The National Society stopped providing nurses in the year 1885 and had provided 12 nurses by this time.


German Brooches

Sister Beardsmore Smith, who later became a Matron-in-Chief of the QAIMNS and another QA Sister nursed a Staff Surgeon of the German navy called Dr Kunze when he had a bad case of pleurisy. He was serving on the German Emperor's yacht the Hohenzollern. In January 1908 the German Emperor presented brooches to the QA Sisters for their skilful nursing and each nurse was given permission by his cousin, King Edward VII, to wear the brooch (cited in the book Queen Alexandra's Royal Army Nursing Corps (Famous Regts. S)
by Juliet Piggott).


First World War


Royal Victoria Military Hospital Netley was fully operational in the First World War with an estimated 50,000 patients treated. The bed capacity was doubled to 2000 with the building of Red Cross huts in one of the surrounding fields. One of their most famous patients was the poet Wilfred Owen who was treated for shell shock at Netley before he was transferred to Craiglockhart War Hospital near Edinburgh in Scotland. Here he met fellow war poet Siegfried Sassoon.

Another important role of the doctors at Royal Victoria Military Hospital Netley was research. During this time a vaccination against typhoid was discovered by Sir Almoth Wright professor of pathology.


This is 10A Ward [Lower], Royal Victoria Hospital, Netley which probably dates from the 1st World War. It comes from the collection of VAD nurse Gwendoline Ashley whose other photos and career can be seen on the Voluntary Aid Detachment page.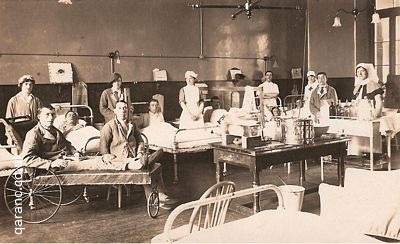 Second World War

Mobilised members of the Queen Alexandra's Imperial Military Nursing Service, the QAIMNS(R) and the TANS (Territorial Army Nursing Service) reported to Netley Hospital when they had the call up in 1939.

During the Second World War the Muster point for Number 4 British General Hospital (BGH) was at Royal Victoria Military Hospital Netley and their destination was La Baule (cited in Quiet Heroines: Nurses of the Second World War
) by Brenda McBryde.



To left is pictured Josephine (Jo) Lyndon and other QA's at Netley Hospital before she went to Africa during World War Two.

An account of nursing Sister Marjorie Bennett who was posted from Netley Hospital to the British Expeditionary Force (BEF) in France during World War Two in January 1940 is included in the book Women Who Went to War
by Eric Taylor. Her account includes the voyage aboard a troop ship, setting up a hospital in a casino and the methods that the QAs used to keep themselves and their patients warm during the harsh winter.



In 1939 No 11 General Hospital formed at Netley and were deployed to Le Havre. During the Dunkirk evacuation all the equipment, except one typewriter, was destroyed. No 11 General Hospital were evacuated from Cherbourg to England (cited in the book Queen Alexandra's Royal Army Nursing Corps (Famous Regts. S)
by Juliet Piggott).


Royal Victoria Military Hospital Netley once again saw its bed strength increase at the outbreak of another World War. During the Second World War it treated casualties throughout the war which included patients from the Dunkirk evacuation in 1940.

Between September and October 1943 Royal Victoria Military Hospital Netley admitted the first exchange of Prisoners of War with Germany for medical examination and treatment before the British troops went onto a well deserved period of leave. Some of the servicemen had had to have amputations of limbs whilst under the care of German doctors and were now able to have fitted prosthetics at Netley Hospital.

It was handed over to the United States Military (Army and Navy) in 1944 during the Second World War. Over 68,000 patients were treated for the remaining year and a half of the war which included patients from D Day and German Prisoners of War (POW).

The American troops must have thought the quarter of a mile corridor to be too long to walk because they used to drive their jeeps along the ground floor (cited in the book Queen Alexandra's Royal Army Nursing Corps (Famous Regts. S)
by Juliet Piggott).


After World War II the Americans handed it back to the British Army in July 1945 and it continued to treat British Forces personnel.



Netley Military Hospital

The first army asylum was built at D block, Victoria House at Netley. It opened in 1870.

Prior to the opening of Royal Victoria Military Hospital psychiatric patients would be cared for at the Hospital for Lunatic Patients in Great Yarmouth, England.

D block, Victoria House treated over 15000 patients during WWI and famously treated the deputy of Adolf Hitler, Rudolf Hess, during WWII after his flight from Germany to England and his parachute jump from the plane and capture.

From 1950 an E block was added and the army psychiatric facility was renamed Albert House. It continued to treat army personnel with psychiatric illnesses and alcohol dependency problems. From 1960 Navy personnel was also treated at Netley.


Main Entrance

The Folklore of Hampshire
describes that the main entrance of The General Military Hospital Netley opened into their natural history museum where there was an elephant skeleton and glass cabinets with skulls from the time of the British Empire. There were two impressive staircases at either side which gave a view of the relics. The patients nicknamed the area Skull Alley.



Royal Victoria Military Hospital Netley

Royal Victoria Military Hospital Netley closed in 1958 because of the high cost of maintaining the building. The building remained unused for several years and was badly damaged in a fire in June 1963 and then sustained further damage when pipes froze and burst in the winter of 1963. Sadly this damaged the structure and caused the eventual demolition of the main hospital building on the 16 September in 1966. However the psychiatric hospital remained open during this time and did not close until 1978. The closure was marked by a parade through Netley village and a ball and firework display at the Officers Mess.


Netley Chapel


The Royal Victoria Military Hospital Netley grounds and building were purchased by Hampshire County Council in 1979. The grounds were developed and in 1980 were opened to the public. The area was renamed as the Royal Victoria Country Park. None of the original building or facilities remains except for the Royal Chapel and the Officers Mess building. Netley Chapel is now a museum (photograph above) whilst the Mess was converted into luxury apartments.



Netley Military Cemetery
Netley Military Cemetery can be found at Cemetery Wood. It was opened in June 1864 and closed in 1978. During this time the hospital buried patients as well as staff and their families in the cemetery. The graves include over 700 graves from World War One and 37 from World War Two. Such graves include German POW's. The military headstones are maintained by the War Graves Commission.



Royal Victoria Country Park

The Royal Victoria Country Park is open to the public and still features some of the original buildings that were not destroyed by the fire. For example the YMCA Building which was built in 1940 using 100 different timbers donated from all over the British Empire is now the park office, function room and public tea rooms.



Netley Military Hospital had a ghost. Read more about it on the Ghosts Page.



Drawing of Royal Victoria Military Hospital Netley

The drawing of Royal Victoria Military Hospital Netley near Southampton by E. Duncan from 1863 can be seen in the book Queen Alexandra's Royal Army Nursing Corps (Famous Regts. S)
by Juliet Piggott.




Copper Casket

In 1966 the two and a half ton Welsh granite foundation stone of Netley Hospital was lifted and a smaller Bath stone was found. This was inscribed with the words Victoria Military Hospital 1856. Beneath this was found a copper casket that contained a set of coins including a groat and crown from the year 1853. It is thought that these were a proof set because none had been minted during the years leading up to the laying of the foundation stone. There was also a Victoria Cross medal which is thought to have been a prototype given to the Queen before the VC was founded in 1857. Another medal in the copper casket was the Crimea medal with four clasps of Sebastopol, Inkerman, Balaklava and Alma. The copper casket also contained the plans of the Netley Hospital building. The copper casket had been opened by the officer commanding of the Royal Victoria Hospital (cited in the book Queen Alexandra's Royal Army Nursing Corps (Famous Regts. S)
by Juliet Piggott).



D Day Preparations 50th Anniversary

The D Day preparations 50th anniversary was held in the grounds of the Royal Victoria Country Park, what would have been the site of the former Netley Hospital on the 27 May 1994. A Drumhead Service and Parade took place with International participants of all Services and Veterans of the Second World War and Operation Overlord. This included servicemen and servicewomen of countries like America, Belgium, Canada, the Czech Republic, France, Netherlands, Norway, Poland and Britain. Civilian organisations from WWII also took part in the D Day preparations 50th anniversary. This included the Air Raid Precautions (ARP), Land Army, Observer Corps, civilian nurses, Salvation Army, St John's Ambulance Service, Women's Royal Voluntary Service (WRVS). Displays included a history of the Military Hospital in Netley and equipment that would have been used by the nursing staff.

Present members of the QARANC dressed in present and World War Two uniforms which included from WW2: No 2 Uniform (Captain Jo Cottrell and Captain Nicky Thompson-Wells ), Battledress (Sgt Linda Smith) and from the present day: Ward Sister Uniform (Major Tricia Conway) and Combat Uniform (Cpl Bernie O'Neill).

QAIMNS veterans of the D Day Landings included Lt Col Maureen Gara RRC and Miss Gill Basant MBE.

The memories of Lt Col Gara can be read in Millions Like Us: Women's Lives in War and Peace 1939-1949
.



***********************************************


Qaranc.co.uk would like to thank Stephen Matthews for his help with addition information about the history of Royal Victoria Military Hospital Netley throughout this page. Stephen recalls:

I was bought up in the village of Netley Abbey so I knew the hospital very well indeed. My great, great Grandfather was born at Netley Royal Victoria Military Hospital and my great Grandfather, Bombardier Oakley, was mentioned in dispatches. As a youngster I attended Sunday school at the military chapel, and the local secondary school used to hold carol services there before the Christmas break. Many of my school pals were Children of serving military families. I have always had an interest in the place even though I'm now in my 60s and live in the borders of Scotland.

I think I'm right in saying that most of the bricks used in the construction of the RVH came from a brickyard at Burseldon. That only stopped production a few years ago and the sight has been redeveloped and is now the national air traffic control centre. P wing or D wing as you refer to it is still in use. It was taken over by Hampshire constabulary and is used as a training facility.

I have managed to find more detail s of the major part that the railways played during the construction and after completion of the Royal Victoria Hospital, Netley This new information comes from a book written by John Fairman, which was published I believe in 1984.I have some extracts from this book relating to the RVH, which were sent to me some years ago by an ex station master of Netley. It appears that had it not been for the construction of the RVH the present day railway link between Southampton to Fareham, then on to Portsmouth would not exist. The route to Fareham before the hospital was built was from Southampton to Eastleigh then via Botley to Fareham. The company of George Myers of Lambeth London was awarded the contract to build the new hospital from the plinth up. The task of superintending the works for the war office was the job of Major Ravenhill R.E.

Myers hired not one but two type 2-2-0 locomotives from Mr. Isaac Watt Boulton who ran an engineering works at Ashton-under Lyne near Stockport. These locomotives were modified by Boulton Engineering, before being sent to Netley. Pulleys were fitted to the driving wheels. Once on site the Loco's were jacked up, and then drove the cement mixers. I had once been informed that the wheels were removed, but there is no mention of this in the information I now have. On their return to Ashton after the end of the contract both engines were described as being completely worn out. After standing in the sidings for a short time they were broken up.

The Hospital trains leaving the docks at Southampton would have probably come via the terminus station, which still exists. I believe BBC radio Solent is housed in the old terminus station now. The line is certainly still visible and in use, it actually ends alongside the old ocean terminal from where the Titanic sailed on its maiden voyage. The rest as they say is history.

YouTube has five little pieces of film showing patients at the Royal Victoria Hospital Netley. They were filmed about 1917 and include patients with what was then termed war neurosis Stephen Matthews.

***********************************************

I was a Q.A at the Royal Hospital Chelsea, in 1966, I took my S.E.N exam there. I was there for 3 months, on Heath Care of the Elderly course from Colchester. I originally came from Cornwall, and it was a culture shock, being in such a big city. I also served in Iserlohn, Milbank, Tidworth and Shorncliffe in Kent. I met my husband over a corpse at midnight 1967, he was serving in the RAMC, and we have been married now for 44 years. I have never met any of the QA`s I served with, but I have my memories. I was one of the first SEN`s to work at Netley, there were 3 Q.A.R.A.N.C nurses and 3 Naval Nurses from Haslar, we were there for 3 months in 1967, after that I had a compassionate posting to Tidworth. There I remained till my discharge in 1968 and married.

It was one of my favourite postings, and have been back many times to Victoria Country Park as it is now known. The Officers' quarters was a large Victorian house, which we also stopped in, is now luxury apartments. The old hospital has been pulled down and is a training area for police dog handlers. A lot of valuable memorabilia went missing when it closed, the cap badges from all over the world, which were in the old YMCA, the wooden plaques to all who served at Netley during the 1st World War, which hung in Reception, has gone.

The patients use to come in by train, and we went down on a motorised buggy to pick them up. It was shame when they closed it, but that`s progress!
Diana MacIntosh nee Waddell


***********************************************


The Army Medical Services Museum, Keogh Barracks, Ashvale have the burial records for the cemetery at Netley. It contains names, dates of death, regiments etc. This document can be accessed by arranging an appointment at the museum.



Vintage Green Bottle.


The badges in the photos below were found during some general ground work from the surrounding site of the Royal Victoria hospital, in Netley, a few years back. One has AHC on, and the other MT. The MT (Military Train?) badge is 35 x 30 mm and the AHC (Army Hospital Corps?) is 65 x 35 mm. If you can help with information about these badges please contact us.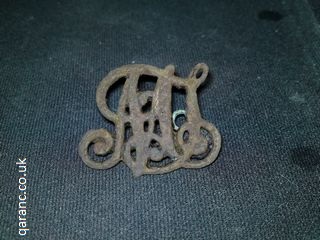 Other finds include an old Royal Artillery Badge and an unknown object which could be a pill box. It measures approximately 3/4" x 2" and rattles when lightly shaken. Perhaps it still has some pills inside?






We have since learnt that the above photo is of an antique sewing needle case which would have contained a thimble, thread and needles.



The finds below show a Royal Ordnance Cap Badge, an unknown piece which has a thread at the bottom, so maybe off a gatepost? And at the bottom, one of the searchers fondest finds of which he has no idea what it is but it looks Indian almost, and gorgeous. He thinks the term for this design is Filigree. It seems to have been some sort of clasp which fitted or clicked on to maybe a box of some kind. Someone mentioned it was a ladies bracelet or brooch, but he thinks it is a bit heavy and brutal like to be of such thing. It really is a most powerful item to look at and hold. Found near the rail trail.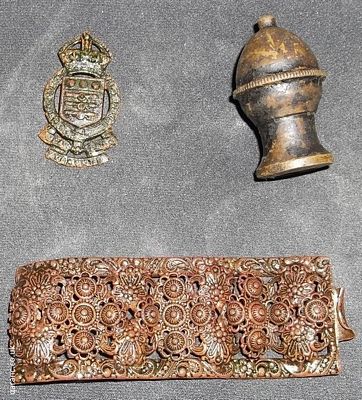 Below is a near perfect badge, possibly off a radiator of an old A C (Auto Carriers) car, made from copper or brass thought to be as early as 1920's. It could be off a footplate though the item is curved.








Below are a Royal Engineers button, and two General Service buttons. The button on the end is in very poor condition, but after close inspection with various glasses, it is 100% a General Service button.






Here is a photo of some rather poor conditioned coins which have been found in the last year. At the top is a 1901 sixpence piece, then a 1917 penny, 1921 penny and a 1902 halfpenny.








This find is a Bosun's whistle:






Watch Videos of Netley Hospital Southampton



See also the Army School of Psychiatric Nursing Silver Badge page.




Forces War Records

Forces War Records are a genealogy site where you can find military records of over 6 million British Armed Forces personnel cross matched with over 4000 Regiments, Bases and Ships. This link includes a free search and a special discount of 40% off membership offer for visitors who use the discount code AF40 if they decide to become a member.
Search Now. A unique feature is their WW1 Soldiers Medical Records section.








If you would like to contribute to this page, suggest changes or inclusions to this website or would like to send me a photograph then please e-mail me.



Official QARANC webpage.

QA Association website.

In The Company of Nurses Book.


***********************************************







The Grey Lady Ghost of the Cambridge Military Hospital Novel - a Book by CG Buswell


Read our posts on:

Facebook

Google+

Twitter


Offers

Army Discounts






Present Day

» Become An Army Nurse

» Junior Ranks

» Officer Ranks

» Abbreviations

» Nicknames

» Service Numbers

Ministry of Defence Hospital Units

» MDHU Derriford

» MDHU Frimley Park

» MDHU Northallerton

» MDHU Peterborough

» MDHU Portsmouth

» RCDM Birmingham



Field Hospitals

» Camp Bastion Field Hospital and Medical Treatment Facility MTF Helmand Territory Southern Afghanistan






Territorial Army

» TA Field Hospitals and Field Ambulances


Photos

» Florence Nightingale Plaque

» Photographs


Uniform

» Why QA's Wear Grey

» Beret

» Lapel Pin Badge


» Army School of Psychiatric Nursing Silver Badge

» Cap Badge

» Corps Belt

» ID Bracelet

» Silver War Badge WWI

» Officer's Cloak

» QAIMNSR Tippet

» Officer Medal


Events

» Armed Forces Day

» Recreated WWI Ward

» Reunions

» Corps Day

» Freedom of Rushmoor

» Re-enactment Groups

» Military Events

» Remembrance

» AMS Carol Service

» QARANC Association Pilgrimage to Singapore and Malaysia 2009

» Doctors and Nurses at War

» War and Medicine Exhibition

» QA Uniform Exhibition Nothe Fort Weymouth


Famous QA's

» Dame Margot Turner

» Dame Maud McCarthy

» Military Medal Awards To QAs

» Moment of Truth TV Documentary

» Sean Beech


Nursing Events

International Nurses Day


Info

» Search

» Site Map

» Contact

» Websites



We are seeking help with some answers to questions sent by readers. These can be found on the Army Nursing page.



» Find QA's

» Jokes

» Merchandise

» Mugs

» Personalised Poster

» Stamp

» Teddy Bears

» Pin Badges

» Wall Plaques

» Fridge Magnet



» The Abandoned Soldier