» Site Map

» Home Page

Historical Info

» Find Friends – Search Old Service and Genealogy Records

» History

» QAIMNS for India

» QAIMNS First World War

» WW1 Soldiers Medical Records

» War Graves Nurses




» Book of Remembrance

» Example of Mentioned in Despatches Letter

» Love Stories

» World War 1 Letters

» QA World War Two

» Africa Second World War

» War Diaries of Sisters

» D Day Normandy Landings

» Belsen Concentration Camp

» Voluntary Aid Detachment

» National Service

» Korean War

» Gulf War

» Op Telic

» Royal Red Cross Decoration

» Colonels In Chief

» Director Army Nursing Services (DANS)

» Colonel Commandant

» Matrons In Chief (QAIMNS)

Follow us on Twitter:




» Grey and Scarlet Corps March

» Motto

» QA Memorial National Arboretum

» NMA Heroes Square Paving Stone

» Memorial Window

» Army Medical Services Monument

» Recruitment Posters

» Museum

» QA Association

» Standard

» QA and AMS Prayer and Hymn

» Books


Former Army Hospitals

UK

» Army Chest Unit

» Cowglen Glasgow

» CMH Aldershot

» Colchester

» Craiglockhart

» DKMH Catterick

» Duke of Connaught Unit Northern Ireland

» Endell Street

» Ghosts

» Hospital Ghosts

» Haslar

» King George Military Hospital Stamford Street London

» QA Centre

» QAMH Millbank

» QEMH Woolwich

» Musgrave Park Belfast

» Netley

» Royal Chelsea Hospital

» Royal Herbert

» Royal Brighton Pavilion Indian Hospital

» School of Physiotherapy

» Tidworth

» Wheatley


France

» Ambulance Trains

» Hospital Barges

» Hospital Ships


Germany

» Berlin

» Hamburg

» Hannover

» Hostert

» Iserlohn

» Munster

» Rinteln

» Wuppertal


Cyprus

» TPMH RAF Akrotiri

» Dhekelia

» Nicosia


Egypt

» Alexandria


China

» Shanghai


Hong Kong

» Bowen Road

» Mount Kellett

» Wylie Road Kings Park


Malaya

» Kamunting

» Kinrara

» Kluang

» Singapore


Overseas Old British Military Hospitals

» Belize

» Falklands

» Gibraltar

» Klagenfurt

» BMH Malta

» Nairobi

» Nepal


Middle East

» Benghazi

» Tripoli


QARANC Corps March

Grey and Scarlet - The March of the Queen Alexandra's Royal Army Nursing Corps

The official military march past of the QA's is Grey and Scarlet. It can be heard for free by Clicking Here
and then click on preview. There is also the opportunity to purchase the MP3 download, performed by the Royal Army Medical Corps Band for only 69 pence.

Or click on the play button below to hear the Queen Alexandra's Royal Army Nursing Corps March Past - Grey And Scarlet performed by the RAMC Band which is taken from the Album Soundline Presents Military Band Music - Medics In Concert.






Lieutenant Colonel Lewis Brown

The QARANC quick march was arranged by Lieutenant Colonel Lewis Doyle Brown MBE who at the time of composing the QA march was a Captain. It was named after the colours of the QA uniforms. Grey and Scarlet was derived from an old Irish Air called The Gentle Maiden and another old tune, Purcell's King Arthur.

Lt Col Lewis Brown (MBE), as he became, was the first Director of Music (DOM) of the Royal Army Medical Corps (RAMC) Staff Band from 1947-64. He was formerly a Bandmaster of the East Yorkshire Regiment.

The photograph below is of Lewis Brown from around 1950 when he was a Lieutenant: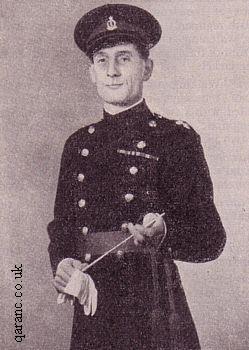 The idea of composing a special tune originated from Lieutenant General Sir Neil Cantlie in June 1948 during a Drumhead Service at the Depot and Training Establishment at Anstie Grange (cited in Queen Alexandra's Royal Army Nursing Corps (Famous Regts. S)
by Juliet Piggott).


Colonel Edith Dyson the then Colonel Commandant of the QARANC Depot had informed Captain L.D. Brown that Professor Lewis of Birmingham had suggested the theme be taken from a chorus of the opera King Arthur by Purcell (cited in the AMS Magazine January 1951). She got together with two other QA Officers, a pianist and Capt Brown to play the intended tune.

Later Captain Brown was asked to incorporate the tune The Gentle Maiden into the QA March. He played this tune on the piano but found the time signature and rhythm not to be suitable. However whilst working on the Band arrangement for the tune King Arthur his mind kept returning to The Gentle Maiden and he found that he could incorporate the tune by making slight alterations. Captain Brown sang the new tune down the phone to Colonel Dyson the next morning and Scarlet and Grey was adopted. Captain Brown finished the musical score and the Regimental March of the QARANC was vetted by the Director-General, the Matron in Chief and the Director of Music at the Royal Military School of Music. Queen Mary then gave her gracious approval for the adoption of Scarlet and Grey and it was added to the list of Corps and Regimental Marches authorised for use by the British Army (cited in the AMS Magazine January 51).



The First Performance of the Regimental March Past Gray and Scarlet

It was first performed in public by the Staff Band at the opening of the QA Depot and Training Establishment at Ontario Barracks in Hindhead on the 13th September 1950. Lt Gen Sir Neil wanted the QAs to have a march past of their own whilst on parade because the RAMC had their own. The General had suggested the QAs could use the song Her bright smile haunts me still (cited in Queen Alexandra's Royal Army Nursing Corps (Famous Regts. S)
by Juliet Piggott.) This book is part of the Famous Regiments series edited by military historian Lt-General Sir Brian Horrocks and published by Leo Cooper.



More can be read about Hindhead and other QA Depots and QA Centres at the QA Centre page.



QA March

The image below is of the QA March details in the Army Orders of September 1950. It reads:

2/General/1752 A.O. 120/1950

Queen Alexandra's Royal Army Nursing Corps - Regimental March.

A regimental quick march for the Queen Alexandra's Royal Army Nursing Corps, entitled "Grey and Scarlet", has been approved and copies can be obtained from the publishers, Messrs. Boosey and Hawkes, ltd., 295, Regent Street, London, W.1.

Authorized bands of the regular army only are required to provide themselves with copies of this march.




The QARANC do not have an authorized slow march or bugle call.

With thanks to Terry Hissey.




Medics In Concert

The QARANC march of Grey and Scarlet was recorded by the RAMC Volunteer Band in 2005. It was then released on their latest CD, Medics in Concert which is available for £10, including p&p, from the Band at:

Army Medical Services RHQ
Former Army Staff College
Slim Road
Camberley
Surrey
GU15 4PN.

Please make your cheque payable to AMS Band. Below is a picture of the CD cover with a beautiful photo of the Cambridge Military Hospital and the cap badge of the RAMC.






Below is an image of the music sheet of Grey and Scarlet: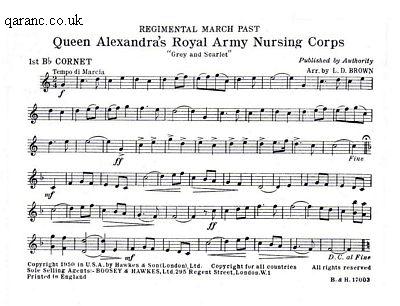 Read more about the AMS Volunteer Band at www.army.mod.uk



We would like to thank Terry Hissey for the help given to write this page about the March Of The QARANC.




Forces War Records

Forces War Records are a genealogy site where you can find military records of over 6 million British Armed Forces personnel cross matched with over 4000 Regiments, Bases and Ships. This link includes a free search and a special discount of 40% off membership offer for visitors who use the discount code AF40 if they decide to become a member.
Search Now. A unique feature is their WW1 Soldiers Medical Records section.


If you like this page and would like to easily share it with your friends and family please use the social networking buttons below:













If you would like to contribute to this page, suggest changes or inclusions to this website or would like to send me a photograph then please e-mail me.



Official QARANC webpage.

QA Association website.

In The Company of Nurses Book.


***********************************************



The Corps quick march of the QARANC is sometimes spelt Gray and Scarlet by some sources.

The Royal Australian Army Nursing Corps quick march is a combination of The Girls In Grey and Second to None.




Read our posts on:

Facebook

Google+

Twitter


Offers

Army Discounts

Free Waterloo Campaign Medal





Present Day

» Become An Army Nurse

» Junior Ranks

» Officer Ranks

» Abbreviations

» Nicknames

» Service Numbers

Ministry of Defence Hospital Units

» MDHU Derriford

» MDHU Frimley Park

» MDHU Northallerton

» MDHU Peterborough

» MDHU Portsmouth

» RCDM Birmingham



Field Hospitals

» Camp Bastion Field Hospital and Medical Treatment Facility MTF Helmand Territory Southern Afghanistan






Territorial Army

» TA Field Hospitals and Field Ambulances


Photos

» Florence Nightingale Plaque

» Photographs


Uniform

» Why QA's Wear Grey

» Beret

» Lapel Pin Badge


» Cap Badge

» Corps Belt

» ID Bracelet

» Silver War Badge WWI

» Officer's Cloak

» QAIMNSR Tippet

» Officer Medal


Events

» Armed Forces Day

» Recreated WWI Ward

» Reunions

» Corps Day

» Freedom of Rushmoor

» Re-enactment Groups

» Military Events

» Remembrance

» AMS Carol Service

» QARANC Association Pilgrimage to Singapore and Malaysia 2009

» Doctors and Nurses at War

» War and Medicine Exhibition

» QA Uniform Exhibition Nothe Fort Weymouth


Famous QA's

» Dame Margot Turner

» Dame Maud McCarthy

» Military Medal Awards To QAs

» Moment of Truth TV Documentary

» Sean Beech


Nursing Events

International Nurses Day


Info

» Search

» Site Map

» Contact

» Websites



We are seeking help with some answers to questions sent by readers. These can be found on the Army Nursing page.



» Find QA's

» Jokes

» Merchandise

» Stamp

» Teddy Bears

» Pin Badges

» Wall Plaques

» Fridge Magnet



» The Abandoned Soldier