» Site Map

» Home Page

Historical Info

» Find Friends – Search Old Service and Genealogy Records

» History

» QAIMNS for India

» QAIMNS First World War



» Territorial Force Nursing Service TFNS

» WW1 Soldiers Medical Records

» Field Ambulance No.4

» Chain of Evacuation of Wounded Soldiers

» Auxiliary Hospitals

» War Graves Nurses




» Book of Remembrance

» Example of Mentioned in Despatches Letter

» Love Stories

» World War 1 Letters

» QA World War Two

» Africa Second World War

» War Diaries of Sisters

» D Day Normandy Landings

» Belsen Concentration Camp

» Voluntary Aid Detachment

» National Service

» Korean War

» Gulf War

» Op Telic

» Royal Red Cross Decoration

» Colonels In Chief

» Director Army Nursing Services (DANS)

» Colonel Commandant

» Matrons In Chief (QAIMNS)

Follow us on Twitter:




» Grey and Scarlet Corps March

» Order of Precedence

» Motto

» QA Memorial National Arboretum

» NMA Heroes Square Paving Stone

» Memorial Window

» Army Medical Services Monument

» Recruitment Posters

» Museum

» QA Association

» Standard

» QA and AMS Prayer and Hymn

» Books


Former Army Hospitals

UK

» Army Chest Unit

» Cowglen Glasgow

» CMH Aldershot

» Colchester

» Craiglockhart

» DKMH Catterick

» Duke of Connaught Unit Northern Ireland

» Endell Street

» First Eastern General Hospital Trinity College Cambridge

» Ghosts

» Hospital Ghosts

» Haslar

» King George Military Hospital Stamford Street London

» QA Centre

» QAMH Millbank

» QEMH Woolwich

» Medical Reception Station Brunei and MRS Kuching Borneo Malaysia

» Musgrave Park Belfast

» Netley

» Royal Chelsea Hospital

» Royal Herbert

» Royal Brighton Pavilion Indian Hospital

» School of Physiotherapy

» Tidworth

» Wheatley


France

» Ambulance Trains

» Hospital Barges

» Ambulance Flotilla

» Hospital Ships


Germany

» Berlin

» Hamburg

» Hannover

» Hostert

» Iserlohn

» Munster

» Rinteln

» Wuppertal


Cyprus

» TPMH RAF Akrotiri

» Dhekelia

» Nicosia


Egypt

» Alexandria


China

» Shanghai


Hong Kong

» Bowen Road

» Mount Kellett

» Wylie Road Kings Park


Malaya

» Kamunting

» Kinrara

» Kluang

» Singapore

» Terendak


Overseas Old British Military Hospitals

» Belize

» Falklands

» Gibraltar

» Kaduna

» Klagenfurt

» BMH Malta

» Nairobi

» Nepal


Middle East

» Benghazi

» Tripoli


Army Ranks

The non commissioned officer junior ranks of the QARANC army nurses with details of the first QA Private and Warrant Officer

Junior Ranks and senior non commissioned ranks of the QARANC are:

Recruit
Private
Lance Corporal
Corporal
Sergeant
Staff Sergeant
Warrant Officer Class Two
Warrant Officer Class One



Private Catherall

The first non commissioned ranks were admitted to the QARANC in July 1950. Private Ann Catherall was the first junior rank of the QAs with the army service number Q1000001. She was presented with a clock momento (cited in the book Queen Alexandra's Royal Army Nursing Corps (Famous Regts. S)
by Juliet Piggott).

This was presented by Gen Sir James Steele, the Adjutant General, during the opening of the QARANC Depot and Training Establishment in Hindhead. More can read on the QA Nurses Training Centre page.

This photo, taken in December 1966, shows Ann Catherall on the left. It was taken during a Christmas sketch by junior ranks dressing as officers. They managed to borrow the capes and caps for the occasion and she is wearing a dark wig to cover her platinum blonde hair. She played the role of Matron. In the middle is Sue Bristow-Jones, who played Deputy Matron, whilst the contributor of the picture Celia Glew (now Deakin) "volunteered" to play the part of Detatchment Officer/Personnel Officer.






The sketch was called Cinder Ella. The plot saw Pte Ella coming in late, having spent time with her Swedish boyfriend. They were singing (borrowed from Gilbert & Sullivan):

"When they come before us on a charge,
We always bang the desk and say,
They shan't go out, They shan't go out,
They shan't go out, They shan't go out,
They must stay in for 14 days!

Ann went on to have a long career and became a Sergeant and was posted to BMH Dhekelia in 1966 where she married a Finnish soldier serving with the UN Peacekeeping Force and went to live in Helsinki.




Non Commissioned Officer Ranks

Other first non commissioned officer ranks in this first intake included Privates J. Thomas and V. Henfield. There was also Private Jessie Reeves who had transferred from the ATS (Auxilliary Territorial Service) and won best all round recruit. Her prize was awarded by the Nursing Mirror. Another member of this first training cadre with previous service was Private V. Joyce. There were 750 applications. They would complete three months training at the Depot, then four months training to nursing orderly class three, then twelve months later reach grade two and then after their four year engagement be able to pass the State Registered Nurse examination (cited from Soldier Magazine November 1950)

The January 1951 edition of the AMS Magazine featured Private Catherall, the first private soldier of the QARANC. Pte Catherall was posted to QAMH Millbank and there is a photo of Pte Catherall standing by the main officers entrance. The article cites her year and place of birth as 1932 in Liverpool. Her mother was a nurse at the Western Hospital in Liverpool.





Members of The Queen Alexandra's Royal Army Nursing Corps can apply for a nursing commission to give them officer status at any time in their career. See the officer rank structure page.


The Soldier Magazine of March 1953 featured the first 15 non-commissioned officers to be posted to Hong Kong from the Corps Depot in Hindhead. It pictured their new khaki service dress, No 1 uniform with grey and scarlet facings and their light-weight tropical dress and grey ward dress with white caps, which they referred to as Sister Dora type. These 15 NCOs were to replace members of the Royal Army Medical Corps on the hospital wards whilst undertaking their SRN training. The article interviewed a Sister who described how they would learn about tropical diseases and gunshot wounds. It went on to say that the highest NCO rank was Staff-Serjeant but that a Warrant Officers' course would soon start and result in the first Corps Regimental Serjeant Major.



Junior Ranks

The first junior ranks QA NCOs to apply for a commission was in 1954. These were three Non Commissioned Officers who had passed their State Registered Nurse (SRN) examination (cited in the book Queen Alexandra's Royal Army Nursing Corps (Famous Regts. S)
by Juliet Piggott).






I have published a book which tells the story of The Grey Lady Ghost of the Cambridge Military Hospital which reveals her origins in the QAIMNS and where she meets a QA veteran of Afghanistan. She still walks her wards and tells her story by taking Scott Grey, a QARANC nurse, to the battlefields of World War One and beyond. This is the first in the series of Grey and Scarlet Novels by CG Buswell. Read the first chapter for free.




If you like this page and would like to easily share it with your friends and family please use the social networking buttons below:






First Warrant Officer

The Soldier Magazine of March 1957 has a photo and information about the QARANC first Warrant Officer Jean Deakin. She served as chief clerk to the Assistant Director Medical Services in Germany. She replaced a WOI of the RAMC. Her army career started four and a half years previously as a nursing orderly.


Army Establishment Figures Queen Alexandra's Royal Army Nursing Corps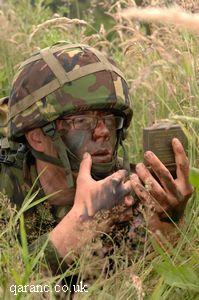 UK Army establishment figures for the Queen Alexandra's Royal Army Nursing Corps (trained personnel) for 2004 was at a strength of 805. This figure represents Other Ranks (OR). This figure does not include full time reserve services or mobilised reservists. The 2012 army ranks figures for all regular personnel was 1095.

Officer figures are on the Officer ranks page.



Forces War Records

Forces War Records are a genealogy site where you can find military records of over 6 million British Armed Forces personnel cross matched with over 4000 Regiments, Bases and Ships. This link includes a free search and a special discount of 40% off membership offer for visitors who use the discount code AF40 if they decide to become a member.
Search Now. A unique feature is their WW1 Soldiers Medical Records section.








If you would like to contribute to this page, suggest changes or inclusions to this website or would like to send me a photograph then please e-mail me.



Official QARANC webpage.

QA Association website.

In The Company of Nurses Book.


***********************************************






The Grey Lady Ghost of the Cambridge Military Hospital Novel - a Book by CG Buswell


Read our posts on:

Facebook

Google+

Twitter


Offers

Army Discounts






Present Day

» Become An Army Nurse

» Junior Ranks

» Officer Ranks

» Abbreviations

» Nicknames

» Service Numbers

Ministry of Defence Hospital Units

» MDHU Derriford

» MDHU Frimley Park

» MDHU Northallerton

» MDHU Peterborough

» MDHU Portsmouth

» RCDM Birmingham



Field Hospitals

» Camp Bastion Field Hospital and Medical Treatment Facility MTF Helmand Territory Southern Afghanistan






Territorial Army

» TA Field Hospitals and Field Ambulances


Photos

» Florence Nightingale Plaque

» Photographs


Uniform

» Why QA's Wear Grey

» Beret

» Lapel Pin Badge


» Army School of Psychiatric Nursing Silver Badge

» Cap Badge

» Corps Belt

» ID Bracelet

» Silver War Badge WWI

» Officer's Cloak

» QAIMNSR Tippet

» Officer Medal


Events

» Armed Forces Day

» Recreated WWI Ward

» Reunions

» Corps Day

» Freedom of Rushmoor

» Re-enactment Groups

» Military Events

» Remembrance

» AMS Carol Service

» QARANC Association Pilgrimage to Singapore and Malaysia 2009

» Doctors and Nurses at War

» War and Medicine Exhibition

» QA Uniform Exhibition Nothe Fort Weymouth


Famous QA's

» Dame Margot Turner

» Dame Maud McCarthy

» Military Medal Awards To QAs

» Moment of Truth TV Documentary

» Sean Beech


Nursing Events

International Nurses Day


Info

» Search

» Site Map

» Contact

» Websites



We are seeking help with some answers to questions sent by readers. These can be found on the Army Nursing page.



» Find QA's

» Jokes

» Merchandise

» Mugs

» Personalised Poster

» Stamp

» Teddy Bears

» Pin Badges

» Wall Plaques

» Fridge Magnet



» The Abandoned Soldier