» Site Map

» Home Page

Historical Info

» Find Friends – Search Old Service and Genealogy Records

» History

» QAIMNS for India

» QAIMNS First World War



» Territorial Force Nursing Service TFNS

» WW1 Soldiers Medical Records

» Field Ambulance No.4

» Chain of Evacuation of Wounded Soldiers

» Auxiliary Hospitals

» War Graves Nurses




» Book of Remembrance

» Example of Mentioned in Despatches Letter

» Love Stories

» World War 1 Letters

» QA World War Two

» Africa Second World War

» War Diaries of Sisters

» D Day Normandy Landings

» Belsen Concentration Camp

» Voluntary Aid Detachment

» National Service

» Korean War

» Gulf War

» Op Telic

» Royal Red Cross Decoration

» Colonels In Chief

» Director Army Nursing Services (DANS)

» Colonel Commandant

» Matrons In Chief (QAIMNS)

Follow us on Twitter:




» Grey and Scarlet Corps March

» Order of Precedence

» Motto

» QA Memorial National Arboretum

» NMA Heroes Square Paving Stone

» Memorial Window

» Army Medical Services Monument

» Recruitment Posters

» Museum

» QA Association

» Standard

» QA and AMS Prayer and Hymn

» Books


Former Army Hospitals

UK

» Army Chest Unit

» Cowglen Glasgow

» CMH Aldershot

» Colchester

» Craiglockhart

» DKMH Catterick

» Duke of Connaught Unit Northern Ireland

» Endell Street

» First Eastern General Hospital Trinity College Cambridge

» Ghosts

» Hospital Ghosts

» Haslar

» King George Military Hospital Stamford Street London

» QA Centre

» QAMH Millbank

» QEMH Woolwich

» Medical Reception Station Brunei and MRS Kuching Borneo Malaysia

» Musgrave Park Belfast

» Netley

» Royal Chelsea Hospital

» Royal Herbert

» Royal Brighton Pavilion Indian Hospital

» School of Physiotherapy

» Tidworth

» Wheatley


France

» Ambulance Trains

» Hospital Barges

» Ambulance Flotilla

» Hospital Ships


Germany

» Berlin

» Hamburg

» Hannover

» Hostert

» Iserlohn

» Munster

» Rinteln

» Wuppertal


Cyprus

» TPMH RAF Akrotiri

» Dhekelia

» Nicosia


Egypt

» Alexandria


China

» Shanghai


Hong Kong

» Bowen Road

» Mount Kellett

» Wylie Road Kings Park


Malaya

» Kamunting

» Kinrara

» Kluang

» Singapore

» Terendak


Overseas Old British Military Hospitals

» Belize

» Falklands

» Gibraltar

» Kaduna

» Klagenfurt

» BMH Malta

» Nairobi

» Nepal


Middle East

» Benghazi

» Tripoli


Queen Elizabeth Military Hospital QEMH Woolwich
Information, photographs and the history of the Queen Elizabeth Military Hospital QEMH Woolwich


The Queen Elizabeth Military Hospital (QEMH) was located at Stadium Road in Woolwich. It was built on the land that formerly housed the Shrapnel Barracks, a veterinary hospital and stables for army horses. The QEMH was built to replace the QAMH Millbank and the nearby Royal Herbert Hospital on Shooters Hill which was falling into disrepair being build over 100 years earlier.

The QEMH took five years to build at an estimated cost of £16 million. The foundation stone was laid in 1972.

The military hospital was named after Queen Elizabeth The Queen Mother. She officially opened the army hospital on the 1 November 1978, though the hospital had been up and running since 1977. The QEMH was a 400 bed capacity hospital.





I have published a book which tells the story of The Grey Lady Ghost of the Cambridge Military Hospital which reveals her origins in the QAIMNS and where she meets a QA veteran of Afghanistan. She still walks her wards and tells her story by taking Scott Grey, a QARANC nurse, to the battlefields of World War One and beyond. This is the first in the series of Grey and Scarlet Novels by CG Buswell. Read the first chapter for free.




If you like this page and would like to easily share it with your friends and family please use the social networking buttons below:





Though the QEMH was operational since 1977 the accommodation for the QARANC was not completed for some time and QAs were accommodated across Woolwich Common in the Royal Academy buildings.

The Queen Elizabeth Military Hospital was predominately a military hospital for the care and treatment of soldiers and their families. However the hospital also treated National Health Service (NHS) patients from the local community such as those living in Woolwich, Bexleyheath, Eltham, etc. The nearest NHS hospital at the time was in Greenwich.

The QEMH also treated Chelsea Pensioners and Far East Prisoner Of War Survivors (FEPOW).


The hospital was large with several medical and general surgical wards as well as orthopaedic, psychiatric and rehabilitation wards. There was a paediatric department and ward in the early years but this had closed by the 1980s and forces children were treated at the twin teaching hospital of the Cambridge Military Hospital in Aldershot.
Though the QEMH had no active emergency or casualty department there was a large intensive care unit and several operating theatres. There was also a burns unit and oncology ward.

The QEMH had a large outpatients department which included a sexual health clinic. Other departments included X-ray, cardiac rehab, pathology and full laboratory facilities.



Army School Of Nursing

In conjunction with the CMH the QEMH had a school of nursing and trained 100s of student and pupil nurses each year. Most QARANC nurses at the time will have been posted and trained at the QEMH either as a student or undergoing post qualification training as a staff or enrolled nurse.

The hospital was self contained for the army personnel with accommodation for single junior ranks, sergeants and officers messes location at the rear of the hospital. The hospital had its own NAAFI (Naval Army and Air Force Institute), coffee shop, Red Cross facilities and canteens. Married personnel such as doctors, nurses, radiographers, etc had housing in nearby houses and flats which included the many floored Alanbrooke House.



Noel Edmonds Hospital Visit

On the 21 July 1980 Noel Edmonds made a hospital visit to ward 4 of the QEMH to see Captain Trudy Furness. She was a big fan of Noel Edmonds and his visit was arranged during her stay on the ward as a patient. The book Sub Cruce Candida: A Celebration of One Hundred Years of Army Nursing
has a photo of Noel Edmonds hospital visit along with QAs Capt Furness and the ward manager Major Finlay. The Assistant Matron Major Clements is also in the photograph.


Officers Mess

The following photographs of the Queen Elizabeth Military Hospital Woolwich and the QEMH photo at the top of this page, which was taken from the top of the Officers Mess, have been kindly provided by Phil Basford (Maj Retd RAMC):

The Officers Mess: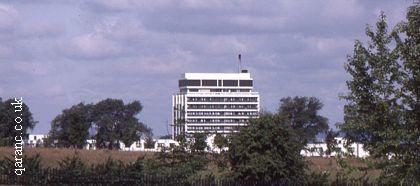 The Officers Mess at night:





QEMH Orienteers

The QEMH Woolwich had excellent ladies and men's orienteering teams during the 1980s. Pictured below are the QEMH Orienteers Ladies Champions who were from left to right Captain Hazel Blackstone; Major Margaret Russell; ? name of nurse; Capt Ruth Ligett, ? and Maj Miriam Freeman who was an anaesthetist.







The photo below of orienteer Major Margaret Russell on her run in to the finish.





Dressed in the QEMH Orienteers top is Major Jane Arigho who was the team coach and later became Director Army Nursing Services (DANS) and Colonel Commandant of the QARANC.






Queen Elizabeth Military Hospital Closed

The Queen Elizabeth Military Hospital was closed on the 29 September 1995 as part of the defence cuts and rationalisation of a more mobile Army Medical Services. The QEMH was rebuilt and became The Queen Elizabeth Hospital which now serves the locals of Woolwich, London. It is part of the Greenwich Healthcare Trust.


The last Matron of the Queen Elizabeth Military Hospital was Colonel M M Slattery RRC.

The last Commanding Officer of the QEMH, Brigadier Guy Radcliffe L/RAMC, handed over the key to the hospital to Mr David Astley the Chief Executive of the Greenwich Healthcare Trust in a ceremonial handing over of the keys on the 27 Sep 95. The Union Fag was lowered and the Last Post was sounded.



A final company photograph of the staff of QEMH Woolwich was taken and appeared in Vol 11 No 2 of The Gazette of the Queen Alexandra's Royal Army Nursing Corps Association. If you have a copy of the photo that we could use on this page then please contact qaranc.co.uk



Front cover of the last Corps Sunday Order of Service 26 March 1995 held in the chapel.





QEMH Ghost Sightings

Unusually for a modern hospital the QEMH has had many ghost sightings. So many that I've had to put them on a separate page. Read about them, if you dare(!) on the hospital ghosts page. If you have experienced any supernatural activities then feel free to e-mail me details.


***********************************************


I had a very great honour and pleasure to work in a civilian capacity at the Queen Elizabeth Military Hospital Woolwich, I made many friends there from the QARANC, RAMC and civilian staff. I had a most enjoyable there or so years there. It was a wonderful way to end one's working life. There was a florist who had a stall in the hospital who fancied herself as a psychic and was always telling people there was a ghost behind them. She was a charming and lovely lady. The Red Cross were wonderful, they would receive families whose loved one was very seriously ill and perhaps dying and they would support them to the end, even visiting the mortuary with them if their loved one died. They were brave and smashing people.

There was a man who was always in the hospital. His name was Ronald (Dusty) Miller. At Christmas time he would bring fruit, nuts and chocolates for the patients paid for by Lloyd's of London I think. He arranged for as many patients as possible to go to the Lloyd's of London function room for a slap up meal and a cabaret act. For those patients who could not go he had the meal and cabaret brought to the hospital. He was also very good at talking to patients , even those who were dying. Sadly in time he died but we gave him a good send off at the Garrison Church which was packed to standing room only. I could not go as I was involved with the transport office so I had to sit by the phone.
David H Cutler


***********************************************


I served in Woolwich Barracks from September 1977 till August 1981. I was in the Garrison Military Police Dog Section and part of our patrol was the Queen Elizabeth Military Hospital. Sometimes in the early hours we would (we being me and my dog) detect movement but nothing was there. Very spooky! My dog at the time Hit would not move and other dog handlers had the same experience. The very spooky area around the QEMH was the old playing field, where Arsenal once played, and by the QEMH NAAFI. Some of the dogs would not like patrolling there.

The night staff would always feed and supply hot drinks for us. I think it was the dogs that were a hit and not us. I did however have two romances both of whom were very nice ladies. I did teach them the game of chess and introduced them to Everton Football Club, my big passions. I was a patient in the QEMH on two occasions and had a fabulous time, especially when my mates who were on duty turned up with a Chinese meal for me and the night staff. (Don't let Matron catch us). The ward sister when I was in hospital gave me a job to do while I was bedded down: I had to bull -shine her shoes. A lot of shoes did appear over the 10 days I was in hospital.
Gary Campbell


***********************************************


Forces War Records

Forces War Records are a genealogy site where you can find military records of over 6 million British Armed Forces personnel cross matched with over 4000 Regiments, Bases and Ships. This link includes a free search and a special discount of 40% off membership offer for visitors who use the discount code AF40 if they decide to become a member.
Search Now. A unique feature is their WW1 Soldiers Medical Records section.








If you would like to contribute to this page, suggest changes or inclusions to this website or would like to send me a photograph then please e-mail me.



Official QARANC webpage.

QA Association website.

In The Company of Nurses Book.


***********************************************






The Grey Lady Ghost of the Cambridge Military Hospital Novel - a Book by CG Buswell


Read our posts on:

Facebook

Google+

Twitter


Offers

Army Discounts






Present Day

» Become An Army Nurse

» Junior Ranks

» Officer Ranks

» Abbreviations

» Nicknames

» Service Numbers

Ministry of Defence Hospital Units

» MDHU Derriford

» MDHU Frimley Park

» MDHU Northallerton

» MDHU Peterborough

» MDHU Portsmouth

» RCDM Birmingham



Field Hospitals

» Camp Bastion Field Hospital and Medical Treatment Facility MTF Helmand Territory Southern Afghanistan






Territorial Army

» TA Field Hospitals and Field Ambulances


Photos

» Florence Nightingale Plaque

» Photographs


Uniform

» Why QA's Wear Grey

» Beret

» Lapel Pin Badge


» Army School of Psychiatric Nursing Silver Badge

» Cap Badge

» Corps Belt

» ID Bracelet

» Silver War Badge WWI

» Officer's Cloak

» QAIMNSR Tippet

» Officer Medal


Events

» Armed Forces Day

» Recreated WWI Ward

» Reunions

» Corps Day

» Freedom of Rushmoor

» Re-enactment Groups

» Military Events

» Remembrance

» AMS Carol Service

» QARANC Association Pilgrimage to Singapore and Malaysia 2009

» Doctors and Nurses at War

» War and Medicine Exhibition

» QA Uniform Exhibition Nothe Fort Weymouth


Famous QA's

» Dame Margot Turner

» Dame Maud McCarthy

» Military Medal Awards To QAs

» Moment of Truth TV Documentary

» Sean Beech


Nursing Events

International Nurses Day


Info

» Search

» Site Map

» Contact

» Websites



We are seeking help with some answers to questions sent by readers. These can be found on the Army Nursing page.



» Find QA's

» Jokes

» Merchandise

» Mugs

» Personalised Poster

» Stamp

» Teddy Bears

» Pin Badges

» Wall Plaques

» Fridge Magnet



» The Abandoned Soldier