» Site Map

» Home Page

Historical Info

» Find Friends – Search Old Service and Genealogy Records

» History

» QAIMNS for India

» QAIMNS First World War



» Territorial Force Nursing Service TFNS

» WW1 Soldiers Medical Records

» Field Ambulance No.4

» Chain of Evacuation of Wounded Soldiers

» Auxiliary Hospitals

» War Graves Nurses




» Book of Remembrance

» Example of Mentioned in Despatches Letter

» Love Stories

» World War 1 Letters

» QA World War Two

» Africa Second World War

» War Diaries of Sisters

» D Day Normandy Landings

» Belsen Concentration Camp

» Voluntary Aid Detachment

» National Service

» Korean War

» Gulf War

» Op Telic

» Royal Red Cross Decoration

» Colonels In Chief

» Director Army Nursing Services (DANS)

» Colonel Commandant

» Matrons In Chief (QAIMNS)

Follow us on Twitter:




» Grey and Scarlet Corps March

» Order of Precedence

» Motto

» QA Memorial National Arboretum

» NMA Heroes Square Paving Stone

» Memorial Window

» Army Medical Services Monument

» Recruitment Posters

» Museum

» QA Association

» Standard

» QA and AMS Prayer and Hymn

» Books


Former Army Hospitals

UK

» Army Chest Unit

» Cowglen Glasgow

» CMH Aldershot

» Colchester

» Craiglockhart

» DKMH Catterick

» Duke of Connaught Unit Northern Ireland

» Endell Street

» First Eastern General Hospital Trinity College Cambridge

» Ghosts

» Hospital Ghosts

» Haslar

» King George Military Hospital Stamford Street London

» QA Centre

» QAMH Millbank

» QEMH Woolwich

» Medical Reception Station Brunei and MRS Kuching Borneo Malaysia

» Musgrave Park Belfast

» Netley

» Royal Chelsea Hospital

» Royal Herbert

» Royal Brighton Pavilion Indian Hospital

» School of Physiotherapy

» Tidworth

» Wheatley


France

» Ambulance Trains

» Hospital Barges

» Ambulance Flotilla

» Hospital Ships


Germany

» Berlin

» Hamburg

» Hannover

» Hostert

» Iserlohn

» Munster

» Rinteln

» Wuppertal


Cyprus

» TPMH RAF Akrotiri

» Dhekelia

» Nicosia


Egypt

» Alexandria


China

» Shanghai


Hong Kong

» Bowen Road

» Mount Kellett

» Wylie Road Kings Park


Malaya

» Kamunting

» Kinrara

» Kluang

» Singapore

» Terendak


Overseas Old British Military Hospitals

» Belize

» Falklands

» Gibraltar

» Kaduna

» Klagenfurt

» BMH Malta

» Nairobi

» Nepal


Middle East

» Benghazi

» Tripoli


Remembrance Day QARANC

Details and information about the annual Remembrance Day events for serving and retired QARANC members including the Field of Remembrance at Westminster Abbey and the Cenotaph Sunday Parade:

Remembrance Day (also known as Armistice Day) is commemorated each year by serving members of the Queen Alexandra's Royal Army Nursing Corps (QARANC) and retired QA's around the world. This page will give a brief history of Remembrance Day and give details and information of the various acts of remembrance at official war memorials like The Cenotaph.



Remembrance Day is observed each Sunday nearest to the 11 November to commemorate the sacrifice of veterans and civilians of World War I, The Second World War and other wars and conflicts. It is also observed on November 11 to recall the end of World War I on that date in 1918 at 11 am - the eleventh hour, on the eleventh day of the eleventh month. It is traditionally marked with a two minute silence.



The QARANC plot at the Field of Remembrance at Westminster Abbey: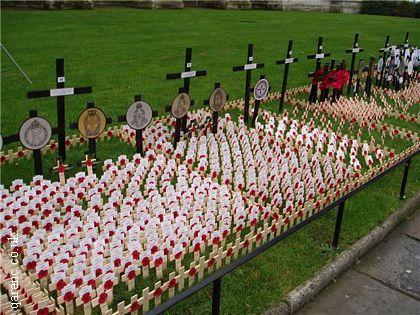 The Duke of Edinburgh speaking to DANS, Col Wendy Spencer in 2008 at Westminster Abbey:






QA Association member - Annette Hampson attending the Remembrance Day Parade in her home town of Bedford: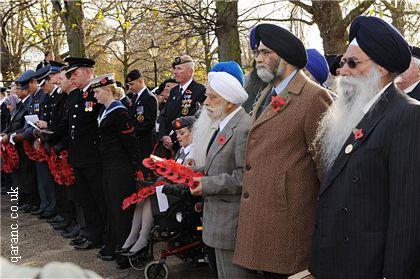 I have published a book which tells the story of The Grey Lady Ghost of the Cambridge Military Hospital which reveals her origins in the QAIMNS and where she meets a QA veteran of Afghanistan. She still walks her wards and tells her story by taking Scott Grey, a QARANC nurse, to the battlefields of World War One and beyond. This is the first in the series of Grey and Scarlet Novels by CG Buswell. Read the first chapter for free.




If you like this page and would like to easily share it with your friends and family please use the social networking buttons below:






Red Poppies


Red poppies are worn as a remembrance to the war dead for several reasons.

Scarlet Poppies grew naturally in Western Europe and were destroyed during the Napoleonic Wars. However they were observed to grow on the barren war torn fields around the bodies of fallen soldiers.

These fields at Flanders were once again destroyed during the fighting of the First World War. A war surgeon from Canada wrote a poem called In Flanders Field in which the poppy came to represent the sacrifice of the lives of his comrades.



The red poppy then became a memorial symbol to the fallen of war and is still worn with pride by many soldiers, ex-soldiers and civilians. It signifies that even in the bloodiest battlefields flowers can bloom and the red colour is a symbol of the blood spilt in battle.

In Britain the poppies are the flat Earl Haig variety whilst in Canada, Australia and New Zealand the poppies are curled at the petals. The artificial red poppies were first made by French woman Madame E. Guérin.


White Remembrance Poppy



In 1933 the Women's Co-operative Guild introduced a white poppy as a lasting symbol for peace and an end to all wars. These are rarely made or worn in modern years and failed to be taken up: indeed the Royal British Legion refused to accept them and many people refused to wear them.

However in 2006 a Christian lobby group called Ekklesia tried to reintroduce the white poppy so that people could choose between a red poppy or a white poppy. The group claimed that red poppies were too politically correct and stifled debate. They thought that red poppies signified redemption through acts of war and Christians should seek redemption through peaceful non violent actions. The Reverend Mr Andrew Kleissner, the minister of Christ Church a United Reformed Baptist Church in Ipswich, Suffolk sold white poppies to his congregation in 2006.



Cenotaph Parade

Each Remembrance Sunday there is a Royal British Legion Act of Remembrance parade at the Cenotaph, in London. Serving and retired members of the QARANC represent the Queen Alexandra's Royal Army Nursing Corps.

The Cenotaph at Whitehall in London was designed and built by Edwin Lutyens at the request of the then Prime Minister Lloyd George. It means Empty Tomb in Greek.

The original Cenotaph monument was not intended to be an enduring memorial to the war dead and was a wooden and plaster construction. However when it was unveiled at the first anniversary of the Armistice in 1919 it was covered in wreaths by those wishing to remember the sacrifice of the war dead. A more fitting and weatherable memorial was built. It was constructed using Portland stone and was unveiled in 1920. The inscription reads "The Glorious Dead".

There is an annual Remembrance Service and Parade each Sunday closest to the 11 November at 11am at the Cenotaph to commemorate British and Commonwealth servicemen and women who died in the two World Wars and later wars and armed conflicts. The reigning monarch, princes, princesses', the Prime Minister, religious leaders, politicians, representatives of state and the armed and auxiliary forces, gather to pay respect to those who gave their lives defending others.

The format of the Remembrance Service at the Cenotaph has not changed much since the first service in 1921. Each regiment and corps line up to their respective positions and VIP's take their positions. Hymns are sung, prayers are said and a two minute silence is observed. Official wreaths are laid on the steps of The Cenotaph. The Remembrance Service ceremony ends with a march past of war veterans.

There are a limited number of tickets to the Cenotaph event made available to ex QA members. These are available upon request by booking them via the QA Association.


The QA Association will be represented at the Cenotaph in Whitehall on Sunday 8th November 2015 by approximately 35 retired members of the Corps. Many other members will be attending services throughout the country.



Field of Remembrance Westminster Abbey
The Field of Remembrance at Westminster Abbey was first opened in 1928 in the grounds of Westminster Abbey. It was created as a way for people to commemorate loved ones lost in battle and during wars and conflicts.

Small remembrance crosses are planted by individuals or groups. Each small wooden cross has a poppy in the centre and there is a space for a message of remembrance to be written. The planted crosses remain on display for one week during the period of remembrance.

Following a request from the RBL, the Abbey and the Metropolitan Police this event was made tickets only. The tickets are limited and are available via the Association Secretary and QA's are asked to meet at the QARANC plot at 1030 hours for the 1100 hours event.



Festival Of Remembrance Royal Albert Hall London
The Saturday evening before Remembrance Sunday BBC Television broadcast a service of remembrance on BBC1 live from The Royal Albert Hall in London.

Each corps and regiment are represented by six serving members and the QARANC are usually represented by two QA officers, two senior non commissioned officers and two junior ranks. They are announced on screen with a brief resume of where the QA's are serving. They march proudly down the steps of the Albert Hall and take their seats.

A service of remembrance is held and a two minute silence is observed. Other people who take part in this festival include The Queen, senior members of the Royal Family, retired members of the Army, Navy and Royal Air Force and the much loved Chelsea Pensioners.
There are performances by military bands and singers such as Katherine Jenkins. Tickets can be purchased at the Royal Albert Hall website at www.royalalberthall.com
The event normally starts at 2pm though broadcast on television in the evening.


If you have a QARANC Remembrance Day event that you would like listed on this page then please Contact Me with information such as dates, times, locations, point of contact and any photos.



Queen Alexandra's Royal Army Nursing Corps Memorial

In October 2007 the National Memorial Arboretum opened and it included a Queen Alexandra's Royal Army Nursing Corps Memorial. There are photographs and mor information about this on the QA Memorial page.



Forces War Records

Forces War Records are a genealogy site where you can find military records of over 6 million British Armed Forces personnel cross matched with over 4000 Regiments, Bases and Ships. This link includes a free search and a special discount of 40% off membership offer for visitors who use the discount code AF40 if they decide to become a member.
Search Now. A unique feature is their WW1 Soldiers Medical Records section.








If you would like to contribute to this page, suggest changes or inclusions to this website or would like to send me a photograph then please e-mail me.



Official QARANC webpage.

QA Association website.

In The Company of Nurses Book.


***********************************************






The Grey Lady Ghost of the Cambridge Military Hospital Novel - a Book by CG Buswell


Read our posts on:

Facebook

Google+

Twitter


Offers

Army Discounts






Present Day

» Become An Army Nurse

» Junior Ranks

» Officer Ranks

» Abbreviations

» Nicknames

» Service Numbers

Ministry of Defence Hospital Units

» MDHU Derriford

» MDHU Frimley Park

» MDHU Northallerton

» MDHU Peterborough

» MDHU Portsmouth

» RCDM Birmingham



Field Hospitals

» Camp Bastion Field Hospital and Medical Treatment Facility MTF Helmand Territory Southern Afghanistan






Territorial Army

» TA Field Hospitals and Field Ambulances


Photos

» Florence Nightingale Plaque

» Photographs


Uniform

» Why QA's Wear Grey

» Beret

» Lapel Pin Badge


» Army School of Psychiatric Nursing Silver Badge

» Cap Badge

» Corps Belt

» ID Bracelet

» Silver War Badge WWI

» Officer's Cloak

» QAIMNSR Tippet

» Officer Medal


Events

» Armed Forces Day

» Recreated WWI Ward

» Reunions

» Corps Day

» Freedom of Rushmoor

» Re-enactment Groups

» Military Events

» Remembrance

» AMS Carol Service

» QARANC Association Pilgrimage to Singapore and Malaysia 2009

» Doctors and Nurses at War

» War and Medicine Exhibition

» QA Uniform Exhibition Nothe Fort Weymouth


Famous QA's

» Dame Margot Turner

» Dame Maud McCarthy

» Military Medal Awards To QAs

» Moment of Truth TV Documentary

» Sean Beech


Nursing Events

International Nurses Day


Info

» Search

» Site Map

» Contact

» Websites



We are seeking help with some answers to questions sent by readers. These can be found on the Army Nursing page.



» Find QA's

» Jokes

» Merchandise

» Mugs

» Personalised Poster

» Stamp

» Teddy Bears

» Pin Badges

» Wall Plaques

» Fridge Magnet



» The Abandoned Soldier