» Site Map

» Home Page

Historical Info

» Find Friends – Search Old Service and Genealogy Records

» History

» QAIMNS for India

» QAIMNS First World War

» WW1 Soldiers Medical Records

» War Graves Nurses




» Book of Remembrance

» Example of Mentioned in Despatches Letter

» Love Stories

» World War 1 Letters

» QA World War Two

» Africa Second World War

» War Diaries of Sisters

» D Day Normandy Landings

» Belsen Concentration Camp

» Voluntary Aid Detachment

» National Service

» Korean War

» Gulf War

» Op Telic

» Royal Red Cross Decoration

» Colonels In Chief

» Director Army Nursing Services (DANS)

» Colonel Commandant

» Matrons In Chief (QAIMNS)

Follow us on Twitter:




» Grey and Scarlet Corps March

» Motto

» QA Memorial National Arboretum

» Memorial Window

» Army Medical Services Monument

» Recruitment Posters

» Museum

» QA Association

» Standard

» QA and AMS Prayer and Hymn

» Books


Former Army Hospitals

UK

» Army Chest Unit

» Cowglen Glasgow

» CMH Aldershot

» Colchester

» Craiglockhart

» DKMH Catterick

» Duke of Connaught Unit Northern Ireland

» Endell Street

» Ghosts

» Hospital Ghosts

» Haslar

» King George Military Hospital Stamford Street London

» QA Centre

» QAMH Millbank

» QEMH Woolwich

» Musgrave Park Belfast

» Netley

» Royal Chelsea Hospital

» Royal Herbert

» Royal Brighton Pavilion Indian Hospital

» Tidworth

» Wheatley


France

» Ambulance Trains

» Hospital Barges

» Hospital Ships


Germany

» Berlin

» Hamburg

» Hannover

» Hostert

» Iserlohn

» Munster

» Rinteln

» Wuppertal


Cyprus

» TPMH RAF Akrotiri

» Dhekelia

» Nicosia


Egypt

» Alexandria


China

» Shanghai


Hong Kong

» Bowen Road

» Mount Kellett

» Wylie Road Kings Park


Malaya

» Kamunting

» Kinrara

» Kluang

» Singapore


Overseas Old British Military Hospitals

» Belize

» Falklands

» Gibraltar

» BMH Malta

» Nairobi

» Nepal


Middle East

» Benghazi

» Tripoli


Territorial Army Field Hospitals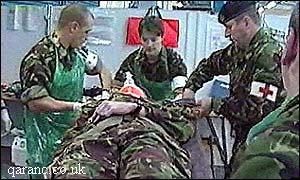 The Territorial Army was formed on the 1 April 1908 (though known as the Territorial Force until 1921) and included members of the Queen Alexandra's Imperial Military Nursing Service Reserves, the QAIMNS(R). They were also named the Territorial Army Nursing Service (TANS).

When the QAs became a corps in 1949 members were transferred to the Queen Alexandra's Royal Army Nursing Corps (QARANC) and retained their TA status, ranks and conditions.

Before 1921 the TA was known as the Territorial Force (TF) and nursing members were known as the Territorial Force Nursing Service. The TFNS were formed in 1908 after the Territorial and Reserve Forces Act 1907 was passed.

One thing all services have had in common is that they brought a wealth of nursing experience and worked alongside regular army nursing and medical staff. TA nurses continue to work alongside regulars and bring an abundance of nursing and medical knowledge from civilian practice and military training. Many TA nurses are former regular QAs who still want to be involved with the army whilst others are civilian nurses who wish to contribute to the armed forces whilst continuing their regular jobs. All form an important part in modern day military nursing and are deployed throughout the world with the regular army in locations like Serbia, Bosnia, Iraq, the Gulf and Afghanistan. As well as individual postings to field hospitals some TA units deploy at times of conflict.

List of UK Territorial Army Field Hospitals and TA Field Ambulances:


The British Army Medical Services have active Territorial Army Hospitals that are mobilised throughout the World in places such as Iraq, The Gulf and Afghanistan.

Beside each TA field hospital or TA field ambulance is the recruiting area and Headquarters location:


201 Northern Field Hospital
Newcastle upon Tyne, Newton Aycliffe and Stockton-on-Tees. HQ - Newcastle, England.

Memories of a Nursing Officer serving at 201 Field Hospital Northern (V), based at their 'C' Detachment in Norton, a suburb of Stockton on Tees can be read on the DKMH Catterick page



202 Field Hospital
Stoke on Trent, Birmingham, Oxford and Shrewsbury. HQ - Birmingham.


203 Field Hospital
Abergavenny, Cardiff and Swansea. HQ - Cardiff, Wales. The work of 203 Field Hospital whilst at Afghanistan was shown in the TV programme Doctors and Nurses at War.





204 (NI) Field Hospital (V)
Armagh, Ballymena, Belfast and Newtonards. HQ - Belfast, Northern Ireland.


205 Field Hospital
Aberdeen, Dundee, Edinburgh and Glasgow. HQ - Glasgow, Scotland.


207 Field Hospital
Blackburn, Bury and Stockport. HQ - Manchester.


208 Field Hospital
Liverpool, Ellesmere and Lancaster. HQ - Liverpool.


212 Field Hospital
Sheffield, Bradford, Nottingham and Leeds. HQ - Sheffield.


243 Field Hospital
Keynsham, Exeter, Plymouth and Portsmouth. HQ - Keynsham.


256 Field Hospital
Walworth, Hammersmith, Kingston, Bow. HQ - London


306 Specialist Field Hospital
HQ - York.

335 Medical Evacuation Regiment

335 Medical Evacuation Regiment (335 MER) are a specialist unit similar to 306 Specialist Field Hospital and their HQ is also in York. This new unit was formed in 2005 from the old Ambulance Train Squadron.



Forces War Records

Forces War Records are a genealogy site where you can find military records of over 6 million British Armed Forces personnel cross matched with over 4000 Regiments, Bases and Ships. This link includes a free search and a special discount of 40% off membership offer for visitors who use the discount code AF40 if they decide to become a member.
Search Now. A unique feature is their WW1 Soldiers Medical Records section.


If you like this page and would like to easily share it with your friends and family please use the social networking buttons below:








253 Field Ambulance
HQ - Belfast.


254 Field Ambulance
HQ - Cambridge.


152 Ambulance Regiment
Londonderry, Belfast and Bridgend. HQ - Belfast.


C (144) Parachute Medical Squadron
HQ - London.


B (220) Medical Squadron
HQ - Maidstone.


B (250) Medical Squadron
HQ - Hull.


B (225) Medical Squadron
HQ - Dundee.


C (251) Medical Squadron
HQ - Sunderland.


HQ Army Medical Service TA
HQ - York.









If you would like to contribute to this page, suggest changes or inclusions to this website or would like to send me a photograph then please e-mail me.



Official QARANC webpage.

QA Association website.

In The Company of Nurses Book.


***********************************************





Read our posts on:

Facebook

Google+

Twitter


Present Day

» Become An Army Nurse

» Junior Ranks

» Officer Ranks

» Abbreviations

» Nicknames

» Service Numbers

Ministry of Defence Hospital Units

» MDHU Derriford

» MDHU Frimley Park

» MDHU Northallerton

» MDHU Peterborough

» MDHU Portsmouth

» RCDM Birmingham



Field Hospitals

» Camp Bastion Field Hospital and Medical Treatment Facility MTF Helmand Territory Southern Afghanistan






Territorial Army

» TA Field Hospitals and Field Ambulances


Photos

» Florence Nightingale Plaque

» Photographs


Uniform

» Why QA's Wear Grey

» Beret

» Lapel Pin Badge


» Cap Badge

» Corps Belt

» ID Bracelet

» Silver War Badge WWI

» Officer's Cloak

» QAIMNSR Tippet

» Officer Medal


Events

» Armed Forces Day

» Recreated WWI Ward

» Reunions

» Corps Day

» Freedom of Rushmoor

» Re-enactment Groups

» Military Events

» Remembrance

» AMS Carol Service

» QARANC Association Pilgrimage to Singapore and Malaysia 2009

» Doctors and Nurses at War

» War and Medicine Exhibition

» QA Uniform Exhibition Nothe Fort Weymouth


Famous QA's

» Dame Margot Turner

» Dame Maud McCarthy

» Military Medal Awards To QAs

» Moment of Truth TV Documentary

» Sean Beech


Nursing Events

International Nurses Day


Info

» Search

» Site Map

» Contact

» Websites



We are seeking help with some answers to questions sent by readers. These can be found on the Army Nursing page.



» Find QA's

» Jokes

» Merchandise

» Teddy Bears

» Pin Badges

» Wall Plaques

» Fridge Magnet



» The Abandoned Soldier