» Site Map

» Home Page

Historical Info

» Find Friends – Search Old Service and Genealogy Records

» History

» QAIMNS for India

» QAIMNS First World War



» Territorial Force Nursing Service TFNS

» WW1 Soldiers Medical Records

» Field Ambulance No.4

» Chain of Evacuation of Wounded Soldiers

» Auxiliary Hospitals

» War Graves Nurses




» Book of Remembrance

» Example of Mentioned in Despatches Letter

» Love Stories

» World War 1 Letters

» QA World War Two

» Africa Second World War

» War Diaries of Sisters

» D Day Normandy Landings

» Belsen Concentration Camp

» Voluntary Aid Detachment

» National Service

» Korean War

» Gulf War

» Op Telic

» Royal Red Cross Decoration

» Colonels In Chief

» Director Army Nursing Services (DANS)

» Colonel Commandant

» Matrons In Chief (QAIMNS)

Follow us on Twitter:




» Grey and Scarlet Corps March

» Order of Precedence

» Motto

» QA Memorial National Arboretum

» NMA Heroes Square Paving Stone

» Memorial Window

» Army Medical Services Monument

» Recruitment Posters

» Museum

» QA Association

» Standard

» QA and AMS Prayer and Hymn

» Books


Former Army Hospitals

UK

» Army Chest Unit

» Cowglen Glasgow

» CMH Aldershot

» Colchester

» Craiglockhart

» DKMH Catterick

» Duke of Connaught Unit Northern Ireland

» Endell Street

» First Eastern General Hospital Trinity College Cambridge

» Ghosts

» Hospital Ghosts

» Haslar

» King George Military Hospital Stamford Street London

» QA Centre

» QAMH Millbank

» QEMH Woolwich

» Medical Reception Station Brunei and MRS Kuching Borneo Malaysia

» Musgrave Park Belfast

» Netley

» Royal Chelsea Hospital

» Royal Herbert

» Royal Brighton Pavilion Indian Hospital

» School of Physiotherapy

» Tidworth

» Wheatley


France

» Ambulance Trains

» Hospital Barges

» Ambulance Flotilla

» Hospital Ships


Germany

» Berlin

» Hamburg

» Hannover

» Hostert

» Iserlohn

» Munster

» Rinteln

» Wuppertal


Cyprus

» TPMH RAF Akrotiri

» Dhekelia

» Nicosia


Egypt

» Alexandria


China

» Shanghai


Hong Kong

» Bowen Road

» Mount Kellett

» Wylie Road Kings Park


Malaya

» Kamunting

» Kinrara

» Kluang

» Singapore

» Terendak


Overseas Old British Military Hospitals

» Belize

» Falklands

» Gibraltar

» Kaduna

» Klagenfurt

» BMH Malta

» Nairobi

» Nepal


Middle East

» Benghazi

» Tripoli


BMH Mount Kellett
Information memories and photographs of British Military Hospital Mount Kellett Hong Kong


BMH Mount Kellett was located in Hong Kong. It is now closed. Below are memories and information about British Military Hospital Mount Kellett Hong Kong provided by former members of the Queen Alexandra's Royal Army Nursing Corps and Royal Army Medical Corps:

The War Memorial Nursing Home built at Mount Kellett was to commemorate those who lost their lives in the 1914 to 1918 war. It opened 16th march 1932. I do not have any more further information of this time or the WW2 era. The building was built in attractive creamy white stone: granite or limestone I think.

BMH Mount Kellett was located on the Peak Hong Kong and commanded wonderful views of the South China Sea and surrounding islands.

In September 1946 the War Office bought this hospital as United Services Hospital. I only knew this as BMH Mount Kellett which continued to operate until 1967. I believe it may then have been empty until the mid 1970s when it was demolished. The hospital was acquired by the government from the war dept in 1967 for $500,000 it also included the transfer of a block of flats lower down Mount Kellett Road which were previously used as QA Sisters quarters and later renovated into 6 flats.

The hospital covered 111,000sq ft on 4 floors. The site footprint being 48,000sq ft. It had been considered as being used as a convalescent hospital for infectious diseases. However in 1971 the initial cost of refurbishment of $3.5m had risen to $6m so the scheme was abandoned.

Kings Park, may also be known as Wylie Road, was another BMH which opened in 1967 presumably to consolidate hospital services as far eastern forces were being reduced which was way after my time of 1961-62. Hong Kong forces were reduced by 15% between 1975-1978 and this hospital closed in 1996 with all health care for the military passed to civilian doctors.
Trevor Harvey (RAMC).

Qaranc.co.uk would also like to thank Trevor Harvey, who worked in the STC isolation ward, for the photograph of British Military Hospital Mount Kellett Hong Kong at the top of this page as well as kindly providing the useful info.






I have published a book which tells the story of The Grey Lady Ghost of the Cambridge Military Hospital which reveals her origins in the QAIMNS and where she meets a QA veteran of Afghanistan. She still walks her wards and tells her story by taking Scott Grey, a QARANC nurse, to the battlefields of World War One and beyond. This is the first in the series of Grey and Scarlet Novels by CG Buswell. Read the first chapter for free.




If you like this page and would like to easily share it with your friends and family please use the social networking buttons below:






Below is Major Moran, Matron 1960s, helping to prepare the Christmas pudding, aided by Cpl Mason Army Catering Corps, two cooks, one of whom is a Ghurka and Sgt Walters of the ACC. (Kindly provided by Brigadier JB Bloxham CBE who was the Hospital Catering Officer to both Mount Kellett and BMH Bowen Road Hong Kong - more of his photos and his memories can be seen and read on the love stories page).





Jan O'Leary (nee Tedstill) was posted here from 1959 to 1960 when the army was still on operations in the Far East. She kindly shares her memories:

I was a theatre sister in the Queen Alexandra's Royal Army Nursing Service but I had to relinquish my commission on the day I got married to Lieutenant Colonel Denis O'Leary 1st Bn 7th DEO Gurkha Rifles who were based in the New Territories in Hong Kong. We first met when he was duty officer and came to see a Gurkha Officer who was a patient. We were married at St Joseph's Church, Fanling, Hong Kong.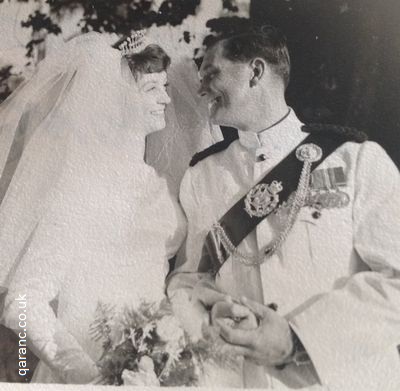 We then spent a further ten years in the Far East in HK and Malaya during the Borneo campaign when the Battalion was on operations.

This photo was taken on the balcony outside the operating theatre on the top floor of Mount Kellett in 1959, when I was theatre sister (Lieutenant Jan Tedstill) where I worked with Major Bridie Galvin QARANC , Captain John Walkden was the radiologist, Lt Col Thompson was senior surgeon, Captain Douglas Eadie was a surgeon, Captain Chris Brasher was ENT Surgeon, all were RAMC.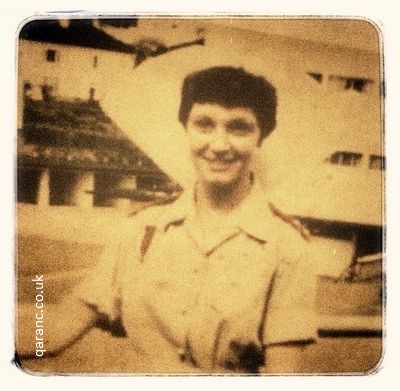 The CO was Lt Col Dick, RAMC, Matron was Lt Colonel Pulham, her deputy was Major Ratcliff both QAs. There was also Brigadier Fitzpatrick QA based in Singapore. All those personnel attended my wedding. Other personnel that I remember are Major Nancy Marsden, Major Betty Curry, Captain Pat Malloy, Captain Audrey Wisden, Lt Pat Grant, Lt Olive Pinions and Lt June Laverick. The housekeeper in the QA mess, was Barbara Hall who later married Captain Barry Bloxham ACC. Happy days, sad that such a magnificent building was demolished. The views from there were quite stunning over the South China Sea. Jan O'Leary nee Tedstill

Jan kindly shared this poem:

Battalion Orders

It was in a country church on the Chinese border
Everything arranged through Part One Order
In the army at Battalion level this how
Arrangements are made to clearly show
That events will take place in a certain way
Especially when it is for a wedding day.
Everyone knows their role and place
And they will be able to identify a face
Whether as an usher, best man or groom
They will know where to sit or stand in the room
Regimental orders kept all informed of the routine
Which had to comply to the second on the scene
The bride would arrive exactly two minutes late
Not one second longer or minutes as their first date.
She would arrive on the arm of the Bn Colonel
At the church door where bridesmaids would enable
The long train of her dress to spread far and wide
To cover the aisle carpet as she marched to his side.
He at attention in uniform, in its scabbard his sword
Realised through endurance he had got his reward.
They met in the May, a ring in July and now November
The fourth, fifty three years ago a day to remember
But that proud chap at the altar cannot now recall
That day when they first met and he was ten feet tall
As she called him, 'Sir' and looked into his eyes
They always knew there would never be any good byes.

More of Jan's poems can be read in Random Reflections
and her memories have been published as Starched Caps, Collars and Cuffs
.

Union Jack Club in Hong Kong

Trevor also told Qaranc.co.uk about the New Years Dance All Ranks Party that took place at the Union Jack Club in Hong Kong on Saturday 6th January 1962. The three young QA Officers in the photograph below are Sister Constantine (first left in picture), Sister M.Cavanagh (centre) and Sister D.Spooner (right of picture).





Below are more photos from the collection of Trevor Harvey. These include some taken at the Hong Kong Union Jack Club of a QA Officer dancing and a group of staff enjoying socialising at the New Years dance at the Union Jack Club HK organised for officers and staff of the hospital. All officers had to wear uniform. The tall officer on the right dressed in the bow tie is the CO Colonel Dick, Trevor is in the centre picture in the lightest grey suite.





Below is the Christmas Menu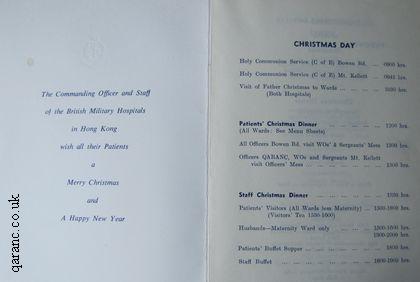 Below are the printed menu and events which took place for Christmas and New Year 1961 .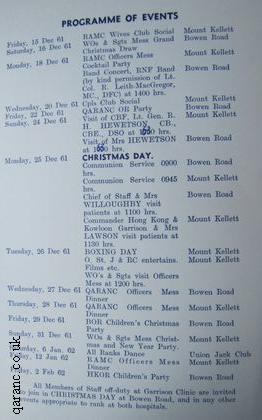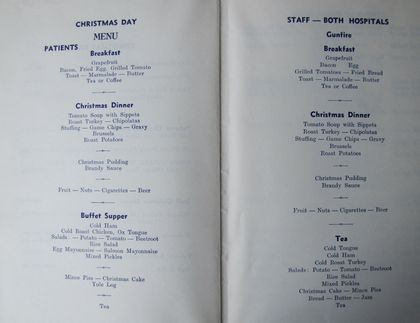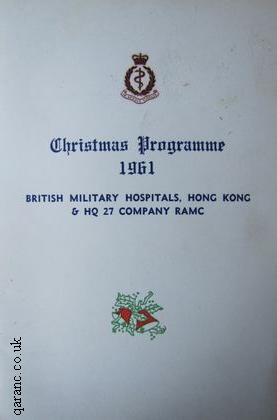 The buildings that replaced British Military Hospital Mount Kellett were BMH Bowen Road Hong Kong and then British Military Hospital Hong Kong Wylie Road Kings Park.


Sadly none of the QARANC.co.uk team had a Hong Kong posting and would love to expand this page with more details about this former army hospital and include a photograph. If you are a former or serving member of the Queen Alexandra's Royal Army Nursing Corps we would love your help.

If you would like to contribute any info, photographs or share your memories of BMH Mount Kellett then please contact me.


The following pictures have kindly been provided by Chris Lewis who served with 27 Coy.RAMC from 1960 to 1962. He recalls:

I very much enjoyed my time at BMH Mt Kellett and I was lucky to have an interesting job. I was involved in Admissions and Discharges, Medical Boards, Death Certificates and a lot of sports. We had quite a good hockey team, mostly doctors, and a good cricket team, so time went too quickly really. One of my highlights during my stay was that we won the Minor Units Knockout Cup at Cricket Final in March 1962 and unfortunately I never got to see the photograph that was taken of our team. The match was between 27 Coy Mt Kellett and 18 Fd Ambulance Fanling so it was serious. The Cup was presented by the Governor of Hong Kong so we were full of ourselves afterwards.

Names of the staff that I remember were Col Dick the CO, Major Moran the Matron and Captain Douglas the Admin Officer. He doctors were Dr Brasher, Earlam, Paddle and Bennett and the specialists were LT Col Thompson and Lt Col Webb.

The Royal Army Medical Corps quarters which were 1 mile from the hospital.






View of BMH Mt Kellett from OR quarters






Dhobi man at work in the staff quarters






Other ranks Xmas dinner 1961






This is the staff dance of 1961/1962







More of Chris' wonderful photos from his time on the Island can be viewed on the Wan Chai Hong Kong Aberdeen Harbour 1960s page.


View more photos of BMH Mount Kellett at Flickr.com (with thanks to Peter Truscott).



Forces War Records

Forces War Records are a genealogy site where you can find military records of over 6 million British Armed Forces personnel cross matched with over 4000 Regiments, Bases and Ships. This link includes a free search and a special discount of 40% off membership offer for visitors who use the discount code AF40 if they decide to become a member.
Search Now. A unique feature is their WW1 Soldiers Medical Records section.








If you would like to contribute to this page, suggest changes or inclusions to this website or would like to send me a photograph then please e-mail me.



Official QARANC webpage.

QA Association website.

In The Company of Nurses Book.


***********************************************






The Grey Lady Ghost of the Cambridge Military Hospital Novel - a Book by CG Buswell


Read our posts on:

Facebook

Google+

Twitter


Offers

Army Discounts






Present Day

» Become An Army Nurse

» Junior Ranks

» Officer Ranks

» Abbreviations

» Nicknames

» Service Numbers

Ministry of Defence Hospital Units

» MDHU Derriford

» MDHU Frimley Park

» MDHU Northallerton

» MDHU Peterborough

» MDHU Portsmouth

» RCDM Birmingham



Field Hospitals

» Camp Bastion Field Hospital and Medical Treatment Facility MTF Helmand Territory Southern Afghanistan






Territorial Army

» TA Field Hospitals and Field Ambulances


Photos

» Florence Nightingale Plaque

» Photographs


Uniform

» Why QA's Wear Grey

» Beret

» Lapel Pin Badge


» Army School of Psychiatric Nursing Silver Badge

» Cap Badge

» Corps Belt

» ID Bracelet

» Silver War Badge WWI

» Officer's Cloak

» QAIMNSR Tippet

» Officer Medal


Events

» Armed Forces Day

» Recreated WWI Ward

» Reunions

» Corps Day

» Freedom of Rushmoor

» Re-enactment Groups

» Military Events

» Remembrance

» AMS Carol Service

» QARANC Association Pilgrimage to Singapore and Malaysia 2009

» Doctors and Nurses at War

» War and Medicine Exhibition

» QA Uniform Exhibition Nothe Fort Weymouth


Famous QA's

» Dame Margot Turner

» Dame Maud McCarthy

» Military Medal Awards To QAs

» Moment of Truth TV Documentary

» Sean Beech


Nursing Events

International Nurses Day


Info

» Search

» Site Map

» Contact

» Websites



We are seeking help with some answers to questions sent by readers. These can be found on the Army Nursing page.



» Find QA's

» Jokes

» Merchandise

» Mugs

» Personalised Poster

» Stamp

» Teddy Bears

» Pin Badges

» Wall Plaques

» Fridge Magnet



» The Abandoned Soldier