» Site Map

» Home Page

Historical Info

» Find Friends – Search Old Service and Genealogy Records

» History

» QAIMNS for India

» QAIMNS First World War



» Territorial Force Nursing Service TFNS

» WW1 Soldiers Medical Records

» Field Ambulance No.4

» Chain of Evacuation of Wounded Soldiers

» Auxiliary Hospitals

» War Graves Nurses




» Book of Remembrance

» Example of Mentioned in Despatches Letter

» Love Stories

» World War 1 Letters

» QA World War Two

» Africa Second World War

» War Diaries of Sisters

» D Day Normandy Landings

» Belsen Concentration Camp

» Voluntary Aid Detachment

» National Service

» Korean War

» Gulf War

» Op Telic

» Royal Red Cross Decoration

» Colonels In Chief

» Director Army Nursing Services (DANS)

» Colonel Commandant

» Matrons In Chief (QAIMNS)

Follow us on Twitter:




» Grey and Scarlet Corps March

» Order of Precedence

» Motto

» QA Memorial National Arboretum

» NMA Heroes Square Paving Stone

» Memorial Window

» Army Medical Services Monument

» Recruitment Posters

» Museum

» QA Association

» Standard

» QA and AMS Prayer and Hymn

» Books


Former Army Hospitals

UK

» Army Chest Unit

» Cowglen Glasgow

» CMH Aldershot

» Colchester

» Craiglockhart

» DKMH Catterick

» Duke of Connaught Unit Northern Ireland

» Endell Street

» First Eastern General Hospital Trinity College Cambridge

» Ghosts

» Hospital Ghosts

» Haslar

» King George Military Hospital Stamford Street London

» QA Centre

» QAMH Millbank

» QEMH Woolwich

» Medical Reception Station Brunei and MRS Kuching Borneo Malaysia

» Musgrave Park Belfast

» Netley

» Royal Chelsea Hospital

» Royal Herbert

» Royal Brighton Pavilion Indian Hospital

» School of Physiotherapy

» Tidworth

» Wheatley


France

» Ambulance Trains

» Hospital Barges

» Ambulance Flotilla

» Hospital Ships


Germany

» Berlin

» Hamburg

» Hannover

» Hostert

» Iserlohn

» Munster

» Rinteln

» Wuppertal


Cyprus

» TPMH RAF Akrotiri

» Dhekelia

» Nicosia


Egypt

» Alexandria


China

» Shanghai


Hong Kong

» Bowen Road

» Mount Kellett

» Wylie Road Kings Park


Malaya

» Kamunting

» Kinrara

» Kluang

» Singapore

» Terendak


Overseas Old British Military Hospitals

» Belize

» Falklands

» Gibraltar

» Kaduna

» Klagenfurt

» BMH Malta

» Nairobi

» Nepal


Middle East

» Benghazi

» Tripoli


Become A British Army Nurse - Join The QARANC

Details on how to join the British Army as a Qualified Nurse or train as a student nurse with the army and become a member of the QARANC:





A career in the army as a nurse in the QARANC (Queen Alexandra's Royal Army Nursing Corps) or as a health care assistant can be rewarding and can develop your nursing career.

The army gives you opportunities such as:


Professional support and development


Secondary qualifications such as A&E, Theatre and ITU courses


Promotion and pay increments


Worldwide travel


Sports


Military training and development


Finance rewards (Golden Hello's) for qualified nurses with certain qualifications


Funded study days and courses


Funding and support to Master's Degree level


Regular paid holiday leave


Free dental and health care


Non-contributory armed forces pension
I have published a book which tells the story of The Grey Lady Ghost of the Cambridge Military Hospital which reveals her origins in the QAIMNS and where she meets a QA veteran of Afghanistan. She still walks her wards and tells her story by taking Scott Grey, a QARANC nurse, to the battlefields of World War One and beyond. This is the first in the series of Grey and Scarlet Novels by CG Buswell. Read the first chapter for free.




If you like this page and would like to easily share it with your friends and family please use the social networking buttons below:







Basic Military Training For Army Nurses And Health Care Assistants
All new QARANC soldier applicants will receive a 14 week basic military training course at an Army Training Regiment.

Student Nurses will then go on to study a 3 year degree in either Adult or Mental Health Nursing at the Defence School of Health Care Studies (DSHCS) Birmingham City University.

Healthcare Assistants will complete a 14 week course leading to a Diploma Level 2 in Health & Social Care at Keogh Barracks in Surrey.

All QARANC Officer applicants undergo 10 weeks training on a Professional Qualified Officers Course at the Royal Military Academy Sandhurst. On completion they then complete 8 weeks Entry Officers Course at Keogh Barracks, Surrey.

All Officers and Soldiers receive military training which includes:

Fitness training


Weapons training


Field first aid


Nuclear biological training


Marching and drill


Fieldcraft


Camouflage techniques


Cooking with rations


Obstacle assault courses


Field exercises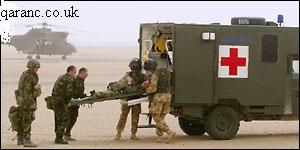 Though the QARANC is classed as a non combatant military role nurses and HCAs are training to handle weapons so that they can disarm the weapons of their patients to ensure the safety within the field hospital.



On successful completion of the basic training period families and loved ones are invited to the barracks to watch the passing out parade in which each new soldier will take part.



Student Nurse Training With The Army

The British Army now train their own student nurses and student nurse training with the Army is covered above and there are links for more information below.




Rates Of Pay For Army Nurses And HCAs

For current rates and scales of pay, Golden Hello Payments and Bursaries see
www.army.mod.uk/army-medical-services/qaranc/9880.aspx


Find out more about joining the QARANC at your local Army Careers Information Office or visit the official Army QARANC website at:
www.army.mod.uk/rolefinder

For further information about QARANC please contact:

Queen Alexandra Royal Army Nursing Corp Recruiting
Army Medical Directorate
Slim Road
Camberley
GU15 4NP

Tel: 01276 412742
01276 412741
01276 412761


Forces War Records

Forces War Records are a genealogy site where you can find military records of over 6 million British Armed Forces personnel cross matched with over 4000 Regiments, Bases and Ships. This link includes a free search and a special discount of 40% off membership offer for visitors who use the discount code AF40 if they decide to become a member.
Search Now. A unique feature is their WW1 Soldiers Medical Records section.








If you would like to contribute to this page, suggest changes or inclusions to this website or would like to send me a photograph then please e-mail me.



Official QARANC webpage.

QA Association website.

In The Company of Nurses Book.


***********************************************






The Grey Lady Ghost of the Cambridge Military Hospital Novel - a Book by CG Buswell


Read our posts on:

Facebook

Google+

Twitter


Offers

Army Discounts






Present Day

» Become An Army Nurse

» Junior Ranks

» Officer Ranks

» Abbreviations

» Nicknames

» Service Numbers

Ministry of Defence Hospital Units

» MDHU Derriford

» MDHU Frimley Park

» MDHU Northallerton

» MDHU Peterborough

» MDHU Portsmouth

» RCDM Birmingham



Field Hospitals

» Camp Bastion Field Hospital and Medical Treatment Facility MTF Helmand Territory Southern Afghanistan






Territorial Army

» TA Field Hospitals and Field Ambulances


Photos

» Florence Nightingale Plaque

» Photographs


Uniform

» Why QA's Wear Grey

» Beret

» Lapel Pin Badge


» Army School of Psychiatric Nursing Silver Badge

» Cap Badge

» Corps Belt

» ID Bracelet

» Silver War Badge WWI

» Officer's Cloak

» QAIMNSR Tippet

» Officer Medal


Events

» Armed Forces Day

» Recreated WWI Ward

» Reunions

» Corps Day

» Freedom of Rushmoor

» Re-enactment Groups

» Military Events

» Remembrance

» AMS Carol Service

» QARANC Association Pilgrimage to Singapore and Malaysia 2009

» Doctors and Nurses at War

» War and Medicine Exhibition

» QA Uniform Exhibition Nothe Fort Weymouth


Famous QA's

» Dame Margot Turner

» Dame Maud McCarthy

» Military Medal Awards To QAs

» Moment of Truth TV Documentary

» Sean Beech


Nursing Events

International Nurses Day


Info

» Search

» Site Map

» Contact

» Websites



We are seeking help with some answers to questions sent by readers. These can be found on the Army Nursing page.



» Find QA's

» Jokes

» Merchandise

» Mugs

» Personalised Poster

» Stamp

» Teddy Bears

» Pin Badges

» Wall Plaques

» Fridge Magnet



» The Abandoned Soldier