» Site Map

» Home Page

Historical Info

» Find Friends – Search Old Service and Genealogy Records

» History

» QAIMNS for India

» QAIMNS First World War



» Territorial Force Nursing Service TFNS

» WW1 Soldiers Medical Records

» Field Ambulance No.4

» Chain of Evacuation of Wounded Soldiers

» Auxiliary Hospitals

» War Graves Nurses




» Book of Remembrance

» Example of Mentioned in Despatches Letter

» Love Stories

» World War 1 Letters

» QA World War Two

» Africa Second World War

» War Diaries of Sisters

» D Day Normandy Landings

» Belsen Concentration Camp

» Voluntary Aid Detachment

» National Service

» Korean War

» Gulf War

» Op Telic

» Royal Red Cross Decoration

» Colonels In Chief

» Director Army Nursing Services (DANS)

» Colonel Commandant

» Matrons In Chief (QAIMNS)

Follow us on Twitter:




» Grey and Scarlet Corps March

» Order of Precedence

» Motto

» QA Memorial National Arboretum

» NMA Heroes Square Paving Stone

» Memorial Window

» Army Medical Services Monument

» Recruitment Posters

» Museum

» QA Association

» Standard

» QA and AMS Prayer and Hymn

» Books


Former Army Hospitals

UK

» Army Chest Unit

» Cowglen Glasgow

» CMH Aldershot

» Colchester

» Craiglockhart

» DKMH Catterick

» Duke of Connaught Unit Northern Ireland

» Endell Street

» First Eastern General Hospital Trinity College Cambridge

» Ghosts

» Hospital Ghosts

» Haslar

» King George Military Hospital Stamford Street London

» QA Centre

» QAMH Millbank

» QEMH Woolwich

» Medical Reception Station Brunei and MRS Kuching Borneo Malaysia

» Musgrave Park Belfast

» Netley

» Royal Chelsea Hospital

» Royal Herbert

» Royal Brighton Pavilion Indian Hospital

» School of Physiotherapy

» Tidworth

» Wheatley


France

» Ambulance Trains

» Hospital Barges

» Ambulance Flotilla

» Hospital Ships


Germany

» Berlin

» Hamburg

» Hannover

» Hostert

» Iserlohn

» Munster

» Rinteln

» Wuppertal


Cyprus

» TPMH RAF Akrotiri

» Dhekelia

» Nicosia


Egypt

» Alexandria


China

» Shanghai


Hong Kong

» Bowen Road

» Mount Kellett

» Wylie Road Kings Park


Malaya

» Kamunting

» Kinrara

» Kluang

» Singapore

» Terendak


Overseas Old British Military Hospitals

» Belize

» Falklands

» Gibraltar

» Kaduna

» Klagenfurt

» BMH Malta

» Nairobi

» Nepal


Middle East

» Benghazi

» Tripoli


BMH Nicosia

Information, photos and history about the BMH Nicosia in Cyprus


BMH Nicosia was one of several army hospitals in Cyprus. The first Commanding Officer of BMH Nicosia was Lieutenant Colonel Darbyshire and the second CO was Lt.Col Wordingham when Col Darbyshire was posted to BMH Benghazi in Libya.

Surviving Tenko: The Story of Margot Turner
describes the time Dame Margot Turner spent as a ward sister at BMH Nicosia in December 1948. It reads:

It was a very old hutted building with a large wing for Jewish migrants to Palestine. They were accommodated in an encampment outside Famagusta. The Jewish wing had some of its own nurses, but our Matron and Deputy Matron used to visit it and their surgical cases came to our operating theatre, of which I was in charge when I first went there. Our Matron was Colonel Somerville and the Deputy Matron, Major Agnes McGeary, was the very famous QA who had accompanied the Chindits in Burma. I remained Theatre Sister for two months; then Matron was posted home, Major McGeary became Matron and I became Deputy Matron.


BMH Nicosia is now closed and this extract from the Army Medical Magazine, April 1960, p52 gives the date of closure as 1959 with a general history of BMH Nicosia:

It was built in 1941 as a temporary hutted hospital, with 200 beds, on a "kopje" east of Nicosia, and originally known as 57 General Hospital. It was renamed British Military Hospital, Cyprus in 1947, when it housed a 100-bed Jewish Wing following detention of illegal Jewish immigrants intercepted en route for Israel, until their transfer to Israel in 1948. With the outbreak of the EOKA campaign in 1955 the hospital expanded to 300 beds. Following the opening of BMH Dhekelia in 1958 BMH Nicosia was re-designated Nicosia Military Hospital. Following the cessation of the EOKA campaign in 1959 and the withdrawal of British units from most of Cyprus, Nicosia Military Hospital discharged its last patient on 15th December 1959.

Sadly none of the QARANC.co.uk team had a posting to BMH Nicosia and would love to expand this page with more details about this former army hospital and include a photograph. If you are a former or serving member of the Queen Alexandra's Royal Army Nursing Corps we would love your help.

If you would like to contribute any info, photographs or share your memories of BMH Nicosia then please contact me. There are several recollections further below.



Below is an aerial shot of BMH Nicosia. The photo was taken in 1957 (with thanks to Judith Jackson).






Can anyone help with the location of BMH Nicosia, what is there now and with directions to get to the spot that would have been BMH Nicosia? Please add any information then please contact me if you can help, thank you.


A former QA Nursing Officer kindly told Qaranc.co.uk that BMH Nicosia was situated on a plateau on the left hand side of the Larnaca Road leading out from Nicosia. It was quite a large plateau with hutted buildings dotted around for wards, utilities. messes and accommodation. The site was surrounded by several small villages. Diagonally opposite the gateway to the camp was a Greek Orthodox Church.

Qaranc.co.uk have also heard from a former soldier who was a patient in the 1950s and recalls a leper colony next to the hospital. Can anyone help provide any more information please?






I have published a book which tells the story of The Grey Lady Ghost of the Cambridge Military Hospital which reveals her origins in the QAIMNS and where she meets a QA veteran of Afghanistan. She still walks her wards and tells her story by taking Scott Grey, a QARANC nurse, to the battlefields of World War One and beyond. This is the first in the series of Grey and Scarlet Novels by CG Buswell. Read the first chapter for free.




If you like this page and would like to easily share it with your friends and family please use the social networking buttons below:





Memories of British Military Hospital Nicosia
Below are photos kindly provided from the collection of QA Sister Agnes Kennedy from when she served in Cyprus in the late 1950s.




Outside the Children's Ward BMH Nicosia.





Cyprus British Army Camp 1950s.





Embarkation leave with friends and family in September 1956.





Area behind BMH Nicosia known as The Caves.





With Stella Gregoris the Greek accommodation hut maid and Joyce Edmonds.





MRS Polemidia near Limassol, Bill, Agnes' husband, carrying clean laundry.





Village behind BMH Nicosia.





Joyce Edmonds, David Blomley and Cliff Maudsley at King George Hotel Golden Sands Famagusta





Limassol Beach 1950s. Note the barbed wire to the right.





By one of the gardens of Cyprus.





Cyprus Shepherd With Goats And Sheep At Caves





Above the Asbestos Mine in Cyprus.





Captain David Blomley (RAMC), Lieutenant Joyce Edmonds and Lt Dorothy Forster (both QARANC) at the beach near Kyrenia.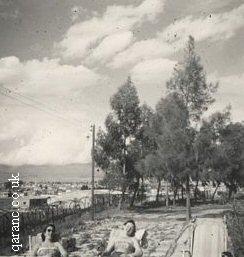 Behind QA Officers Mess BMH Nicosia.





Caves in Cyprus.





Bill, Agnes' future husband, above Amiandos Asbestos Mines Troodos.






Sister Agnes Kennedy shares her memories with readers of Qaranc.co.uk

It's been very interesting reading other peoples' impressions of Cyprus, and reading the names of Different members of staff. The lovely lady who was Matron during my time at BMH Nicosia was Lt. Col. Barbara Cozens. Whilst in Cyprus I spent over 6 months at the MRS Polemedhia, During which time I did several escort jobs by accompanying women to Nicosia by Helicopter, It was interesting to see a photograph of the football field on which we landed. After handing over the current patient to staff I then had to find my own way home, the helicopter having moved on!!

The CO at Polemedhia was Major Miss Lyons, our Matron was Major Margaret Knight. My time on the Island was one of great happiness as I thoroughly enjoyed my work, and also my leisure time. The mateship amongst the officers was a great experience where we could make our own entertainment when we were confined to barracks when the Terrorists were playing up!!

The different Regiments would hold dances, or dinner dances and invited the Nursing Officers who were off duty promising 'transport with armed guard' We would dress up appropriately, except for our shoes, these we would carry in a little dilly bag whilst travelling in our Ward shoes! The transport consisted of a bus with no glass windows and chicken wire where the glass should have been!! We were advised to sit in the aisle seats and warned that if there was any trouble we were to lie down in the aisle. Thank God we never had to put that into practice!

Shopping within the Walled city of Nicosia was interesting, especially if we went into Ledra Street which was euphemistically called "murder mile" by the media ( not without cause) but they didn't half blow the pictures up in the press. Our Newspaper arrived one or two days after being published back home so we would have to hurriedly write to our families to let them know that we were OK.

I remember the shock and horror that we felt when six Military Policemen were shot in the back, simultaneously, in Famagusta. That was a horribly planned attack timed for when there was a changing of the Guard. As the Military Cortege was being assembled at BMH Nicosia it was heart wrenching to see a big senior Military Police Officer, and an even bigger Sergeant, trying so hard to control their tears for their team members, and not being able to succeed. I often wonder why men feel it isn't manly to weep. That was a very black day indeed.

Some of the other writers mentioned the Matron being Major Morgan. I feel that she must have succeeded Col Cozens as there was a Major Morgan who was Deputy Matron when I was there. When I returned to Nicosia from Polemedhia I had to go to a different hut and it just happened to be the one where Major Morgan had her rooms, and I just happened to disturb her afternoon nap one day. I took the quietness to have a long soaking bath, so I ran the water, placing my large tin of talc at the wide tap end and was just going to start this luxury when I saw a VERY large Carob rat near my talc and when I tried to shush it away it fell into the bath knocking my talc into the water so it decided to use the talc as a "life raft" Meanwhile I grabbed a broom and tried to push it away so it started to climb the broom handle. That is when I screamed at it, and that is when there was a hammering at the bathroom door with Major Morgan wanting to know what all the din was about. I shouted through the door that there was a rat in my bath, so she told me not to be so stupid- it was only a lizard. Then I called through the door that it must be cold then because it's wearing a fur coat. With that I grabbed my towel ran out of the door and went to my room!! Amazingly I was re-directed to my previous quarters a couple of days later!!

The day after my run in with the carob rat, Major Morgan also encountered what I assume was the same one She went to have her afternoon nap the next day to find a Carob rat asleep in the middle of her beautiful quilt! The back door of the kitchen was directly opposite her rooms, so she shouted out for someone to come and get rid of a rat which was on her bed. One of the young kitchen hands, a lovely Greek lad called Nicholas, ran to oblige by grabbing an axe on his way. On arriving in Major Morgan's quarters he proceeded to hack the sleeping rat into little pieces, unfortunately shredding the magnificent quilt at the same time!



***********



Norma Bona (nee Fox) trained as a State Registered Nurse with the QARANC during 1955 to 1958. She served at the Queen Alexandra's Military Hospital Millbank, Moascar,Egypt, BMH Tripoli and Nicosia from Aug 1956 to Dec 1957. Here she kindly recalls memories from her career:


As Private Norma Fox QARANC I flew from Tripoli to Cyprus in August 1956. I was on my own as I had been ill for a time and, having recovered, it was decided Cyprus would be a healthier option for me. I arrived at night and was transported with other military personnel by bus secured by protected windows and we had to sit on the floor at one point - quite scary! It was the time of EOKA and terrorist activities.
I was met at BMH Nicosia by the Duty Sister who escorted me to the nurses' quarters. Everyone was either on duty or in bed, so for the first night I was accommodated in an empty dormitory next to the nurses' sitting room. I climbed into bed but immediately heard a scurrying noise and switched on the light to see cockroaches on the floor - so I gathered up a cover and fled to the sitting room. Next morning I met Major Fabian QARANC whom I had known at Millbank. "Good heavens, what Have they been doing to you Fox?" was her greeting. I had lost considerable weight.
I was soon settled in my own room in one of the long huts with rooms either side and I was on duty in Medical 'A' Ward. I soon made friends with the other nurses, some were familiar faces and we enjoyed life. Part of the time we were under curfew. I recall a Greek tailor used to come up from Nicosia on his Vespa with suitcases of materials and patterns and we would gather in the sitting room to be measured and to choose material and style and in a week or so he was back with our beautiful dresses.
A few weeks after I arrived I celebrated my 21st birthday. My parents sent me a cheque and I was able to go to Ledra Street, Nicosia where I bought a portable record player which proved very popular with staff and patients. Word had got around and a patient had a request played for me on Forces Radio, 'Pretty Woman' by Roy Orbison. Sister on my ward sent for me and scolded me for not informing her of the occasion as she said that "we all celebrate these happy occasions". Gosh! The ACC Chef promised I'd have a special cake for my 22nd. (I did).

Salamis September 1957.

With the curfew lifted when we were off duty we were loaded into trucks and driven to the coast near Kyrenia to swim. Happy days, all singing merrily on the way back to the hospital. We had a visit to the hospital at one time from Lady Mountbatten - lots of special spit and polish for that. For Xmas 56 I was moved to the Skin Ward (Medical A). there was a competition for the best decorated ward and we were lucky enough to have a young National Service man who was a theatre set designer in civvy street and he had me and all the patients busy collecting items for him, so our ward was beautifully decorated as Disney World, with a wonderful Fairy Castle suspended in clouds of blue and white gauze from the ceiling. He also made little Sets of pantomimes to fit aver the wall lights. We came second. Jungle World was 1st.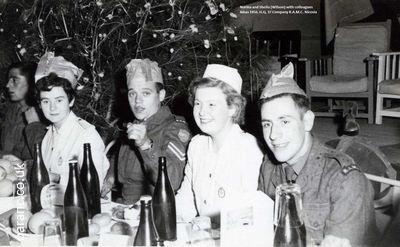 Norma and Sheila Wilson with colleagues 1956 HQ 37 Company RAMC Nicosia.

A friend, Chris, asked me to ask for leave and go to Kyrenia with her to a holiday centre which I think was run by the Church of Scotland. I was granted leave and Chris told me that Miss Penelope Tremayne of the Red Cross, had invited us both to spend time with her in Bellapais where she was staying in a house owned by the author, Lawrence Durrell who had written the book 'The Bitter Lemons' about this house and his stay in Cyprus. Miss Tremayne spoke excellent Greek and I believe that was why she was living in Bellapais and working for the Red Cross. She has written her story of this time in her book Below The Tide. Needless to say, Chris and I had a marvellous holiday being spoiled by Miss Gardener and her companion in Kyrenia from where Miss Tremayne collected us and drove us to the wonderful Bellapais. Fantastic memories.



Bellapais Abbey 1957.



Kyrenia.

Back at BMH our Sister Tutor was Major Radcliffe of whom I have fond memories and met her later at Catterick Camp when I was a civvy and a Lt. in the TA in Edinburgh. However, times changed as one day when we were all at Five Mile Beach near Kyrenia I was happily snorkelling and heard explosions on the beach. Whistles blew and orders were shouted and everyone rushed off the beach back to our transport. I believe that members of the RAF Regt. were injured in the shelters on the beach and it was a very subdued group on our return journey to BMH. And once again a curfew was imposed. During the times of curfew we nurses were never really aware of circumstances outside the hospital. Rumours abounded, helicopters came and went creating clouds of sand in the tent lines. We heard of a shooting in Ledra Street and of forest fires, and possible capture of terrorists, but most news was likely to come to us from letters from home.

In 1957 the Suez crisis came to a head and as many of our patients as possible were discharged or sent home to the UK to make room for expected casualties from Egypt, but not many arrived and we seemed to have more casualties from traffic accidents. We did have a few French soldiers from Egypt and I had to brush up my schoolgirl French.

I did a Cpl's course and had fun marching a group of National Service men up and down a field at the back of the billet. The RSM didn't think my voice was loud enough and told me to shout out loud "CHARLEE - CHARLEE" to strengthen my voice. This amused me greatly as my brother-in-law's name was Charlie.

At one time I was "specialing" on Isolation Ward on night duty and I went around the back to the sluice and was frightened by a HUGE scary shadow on the wall - I screamed and staff came running from all directions to my aid - and what had scared me ? - a preying mantis in front of a lamp - Wow ! What a shadow. Peace restored and my patient was greatly amused by all the fuss.

In Dec 1957 as Cpl. Norma Fox I travelled back to England by sea aboard the 'Dunera' and after home leave returned to BMH Millbank where I took my S.R.N. exam. at St Georges Hospital, Hyde Park (both now gone). Norma Douglas Bona (nee Fox)





***********



I served my National Service with the RAMC at BMH Nicosia from 1957 to 1959 during all the terrorist troubles so you can imagine it was quite a busy place to be at that time. I remember that we were all confined to camp for 3 months during the worst of the terrorist actions. All we had to do was play Bingo, which I vowed never to play again when I had finished my service out there! After this 3 months we were only allowed out in 3's and one of us had to carry a gun so we didn't go out a lot even then.






I was not there on the nursing staff but was in the Company Office as a Clerk. The hospital as far as I can recollect was about 1 mile south on the Larnaca road at the top of the hill on the left hand side. As I was in the Company office I had contact with all of the QARANCS as I used to print the cigarette coupons for everyone, we were rationed to 240 fags a week. I was quite a popular chap! I was also in charge of the fridge which we had in the office from which I used to sell to anyone who fancied a Coke or orange ice cold drink. These I used to purchase and sell, without any profit and just used the money to restock the fridge from the Gift Shop that was on the hospital site. Now and then we were called on to help administer an injection to any violent mental patients, our job would be to be to hold them down whist the nurse on duty did the injection. It was quite an experience at times.

Our accommodation was nissan huts, although I was fortunate to be able to move into a 4 man tent after a while which was a lot nicer than the huts. I think the Qaranc quarters were a bit better than ours and were at the other end of the site. Out of bounds to us as you would expect. A Qaranc Officer that I remember was Major Warrilow who was in charge of the nursing side of things. She was a lovely lady who would always pass the time of day with me.






We didn't socialise a lot with the nurses apart from having a couple of parties which were held in the Dental dept. It was at one of these that I had my first smooch, cor it was lovely. I can also remember Yana of "Climb up the wall" fame coming to entertain us one time. The show was held in the dining room, a large nissan hut, she went down a bomb as she was quite a sexy lady. Our toilets were Elsan chemical ones, I'm not sure what they were on the wards, or the QA quarters, but the wagon used to come round every day to empty them followed by a large cloud of flies, coo what a pong.

Anyway, after 9 months at Nicosia, I was promoted to Corporal and moved to a Newly built modern hospital in Dhekelia near Larnaca which was like moving to another world (More of Ron's photos can be seen on the BMH Dhekelia page). Mind you that's another story. I spent a weeks leave back in Nicosia just to go and see some of my old friends. I have been back to Cyprus for holidays and was told that the new hospital has now been demolished and has had a whole new garrison built on the site where it was. As for BMH Nicosia I've no idea what happened to it as it was in the Turkish part of the island after the Turks invaded it. The dividing line runs right through the centre of Nicosia itself. You can go on the roof of Woolworths and look over to the other side.

The hospital used to run a bus for us to a 'Guarded Beach' which was in the Northern part of the island, now the Turkish part. It was to a place called Kyrenia , where my wife and I visited the last time that we were on holiday there. My how things have changed from when I was first there. I remember that the sand was that hot that you couldn't walk on it, you had to run to get into the sea, which was like a warm bath. Also, a memory that will always stay with me was sitting on the cliff top overlooking the beach sipping Brandy sours. Coo, they were lovely.






I also remember playing a game of tennis or two with my mate the Pay Corporal against two of the nurses. One Mary Crawley came from the next town to me Nuneaton. I live in Coventry which is about 10 miles away. The other nurse was a Ann Ansell who moved to Dhekelia with us when we moved to the new hospital. She taught me to jive and was great company to be with. Some of the nurses used to follow us around after we formed a Skiffle Group. I used to play the Bass. A tea chest with a pole and a piece of string. You may remember them if you are from the Lonnie Donegan era. We also formed a Christmas Party in Dhekelia and performed on the stage in the new dining room. We had loads of fun doing that, and could hardly rehearse for laughing. Ah, happy times. The photo below is of the Qarancs dressed up was at Christmas when we had a comic hockey match.




The girls won, as you might expect. They are from left to right Gay ???, Grace ???, Ann Ansell, and Dusty ??? afraid I can't remember their surnames after all this time. Maybe someone who logs on to your site may recognize them? Ron Bale.

Here are more photos from the collection of Ron Bale:

A Drumhead Service in the area outside the Company Office.





Major General W.J.Officer (DMS MELF) taking the salute.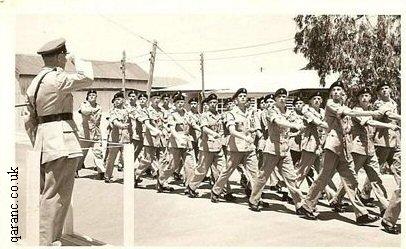 The football pitch which also served as the Helicopter landing pad.





The civilian police who guarded the hospital during the daytime. We had to take turns to do guard duty at night.





BMH Church





Cyprus commemorative stone. It reads: This stone was laid by H.E. Sir Robert Perceval Armitage KCMG MBE Governor and Commander in Chief Cyprus 26th May 1955






***********

I did my National Service in the RAMC and was a radiographer at BMH Nicosia from September 1958 until April 1959,the last few months of the Emergency. I must have arrived just as your other correspondent moved to the new BMH Dhekelia. I remember some of the QARANC staff such as the Matron Major Morgan, Sister Tutor Captain Webster and one of the theatre sisters Major Potter.

We had a very good Christmas there in 1958 We were waited on by the officers and nursing sisters - one of my mates got away with calling the Matron Little Red Riding Hood!

The pictures on the Nicosia website brought back a lot of memories. The general taking the salute was Maj.Gen.W.J.Officer,who was DMS MELF. I can clearly remember helicopters landing on the football pitch with casualties.

I spent 3 days at BMH Dhekelia to sit my Radiographer 2 exam and it was like a holiday camp compared to BMH Nicosia. It was right on the beach and in a fenced off secure area whereas I thought BMH Nicosia looked more like a POW camp!

After Dhekelia opened a lot of RAMC and QARANC personnel transferred from Nicosia to Dhekelia. Several of the wards closed down and we moved in to them from our 4 man tents. The name of the hospital was changed from BMH Nicosia to Nicosia Military Hospital.

In April 1959 I was posted to BMH Benghazi which was a small hospital where the Matron was Major Flanagan who was previously at Dhekelia.

BMH Benghazi was a very small hospital with only a few wards. There weren't many QAs there, just a matron, 4 nursing sisters and 4 ORs. I would imagine it closed down when Col.Ghadaffi took over!

I was demobbed in November 1959.Geoff Bown



***********

In December 1950 I was admitted to BMH Nicosia after being involved in a road accident and stayed until March 1952. I was serving with the Royal Engineers. I was operated on By Lt Col Dempsey and the Ward Sister was Dorothy Armstrong. I cannot remember the exact position of the hospital but the Leper colony was close by. I owe my life to the Doctors and Nurses of the RAMC and the QARANC who were wonderful when I was in hospital in Nicosia, I am only sorry that I have never been in touch with any of them since.





I suffered from a ruptured liver and other injuries. The Red Cross flew my wife out to visit me as they didn't think I would make it. My wife stayed in the families ward of the hospital and she was there for six weeks as it was the time of the Suez crisis and all the planes were busy flying forces families home from Egypt.





Both my wife and myself are still quite healthy and celebrate our Diamond Wedding in April this year.George Smithson









***********

I have just been looking at the website for QARANC and the part about BMH Nicosia. I was in the RAMC and stationed at RHH Woolwich when, in July 1958, I was posted to 19 Brigade Group Medical Company and two weeks later the Brigade moved to Cyprus to take over from the Paras who had gone to Jordan because of trouble in Israel.

We arrived at night and spent a very uncomfortable night at Wayne's Keep transit Camp and moved to BMH Nicosia were we were accommodated in four man tents at the side of the football field.

Some of us were attached to some of the hospital departments; in my case I started in Theatre and later moved to Reception and we provided many of the guards along with the Turkish Cypriot police. One difference between the lads of the hospital and ourselves was that those posted got tropical kit whilst we were still in normal UK shirt sleeve order: KD shirt and Battle dress trousers with studded boots.

I was off duty one Sunday when five men from R.U.R. were flown in having been injured in a fire-fight with EOKA, I helped to move a couple of them from the chopper to the ambulance and then went with the ambulance to theatre but one of the lads died on the table. We also had an RAF Warrant Officer who was shot when he was only ten yards from our main gate and his wife was injured. They had been on their way to Mass in the RC Chapel.

One Sunday our unit took us by truck to Kyrenia for the day. We were only in Cyprus for about three months and, as a result, posted personnel received the GSM with Cyprus clasp but our lads got nothing to show for their time there.
Don Johnson Ex RAMC.

Don shares more memories of his time serving in British Military Hospitals on the BMH Nairobi , Colchester Military Hospital, Royal Herbert and Ghosts pages.



***********

Qaranc.co.uk were delighted to hear from a serving member of the Signals Corp of the Greek Cypriot National Guard, which was created in 1963, who is serving his 24 months of compulsory military service in Nicosia.

I find your website concerning BMH Nicosia very interesting and after having a look at your website I decided to write to you and tell you a few things about BMH's situation today (2011). Now it is used by the Greek Cypriot National Guard and it is one of the biggest army camps on the island. Amazingly, and shockingly, most buildings remain the same with a few changes and minor additions. Several of these buildings are left derelict as there are future plans for BMH to be evacuated and be given back to the state to use up for development schemes.

I noticed you mention that there were ''small villages'' around the area of BMH. As you might expect due to the urban sprawl those small villages (Pallouriotissa, Kaimakli, Nicosia, Town etc) have since 1985 expanded and connected into what is called ''Greater'' Nicosia. Also, due to the Turkish Invasion of 1974 many Greeks living in the northern part of Nicosia were forced south to inhabit these villages.

I have attached the aerial photo of BMH from your website and have circled the building used by today's Signals Platoon. Rumours say that that particular building was back then used as the Infirmary of the Hospital which can be sometimes frightening to think about! I would be very happy if you could have a look at the photo and give me any thoughts you may have concerning the Infirmary. I am always available to give you or your readers more details concerning this part of Nicosia.




***********

It was very interesting for me to see where i had been born. I was born at this hospital in 1955 although it was an army hospital my father was in the Royal Navy due to a lack of a RN registrar. I was provided with a Cypriot birth certificate stating the place of birth as Pallouritissa. From what i understand it is still a suburb of Nicosia. My mother stayed at this hospital for over 6weeks due to complications. Kim cope (nee Seabrook)

***********

I was born in May 1958 at the British Military Hospital, Nicosia. My father Rev David Lawrance was a padre in the RAF. He built a church on the airfield. My mother's name was June Cynthia Lawrance. We were evacuated when I was three weeks old so no memories. However, my husband and I have been to Cyprus on holiday for the last two years and this year we decided to find the British Military Hospital. It wasn't difficult as it is described as BMH on Google Maps. It is off the B17 which was the old road to Larnaca. The side road into what is now a military base is just opposite the Kyrenia civil cemetery. We only drove into the side road as we had not realised that you could arrange visits. This side road called Michalaki Karaoli. Opposite it is a yellow direction sign with a black arrow pointing up towards it, mainly in Greek, but the last line says B.M.H. Elizabeth Bucknell (nee Lawrance)

***********



Cyprus British Memorial Monument

A Cyprus British Memorial Monument will be unveiled on Remembrance Day 2009, 50 years after the end of the 1955 to 1959 Cyprus Emergency, at Kyrenia. The names of the 371 British servicemen who died on active service will be inscribed on the Cyprus British Memorial Monument. There are no members of the QARANC on the Cyprus British Memorial Monument but there are two members of the RAMC. These are Sgt James Conroy who died on the 13 October 1957 at the age of 29 years and Pte Stephen Nicholas Horeman who died on 25 August 1956 aged 18 years.

There were 274 members of the Army killed on active service by guerrillas and terrorists of the Greek-Cypriot organisation EOKA in Cyprus, 69 members of the RAF and 28 members of the Royal Navy and Royal Marines. Many were National Servicemen. Their names can be found on the roll of honour at the website www.britishcyprusmemorial.org

EOKA was the Greek acronym for the National Organisation of Cypriot Fighters.

Most of the British servicemen are buried at the British military cemetery at Wayne's Keep, Nicosia. This is now within the United Nations buffer zone between Southern and Northern Cyprus. This area has restricted access so the decision was taken to house the Cyprus British Memorial Monument in the old British cemetery at Kyrenia which is open to the public.

The cost of the Cyprus British Memorial Monument was £80,000 and this was raised by readers of The Daily Telegraph newspaper on behalf of the British Cyprus Memorial Trust. Their website britishcyprusmemorial.org has a book of remembrance which also includes areas for families to add photos and memories of their loved ones.




Below is a Google Map of BMH Nicosia with a yellow drawing pin that marks its location. We think the co-ordinates are 35 10 05 73 B 33 23 19 39 E





The current location of BMH Nicosia can be seen in the Google Map image below. Access to the Camp and the British Military Cemetery at Waynes Keep is made by contacting the British High Commission Defence Advisor's Office - Tel: (+357) 22861320 and they will put you in touch with the correct UN personnel who will arrange an escort.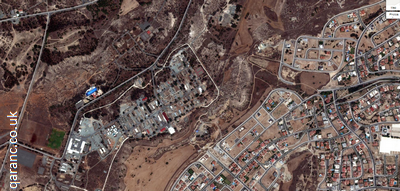 Forces War Records

Forces War Records are a genealogy site where you can find military records of over 6 million British Armed Forces personnel cross matched with over 4000 Regiments, Bases and Ships. This link includes a free search and a special discount of 40% off membership offer for visitors who use the discount code AF40 if they decide to become a member.
Search Now. A unique feature is their WW1 Soldiers Medical Records section.








If you would like to contribute to this page, suggest changes or inclusions to this website or would like to send me a photograph then please e-mail me.



Official QARANC webpage.

QA Association website.

In The Company of Nurses Book.


***********************************************






The Grey Lady Ghost of the Cambridge Military Hospital Novel - a Book by CG Buswell


Read our posts on:

Facebook

Google+

Twitter


Offers

Army Discounts






Present Day

» Become An Army Nurse

» Junior Ranks

» Officer Ranks

» Abbreviations

» Nicknames

» Service Numbers

Ministry of Defence Hospital Units

» MDHU Derriford

» MDHU Frimley Park

» MDHU Northallerton

» MDHU Peterborough

» MDHU Portsmouth

» RCDM Birmingham



Field Hospitals

» Camp Bastion Field Hospital and Medical Treatment Facility MTF Helmand Territory Southern Afghanistan






Territorial Army

» TA Field Hospitals and Field Ambulances


Photos

» Florence Nightingale Plaque

» Photographs


Uniform

» Why QA's Wear Grey

» Beret

» Lapel Pin Badge


» Army School of Psychiatric Nursing Silver Badge

» Cap Badge

» Corps Belt

» ID Bracelet

» Silver War Badge WWI

» Officer's Cloak

» QAIMNSR Tippet

» Officer Medal


Events

» Armed Forces Day

» Recreated WWI Ward

» Reunions

» Corps Day

» Freedom of Rushmoor

» Re-enactment Groups

» Military Events

» Remembrance

» AMS Carol Service

» QARANC Association Pilgrimage to Singapore and Malaysia 2009

» Doctors and Nurses at War

» War and Medicine Exhibition

» QA Uniform Exhibition Nothe Fort Weymouth


Famous QA's

» Dame Margot Turner

» Dame Maud McCarthy

» Military Medal Awards To QAs

» Moment of Truth TV Documentary

» Sean Beech


Nursing Events

International Nurses Day


Info

» Search

» Site Map

» Contact

» Websites



We are seeking help with some answers to questions sent by readers. These can be found on the Army Nursing page.



» Find QA's

» Jokes

» Merchandise

» Mugs

» Personalised Poster

» Stamp

» Teddy Bears

» Pin Badges

» Wall Plaques

» Fridge Magnet



» The Abandoned Soldier