» Site Map

» Home Page

Historical Info

» Find Friends – Search Old Service and Genealogy Records

» History

» QAIMNS for India

» QAIMNS First World War



» Territorial Force Nursing Service TFNS

» WW1 Soldiers Medical Records

» Field Ambulance No.4

» Chain of Evacuation of Wounded Soldiers

» Auxiliary Hospitals

» War Graves Nurses




» Book of Remembrance

» Example of Mentioned in Despatches Letter

» Love Stories

» World War 1 Letters

» QA World War Two

» Africa Second World War

» War Diaries of Sisters

» D Day Normandy Landings

» Belsen Concentration Camp

» Voluntary Aid Detachment

» National Service

» Korean War

» Gulf War

» Op Telic

» Royal Red Cross Decoration

» Colonels In Chief

» Director Army Nursing Services (DANS)

» Colonel Commandant

» Matrons In Chief (QAIMNS)

Follow us on Twitter:




» Grey and Scarlet Corps March

» Order of Precedence

» Motto

» QA Memorial National Arboretum

» NMA Heroes Square Paving Stone

» Memorial Window

» Army Medical Services Monument

» Recruitment Posters

» Museum

» QA Association

» Standard

» QA and AMS Prayer and Hymn

» Books


Former Army Hospitals

UK

» Army Chest Unit

» Cowglen Glasgow

» CMH Aldershot

» Colchester

» Craiglockhart

» DKMH Catterick

» Duke of Connaught Unit Northern Ireland

» Endell Street

» First Eastern General Hospital Trinity College Cambridge

» Ghosts

» Hospital Ghosts

» Haslar

» King George Military Hospital Stamford Street London

» QA Centre

» QAMH Millbank

» QEMH Woolwich

» Medical Reception Station Brunei and MRS Kuching Borneo Malaysia

» Musgrave Park Belfast

» Netley

» Royal Chelsea Hospital

» Royal Herbert

» Royal Brighton Pavilion Indian Hospital

» School of Physiotherapy

» Tidworth

» Wheatley


France

» Ambulance Trains

» Hospital Barges

» Ambulance Flotilla

» Hospital Ships


Germany

» Berlin

» Hamburg

» Hannover

» Hostert

» Iserlohn

» Munster

» Rinteln

» Wuppertal


Cyprus

» TPMH RAF Akrotiri

» Dhekelia

» Nicosia


Egypt

» Alexandria


China

» Shanghai


Hong Kong

» Bowen Road

» Mount Kellett

» Wylie Road Kings Park


Malaya

» Kamunting

» Kinrara

» Kluang

» Singapore

» Terendak


Overseas Old British Military Hospitals

» Belize

» Falklands

» Gibraltar

» Kaduna

» Klagenfurt

» BMH Malta

» Nairobi

» Nepal


Middle East

» Benghazi

» Tripoli


BMH Singapore

History of the British Military Hospital Singapore with photographs includes the Fall of Singapore during World War Two the evacuation of children and women and the Japanese war atrocities


It was an important part of the British Empire and strategically placed on the Malay Peninsula. It was nicknamed the Gibraltar of the Far East.

It was also known as Alexandra Hospital or Alexandra Military Hospital and was opened in 1940.






Accommodation and the Nursing Sisters Mess were built in nearby Alexandra Park. There were other previous buildings known as BMH Singapore and as the British military presence was increased each became bigger to meet the growing army's medical and nursing needs. It was the principal hospital in the Far East for British troops. Previous ones included the first on Pulau Blakang Mati (Sentosa Island) in 1909 and Tanglin Barracks in 1912. The photo below is from a popular postcard of the 1960s. The book Sub Cruce Candida: A Celebration of One Hundred Years of Army Nursing
has photos of BMH Singapore before the Japanese invasion.




The Chief Draughtsman of this last BMH Singapore was Major J.W. Colbran and the building was designed and constructed by the Royal Engineers. It was three storeys high with a basement and was able to house 356 beds. It was initially run by the 32nd Company of the Royal Army Medical Corps (RAMC) until 30 sisters of the Queen Alexandra's Imperial Military Nursing Service (QAIMNS) were posted here in late 1940.

World War Two

The area was long thought to be far removed from WWII until the Japanese entered the war by bombing Pearl Harbor and the US and British governments declared war on Japan on the 7 December 1941. Japan retaliated by bombing on 8 December 1941. Casualties were high from this unexpected attack and Japan followed the air attack by landing troops on the nearby Northern Malaya. The Royal Navy sent their battle cruisers HMS Repulse and HMS the Prince of Wales but these were suck on the 10 December 1941 and over 1000 men were lost at sea. The Japanese army progressed through the Malaysia jungle with little resistance.

As British troops were wounded and fell back so the QAs cared for them in a variety of hospitals and fell back as Japan advanced. The towns of Kulim, Kuala Lumpur and the state of Johore were evacuated and forward medical units and hospitals pulled back until they sought refuge at Singapore. Many troops, though wounded and travelling under the protection of red crosses were killed by Japanese pilots as they made their way from the overrun Malayan peninsula. This included a brave QA called Mary brand who ran a makeshift operating theatre whilst under fire (cited in Quiet Heroines: Nurses of the Second World War
by Brenda McBryde).


The Fall of Singapore

Despite this advance the fall of Singapore still came as a surprise to many. Businesses were still carrying on despite air raids at night. Wives and daughters of soldiers were quickly trained as VADs rather than being evacuated to safety. However by the 31 December 1941 it was deemed prudent to evacuate convalescent Australian patients with the nurses to make room. They sailed aboard a former river boat called the Wu Sueh which had been quickly converted to a hospital ship and took some of the patients and nurses to Java.

The Selerang Barracks at Changi became the Number 1 Malayan General Hospital whilst the Australian army opened many general hospitals throughout the province such as the 2nd/13th Australian General Hospital at Oldham Hall School and St Patrick's School.


Evacuation Of Children And Women

It was not until the end of January 1942 that the evacuation of children and women was encouraged, though still not ordered by the Government. Supply ships that were returning empty were made available though some still choose to stay despite the dangers because of the stigma of abandoning their fighting men folk. The first ships to leave laden with civilian women and children departed on the 30 January 1942 for India. These were Westpoint, Wakefield, the Duchess of Bedford and the Empress of Japan (cited in Quiet Heroines
by Brenda McBryde).

QAs entertained themselves with visits to the Raffles Hotel for dances and trips to the cinema during what they thought would be a build up to a long siege.

The Malayan peninsula retreat ended on the 31 January 1942 when Causeway was blown up by the Argyll and Sutherland Highlanders. This did not stop the advance of the Japanese army who commenced an artillery shelling attack on the Island. They were reinforced by the Japanese Air Force with a fleet of 530 planes against the 138 older and slower machines of the RAF.

News of the atrocities at Hong Kong had now reached Singapore and on the 8 February women and children were evacuated from the Island aboard the Devonshire, Felix Roussel and the Plancius. Hours later Japanese troops landed at the North West Coast.

Their first target which they destroyed was the Naval base and dockyard. The nurses were working around the clock to care for the victims of air raids and several hospitals were bombed with the loss of many lives including staff members. This included the 12th Indian General at Tyersall.

Evacuation Of Female Nurses

The RAF Squadron 232 were forced to move to Sumatra on the 10 February and the Commanding Officer of Singapore Garrison, General Percival, knew that this marked the end of British rule. His priority became to evacuate as many women still nursing at the hospitals and 20 civilian nurses were evacuated on the Wu Sueh. On the 11 February half of the nurses on the Island sailed on the cargo ship Empire Star. No member of the QAIMNS would leave and the Principal Matron, Miss Jones, had to choose who would leave for safety and who would stay behind. The Empire Star was packed with 2150 people mostly in the hold and Captain Capon managed to guide the ship to the safety of Batavia harbour despite attacks by Japanese bombers and many soldiers on deck died under their machine gun fire.

The Real Tenko: Extraordinary True Stories of Women Prisoners of the Japanese
described the bravery of two QA Officers, Sister Margaret Anderson and Sister Veronica Torney, who tried to shield the injured by throwing themselves upon their patients to shield them from enemy bullets. Both survived and Sister Anderson was later awarded the George Medal and Sister Torney was made a Member of the Order of the British Empire (OBE).

Life became more strained with the fear of an imminent invasion, increased wounded being admitted and the reduced staff after the evacuation of 50% of the female nurses. Things were made worse when locals abandoned their posts and nursing staff had to undertake additional roles and activities like cooking. Surgeons operated round the clock to cope with the wounded soldiers and civilians from bomb injuries.

On the 12 February 1942 smaller boats were made available in an effort to evacuate more female nurses. This included the Vyner-Brooke that evacuated 65 Australian Army Nursing Service (AANS) Sisters. Sadly she was later sunk with the loss of 12 of the Sisters.

Friday the 13th 1942 saw more of them and VADs being able to sail from Singapore aboard the Tien Kwang, Kuala and the Mata Hari. Before they could sail they were dive bombed by Japanese planes and many more lives were lost. Their bad luck continued when they sailed into a fleet of Japanese boats that were on their way to invade Sumatra. The Captains were able to evade the fleet by hiding in the lee of the surrounding islands.

The SS Kuala was attacked whilst at anchor at an uninhabited island in the Indonesian Archipelago by a flight of Japanese bombers and this attack resulted in the death of Principal Matron Miss Jones of the QAIMNS, Mrs Cherry of the Malayan Auxiliary Nursing Services, Miss Spedding of the 20th CGH, Miss Russell of the 17th CGH and Miss West of the 1st Malayan who were in a meeting discussing the care of the wounded. The bomb also killed other QAs such as Helen Montgomerie and Lorna Symondson. The boat had to be evacuated because of a fire and more were killed because they were unable to get a lifejacket. Brenda McBryde in Quiet Heroines
cites the figures as 18 QAs and 5 TANS (Territorial Army Nursing Service).

Other ships fared no better and many were destroyed in the minefields and also attacked by planes. Many of those that did survive were lost at sea.

The Real Tenko
cites that though many QAs were captured or died some of the survivors of the Kuala ship arrived safely in the Indian port of Bombay. This included QA Sisters Catherine Maudsley and Evelyn Cowens.


Does anyone have information about the boat permitted to leave Singapore Harbour by the Japanese in 1942 with wounded British patients onboard?




BMH Singapore War Atrocities

During the height of World War Two on the 15 February 1942 Singapore fell to the Japanese Army. BMH Singapore saw some war atrocities carried out by the troops of Japan. At about 1pm Japanese troops advanced with the leading soldier carrying their red and white flag. At this time the Commanding Officer (CO), Lieutenant Colonel Craven (RAMC), was discussing the surrender with the Chaplain and the Registrar, Major H. Henderson and Major J. W. D. Bull. The building was clearly marked with a red cross but this did not save the patients and staff from the savagery of these enemy soldiers. Captain J. E. Bartlett of the RAMC went to meet them and as he said the word Hospital he was fired upon and a hand grenade was thrown. This started an attack upon the hospital and those within by about 100 armed Japanese troops with bayonets attacked to their rifles. He escaped this and rushed to the CO's office to report the advancing troops and the attack.

Major Bull held up a red cross flag to the window and was immediately shot at. More shots were fired at the hospital followed by explosions. The officers made their way from the top floor to the ground floor and found many doctors, nurses and patients dead from gunshot wounds and shrapnel from the bombardment.


Japanese Atrocities

Their troops now entered British Military Hospital Singapore and fired upon anyone they met. As they got closer they bayoneted patients and staff, even a patient who was still anaesthetised on the operating theatre table was bayoneted to death. As unarmed members of the RAMC tried to surrender they were mercilessly bayoneted by their soldiers. Those who came to their aid were shot. Some of the injured, despite painful wounds, played dead. This included Captain Smiley and Private Sutton who were able to survive and tell of these atrocities.

Wounded patients and staff that did survive this massacre were taken prisoner and were bound and force marched to some buildings nearby to the Ayer Rajah Road. Any that fell down were bayoneted to death. The prisoners were locked into three small rooms no more than 10 feet by 12 feet. Up to 70 were crammed, still bound, into each room. Doors and windows were barricaded and there was no ventilation, food, drink or toilet facilities. They were left there till the next morning by which time many more died of their wounds or dehydration.

When the doors were opened a Japanese officer took some of the prisoners away telling them they were going to get water. Their screams were heard by the remaining prisoners. They had been bayoneted to death. The others tried to escape or overcome their guards and an onslaught took place where all the British servicemen were killed other than a few that managed to escape. This included Captain R. de Warrenne Waller, Corporal C.N.C. Bryer, Corporal G.W. Johnson, Private S.W.J Hoskins and Private F.A.H. Gurd.

QAs had been evacuated several days before with some patients because of Japanese atrocities upon nurses being reported from Hong Kong. Read more on the BMH Bowen Road Hong Kong page. Many of those evacuated perished aboard hospital ships during attacks by Japanese planes or were caught and interned as Prisoners of War. This included Margot Turner. That page tells their story of these early days of the fall of Singapore and how she and others bravely endured atrocious conditions at prisons and camps.

A letter from a Sister to the Matron In Chief can be read in Grey and Scarlet : letters from the war areas by army sisters on active service
where writes about her escape, along with the remaining Sisters and the Principal Matron Far East Command in February 1942 and the horrors she witnessed, being machine gunned at the dockyard and how life was on the ship they escaped on.



Surrender of Japan

It remained in the rule of Japan until the end of WWII and the Allies accepted the surrender of Japan. Britain once against opened up BMH Singapore and treated military patients, including rescued prisoners from camps such as Margot Turner who had spent over three years in brutal and harsh conditions.

Though it had been left in a terrible state it only took the British two days to make her a functioning hospital once more. Lifts had to be repaired and there was no furniture nor beds. The Japanese had also destroyed the X-ray machines and left no equipment that they could readily and easily take away such as sheets, beds, blankets and instruments.

The captured troops of Japan were ordered to work as fatigue groups and even Lady Louis Mountbatten helped to restock using her contacts to quickly replace equipment.


Victory Parade Singapore

At the end of WWII victory parades took place all over the world and Singapore was no exception. The RAMC and QAIMNS took part in the victory parade march past of Singapore in 1945.There is a picture of the QAs march past in the book Sub Cruce Candida
.






I have published a book which tells the story of The Grey Lady Ghost of the Cambridge Military Hospital which reveals her origins in the QAIMNS and where she meets a QA veteran of Afghanistan. She still walks her wards and tells her story by taking Scott Grey, a QARANC nurse, to the battlefields of World War One and beyond. This is the first in the series of Grey and Scarlet Novels by CG Buswell. Read the first chapter for free.




If you like this page and would like to easily share it with your friends and family please use the social networking buttons below:





The Garrison Church in Singapore held the Reredos Memorial Chapel which was dedicated to the memory of the QAIMNS and VAD nurses that were killed during World War Two. The book Sub Cruce Candida
has a photograph of the Reredos Memorial Chapel in Alexandra Garrison Church.





Singapore Memorial

After the Second World War those who lost their lives were remembered on a special Singapore Memorial. The 48 names were from the QAIMNS and the Reserves QAIMNS(R), (TANS), Queen Alexandra's Indian Military Nursing Service and the Auxiliary Indian Nursing Service (QAAINS). They are also listed in the Nurses' Roll of Honour in Westminster Abbey in London. Their names are also listed in Quiet Heroines
by Brenda McBryde.




Malayan Federation

In 1957 the Malayan Federation was formed and this marked the end of the Colonial Rule of Malaya by Great Britain. Singapore became an independent nation in 1965. Units and hospitals closed and withdrew from the area such as BMH Tanah Rata in Malaysia. Though BMH Singapore remained open and a British presence was retained in the area for several more years to aid the recently formed Malayan Federation. They were engaged under the Anglo-Malayan Defence Agreement until the British army withdrew in July to August 1971. It closed in 1971 as the troops left.

The closure ceremony was filmed on behalf of the Commanding Officer, Col G.L. Humphreys L/RAMC, on old cini film, though this would have been the technology of the day. The CO's daughter, Julie, also worked there as a QARANC NCO nurse.


First Ghurka QA Recruits

The first Ghurka QA recruits enlisted at Singapore and were posted to Queen Alexandra Camp, the Depot and Training Establishment in Hindhead in November 1962. (cited in the book Queen Alexandra's Royal Army Nursing Corps (Famous Regts. S)
by Juliet Piggott).



First Other Rank QA Nurses In The Far East


Mrs Una McLellan (nee Mansfield) was one of the first 26 other rank nurses to be sent to the Far East in 1951. She had previously served in the ATS (Auxiliary Territorial Service) from 1944 to 1947.


This was an historical occasion in the history of the newly formed QARANC. When the QAs were the QAIMNS there was no junior rank structure and all were Sisters and did not have their own officer rank until 1941. It was not until student nurse training within the QAs started in 1950 that other ranks were permitted to serve as army nurses. Mrs U McLellan recalls:

Before we left for the Far East we spent time at Hindhead where we had our injections, were issued our tropical kit and uniforms and were given lectures. In October 1951 we then went by train to Liverpool where we were told we would have to go to BMH Chester (Monstan Hall) to work for a while because our ship, the Empress of Australia, needed repairs before she could sail.

We left Liverpool on the 7 December 1951 aboard The Empress of Australia with Army and Air Force personnel and their families. We were told not to mix with the men as they were out of bounds. During the voyage we had boat drill and physical training and told to study our nursing training for Class 2. It was 2 to 4 to a cabin. We were then given shifts at the sickbay to help with those who were seasick. This was mostly the wives and children. Some of our girls did get sick but I was one of the lucky ones.

We were given a booklet telling us about the area and those off duty were allowed to go ashore when we docked at Aden, Algiers and Colombo. The photo below is of Una Mansfield by a bullock cart with her friend Lillian Chambers from Sheffield.





Christmas was spent aboard The Empress of Australia. The steward who served me was called Maurice. I still have the menu which reads:

The Season's Greetings

The Captain, Officers and Crew wish You a Very Happy Christmas.

Menu

Consommé Royale Cream of Tomato Velour

Fried Fillet of Plaice, Sauce Tartare

Roast Young Turkey, Dressing, Cranberry Sauce

Brussel Sprouts au Beurre

Persilles and Croquette Potatoes


Cold

Pressed Ox Tongue

Salade Beaucaire


English Plum Pudding, Rum Sauce

Vanilla Ice Cream with Wafers

Mince Pies Xmas Cake

Dessert Coffee

SS Empress of Australia

Xmas 1951


We had a sing song in the mess and there was a dance for officers and their wives. We baby sat for the families during the entertainment for the wives.

When we went through the Suez Canal during the emergency we were told to stay below because the guns were manned on the deck. It was very quiet and we went through very slowly. We were able to look out of the portholes to see what it was like.

We arrived on the 2 January 1952. It was raining and a Corporal was issuing monsoon capes. I was posted to BMH Singapore Alexandra Hospital. The Sisters I met up with were easy to work with and we all worked well together. Discipline was very strict and we were locked in at 2130 hours by Night Sister. Two soldiers were outside on guard duty. We were located away from the main building. Films were shown at Gillman Barracks and if we met lads there and they walked us back they had to leave before we reached the guards.






The Surgeon was Colonel Wheatley and I worked under him and also at his out patients department. He was a wonderful surgeon and I enjoyed working for him. We worked 21 nights and 7 nights off with very hot and scary nights when in Malaysia.

During my service I met my husband (pictured below). I spent seven days leave in S/Pore with my husband to be but we were not permitted to stay in the same place. He stayed in the YMCA whilst I stayed in the Union Jack Club. I still have some receipts from this time including an Alhambra theatre ticket for $1.50 Singapore dollars which included the military concession price. A milk shake at Capitol Milk Bar was 60 cents whilst a coffee at Tong Sing Beer Bar and Restaurant on Changi Road was 20 cents. Steak, egg and chips at Tong Sings was $1.70 and scrambled eggs and chips was 90 cents.





My fiancé had to wait for me at the desk and then we were signed out and had to be signed back in by 10pm. We got engaged in the Botanical Gardens.


Her Royal Highness The Duchess of Kent came in 1952 with her son. I remember that she shook hands with me and her son stayed out in the jeep while his mother went over the Hospital.

I was then posted to BMH Kamunting. We traipsed through Malaya with rest centres in the Cameron Highlands and the Panang Hospitals Kluang and Kuala Lumper. We travelled in an armoured car which was not very comfortable in the heat and we had army escorts wherever we went. I ran the M.I. room at Tanglyn Barracks when the W.R.A.C were there in 1953.


The following photographs are from collection of Private Una Mansfield:







Penang 1952:






The photo below shows the staff of ward 7 at BMH Kamunting in 1952.






The photograph below shows Father Christmas with doctors and sisters of Ward 8 of BMH Kamunting in 1952.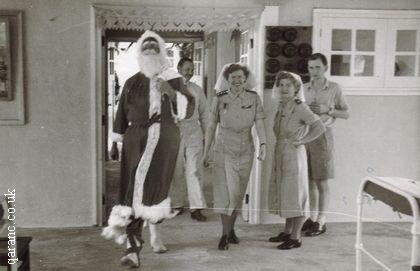 The picture below shows the staff of BMH Kamunting enjoying their Xmas dinner in 1952.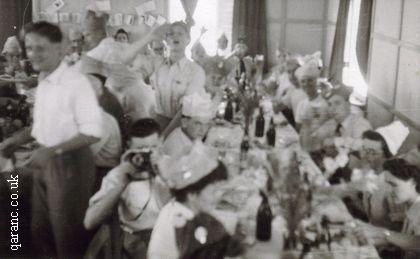 This wonderful picture is of a QA marriage at Kamunting, Malaya in 1953 was taken with all the staff who were off duty.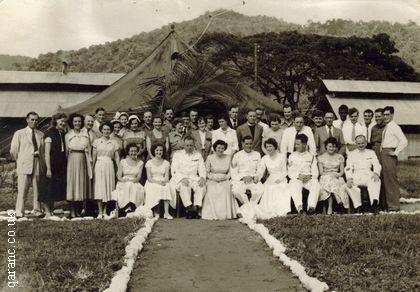 Sister Heley FAMS at BMH Kamunting:








RAMC Cameron Highlands 1952:







Sister Heley with RAMC Doctors Ross and Stewart with children in 1952: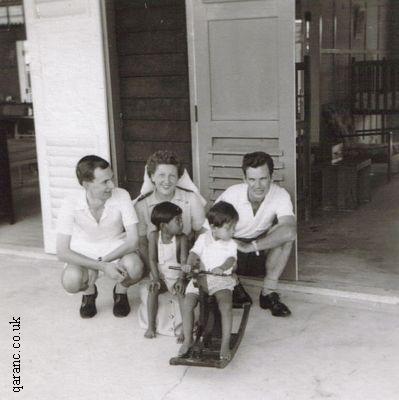 Tanglin Barracks with WRAC orderly and chemist:






The SS New Australia was the ship that Private Una Mansfield left the Far East aboard. Her fiance left in March 1952 and they married when she left the QAs in 1954.







*************************************


These QARANC Officer Mess photos and that looking from it to the hospital are kindly provided by Ann Mills who was there from 1959 to 1962.






At the Isolation Block of BMH Singapore with children receiving presents from Santa. Ann is on the left.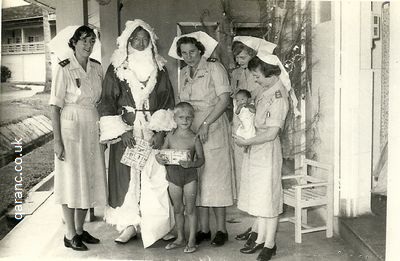 Another lovely photo of Ann, on the right, taken outside the Isolation ward with a baby.







Memories of Singapore in the 1960s

The following photographs were kindly sent to qaranc.co.uk by former QA Val Thompson (nee Lawn) who was a member of the QARANC from 1965 to 1969. Val Lawn started her career at the BTU (Basic Training Unit) at Gun Hill in Aldershot and stayed there until she was 18 and old enough to start her nurse training. As a pre nurse she recalls being permitted to have an extra evening out and was also allowed to stay out until 2259hrs on Saturdays. Normally she would have had to be in the billets by 2159hrs. Modern QAs may find this a bit early and restrictive by today's standards!

Valerie Lawn then went on to the Cambridge Military Hospital to do her PTS and then was posted to Queen Alexandra's Military Hospital Millbank later that year. Here she got to live in the amazing Cadogan Gardens right near the Kings Road in Chelsea.

From QAMH Millbank she was posted overseas to Singapore. The photo below was taken in the theatre department during her placement there. She recalls that it was used as a publicity picture for an Australian magazine.





The following photos were taken outside the back door of Margaret block of the Alexandra billet with her friend De (Deirdre Hayman) soon after they arrived. They had only just made their evening dresses and were keen to show them off.

She then went on to take her Corporals course whilst there and was posted to the UK as an Acting Paid Sergeant.




Upon her return to the CMH she took her State Registered Nursing exams at St Luke's in Guildford. Valerie Lawn left the QAs when she married. Her husband was a member of the RAF and she remembers that he had to write to her Commanding Officer to formally ask to marry her. Val Thompson then went on to work as a State Registered Nurse and before she retired she was working for the MOD in an admin capacity.


*************************************

In his book A Few Deeds Short of a Hero
Robert Widders reminisces about Tiger beer from the NAAFI, the huge cockroaches which were nicknamed Bombay Runners, the chit chats lizards, being overcharged by a tri-shaw three wheeled bicycle driver on the way to Raffles Hotel which taught him to haggle and visiting Johnny Ghurkha's Tattoo Emporium in Nee Soon.




*************************************


I was reading with great interest your articles about Naval Hospitals. In 1958 I was attached as a Royal Naval wardmaster. A lovely title for a leading sick berth attendant whose job was to arrive daily in a staff car (and so getting a salute from the guard on the gates) open our small office in the grounds and type up the admissions of any naval personnel, or wives etc, doing three copies, one for the captain Dockyard, one for Surgeon rear admiral and one for medical records, then with the chief petty officers permission, have a walk round the wards before going to lunch and then having the rest of the day off.

Then came my moment of fame; I had to attend HMS Achilles on board was a VIP who was desperately ill and I had to take her to the BMH in Singapore by ambulance. A strong able seaman assisted me with the stretcher and as we were descending the gangway I slipped from one rung to the next, and bless her, she looked up at me and said "Your not going to drop me are you?" with a smile on her face. The ambulance raced through the city and into the hospital. I was joined by the receptionist and we took the VIP in the lift to the ward. My job was done. When I descended to ground floor level the lift doors opened, there was the VIP's husband himself, so I accompanied him to the ward. He asked me if we had been long as he had been held up in traffic, to which I replied "No sir, just this minute arrived ourselves" I got a "Well done lad" and that was that. I can't believe that was fifty years ago. Tony Walsh


*************************************



Alexandra Hospital

It was handed over, for the token payment of $1, to the Government in 1971 and retained the name Alexandra Hospital. It is now the civilian Alexandra Hospital. There are photographs of how it looks now at their website of www.alexhosp.com.sg whilst the book Sub Cruce Candida
has photos of BMH Singapore throughout the decades, including the Second World War.



If you would like to contribute any info, photographs or share your memories then please contact me.

Black and White House Alexandra Park

There is a black and white house in Alexandra Park, nearby. It is now owned by an Australian midwife who would like to learn more about the history of the house, previous owners, etc. She is also interested in any information about Alexandra Park from the years 1928 to 2007. The house is number 3 Canterbury Road, Alexandra Park. If you can help then please contact me so that I may pass on any info. Thank you!


Memorial Plaque

The Alexandra Hospital in Singapore has a memorial plaque which reads:

In 1938, the British built this as a military hospital. Japanese troops attacked the hospital on 14 February 1942 in retaliation against retreating Allied soldiers who had fired at them from the hospital grounds. They killed an estimated 50 staff and patients. The following morning, the Japanese soldiers killed another 150.

After the war, the hospital reopened as the principal British Military Hospital in Asia. It was handed over to the Singapore Government on 10 September 1091. It reopened as Alexandra Hospital, a civilian hospital, on 15 September 1971. Since April 1995, the hospital also serves as the Alexandra campus of the National University of Singapore's medical school.



Colleagues of the QA Association recently made a trip to the Far East. Read more with photos on the QARANC Association Pilgrimage Malaysia 2009 page.




Forces War Records

Forces War Records are a genealogy site where you can find military records of over 6 million British Armed Forces personnel cross matched with over 4000 Regiments, Bases and Ships. This link includes a free search and a special discount of 40% off membership offer for visitors who use the discount code AF40 if they decide to become a member.
Search Now. A unique feature is their WW1 Soldiers Medical Records section.








If you would like to contribute to this page, suggest changes or inclusions to this website or would like to send me a photograph then please e-mail me.



Official QARANC webpage.

QA Association website.

In The Company of Nurses Book.


***********************************************






The Grey Lady Ghost of the Cambridge Military Hospital Novel - a Book by CG Buswell


Read our posts on:

Facebook

Google+

Twitter


Offers

Army Discounts






Present Day

» Become An Army Nurse

» Junior Ranks

» Officer Ranks

» Abbreviations

» Nicknames

» Service Numbers

Ministry of Defence Hospital Units

» MDHU Derriford

» MDHU Frimley Park

» MDHU Northallerton

» MDHU Peterborough

» MDHU Portsmouth

» RCDM Birmingham



Field Hospitals

» Camp Bastion Field Hospital and Medical Treatment Facility MTF Helmand Territory Southern Afghanistan






Territorial Army

» TA Field Hospitals and Field Ambulances


Photos

» Florence Nightingale Plaque

» Photographs


Uniform

» Why QA's Wear Grey

» Beret

» Lapel Pin Badge


» Army School of Psychiatric Nursing Silver Badge

» Cap Badge

» Corps Belt

» ID Bracelet

» Silver War Badge WWI

» Officer's Cloak

» QAIMNSR Tippet

» Officer Medal


Events

» Armed Forces Day

» Recreated WWI Ward

» Reunions

» Corps Day

» Freedom of Rushmoor

» Re-enactment Groups

» Military Events

» Remembrance

» AMS Carol Service

» QARANC Association Pilgrimage to Singapore and Malaysia 2009

» Doctors and Nurses at War

» War and Medicine Exhibition

» QA Uniform Exhibition Nothe Fort Weymouth


Famous QA's

» Dame Margot Turner

» Dame Maud McCarthy

» Military Medal Awards To QAs

» Moment of Truth TV Documentary

» Sean Beech


Nursing Events

International Nurses Day


Info

» Search

» Site Map

» Contact

» Websites



We are seeking help with some answers to questions sent by readers. These can be found on the Army Nursing page.



» Find QA's

» Jokes

» Merchandise

» Mugs

» Personalised Poster

» Stamp

» Teddy Bears

» Pin Badges

» Wall Plaques

» Fridge Magnet



» The Abandoned Soldier