» Site Map

» Home Page

Historical Info

» Find Friends – Search Old Service and Genealogy Records

» History

» QAIMNS for India

» QAIMNS First World War



» Territorial Force Nursing Service TFNS

» WW1 Soldiers Medical Records

» Field Ambulance No.4

» Chain of Evacuation of Wounded Soldiers

» Auxiliary Hospitals

» War Graves Nurses




» Book of Remembrance

» Example of Mentioned in Despatches Letter

» Love Stories

» World War 1 Letters

» QA World War Two

» Africa Second World War

» War Diaries of Sisters

» D Day Normandy Landings

» Belsen Concentration Camp

» Voluntary Aid Detachment

» National Service

» Korean War

» Gulf War

» Op Telic

» Royal Red Cross Decoration

» Colonels In Chief

» Director Army Nursing Services (DANS)

» Colonel Commandant

» Matrons In Chief (QAIMNS)

Follow us on Twitter:




» Grey and Scarlet Corps March

» Order of Precedence

» Motto

» QA Memorial National Arboretum

» NMA Heroes Square Paving Stone

» Memorial Window

» Army Medical Services Monument

» Recruitment Posters

» Museum

» QA Association

» Standard

» QA and AMS Prayer and Hymn

» Books


Former Army Hospitals

UK

» Army Chest Unit

» Cowglen Glasgow

» CMH Aldershot

» Colchester

» Craiglockhart

» DKMH Catterick

» Duke of Connaught Unit Northern Ireland

» Endell Street

» First Eastern General Hospital Trinity College Cambridge

» Ghosts

» Hospital Ghosts

» Haslar

» King George Military Hospital Stamford Street London

» QA Centre

» QAMH Millbank

» QEMH Woolwich

» Medical Reception Station Brunei and MRS Kuching Borneo Malaysia

» Musgrave Park Belfast

» Netley

» Royal Chelsea Hospital

» Royal Herbert

» Royal Brighton Pavilion Indian Hospital

» School of Physiotherapy

» Tidworth

» Wheatley


France

» Ambulance Trains

» Hospital Barges

» Ambulance Flotilla

» Hospital Ships


Germany

» Berlin

» Hamburg

» Hannover

» Hostert

» Iserlohn

» Munster

» Rinteln

» Wuppertal


Cyprus

» TPMH RAF Akrotiri

» Dhekelia

» Nicosia


Egypt

» Alexandria


China

» Shanghai


Hong Kong

» Bowen Road

» Mount Kellett

» Wylie Road Kings Park


Malaya

» Kamunting

» Kinrara

» Kluang

» Singapore

» Terendak


Overseas Old British Military Hospitals

» Belize

» Falklands

» Gibraltar

» Kaduna

» Klagenfurt

» BMH Malta

» Nairobi

» Nepal


Middle East

» Benghazi

» Tripoli


Colchester Military Hospital

Information and history about the Colchester Military Hospital


Colchester Military Hospital was one of several army hospitals in England, UK. It is now closed and has been demolished. It closed when the QEMH Woolwich opened in 1977. Colchester Military Hospital was demolished some time later and local army medical needs were met, and still are, by the new Medical Reception Station (MRS) Colchester.





The picture below is of a postcard which says Military Hospital, Colchester. The card was sent by John to his wife Emily in Ripon who may have been a patient there. The postcard is undated but may be from early 20th century:


History of Colchester Hospital

Colchester barracks area in Essex, England has always been a busy garrison and when the new barracks were built in 1856 a 20 hut hospital complex was built. This was replaced with a fine looking red brick hospital in 1896. The photograph of Colchester Military Hospital below is of that era.




Colchester Military Hospital was able to treat about 221 patients in side rooms and eight traditional wards.





I have published a book which tells the story of The Grey Lady Ghost of the Cambridge Military Hospital which reveals her origins in the QAIMNS and where she meets a QA veteran of Afghanistan. She still walks her wards and tells her story by taking Scott Grey, a QARANC nurse, to the battlefields of World War One and beyond. This is the first in the series of Grey and Scarlet Novels by CG Buswell. Read the first chapter for free.




If you like this page and would like to easily share it with your friends and family please use the social networking buttons below:






Sister Roach


The nephew of 32323 Gunner Gerald Albert Morris of the 10th Reinforcements, 12th Field Artillery Brigade, 46th Battalion, Australian Imperial Forces is trying to trace any possible living relatives of a Sister Roach (QAIMNS) who nursed his late uncle during the First World War some time between 1917 and 1918 at the military hospital in Colchester UK. Below are photographs taken by Gunner Morris of the Australian Army of Nursing Sister Roach, the Corporal of the Ward and groups of fellow Australian Soldiers. If you can help with any information please contact Qaranc.co.uk.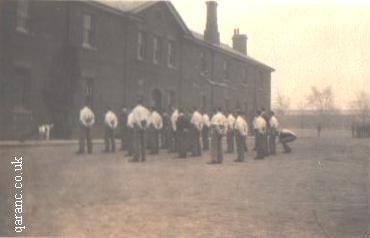 Hospital Ward World War One: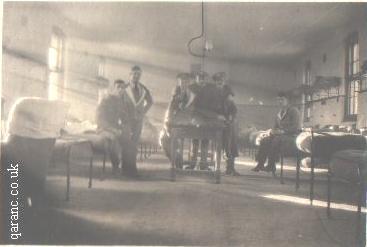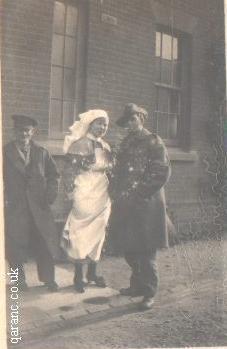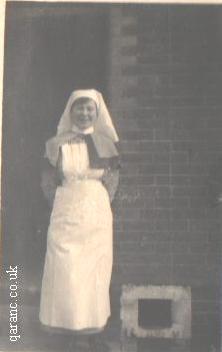 The photo below is marked The Corporal of the Ward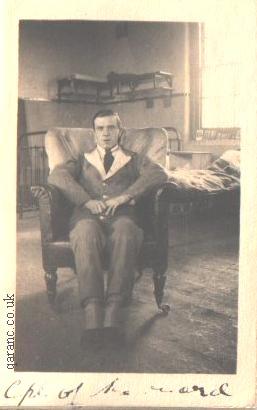 The image below is marked At The Old Oak Tree. Can anyone help with any information about the significance of the tree?




One reader has kindly added some information:

I'm afraid I cant be terribly specific but the term old oak tree may well relate to an ancient oak tree reputedly 650 years old. It is situated in Fingringhoe village just outside Colchester on the road to West Mersea.

During my time based on Colchester with 3RRF in the 70s there was and I still believe is a firing range at Fingringhoe which dates back to that period and maybe well before that too. Having copied the picture and played with it a bit it may well be that the soldiers in the picture were actually on a day at the ranges sharpening up their small arms skills and live firing.

I courted a young Scottish nurse who was stationed at the BMH at one time. My eldest daughter was also born there (not mothered by the young nurse) shortly after I left the army in 1974.This occurred because she was already in the system as it were for the birth. I remember that the BHM also treated some of the local civilian population although again I cant be certain of this. Bill Vanstone Ex 3RRF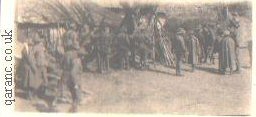 A soldiers club:




Gunner Gerald Albert Morris can be seen in the middle of this group of World War One military patients:




Below are a group of three Tommies





More building work was undertaken over many decades as the health care needs of soldiers changed and as medical and nursing advances were made. This included a pathology laboratory in 1934 and a reception annexe in 1951. Two operating theatres were added in 1963. This picture of Colchester Military Hospital would have been of this time:




The book Sub Cruce Candida: A Celebration of One Hundred Years of Army Nursing
has photos of QAs working in the wards of Colchester Military Hospital.


After the major wars of World War I and II and the Korean War the Colchester Military Hospital accepted civilian patients in 1959. The local civvy hospital at the time was Essex County Hospital. The working capacity of the hospital had been reduced by this time and was down to about 90 beds spread over 7 wards. One third were occupied by civilian patients and by the early 1970s more civilian patients were admitted to the army hospital. By the time of its official closure in early 1978 Colchester Military Hospital were caring for 114 patients in 8 wards and employed 150 army personal and 100 civilian staff. The date I have been given as the closure of Colchester Military Hospital was the 17 December 1977 though some sources have stated 1978.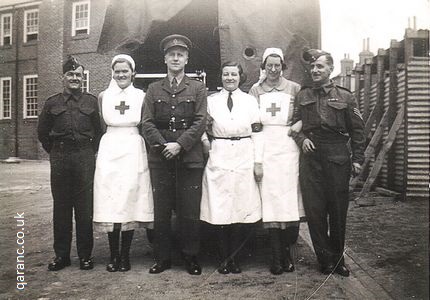 Colonel Grainger Wilson Reid RAMC Commanding Officer with staff 1959. His son recalls that they lived in the Hospital Mansion to the right of the Hospital just next to the nurses' quarters. Col Reid received the OBE for his efforts at the Hospital and was credited with upgrading and opening the Hospital up to civilians. See more from his collection on the D Day Normandy Landings, Love Stories and BMH Kaduna pages.

There was a great deal of local support to keep Colchester Military Hospital but it sadly closed and the building was demolished.



The following and that at the top are from the collection of Lance Corporal Andrew Joseph Bowen of the 6th Manchesters, a TA regiment. He was injured at Gallipoli in June 1915 where he lost an eye and was a patient at Colchester Hospital in 1917 and other times.






Sister Dyer: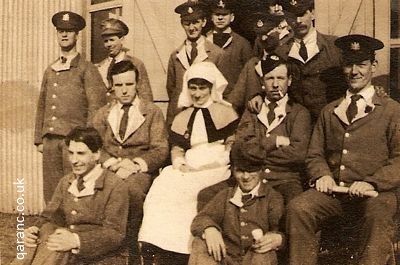 Sister Siever (Canadian):






This was dated 15 March 1917 and is E Ward. The back row is: Matheson (Australia), O Kane, May, L/Cpl Bowen.
Middle: Hinchcliffe, Sgt Anderson, Little Twiss.
Front: Faulkner, Horsfield, Tich Mumford


Ghost of Colchester Hospital

The Colchester Military Hospital was said to be haunted. There were several sightings of a ghost nurse in a Victorian nursing uniform walking down a corridor. She would suddenly vanish into thin air.

During World War II a patient reported a nurse in the same type of old fashioned nursing uniform changing his bandages. It was thought that the ghost was back helping her patients.

There are more QA and army hauntings on the Army Ghosts page.

I would love to expand this page with more details about this former army hospital and include more photographs. If you are a former or serving member of the Queen Alexandra's Royal Army Nursing Corps we would love your help.


If you would like to contribute any info, photographs or share your memories of Colchester Military Hospital then please contact me.

Don Johnson has kindly written about the Colchester Military Hospital and starts by telling some stories about his days in basic training:

National Service in the Medics

I joined the R.A.M.C. in June 1956 and trained at Queen Elizabeth Barracks, Crookham. We got about 20 National Servicemen every two weeks. They would start by spending two weeks in Army basic Training Unit 'B' Company; then move to one of four technical training companies: 'C', 'D', 'E' and 'F' companies.

During this ten weeks we reached an amazing standard of smartness but we also had one or two rather strange training sessions:

Weapon Training – this was 2 short sessions the first being to show us how to strip and clean a rifle, load a magazine and put the rifle together again. The second was on the firing range where we loaded 5 rounds into the magazine, lay down and aimed at the target, having been told that we didn't have to hit the target since the only purpose of the weapon was defence of our patient, our equipment and ourselves. We pulled the butt of the rifle into the shoulder, squeezed the trigger and it felt as if a donkey had kicked your shoulder. With our squad of 24: 7 rounds hit the targets, quite a lot went through the red flag, five went through the canopy of the Range master's Land Rover and he got a very uncomfortable feeling down below.

Stretcher Drill: this meant the order "Tallest on the right, shortest on the Left in single rank size." Now we were doing this twice a week for eight weeks and the only change in the squad was if someone was ill so we all knew our position after the first go. The next order was "From the right, by fours number" and this meant 1,2,3,4, 1,2,3,4, 1,2,3,4, down the line then "Numbers 1 and 3 collect and prepare stretcher, Numbers 2 and 4 collect and prepare blankets. To your duties fall out."

After five weeks, Jimmy who was Number 1 in group 2 decided to play a joke and tipped off the lads on either side so that this time the numbering went: 1,2,3,4, 2,3,4, 1,2,3,4, - The Sergeant realised something was not right so ordered "As you were! From the right by fours number" It was the same and again on the third try. By now the Sgt had spotted the problem and marched right up to Jimmy and said "Are you '1'?" Jimmy smiled sweetly and said "Oh Yes Sergeant, Are you one too?"

The next session we discovered the sergeants sense of humour when he set up six casualties in a field with grass about three feet high and the field was criss-crossed by barbed wire and we had to crawl all the way under the wire to fine, treat and recover the casualty and it was made even better by the fact that it had been raining for two days solid and there were two sergeants with rifles who would fire at any backside that appeared above the wire.


Colchester Military Hospital Ghost

Colchester hospital was a 2 storey building with Wards 1, 2, 3 and 4 on the ground floor and Wards 5, 6, 6A, 7 and 8 on the top floor then there was a medical ward and officers ward off the corridor that led to the back of the hospital.

I was first posted there in January 1959 and one night I was on duty in Ward 6 Men's' Medical. At about 10.30 I had settled the patients down and was walking down the ward to the sluices but about halfway down I felt a shiver down my spine. On my return a patient quietly called me over so I asked him if he was able to sleep and he said that he would be asleep in a minute but then he asked if I felt a shiver down my spine and pointed to the spot. I told him that I did but that I didn't think I showed it he said "No you didn't but there was a dark shadow following you down the ward." I thought nothing of it and put it down as a joke but found that the lad was a Christian Spiritualist.

Ward 6A was a side ward across the corridor and the only patient was a six year old girl who had spent almost all of the time she had been there, unconscious and fed by drip. A couple of nights later I had just finished a ward round and had closed the double doors when there was a scream and the young nurse from 6A came almost flying across the corridor and I managed to catch her before she fell. It took me quite some time, and quite a lot of coffee, before she was able to speak and when she did I got a roll call of 'Where is Night nurse/ Duty QA/ Nurse from Ward 5/ etc.' Then she told me that her desk was in the corner and from her desk she could see the lower half of the girl's bed but not her face. She told me that the child had sat up, looked at the end of the bed and said "Good night Sister" then she lay down and went back to sleep but there was nobody at the foot of the bed. We talked it over until she felt better but I finished up looking after my ward and hers for the rest of the night.

The next night she came to me and showed me a procedure that the day sister had left for her. I can't remember what it was, possibly changing a drip from one arm to the other. It was something that was usually expected from 3rd year nurses but I was a 2nd year and she was only a 1st year but I had seen it done, besides, the night sister we had was one who we would have died rather than call her, so I told the girl that I would get everything ready and check it and if I had any doubts I would call Night Sister. When the time came I wheeled the trolley alongside the bed and we carried out the procedure without any problems or doubts but, as we were clearing everything away, the young nurse said "She was here, wasn't she?" Amazingly that was the only way I could explain it. The ghost was a nursing sister would had misread a doctor's prescription and given the wrong dose of medicine and she had walked out of Ward 6A through 6 to the open day ward at the end of the block and had fallen to her death. It felt as if she had come to help us and by so doing had made up for her mistake.

A few months later I was having tea in the dining hall and the same young nurse came and sat with me and as we ate she asked me if I had noticed that nobody ever spoke of the 'Grey lady' and I realised that, prior to that incident, on certain days every month someone would say "The Grey Lady will walk tonight" but since that incident nobody had even mentioned the Grey lady yet there were only the two of us knew what happened.

Don shares more memories of his time serving in British Military Hospitals on the BMH Nairobi , BMH Nicosia, Royal Herbert and Ghosts pages.



Photographs of Colchester Military Hospital


Here are some more photographs of Colchester Military Hospital that have been kindly sent to the QARANC website team:





The pictures below were taken during differnet stages of the demolition of BMH Colchester. Parts of the land are now a housing estate whilst others are within Merville Barracks, home to 16 Air Assault Brigade and The Parachute Regiment.





Colchester Memorial Plaque

A memorial plaque to commemorate the site of the former Sobraon Barracks and Military Hospital on Abbey Field View in Colchester was unveiled in 2012 thanks to local couple Rosemary and Tony Jewers. The sites are now new homes built by Taylor Wimpey and Rosemary and Tony contacted the firm about Colchester's military heritage following extensive research which stretched from Portsmouth to New York and back to Colchester.





Their remarkable Colchester Military Hospital Memorial Plaque story began in Portsmouth in 2009 when they received a mysterious package containing a number of family photographs and very old documents which had been discovered in an attic in Portsmouth. One referenced someone with the same maiden name as Rosemary. This led Rosemary to start online research and she tracked down the widow of the rightful owner to Buffalo, in the United States. This in turn led to an incredible coincidence when they started correspondence. Rosemary learned that the widow's late husband had been born in Colchester, thought to be in the old Military Hospital, and his father had been stationed at the town's barracks as an army officer.

Of her research Rosemary says:

The coincidence became even more surprising when our research into the exact location of the hospital led us to the discovery that the building would have been less than 50 yards away from where our home in Abbey Field View, Colchester, stands today!

Rosemary and Tony then contacted their local councillor, Pauline Hazell, who began working with Taylor Wimpey to find an appropriate way for the Sobraon Barracks and the Military Hospital to be remembered.

Thanks to Taylor Wimpey's sponsorship, the plaques are currently being designed and will be unveiled early in the New Year at Abbey Field View, which is part of the leading housebuilder's Churchill Gate development in Colchester.

We are really happy that these sites will be marked in this way, said Rosemary. I would like to think that people with a connection to the barracks and the hospital will be delighted to hear these buildings are being remembered, and that future generations have the chance to learn about what stood on this site before the houses were built.

Michael O'Leary, Regional Sales and Marketing Director for Taylor Wimpey, said: The coincidences which led Rosemary and Tony to us with this information really adds weight to the old adage that sometimes the truth is stranger than fiction! It is important for us to remember our past, so it is a great privilege for us to lay these plaques marking the former Sobraon Barracks and the military hospital in the New Year.

Sobraon Barracks

The Sobraon Barracks were built in 1900 and occupied most of the western end of Abbey Field View and was named after a major battle which took place in the Punjab region of India. The barracks were demolished in the 1960s. The former military hospital was constructed in 1896 and was knocked down in the 1990s.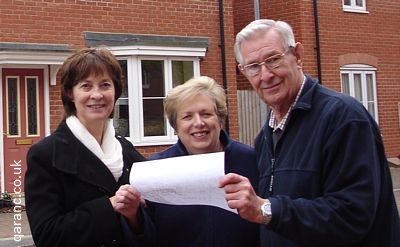 The photo above shows Colchester Borough Councillor Pauline Hazell (left) and Rosemary and Tony Jewers with a map identifying the location of the town's former Sobraon Barracks and Military Hospital.

The unveiling of the two plaques took place on Thursday 26 January 2012 at 1115hours at 16 Abbey Field View, Colchester. The Mayor and senior army officers attended this historic event in Colchester's military history. During the ceremony the first of the plaques was jointly unveiled by Mayor Helen Chuah and Major Ed Carnegie, while the second was uncovered by the new Colchester Garrison Commander Colonel Mike Newman. They mark the sites of the former military hospital and Sobraon Barracks in Abbey Field View.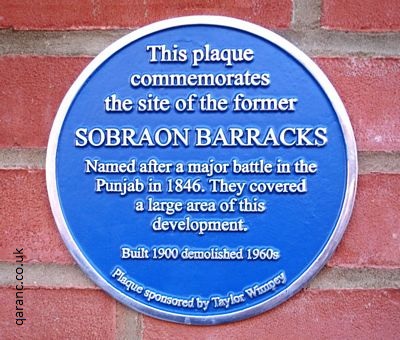 The Mayor of Colchester and senior Army officers were joined at the event by the Managing Director for Taylor Wimpey East London Simon Brown, as well as other military and civilian dignitaries including Lt Col Ray Housley. Councillor Pauline Hazell, along with local residents Rosemary and Tony Jewers also attended, and it is thanks to their tireless efforts that this act of remembrance was possible.

Simon Brown said:

It is a great privilege for Taylor Wimpey to be able to mark these sites of historical importance for the local community and we really appreciate all the hard work which Rosemary and Tony Jewers put in to make this event happen.

Colonel Mike Newman MBE, Commander of Colchester Garrison, said:

Dating back to Roman times, the military has been a significant part of Colchester's history and remains an important element in the town's community to this day and into the future. While Colchester Military Hospital and Sobraon Barracks have long since been demolished, it is important that these buildings and their role is not forgotten. These plaques will ensure that future generations of Colcestrians are aware of the history of where they live.


Forces War Records

Forces War Records are a genealogy site where you can find military records of over 6 million British Armed Forces personnel cross matched with over 4000 Regiments, Bases and Ships. This link includes a free search and a special discount of 40% off membership offer for visitors who use the discount code AF40 if they decide to become a member.
Search Now. A unique feature is their WW1 Soldiers Medical Records section.








If you would like to contribute to this page, suggest changes or inclusions to this website or would like to send me a photograph then please e-mail me.



Official QARANC webpage.

QA Association website.

In The Company of Nurses Book.


***********************************************






The Grey Lady Ghost of the Cambridge Military Hospital Novel - a Book by CG Buswell


Read our posts on:

Facebook

Google+

Twitter


Offers

Army Discounts






Present Day

» Become An Army Nurse

» Junior Ranks

» Officer Ranks

» Abbreviations

» Nicknames

» Service Numbers

Ministry of Defence Hospital Units

» MDHU Derriford

» MDHU Frimley Park

» MDHU Northallerton

» MDHU Peterborough

» MDHU Portsmouth

» RCDM Birmingham



Field Hospitals

» Camp Bastion Field Hospital and Medical Treatment Facility MTF Helmand Territory Southern Afghanistan






Territorial Army

» TA Field Hospitals and Field Ambulances


Photos

» Florence Nightingale Plaque

» Photographs


Uniform

» Why QA's Wear Grey

» Beret

» Lapel Pin Badge


» Army School of Psychiatric Nursing Silver Badge

» Cap Badge

» Corps Belt

» ID Bracelet

» Silver War Badge WWI

» Officer's Cloak

» QAIMNSR Tippet

» Officer Medal


Events

» Armed Forces Day

» Recreated WWI Ward

» Reunions

» Corps Day

» Freedom of Rushmoor

» Re-enactment Groups

» Military Events

» Remembrance

» AMS Carol Service

» QARANC Association Pilgrimage to Singapore and Malaysia 2009

» Doctors and Nurses at War

» War and Medicine Exhibition

» QA Uniform Exhibition Nothe Fort Weymouth


Famous QA's

» Dame Margot Turner

» Dame Maud McCarthy

» Military Medal Awards To QAs

» Moment of Truth TV Documentary

» Sean Beech


Nursing Events

International Nurses Day


Info

» Search

» Site Map

» Contact

» Websites



We are seeking help with some answers to questions sent by readers. These can be found on the Army Nursing page.



» Find QA's

» Jokes

» Merchandise

» Mugs

» Personalised Poster

» Stamp

» Teddy Bears

» Pin Badges

» Wall Plaques

» Fridge Magnet



» The Abandoned Soldier