» Site Map

» Home Page

Historical Info

» Find Friends – Search Old Service and Genealogy Records

» History

» QAIMNS for India

» QAIMNS First World War



» Territorial Force Nursing Service TFNS

» WW1 Soldiers Medical Records

» Field Ambulance No.4

» Chain of Evacuation of Wounded Soldiers

» Auxiliary Hospitals

» War Graves Nurses




» Book of Remembrance

» Example of Mentioned in Despatches Letter

» Love Stories

» World War 1 Letters

» QA World War Two

» Africa Second World War

» War Diaries of Sisters

» D Day Normandy Landings

» Belsen Concentration Camp

» Voluntary Aid Detachment

» National Service

» Korean War

» Gulf War

» Op Telic

» Royal Red Cross Decoration

» Colonels In Chief

» Director Army Nursing Services (DANS)

» Colonel Commandant

» Matrons In Chief (QAIMNS)

Follow us on Twitter:




» Grey and Scarlet Corps March

» Order of Precedence

» Motto

» QA Memorial National Arboretum

» NMA Heroes Square Paving Stone

» Memorial Window

» Army Medical Services Monument

» Recruitment Posters

» Museum

» QA Association

» Standard

» QA and AMS Prayer and Hymn

» Books


Former Army Hospitals

UK

» Army Chest Unit

» Cowglen Glasgow

» CMH Aldershot

» Colchester

» Craiglockhart

» DKMH Catterick

» Duke of Connaught Unit Northern Ireland

» Endell Street

» First Eastern General Hospital Trinity College Cambridge

» Ghosts

» Hospital Ghosts

» Haslar

» King George Military Hospital Stamford Street London

» QA Centre

» QAMH Millbank

» QEMH Woolwich

» Medical Reception Station Brunei and MRS Kuching Borneo Malaysia

» Musgrave Park Belfast

» Netley

» Royal Chelsea Hospital

» Royal Herbert

» Royal Brighton Pavilion Indian Hospital

» School of Physiotherapy

» Tidworth

» Wheatley


France

» Ambulance Trains

» Hospital Barges

» Ambulance Flotilla

» Hospital Ships


Germany

» Berlin

» Hamburg

» Hannover

» Hostert

» Iserlohn

» Munster

» Rinteln

» Wuppertal


Cyprus

» TPMH RAF Akrotiri

» Dhekelia

» Nicosia


Egypt

» Alexandria


China

» Shanghai


Hong Kong

» Bowen Road

» Mount Kellett

» Wylie Road Kings Park


Malaya

» Kamunting

» Kinrara

» Kluang

» Singapore

» Terendak


Overseas Old British Military Hospitals

» Belize

» Falklands

» Gibraltar

» Kaduna

» Klagenfurt

» BMH Malta

» Nairobi

» Nepal


Middle East

» Benghazi

» Tripoli


Colonel Commandant

Information about the rank of Colonel Commandant of the Queen Alexandra's Royal Army Nursing Corps with the names, dates, ranks and awards


The Colonel Commandant (CC) of the Queen Alexandra's Royal Army Nursing Corps is a retired senior officer of the Corps who is appointed by the Military Secretary following approval by HM The Queen.

The title Colonel Commandant dates back to the period 1922 to 1928 when this name was used as a rank for Commonwealth militaries. It is now used as the title for Officers who hold the honorary appointment within a corps or regiment of the British Army. The equivalent rank is now Brigadier, those many QA Colonels have filled this role.

The Colonel Commandant does not have to have been the Director of Army Nursing Services during his or her military career.

The first QA Colonel Commandant not to have been a retired Director Army Nursing Services (DANS) and Matron-in-Chief (Army) was Colonel Joan Orford in 1974 who was a chief nursing tutor upon her retirement (cited in the book Queen Alexandra's Royal Army Nursing Corps (Famous Regts. S)
by Juliet Piggott).

The period of tenure for the Colonel Commandants is between 3 to 5 years depending on his or her age and they usually retire when they reach 65 years.

The current serving Colonel Commandant automatically becomes trustee of the QA Association by dint of her appointment.

Corps history was made when in May 2008 another Colonel Commandant, Colonel Rosemary Kennedy, was appointed. This new tradition of two Commandants working in unison means that they can share increasing duties and that more frequent visits could be made. It is intended that there should be one retired Regular Army officer and one retired Territorial Army officer appointed as Colonel Commandant.


Below are the QA's who have become Colonels Commandants with their rank and nursing, civil and military awards:


Present Colonel Commandants of the QARANC

There are now two Colonel Commandants of the Queen Alexandra's Royal Army Nursing Corps:


Col Sue Bush RRC

Colonel Sue Bush RRC was appointed the (ex-Regular) Colonel Commandant in May 2011.



Col Jane Davis

Colonel Jane Davis OBE (Order of the British Empire) QVRM( Queen's Volunteer Reserves Medal) TD (Territorial Decoration) DL(Deputy Lieutenant for Greater London) QARANC(V) was appointed as one of the two Colonels Commandants in May 2014.





I have published a book which tells the story of The Grey Lady Ghost of the Cambridge Military Hospital which reveals her origins in the QAIMNS and where she meets a QA veteran of Afghanistan. She still walks her wards and tells her story by taking Scott Grey, a QARANC nurse, to the battlefields of World War One and beyond. This is the first in the series of Grey and Scarlet Novels by CG Buswell. Read the first chapter for free.




If you like this page and would like to easily share it with your friends and family please use the social networking buttons below:







Previous Colonels Commandants of the QARANC


Colonel Rosemary Kennedy

Colonel Rosemary Kennedy was Colonel Commandant from May 2008 to May 2014. Her nursing career began in London where after qualifying as a general nurse she studied midwifery and district nursing. Col Kennedy then worked in care of the elderly and attained the Diploma of Nursing and then Master of Science degree in research and evaluation. Whilst working in senior nursing and management positions Colonel Rosemary Kennedy joined the Territorial Army.

In 1999 Rosemary Kennedy was appointed the Chief Nurse for Wales. She retired from the TA in 2007 and was retained as Honorary Civilian Consultant (Army) for Nursing to the Director General Army Medical Services.



Colonel Bridget McEvilly

Colonel Bridget McEvilly was appointed C in C in December 2008 aqnd retired as Col Commandant in 2011. She was commissioned to the QARANC in 1977 having previously nursed in London and Canada. Col Bridget McEvilly worked in a variety of UK, BAOR and Falkland Island military hospitals. Later in her army career Colonel Bridget McEvilly held posts at the Ministry of Defence as an SO2 responsible for nursing officer's career planning and then as SO1 Deputy Director Defence Nursing Services and then SO1 Nursing at AMD. Colonel Bridget McEvilly was then appointed Col AMD4 Assistant Director Army Nursing Services.

In 1999 Colonel McEvilly was appointed Director Army Nursing Services and retired in 2002. She was appointed Health Inspector to Her Majesty's Inspector of Prisons for England and Wales.



Brigadier Jane Mary Arigho
Brigadier Jane Mary Arigho, (CBE, Royal Red Cross), retired, was the Colonel Commandant of the QA's and was appointed to the position on the 30 November 2005. Brigadier Arigho was the Director of Army Nursing Services (DANS) until her retirement in 1999.


Brigadier Arigho retired from the appointment of Colonel Commandant in December 2008. Her replacement was Colonel Bridget McEvilly and for the first time in the history of the QAs there was be a second Colonel Commandant who was Col Rosemary Kennedy a retired TA QA. Col Kennedy was appointed in May 2008. There are now two Colonel Commandants to help split the work up.

Colonel Iona Mary Leith-Macgregor (RRC) 1 April 2000

Colonel Margaret Mary Slattery (RRC) 1 October 1995

Colonel Diana Geraldine Mary Anderson (RRC) 1 August 1992 (Biography Below)

Colonel Valerie Joy Smith (RRC) 31 July 1987

Colonel Kathleen Grimshaw (RRC) 31 July 1981

Brigadier Helen S Cattanach (CB, RRC) 30 June 1978

Colonel Joan Marion Orford (RRC) 31 July 1974

Brigadier Dame Margot Turner (OBE, RRC) 31 July 1969

Brigadier Dame Barbara Cozens (DBE, RRC) ?

Dame Monica Johnson Golding (DBE, RRC) 31 July 1961

Brigadier Dame Helen S. Gillespie (DBE, RRC) 31 July 1956

Dame Anne Thomson (DBE, RRC) 12 December 1954

Dame Louisa J. Wilkinson (DBE, RRC) 1 February 1949


Prior to the rank title change of 1950 the Colonel Commandant was known as the Controller Commandment (cited in the book Queen Alexandra's Royal Army Nursing Corps (Famous Regts. S)
by Juliet Piggott).


Another page of interest if the QAIMNS (Queen Alexandra's Imperial Military Nursing Service) Matrons In Chief.



The photo below is of Col Valerie Smith Colonel Commandant of the QAs in 1987. The photograph was taken at her retirement at the QATC.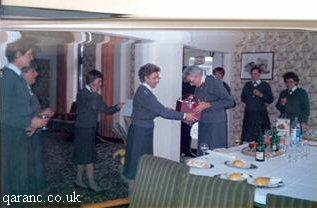 Colonel D G M Anderson

Colonel Diana Geraldine Mary Anderson RRC OStJ was appointed Colonel Commandant of the Queen Alexandra's Royal Army Nursing Corps on the 1 August 1992.

She was born in Portsmouth on the 29 January 1935. Her nurse training started in 1952 at the Royal Surrey County Hospital in Guildford. After qualifying as a general nurse Diana Anderson trained as a midwife at Freedom Fields Hospital in Plymouth and the Royal Hampshire County Hospital in Winchester. In February 1958 Diana Anderson joined the QARANC as a Nursing Officer where she worked as a midwife in many military hospitals.

Captain Anderson was awarded the ARRC in 1967.

In 1968 she trained as a Midwife Teacher. Once qualified she joined the tutorial staff at the Louise Margaret Maternity Hospital in Aldershot. She was an examiner of the Central Midwives Board.

In 1981 Lt Col Anderson was awarded the Royal Red Cross Medal.

When promoted to Colonel she became the Matron of the QEMH Woolwich and other administration posts followed which included Deputy Medical Nursing at Headquarters BAOR and her final posting was as Commandant of the QA Centre at the Royal Pavilion in Aldershot. She was remembered for restoring the grounds of the Royal Pavilion after the storms of the late 1980s.

Upon retiring Colonel D G M Anderson was appointed the Colonel Commandant of the QAs.

She was affectionately nicknamed Andy by her friends and loved sailing and tennis.

The obituary of Colonel Anderson appeared in Vol 11 No 2 of The Gazette of the Queen Alexandra's Royal Army Nursing Corps Association and was written by Brigadier (Retd) J M Field CBE RRC and Colonel (Retd) R L Johnson RRC .





Forces War Records

Forces War Records are a genealogy site where you can find military records of over 6 million British Armed Forces personnel cross matched with over 4000 Regiments, Bases and Ships. This link includes a free search and a special discount of 40% off membership offer for visitors who use the discount code AF40 if they decide to become a member.
Search Now. A unique feature is their WW1 Soldiers Medical Records section.








If you would like to contribute to this page, suggest changes or inclusions to this website or would like to send me a photograph then please e-mail me.



Official QARANC webpage.

QA Association website.

In The Company of Nurses Book.


***********************************************






The Grey Lady Ghost of the Cambridge Military Hospital Novel - a Book by CG Buswell


Read our posts on:

Facebook

Google+

Twitter


Offers

Army Discounts






Present Day

» Become An Army Nurse

» Junior Ranks

» Officer Ranks

» Abbreviations

» Nicknames

» Service Numbers

Ministry of Defence Hospital Units

» MDHU Derriford

» MDHU Frimley Park

» MDHU Northallerton

» MDHU Peterborough

» MDHU Portsmouth

» RCDM Birmingham



Field Hospitals

» Camp Bastion Field Hospital and Medical Treatment Facility MTF Helmand Territory Southern Afghanistan






Territorial Army

» TA Field Hospitals and Field Ambulances


Photos

» Florence Nightingale Plaque

» Photographs


Uniform

» Why QA's Wear Grey

» Beret

» Lapel Pin Badge


» Army School of Psychiatric Nursing Silver Badge

» Cap Badge

» Corps Belt

» ID Bracelet

» Silver War Badge WWI

» Officer's Cloak

» QAIMNSR Tippet

» Officer Medal


Events

» Armed Forces Day

» Recreated WWI Ward

» Reunions

» Corps Day

» Freedom of Rushmoor

» Re-enactment Groups

» Military Events

» Remembrance

» AMS Carol Service

» QARANC Association Pilgrimage to Singapore and Malaysia 2009

» Doctors and Nurses at War

» War and Medicine Exhibition

» QA Uniform Exhibition Nothe Fort Weymouth


Famous QA's

» Dame Margot Turner

» Dame Maud McCarthy

» Military Medal Awards To QAs

» Moment of Truth TV Documentary

» Sean Beech


Nursing Events

International Nurses Day


Info

» Search

» Site Map

» Contact

» Websites



We are seeking help with some answers to questions sent by readers. These can be found on the Army Nursing page.



» Find QA's

» Jokes

» Merchandise

» Mugs

» Personalised Poster

» Stamp

» Teddy Bears

» Pin Badges

» Wall Plaques

» Fridge Magnet



» The Abandoned Soldier