» Site Map

» Home Page

Historical Info

» Find Friends – Search Old Service and Genealogy Records

» History

» QAIMNS for India

» QAIMNS First World War



» Territorial Force Nursing Service TFNS

» WW1 Soldiers Medical Records

» Field Ambulance No.4

» Chain of Evacuation of Wounded Soldiers

» Auxiliary Hospitals

» War Graves Nurses




» Book of Remembrance

» Example of Mentioned in Despatches Letter

» Love Stories

» World War 1 Letters

» QA World War Two

» Africa Second World War

» War Diaries of Sisters

» D Day Normandy Landings

» Belsen Concentration Camp

» Voluntary Aid Detachment

» National Service

» Korean War

» Gulf War

» Op Telic

» Royal Red Cross Decoration

» Colonels In Chief

» Director Army Nursing Services (DANS)

» Colonel Commandant

» Matrons In Chief (QAIMNS)

Follow us on Twitter:




» Grey and Scarlet Corps March

» Order of Precedence

» Motto

» QA Memorial National Arboretum

» NMA Heroes Square Paving Stone

» Memorial Window

» Army Medical Services Monument

» Recruitment Posters

» Museum

» QA Association

» Standard

» QA and AMS Prayer and Hymn

» Books


Former Army Hospitals

UK

» Army Chest Unit

» Cowglen Glasgow

» CMH Aldershot

» Colchester

» Craiglockhart

» DKMH Catterick

» Duke of Connaught Unit Northern Ireland

» Endell Street

» First Eastern General Hospital Trinity College Cambridge

» Ghosts

» Hospital Ghosts

» Haslar

» King George Military Hospital Stamford Street London

» QA Centre

» QAMH Millbank

» QEMH Woolwich

» Medical Reception Station Brunei and MRS Kuching Borneo Malaysia

» Musgrave Park Belfast

» Netley

» Royal Chelsea Hospital

» Royal Herbert

» Royal Brighton Pavilion Indian Hospital

» School of Physiotherapy

» Tidworth

» Wheatley


France

» Ambulance Trains

» Hospital Barges

» Ambulance Flotilla

» Hospital Ships


Germany

» Berlin

» Hamburg

» Hannover

» Hostert

» Iserlohn

» Munster

» Rinteln

» Wuppertal


Cyprus

» TPMH RAF Akrotiri

» Dhekelia

» Nicosia


Egypt

» Alexandria


China

» Shanghai


Hong Kong

» Bowen Road

» Mount Kellett

» Wylie Road Kings Park


Malaya

» Kamunting

» Kinrara

» Kluang

» Singapore

» Terendak


Overseas Old British Military Hospitals

» Belize

» Falklands

» Gibraltar

» Kaduna

» Klagenfurt

» BMH Malta

» Nairobi

» Nepal


Middle East

» Benghazi

» Tripoli


TPMH RAF Akrotiri Cyprus
Information and history of the TPMH RAF Akrotiri Cyprus - The Princess Mary's Hospital
Though a Royal Air Force hospital and air base, there were Queen Alexandra's Royal Army Nursing Corps personnel stationed at The Princess Mary's Hospital in RAF Akrotiri at the peninsula of the Island. The hospital maintained a 60% RAF and 40% Army ratio amongst its staff of nurses, midwives, health care assistants, doctors, theatre, X-Ray and pathology staff. There were also army personnel in administration and personnel management.


The History Of The Princess Mary's Hospital


There has been British Forces stationed in Cyprus since 1956. The first hospital at RAF Akrotiri opened on the 9 February 1957. It was a temporarily hospital made from prefabricated material and tested the resourcefulness of the doctors and nurses. The camp, the airfield and the airport was still under construction and it was not for another six years that a permanent proper hospital would be built. The site of the first hospital is now married quarters and can be traced to Duke Street and Harding Avenue.

The photo above is of the new RAF Akrotiri hospital and was taken in the late 1990s.





I have published a book which tells the story of The Grey Lady Ghost of the Cambridge Military Hospital which reveals her origins in the QAIMNS and where she meets a QA veteran of Afghanistan. She still walks her wards and tells her story by taking Scott Grey, a QARANC nurse, to the battlefields of World War One and beyond. This is the first in the series of Grey and Scarlet Novels by CG Buswell. Read the first chapter for free.




If you like this page and would like to easily share it with your friends and family please use the social networking buttons below: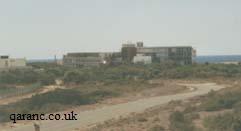 In 1961 it was decided to build a permanent hospital in Cyprus for military personnel and their families. The Cape Zevgari area was set aside for this purpose and was later joined by a golf course! It is about three miles from the main camp and accommodation. QA's stationed at RAF Akrotiri could get driven to and from the hospital by organised transport or could cycle or drive to the camp and claim mileage.


In his book Pole to Pole
Michael Palin describes his visit to Limassol and RAF Akrotiri where he was the guest of the Commander of the British Forces in Cyprus and met his Sudanese butler Ahmed. He states that the British Sovereign Area was restricted to 99 miles because 100 miles would have constituted an occupation.


The building work took two years and cost £1000000. Cyprus has the occasional earthquake and tremor so the builders used reinforced concrete with built in earthquake protection which explains the high costs. TPMH was opened to patients in May 1963. It was officially opened by The Princess Royal and Countess of Harewood, Air Chief Commandant of the Princess Mary's Royal Air Force Nursing Service (PMRAFNS) on 21 November 1963. TPMH was named in her honour.

The Princess Mary's Hospital was soon nicknamed Alcatraz because it was stuck on its own and the heat of the Cyprus sun made the surrounding gardens and fields look barren. The golf course soon added the occasional traffic and wandering golfer searching for his or her golf ball that had bounced off rocks and landed in the bush!

The first Commanding Officer (CO) of the TPMH was Group Captain G H Dhenin and the first Matron was Wing Officer Kennedy.

TPMH had 8 wards, though prior to its closure few were fully operational because of the reduced military presence in Cyprus. However over the years TPMH has proved its worth:

During the Turkish Invasion in 1974 civilians from the nearby town of Limassol were moved to RAF Akrotiri for their protection. Hospital staff manned the unit round the clock and lived in the hospital as they treated the local population and the Cypriot home guard soldiers. The survivors of the Turkish destroyer Kocatepe which was sunk during the conflict were treated at THPM until repatriated to Turkey by the Turkish Red Cross.


The treatment of casualties of the U2 plane crash in 1977.

Airlifting and treatment of US Marines from Beirut in 1983 who were seriously injured in a suicide bomb attack.

Treatment of British soldier casualties from attacks at RAF Akrotiri and Dhekelia Garrison from terrorists using a rocket launcher, small arms, mortar bombs and grenades on the 3 August 1986.

A Low Care Transit Facility at the RAF Akrotiri airhead with TPMH staff during the first Gulf War of 1990 and 1991. Staff remaining at the hospital cared for prisoners of war.

The care of Beirut hostages Terry Waite and John McCarthy (1991) and Jackie Mann (1992) when they were released from captivity before they returned to the UK. Former Spitfire pilot Jackie Mann returned to live in Nicosia, Southern Cyprus. He was nursed several years later in his home by TPMH nursing staff. A QA was the nurse in attendance when he died peacefully at home.

The Spitfire in the photo below was taken at Kelvingrove Art Gallery and Museum in Glasgow, Scotland:





Treatment of staff members of the Royal Yacht Britannia when they suffered from salmonella food poisoning in 1993. No members of the Royal Family were affected.


RAF Akrotiri became busy during the Second Gulf War or Iraq War in 2003 when Iraq was invaded by a coalition of nations led by the United States and the United Kingdom. It led to the removal from power of the Iraqi government of Saddam Hussein who was later captured and trialled by the Iraqi Interim Government. No official declaration of war was made but there was thought to be weapons of mass destruction and the decision to invade was made for the ongoing war on terrorism. The invasion began on the 20 March and forces of the UK and the USA remain in Iraq.


On the 18 and 19 July 2006 RAF Akrotiri helped with the evacuation of ex patriot civilians from war torn Lebanon. The most urgent cases were initially airlifted by Chinook helicopters which included a lady pregnant with triplets. One hundred and eighty people were then evacuated by sea in HMS Gloucester a type 42 Destroyer of the British Royal Navy. These people were the next priority to be evacuated and were women, babies and children. The evacuees were met by the British High Commissioner in Cyprus, Mr Peter Millett at the port of Limassol in Cyprus and then transferred to RAF Akrotiri. From there they boarded a chartered flight to return to the UK. Some personnel decided to stay in Cyprus with families and friends. Another 5000 people were evacuated over the 19 and 20 July 2006 which included the use of another type 42 destroyer, HMS York and the aircraft carrier Illustrious. HMS York, HMS Bulwark and HMS Gloucester made repeated trips to Lebanon until all the ex-pats were evacuated.
Israel had attacked Lebanon because a group of Hezbollah militants crossed the border and captured 2 Israeli soldiers and killed 8 others in a raid on the 12 July. Israel claims to have sources confirming that the two soldiers were to be moved to Iran, a financial supporter and trainer of Hezbollah. Israel attacked roadways and airports to stop the transportation of these prisoners of war in the hope of getting the soldiers back and having the Lebanese government disarm Hezbollah.
Prime Minister Tony Blair had accused Iran and Syria of supporting Hezbollah and inflaming the situation.
There had been a blockade at the port in Beirut but Israeli forces temporarily lifted the blockade so that British nationals could be evacuated to Cyprus.



The Princess Mary's Hospital provided care and treatment to military personnel and their families. It did not provide care to holidaymakers. There were general medical and surgical wards and a maternity unit. Operations were performed in fully manned operating theatres and specialist consultants were flown out.

The Children's Ward of TPMH closed in 2006 and children of service personnel are now cared for at the Medical Centres of British Forces Cyprus at RAF Akrotiri, Dhekelia, Episkopi or Nicosia Garrison and the hospitals of the republic of Cyprus (ROC). The last military children's nurse was a QA (Captain Gail Lesley Whittle) and left her post in 2006. Children are now cared for by the Primary Healthcare Team of Soldiers, Sailors, Airmen and Families Association (SSAFA) and local health care professionals.


TPMH RAF Akrotiri closed on the 1 November 2012 and all island based hospital takes place at the Ygia Polyclinic in Limassol.

Captain Jason Thomas was posted there in 2011 as an Army ITU nurse and on promotion to Major later that year took over as the last military Ward Manager of the last British Military Hospital in the world - quite a claim to fame!

He oversaw the closure of the ward and transfer of services to the Ygia Polyclinic. A patient was admitted on the last night the hospital was opened, and had to be transferred to them the next day. Staff then set about dismantling the fixtures and fittings ready for onward consignment.

Sadly the building is set to be demolished sometime in 2015.

There are approximately 3510 British Forces personnel stationed in Cyprus.


The last clinical director published a book about its 50th anniversary commemorative history which was presented to all members of staff on the last day. Copies are still available via the HIVE, RAF Akrotiri (5 euros each) or from the Army Medical Services Museum (£5). Proceeds go to raise funds for RAF Akrotiri Station Charities.


Address Contact Details

TPMH The Princess Mary's Hospital
RAF Akrotiri
Cyprus
BFPO 57


The main reception for The Princess Marys Hospital was manned 24 hours and the International telephone number was 00357 25275500 who will then able to put you through to any department or ward.



Forces War Records

Forces War Records are a genealogy site where you can find military records of over 6 million British Armed Forces personnel cross matched with over 4000 Regiments, Bases and Ships. This link includes a free search and a special discount of 40% off membership offer for visitors who use the discount code AF40 if they decide to become a member.
Search Now. A unique feature is their WW1 Soldiers Medical Records section.








If you would like to contribute to this page, suggest changes or inclusions to this website or would like to send me a photograph then please e-mail me.



Official QARANC webpage.

QA Association website.

In The Company of Nurses Book.


***********************************************





The Grey Lady Ghost of the Cambridge Military Hospital Novel - a Book by CG Buswell


Read our posts on:

Facebook

Google+

Twitter


Offers

Army Discounts






Present Day

» Become An Army Nurse

» Junior Ranks

» Officer Ranks

» Abbreviations

» Nicknames

» Service Numbers

Ministry of Defence Hospital Units

» MDHU Derriford

» MDHU Frimley Park

» MDHU Northallerton

» MDHU Peterborough

» MDHU Portsmouth

» RCDM Birmingham



Field Hospitals

» Camp Bastion Field Hospital and Medical Treatment Facility MTF Helmand Territory Southern Afghanistan






Territorial Army

» TA Field Hospitals and Field Ambulances


Photos

» Florence Nightingale Plaque

» Photographs


Uniform

» Why QA's Wear Grey

» Beret

» Lapel Pin Badge


» Army School of Psychiatric Nursing Silver Badge

» Cap Badge

» Corps Belt

» ID Bracelet

» Silver War Badge WWI

» Officer's Cloak

» QAIMNSR Tippet

» Officer Medal


Events

» Armed Forces Day

» Recreated WWI Ward

» Reunions

» Corps Day

» Freedom of Rushmoor

» Re-enactment Groups

» Military Events

» Remembrance

» AMS Carol Service

» QARANC Association Pilgrimage to Singapore and Malaysia 2009

» Doctors and Nurses at War

» War and Medicine Exhibition

» QA Uniform Exhibition Nothe Fort Weymouth


Famous QA's

» Dame Margot Turner

» Dame Maud McCarthy

» Military Medal Awards To QAs

» Moment of Truth TV Documentary

» Sean Beech


Nursing Events

International Nurses Day


Info

» Search

» Site Map

» Contact

» Websites



We are seeking help with some answers to questions sent by readers. These can be found on the Army Nursing page.



» Find QA's

» Jokes

» Merchandise

» Mugs

» Personalised Poster

» Stamp

» Teddy Bears

» Pin Badges

» Wall Plaques

» Fridge Magnet



» The Abandoned Soldier