» Site Map

» Home Page

Historical Info

» Find Friends – Search Old Service and Genealogy Records

» History

» QAIMNS for India

» QAIMNS First World War



» Territorial Force Nursing Service TFNS

» WW1 Soldiers Medical Records

» Field Ambulance No.4

» Chain of Evacuation of Wounded Soldiers

» Auxiliary Hospitals

» War Graves Nurses




» Book of Remembrance

» Example of Mentioned in Despatches Letter

» Love Stories

» World War 1 Letters

» QA World War Two

» Africa Second World War

» War Diaries of Sisters

» D Day Normandy Landings

» Belsen Concentration Camp

» Voluntary Aid Detachment

» National Service

» Korean War

» Gulf War

» Op Telic

» Royal Red Cross Decoration

» Colonels In Chief

» Director Army Nursing Services (DANS)

» Colonel Commandant

» Matrons In Chief (QAIMNS)

Follow us on Twitter:




» Grey and Scarlet Corps March

» Order of Precedence

» Motto

» QA Memorial National Arboretum

» NMA Heroes Square Paving Stone

» Memorial Window

» Army Medical Services Monument

» Recruitment Posters

» Museum

» QA Association

» Standard

» QA and AMS Prayer and Hymn

» Books


Former Army Hospitals

UK

» Army Chest Unit

» Cowglen Glasgow

» CMH Aldershot

» Colchester

» Craiglockhart

» DKMH Catterick

» Duke of Connaught Unit Northern Ireland

» Endell Street

» First Eastern General Hospital Trinity College Cambridge

» Ghosts

» Hospital Ghosts

» Haslar

» King George Military Hospital Stamford Street London

» QA Centre

» QAMH Millbank

» QEMH Woolwich

» Medical Reception Station Brunei and MRS Kuching Borneo Malaysia

» Musgrave Park Belfast

» Netley

» Royal Chelsea Hospital

» Royal Herbert

» Royal Brighton Pavilion Indian Hospital

» School of Physiotherapy

» Tidworth

» Wheatley


France

» Ambulance Trains

» Hospital Barges

» Ambulance Flotilla

» Hospital Ships


Germany

» Berlin

» Hamburg

» Hannover

» Hostert

» Iserlohn

» Munster

» Rinteln

» Wuppertal


Cyprus

» TPMH RAF Akrotiri

» Dhekelia

» Nicosia


Egypt

» Alexandria


China

» Shanghai


Hong Kong

» Bowen Road

» Mount Kellett

» Wylie Road Kings Park


Malaya

» Kamunting

» Kinrara

» Kluang

» Singapore

» Terendak


Overseas Old British Military Hospitals

» Belize

» Falklands

» Gibraltar

» Kaduna

» Klagenfurt

» BMH Malta

» Nairobi

» Nepal


Middle East

» Benghazi

» Tripoli


QAIMNS World War I Queen Alexandra's Imperial Military Nursing Service QAIMNS Nurses

Information about nurses and nursing in the First World War and a history of the QAIMNS


World War I Nurses were members of the Queen Alexandra's Imperial Military Nursing Service (QAIMNS) and there were about 10,000 regular and reserve QAs serving in countries such as France, India, East Africa, Italy, Palestine, Egypt, Mesopotamia, Salonika and Russia.


Grey and Scarlet : letters from the war areas by army sisters on active service
cites that in 1914 there were 300 members of the QAIMNS with 2223 QAIMNS(R) members. 1803 were sent abroad and by 1919 there were 10,404 members of the QAIMNS and QAIMNS(R).

Below is a fine example of a QAIMNS(R) Sister photograph that shows her stripes. The ones on Sister Agnes Mitchell Boyd's left and right arm were to show her position of Nursing Sister, these bands were scarlet coloured and worn above her white cuff and were one inch wide. Her granddaughter would love to know where the picture was taken, if you can help please contact me.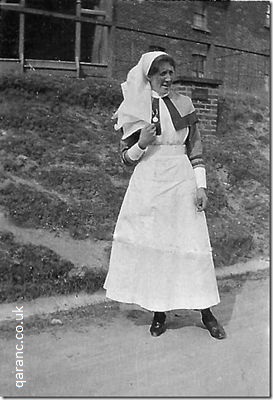 Below are the service medals of Sister Boyd, which from left to right are the British War Medal, Victory Medal and the QAIMNS(R) medal.







The book The Roses of No Man's Land
by Lyn MacDonald has many diary extracts from World War One QA nurses such as Sister K. Luard, Sister Lynette Powell, Sister Christina Hastings, Sister Mary Fitzgibbon, Sister Grace Buffard (Territorial Force Nursing Service), Sister Henrietta Hall and Sister Mary Stollard.


Other diary extracts of QAs who served in Basra Mesopotamia, Kuwait and France can be read in Women in the War Zone: Hospital Service in the First World War


WWI lasted from 1914 to 1918. It was also called The War To End All Wars and The Great War. British forces were joined by the army of France and Russia (the Allied Powers) against the Ottoman Empire of Germany, Austria and Hungary. World War One started after an assassination in Sarajevo of Archduke Franz Ferdinand and his wife Sophie Chotek. Archduke Franz Ferdinand was the heir to the Austro-Hungarian throne and he was shot by a Bosnian Serb student called Gavrilo Princip on the 28 June 1914. Princip was a member of the group Young Bosnia whose aim was to unify South Slavs and seek independence from Austria-Hungary.

Austria-Hungary wanted the group Young Bosnia punished and over months of negotiation eventually declared war on Serbia. Other countries were drawn in because of existing alliances and collective defences. As British troops went to war so too did the Queen Alexandra's Imperial Military Nursing Service.



Queen Alexandra's Imperial Military Nursing Service




The photo to the left is Sister Lily Catherine Miriam Cole born in 1884 at Roorkee, West Bengal and died 1929. Sister Cole trained at Saints Training College, Naina Tal, India and St Bartholomew's Hospital, London. She joined the Queen Alexandra's Imperial Military Nursing Service in 1914 and served at No 9 General Hospital in France, Abbeville, 41 CCS (Casualty Clearing Station), 23 General Hospital., 26 General Hospital and Marseilles Base Hospital during the Great War. Sister Cole was demobilised on the 1 June 1919. The photograph of Sister Lily Cole was taken at Newquay in uniform wearing the QAIMNS(R) medal and the ribbons of 2 war medals.

On the 6 September 1919 Sister Cole sailed for India aboard the SS City of Marseilles. She lived at 'The Oakes' Chakrata, India and applied to join the QAIMNS on the 9 November. In 1920 Sister Cole was awarded the 1914-15 Star, BWM (British War Medal) and Victory medals. In January 1920 Sister Cole was appointed Lady Superintendent at St Mary's European Cottage Hospital, Mussoorie, India. She married Rupert Edmund Ledlie at St Thomas's church Dehra Dun on the 3 December 1921. They had 2 sons.





I have published a book which tells the story of The Grey Lady Ghost of the Cambridge Military Hospital which reveals her origins in the QAIMNS and where she meets a QA veteran of Afghanistan. She still walks her wards and tells her story by taking Scott Grey, a QARANC nurse, to the battlefields of World War One and beyond. This is the first in the series of Grey and Scarlet Novels by CG Buswell. Read the first chapter for free.




If you like this page and would like to easily share it with your friends and family please use the social networking buttons below:






History of the QAIMNS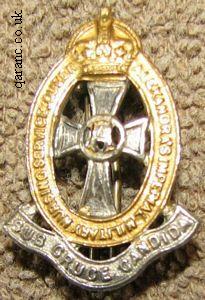 The history of the QAIMNS started some 12 years before the outbreak of World War One during a time of relative peace in the British Empire. The Queen Alexandra's Imperial Military Nursing Service replaced the Army Nursing Service (ANS) and the Indian Nursing Service (INS) by royal warrant on the 27 March 1902. They were named in honour of Queen Alexandra.


The book It's a Long Way to Tipperary: British and Irish Nurses in the Great War
by Yvonne McEwen has extracts of letters between the Queen, the Commander in Chief of the Army Medical Services Lord Robert and the Secretary of State for War John Brodrick in which they discuss the formation of the QAIMNS and what type of nurse was needed for the AMS. It also includes a copy of letter in which Lord Roberts asks Queen Alexandria:


I have little doubt but that an organisation could be devised which would be productive of good and important results. In the first place I think it would have the best possible effect if Your Majesty would consent to allow the Army Nursing Service to be called "Queen Alexandra's Military Nursing Service for the United Kingdom, India and the Colonies." I would suggest that, subject to Your Majesty's approval, a small committee of experienced ladies should be formed, who would work under Your Majesty as president, and discuss before laying them to you, Ma'am, the rules for, and the conditions, of the service.

Sixty seven of the ANS nurses became Matrons and Nursing Sisters across the many British Military Hospitals throughout the British Empire. The Indian Nursing Service were called the Queen Alexandra's Imperial Military Nursing Service for India until 1926 when the for India title was dropped.

The salaries of the army nurses were increased at the time of the formation of the QAIMNS so that they were now above the rate of civilian nurses.

A new rank structure was formed of Matron-in-Chief, Principal Matron, Sister and Staff Nurses.

The first Matron In Chief of the QAIMNS was Miss Sidney Browne.


More qualified nurses joined the QAIMNS and by 1914 there were 297 regular members of the QAIMNS. The main reason that there were few QAIMNS nurses is because of the strict rules in place at the time. Personnel had to be single, aged over 25 years and of a high social status. These restrictions had to be removed when there were so many casualties during WWI. Over 10000 qualified nurses joined the Queen Alexandra's Imperial Military Nursing Service Reserve (QAIMNS[R]) which for the first time in the history of the QAIMNS included married women and those of a lower social class. Though this number did include members of the TFNS (Territorial Force Nursing Reserve), TANS (Territorial Army Nursing Service), FANY (First Aide Nursing Yeomanry) and the VAD (Voluntary Aid Detachments) who worked alongside members of the RAMC and QAIMNS.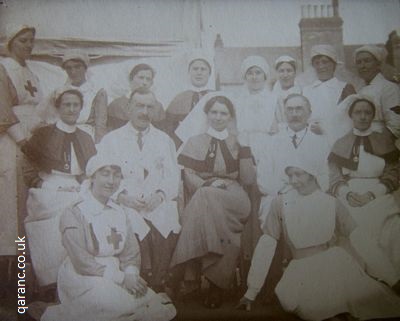 In the centre of the lovely photo above is Sister Caroline Roberts ARRC. Her family would love to know more about the photo if anyone can please help. She was acting Matron at The Connaught Hospital in Aldershot at the beginning of the war. In 1916 she was at The Military Hospital, West Bridgford in Nottinghamshire. This may possibly be where the picture was taken. She was still there when she was demobbed in 1919.

Nurses from other countries soon joined and below is American nurse Mary Carey Fallon who served In France in 1915.





In the book Queen Alexandra's Royal Army Nursing Corps (Famous Regts. S)
by Juliet Piggott it is cited that by the end of 1914 there were 2,223 regular and reserve QAs and when the war ended there were 10,404 trained nurses in the QAIMNS.



The Queen Alexandra Imperial Military Nursing Service Sister photo on the left is Sister Roach. The photograph was taken by Gunner Morris at Colchester Military Hospital. His collection of World War One pictures can be viewed at the Colchester Military Hospital page along with a request for information about Sister Roach and the images.


At the start of World War One there were approximately 9000 members in the VAD and about 23000 nurses and 18000 nursing orderlies at the end of the war.

At the start of WWI the number of Royal Army Medical Corps (RAMC) officers were 1279 and there were 3811 other ranks. The Territorial Force numbered 1889 officers and 12,520 other ranks (cited in It's a Long Way to Tipperary: British and Irish Nurses in the Great War
by Yvonne McEwen).

The War Office overcame the tradition of nurses having to be unmarried by only employing these qualified nurses to the QAIMNS Reserve on a short term contract which were renewed each year as the war progressed. After World War 1 their contracts were ended and they returned to civilian nursing.

The nurse in overall charge of the British Expeditionary Force in France in 1914 was Maud McCarthy of the 1st General Hospital who was later honoured and made a Dame.

During the First World War QAs tended to the wounded in field hospitals, aboard ambulance trains, hospital ships and hospital barges and in casualty clearing stations.

The system of triage assessment and casualty evacuation was developed during the First World War and this is discussed in great detail in the book It's a Long Way to Tipperary: British and Irish Nurses in the Great War
by Yvonne McEwen.

World War One saw a change in fighting with the invention of tanks, flame throwers, machine guns, mines, mortars gas and chemical warfare, trench warfare, air attacks, and these presented new challenges to military nurses.

Nurses coped well with the many horrific wounds and emergency operations that are part of battle field nursing but WWI gave British nurses two new areas of treatment. The first was coping with the after effects of chemical warfare such as chlorine gas and mustard gas. The other was battle shock which was also called combat fatigue, shell shock, hysterical paralysis, neurasthenia and disturbed neurosis. It was many years before it was known as Post Traumatic Stress Disorder (PTSD). The book The Roses of No Man's Land
has first hand accounts from QA nurses and VAD nurses who nursed in Neurasthenic Centres throughout Britain such as at St Luke's Military Hospital in Bradford and the No. 1 London General Hospital.

The book The Roses of No Man's Land
by Lyn MacDonald describes the lengths that the medical staff went to in an effort to devise masks to protect the staff against gas fumes. This includes an account from the diary of Sister Luard (QAIMNS) who nursed the Assistant Director of Medical Services (ADMS) 5th Division after he experimented with favour types of masks in a barn full of chlorine gas.

Lice was a major problem amongst soldiers fresh from the trenches and QAs would often get infested with lice after caring for the wounded. The lice were nicknamed the grey backs. Water shortages and having to wash using a canvas bowl or bath made life difficult for the QAs in field hospitals.

One of the duties of QA sisters during both World Wars was to write to the family of any soldiers who died in their care at the hospitals.



QAs Killed On Active Service

By the end of World War I about 200 army nursing services members had been killed whilst on active service.

Air raids accounted for many QA deaths and this included four QAs who were crossing a railway line when a bomb fell and killed one QA and wounded another. One of the two uninjured QAs ran to the casualty clearing station for help whilst the other administered first aid to her injured colleague. Once the body and the wounded QA were evacuated the two QAs went straight back to their night shift duty at the operating theatre. Both were awarded the Military Medal for their courage.

First nurse to die in World War One.

Eric Taylor writes about the death of four QA nursing sisters in his book Wartime Nurse: One Hundred Years from the Crimea to Korea 1854-1954
. They were nursing at the hospital at Saint-Omer when the German air raid took place.

Women in the War Zone: Hospital Service in the First World War
cites many examples of bombings endured by QAs and their patients with many extracts taken from journals and diaries. For example:

This has been a very bad day. Big shells began coming over about 10am - one burst between one of our wards and the Sisters' Quarters of No.44 CCS, and killed a Night Sister asleep in bed in her tent and knocked three others out with concussion and shell shock. Another laid out the QM stores in the Australians and many more have had narrow shaves.

Bits came over everywhere, pitching at one's feet as we rushed to the scene of action, and one just missed one of my Night Sisters getting into bed in our compound. I knew by the crash where it must have gone and found Sister E as white as a paper but smiling happily and comforting the terrified patients. Then I came on to the shell-hole and the wrecked tents in the Sisters' Quarters at 44. A group of stricken MOs were standing about and in one tent the Sister was dying. The piece went through her from back to front near her heart. She was only conscious a few minutes and only lived 20 minutes. Sister K. E. Luard Casualty Clearing Station No32, Brandhoek, Belgium.

Dysentery claimed the lives of many soldiers during the Great War and this extended to the QAs who were caring for them. One such military nurse who died from dysentery was staff nurse Jessie Ritchie who served with No 26 Hospital in Salonika and died in 1916.

Other nationalities lost nurses who were serving their country. For example ten New Zealand Army Nursing Service nurses were killed or drowned when the troop ship Marquette was torpedoed just off their destination of Salonika on the 19 October 1915. They had been travelling on this troop and ammunition transport ship, rather than a hospital ship, along with sixteen more nurses who survived the torpedo attack. The New Zealand nurses were travelling to serve at No. 1 NZ Stationary Hospital. The ship only took seven minutes to sink and as it tilted it caused lifeboats to crash into each other as they were lowered to the sea. Many were thrown overboard and lost to the sea. In Christchurch a Chapel was built in the memory of the nursing sisters and it still stands in the grounds of the main hospital in the city. The book The Roses of No Man's Land
by Lyn MacDonald has accounts narrated by Sister Sinclair one of the survivors of the Marquette sinking. Peter Rees is writing a book about Anzac nurses in WW1 which will be published in August 2008 by Allen & Unwin in Australia and NZ called The Forgotten Anzacs which has chapters about the Marquette incident.

Many members of the QAIMNS and QAIMNS(R) were awarded medals for their bravery which included the Military Medal.


Influenza Epidemic

Britain, and indeed most of the world, was under attack from an influenza epidemic in June 1918. At home and in the front line troops were suffering the effects of a particularly violent strain of flu that saw many die. The book The Roses of No Man's Land
by Lyn MacDonald has accounts of nurses who cared for civilian and military patients during this troublesome time. This includes the account of Sister Mary McCall QAIMNS(R) at No. 4 General Hospital, Camiers who describes the tragic story of a young bride, Mre Florence Grover, being brought to see her wounded husband, Private Albert Grover. She caught the infection and died several days later. Her husband then also caught influenza and died soon after. They were both buried in war graves in Etaples Military Cemetery

Even when Armistice was declared on the 11 November 1918 many civilians and soldiers died from the influenza epidemic.



It was not all death and destruction during World War One and many QAs found love from the battlefield, falling in love with their patients and soldiers who worked or visited their hospitals. The Love Story First World War page tells some of these heart warming stories.


Victory parade

When World War I ended in 1918 those QAs who returned to England took part in the Victory Parade in London several months later. A photo of this can be seen in Medical Services in the First World War
.

The World War One Victory Parade started at Kensington Gardens and finished two hours later at the same place.




In the book Queen Alexandra's Royal Army Nursing Corps (Famous Regts. S)
by Juliet Piggott there is a photograph of the QAIMNS Sisters passing the saluting base outside Buckingham Palace on the 19 July 1919. They are watched by His Majesty King George V, Queen Mary and Queen Alexandra.



Christmas Message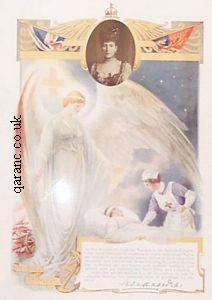 On the first Christmas of World War One the President of the Queen Alexandra's Imperial Military Nursing Service, Princess Alexandra, sent this message to all QAs serving in France:

As the President of all the Nurses in the British Empire, I am most anxious to express to every individual Nurse my heartfelt and grateful appreciation of their unselfish devotion and patriotism in ministering to, and relieving the suffering of, our brave and gallant soldiers and sailors who are fighting for their King and Country. With the whole of the Nation I wish to convey to our invaluable Nurses the undying debt of gratitude we owe them.

The Christmas message was sent on a postcard with a photograph of Princess Alexandra at the top of the card. As can be seen in the photo above the main picture was of an image of an angel overlooking the painting of a QA Sister caring for a wounded soldier lying on a bed with a head wound. The card was signed by Princess Alexandra. The angel is named as the Angel of Pity. The photograph above is much like the one sent to the QAs, though the nurse in the photo was of a QA Nursing Officer in veil and red cape.

QAs were also sent a gift from Queen Alexandra of a canvas bag which laced up with ribbon of the QA colours. The canvas bags contained some gifts such as a photo of Queen Alexandra, a Christmas card, note paper, acid drops tin of chocolates, a fur lined cape, hood and muff. British newspapers also contributed gifts to the nurse such as food parcels and items of clothing.


Patients also received a Christmas message from their Sovereign. For example on the third Christmas of the Great War King George V sent a message to every sick or wounded soldier in every hospital, casualty clearing station, hospital ship or train abroad or at home. The cards were given to each patient by the QAIMNS Sisters. The book The Roses of No Man's Land
describes the Christmas message from the King as being embossed on white card with the Windsor Insignia and inscribed in gold letters. It read:

...grateful thanks for hardships endured and unfailing cheeriness. The Queen and I are thinking more than ever of the sick and wounded among my sailors and soldiers. From our hearts we wish them strength to bear their sufferings and a speedy restoration to health.



Daily Express Nurses Presents Fund

In the first year of the Great War the Daily Express newspaper started a nurses presents fund. It had collected enough money to be able to buy a small white lather case which could be folded and put in a pocket. On the front of the Christmas gift case was a gold embossed crown with four flags. In the inside flap the words Christmas 1914 (cited in It's a Long Way to Tipperary: British and Irish Nurses in the Great War
by Yvonne McEwen).



QAs in Russia

Toward the end of World War One 14 QAs were sent to the Russian port of Archangel in the hospital ship Kalyan which was a converted P&O cruise liner that had seen active service in Egypt and Salonika. For the journey to North Russia the Kalyan underwent alterations such as pipes being encased with asbestos, the installation of radiators and the sides of the Kalyan being lined with wooden walls and filled with sawdust so that the ship could cope with the extreme cold (cited in the book Queen Alexandra's Royal Army Nursing Corps (Famous Regts. S)
by Juliet Piggott).

The normal crew of the Kalyan were Lascars (crew seamen from countries such as Africa and Asia who worked on British ships) but it was thought they would not cope with the extreme cold environment of the Arctic and Russia so the Lascars were replaced with a British crew.

The Kalyan sailed from Cardiff in the autumn of 1918 with the duty to care for the Russian Imperial Army and the Allied Troops that were stationed in Russia maintaining an Eastern Front against Germany. Allied troops also had the added mission of helping the Imperial Army defeat the Bolsheviks. The voyage to Archangel took two weeks.

Archangel was meant to be an ice free port despite it being winter in Russia. Unfortunately this was not the case and HS Kalyan was frozen in the Archangel port. Rather than setting up a field hospital ashore the QAs and medical team had to set up the ship as a stationary hospital. The ice was so solid that the Russians were later able to build a railway track to the ship and evacuate the wounded and injured on trains. When the River Dvina was not frozen patients would be transferred by barge to the Kalyan. Each patient would be wrapped in fur line sleeping bags. When the river was frozen patients were also transferred to the Kalyan by horse drawn sleigh.

Conditions were harsh for the nurses and their patients. The ship was extremely cold and their were blizzards and icy decks to contend with so much so that QAs wore men's arctic clothing rather than their scarlet and grey uniforms. The QA Sisters had set off from Britain with an issue of leather jerkins, windproof sheepskin lined coats and caps with fur peaks and ear flaps (cited in the book Queen Alexandra's Royal Army Nursing Corps (Famous Regts. S)
by Juliet Piggott).

Frostbite was the most common condition that needed treating. Few of the QAs had experience of treating frostbite and had to learn quickly.

The QAs battled on and continued to offer medical and nursing care to Russian and Allied troops until icebreakers managed to break through eight months later. Troop ships were then able to get through and provide new supplies and personnel. During these eight months the QAs remained on board the Kalyan and the medical units and hospitals onshore were staffed by female members of the Russian Red Cross. The fourteen QAIMNS nurses sailed back to the UK on the HS Kalyan and arrived safely back at Leith docks in Scotland in June 1919.

Entertainment Aboard Hospital Ships

During the long freeze staff of HS Kalyan would entertain each other and their patients with a variety of entertainment aboard hospital ships. For example members of the Royal Army Medical Corps formed a members entertainments group called The Kalyan Komedy Knuts on board the ship. They are in the picture below which was kindly sent in by the son of one of the RAMC members aboard. He would love to learn more about the ship and the group. If you can help with any info then please contact me.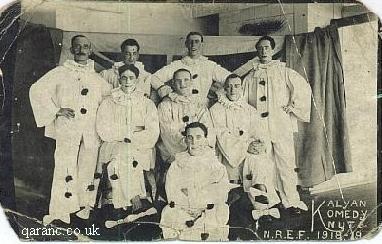 Alice Welch

Help Needed: A Qaranc.co.uk visitor is seeking some help in tracing information about a former member of the Queen Alexandra's Imperial Military Nursing Service Reserve. Alice Welch was born in Nantwich in 1871 and did her nurse training at Southport Infirmary from 1897 to 1900. Alice Welch joined the QAIMNS(R) in May 1915. She served on the Hospital Ship "Dieppe" and was at the 6th Casualty Clearing Station from October 1915 until the summer of 1916. In September 1916 Alice Welch joined the 32nd Stationary Hospital at Wimereux near Boulogne and completed her contract with QAIMNS(R )in May 1917. She returned to England to join the British Red Cross. Has anyone ever come across Alice Welch in their research? Do you have a photograph of her?

If you can add any info then please contact me and I can pass the information on. Thank you!


Replies

I noted this name on the QA website asking for info. Just to let you know that I've come across this lady in the National Archives, PIN 26/20274. She had a very sad outcome, being found starving and sleeping in a wood in the early 1930s.


The following photos and the photo of the QAIMNS Nursing Sister at the top of this page have kindly been provided by Dr John Sutton, the Branch Chairman of the Leicestershire & Rutland WFA (Western Front Association) whose grandfather (Alfred Sutton) was wounded in April 1917 and hospitalised at No 32 Stationary Hospital Wimereux. Can you help identify the nurses? Dr Sutton wonders if one of the nurses may be Sister Welch?






This article continues on the QA World War Two Nursing page.

For an overview of British Army Nursing please read the History of the QARANC page.

If you would like to contribute any info or photographs to this World War I Queen Alexandra's Imperial Military Nursing Service QAIMNS Nurses page then please contact me.



Edith Elizabeth Appleton

The fascinating War Diaries of QAIMNS nurse Edith Elizabeth Appleton can be read at www.edithappleton.org.uk in full with photographs. Edith Appleton served in Casualty Clearing Stations in Northern France from 1914 to 1919 and finished her career with tan appointment to the staff of Dame Maud McCarthy, Matron in Chief, at Boulogne.



Forces War Records

Forces War Records are a genealogy site where you can find military records of over 6 million British Armed Forces personnel cross matched with over 4000 Regiments, Bases and Ships. This link includes a free search and a special discount of 40% off membership offer for visitors who use the discount code AF40 if they decide to become a member.
Search Now. A unique feature is their WW1 Soldiers Medical Records section.








If you would like to contribute to this page, suggest changes or inclusions to this website or would like to send me a photograph then please e-mail me.



Official QARANC webpage.

QA Association website.

In The Company of Nurses Book.


***********************************************






The Grey Lady Ghost of the Cambridge Military Hospital Novel - a Book by CG Buswell


Read our posts on:

Facebook

Google+

Twitter


Offers

Army Discounts






Present Day

» Become An Army Nurse

» Junior Ranks

» Officer Ranks

» Abbreviations

» Nicknames

» Service Numbers

Ministry of Defence Hospital Units

» MDHU Derriford

» MDHU Frimley Park

» MDHU Northallerton

» MDHU Peterborough

» MDHU Portsmouth

» RCDM Birmingham



Field Hospitals

» Camp Bastion Field Hospital and Medical Treatment Facility MTF Helmand Territory Southern Afghanistan






Territorial Army

» TA Field Hospitals and Field Ambulances


Photos

» Florence Nightingale Plaque

» Photographs


Uniform

» Why QA's Wear Grey

» Beret

» Lapel Pin Badge


» Army School of Psychiatric Nursing Silver Badge

» Cap Badge

» Corps Belt

» ID Bracelet

» Silver War Badge WWI

» Officer's Cloak

» QAIMNSR Tippet

» Officer Medal


Events

» Armed Forces Day

» Recreated WWI Ward

» Reunions

» Corps Day

» Freedom of Rushmoor

» Re-enactment Groups

» Military Events

» Remembrance

» AMS Carol Service

» QARANC Association Pilgrimage to Singapore and Malaysia 2009

» Doctors and Nurses at War

» War and Medicine Exhibition

» QA Uniform Exhibition Nothe Fort Weymouth


Famous QA's

» Dame Margot Turner

» Dame Maud McCarthy

» Military Medal Awards To QAs

» Moment of Truth TV Documentary

» Sean Beech


Nursing Events

International Nurses Day


Info

» Search

» Site Map

» Contact

» Websites



We are seeking help with some answers to questions sent by readers. These can be found on the Army Nursing page.



» Find QA's

» Jokes

» Merchandise

» Mugs

» Personalised Poster

» Stamp

» Teddy Bears

» Pin Badges

» Wall Plaques

» Fridge Magnet



» The Abandoned Soldier