» Site Map

» Home Page

Historical Info

» Find Friends – Search Old Service and Genealogy Records

» History

» QAIMNS for India

» QAIMNS First World War



» Territorial Force Nursing Service TFNS

» WW1 Soldiers Medical Records

» Field Ambulance No.4

» Chain of Evacuation of Wounded Soldiers

» Auxiliary Hospitals

» War Graves Nurses




» Book of Remembrance

» Example of Mentioned in Despatches Letter

» Love Stories

» World War 1 Letters

» QA World War Two

» Africa Second World War

» War Diaries of Sisters

» D Day Normandy Landings

» Belsen Concentration Camp

» Voluntary Aid Detachment

» National Service

» Korean War

» Gulf War

» Op Telic

» Royal Red Cross Decoration

» Colonels In Chief

» Director Army Nursing Services (DANS)

» Colonel Commandant

» Matrons In Chief (QAIMNS)

Follow us on Twitter:




» Grey and Scarlet Corps March

» Order of Precedence

» Motto

» QA Memorial National Arboretum

» NMA Heroes Square Paving Stone

» Memorial Window

» Army Medical Services Monument

» Recruitment Posters

» Museum

» QA Association

» Standard

» QA and AMS Prayer and Hymn

» Books


Former Army Hospitals

UK

» Army Chest Unit

» Cowglen Glasgow

» CMH Aldershot

» Colchester

» Craiglockhart

» DKMH Catterick

» Duke of Connaught Unit Northern Ireland

» Endell Street

» First Eastern General Hospital Trinity College Cambridge

» Ghosts

» Hospital Ghosts

» Haslar

» King George Military Hospital Stamford Street London

» QA Centre

» QAMH Millbank

» QEMH Woolwich

» Medical Reception Station Brunei and MRS Kuching Borneo Malaysia

» Musgrave Park Belfast

» Netley

» Royal Chelsea Hospital

» Royal Herbert

» Royal Brighton Pavilion Indian Hospital

» School of Physiotherapy

» Tidworth

» Wheatley


France

» Ambulance Trains

» Hospital Barges

» Ambulance Flotilla

» Hospital Ships


Germany

» Berlin

» Hamburg

» Hannover

» Hostert

» Iserlohn

» Munster

» Rinteln

» Wuppertal


Cyprus

» TPMH RAF Akrotiri

» Dhekelia

» Nicosia


Egypt

» Alexandria


China

» Shanghai


Hong Kong

» Bowen Road

» Mount Kellett

» Wylie Road Kings Park


Malaya

» Kamunting

» Kinrara

» Kluang

» Singapore

» Terendak


Overseas Old British Military Hospitals

» Belize

» Falklands

» Gibraltar

» Kaduna

» Klagenfurt

» BMH Malta

» Nairobi

» Nepal


Middle East

» Benghazi

» Tripoli


Royal Herbert Hospital
History of the army Royal Herbert Hospital Shooters Hill Woolwich London and the Brook with ghost story and the modern converted Pavilions:
Sidney Herbert
The two storey Royal Herbert Hospital was built by the authority of Sidney Herbert the 1st Baron Herbert of Lea. Sidney Herbert was responsible for sending Florence Nightingale to the Crimea and led the War Office reforms after this campaign. He was particularly interested in health care and reducing military mortality rates from diseases and ill treated war wounds. There is a statue of him at Waterloo Place in London. The building work cost £209,139 and the land purchase was £6,394.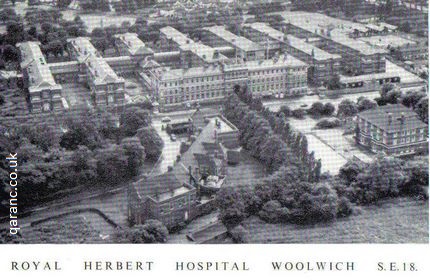 Image courtesy of Alexandra Edwards (nee Rainey). This aerial shot was an RAMC Christmas card from the 1960's.



Captain Douglas Galton

The architect was Captain Douglas Galton and it was planned in the pavilion style much approved of by Florence Nightingale. This style aired and gave natural light and was thought to sweep out bacteria.


The book Sub Cruce Candida: A Celebration of One Hundred Years of Army Nursing
has photos of the Royal Herbert Hospital which includes wards, nursing staff and the operating rooms.



Colonel Shaw

It was called The Herbert Hospital for its first few years of opening. It had opened in 1865. The first Governor was Colonel Shaw who took up his appointment on the 1 November 1865. The first patients were transferred from the nearby Royal Artillery Garrison Hospital at Woolwich.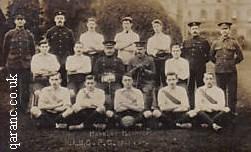 The picture on the left of the Royal Herbert Staff is a copy of a postcard bought on Ebay. Qaranc.co.uk do not know anything more about the image. If you can add any information then please contact me, thank you.


Mrs Jane Shaw Stewart

The first Superintendent General of Female Nurses was Mrs Jane Shaw Stewart who also held the same post at the same time at the newly built Royal Victoria Military Hospital Netley. Mrs Shaw Stewart had served with Florence Nightingale in the Crimea. She was joined by eight attendant lady nurses who worked on day duty and lived at the nearby quarters in the Female Infirmary in Woolwich (cited in the book Queen Alexandra's Royal Army Nursing Corps (Famous Regts. S)
by Juliet Piggott). This was at a time when military patients were not used to females attending to them and were mostly against their presence. Even one year later there was only one nurse allocated to each ward and none were permitted to work on the venereal ward or the convalescent wards.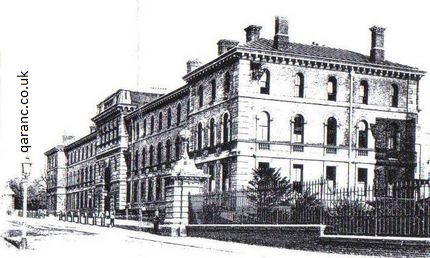 Postcard courtesy of Alexandra Edwards (nee Rainey) which was sent to her by the Greenwich Local History Society.




Queen Victoria

Her Majesty Queen Victoria visited in March 1900 and was so impressed with the care and treatments of soldiers that she honoured it with royal status and patronage. However Juliet Piggott in her book Queen Alexandra's Royal Army Nursing Corps (Famous Regts. S)
considers that the Royal prefix may have been bestowed some years later because an invitation card from the visit of King Edward VII and Queen Alexandra on the 16 February 1903 does not mention the Royal Herbert Hospital but just the Herbert Hospital. The name is also written as this on the Court Circular that was issued by Buckingham Palace.

Queen Victoria was in a wheelchair at the time of her 1900 visit and gave patients on the surgical wards that she visited posies from Frogmore.

The drawing by S Begg of Queen Victoria giving a bed bound military patient a posy of flowers at Herbert Hospital in Woolwich in March 1900 when she visited two surgical wards can be seen as an illustration in the book Queen Alexandra's Royal Army Nursing Corps (Famous Regts. S)
by Juliet Piggott.


It became the main orthopaedic centre for the British Army. There were also general surgical and medical wards for army personnel and their families. At its peak it had 15 wards which accommodated 650 beds. This included a guardroom and prison ward for 28 army prisoners. Though in the first two years of opening it had no more than 300 patients at any time.


The wards were numbered A through to G , ie A1-4, B1-4 etc. A1 and A3 were used for accommodation for female ORs A2 and A4 were Officers and their wives I think, F4 was the STC and F1-3 were for orthopaedics. The Herbert specialised in orthopaedics. There were no D wards as the first floor was Path Lab and the ground floor was Physiotherapy and medical records. The Operating Theatres were at the South end nearest the Brook. The basement was home to Things like linen other stores, the cookhouse, the barbers and the X-Ray school as it was then. (With thanks to Radiographer Bob Atkinson RAMC).

A free Kindle download is Driver H Taylor's "In Memory of Our Night Nurse" - a First World War Poem from the Royal Herbert Hospital, Woolwich
. He served in the Royal Field Artillery and wrote this while a patient and presented it to VAD nurse Miss Edith Mary Hall. There is a photograph of patients and staff from 1918.






I have published a book which tells the story of The Grey Lady Ghost of the Cambridge Military Hospital which reveals her origins in the QAIMNS and where she meets a QA veteran of Afghanistan. She still walks her wards and tells her story by taking Scott Grey, a QARANC nurse, to the battlefields of World War One and beyond. This is the first in the series of Grey and Scarlet Novels by CG Buswell. Read the first chapter for free.




If you like this page and would like to easily share it with your friends and family please use the social networking buttons below:







Brook Hospital Shooters Hill


The photo below is of the Brook Hospital Shooters Hill London during the First World War. The Brook was just down the road and in the photograph is the Chief Superintendent of the Ambulance Station and his staff during the Great War. His name was George Oliver and he was a former Guards Officer. If you have any information about this period please contact me. Thank you.






Second World War

At the outbreak of the Second World War six of the empty wards were re-opened to help cope with victims of air raids and the evacuated war wounded.

In the book Sub Cruce Candida: A Celebration of One Hundred Years of Army Nursing
the authors cite Sister Furze of the QAIMNS(R) describing events during air raids in Woolwich, London. The staff would seek refuge in the basement with their patients.


German Prisoners

During World War Two the Royal Herbert Military Hospital admitted civilian patients when the Woolwich Arsenal was bombed by the German Luftwaffe. Any downed pilots and navigators were taken as a Prisoner of War (POW) and treated for their injuries there. A separate Luftwaffe officers ward and NCOs ward were set up.

Most of the German airman settled into hospital and prison life whilst a small majority were determined to still die for Germany and the Fuehrer. They would pull out their intravenous drips in an effort to bleed to death from the opened vein. Nurses had to be watchful for these suicide attempts and sadly some of the German airman did die.

An advantage of having Luftwaffe as patients is that their comrades stopped bombing the area for fear of injuring or killing their captured comrades.

In his book Wartime Nurse
Eric Taylor describes how some nurses like Margaret Mulvenna and Winnie Cunnane fell in love with the POWs and were dismissed for fraternization with the prisoner of war patients.

In another of his books, Combat Nurse
, Eric Taylor cites 800 marriages taking place between British women and German prisoners of war.


As the Second World War progressed the surgeons operated on civilians in conjunction with The Brook Hospital which was located adjacent.



Post War Years

It admitted civilian patients under the emergency bed service list from the nearby community to help the NHS during the severe winter of 1962 and 1963.

Qaranc.co.uk was delighted to hear from former QA Stephanie Lowe who nursed some of the victims of influenza during a similar national emergency in 1957 and recalls the time:

I have been reading about the Royal Herbert Hospital in Woolwich, and how the unused wards on the top floor were opened up at the outbreak of war, and again in the severe winter of 1962/3. The wards were once again used for emergency in 1957.

I was nursing there in 1957, at the time of the Asian flu epidemic which killed 30 000 people in the UK, and has been unequalled since. At the beginning of October it became clear that sick bays in barracks were totally inadequate to cope with rapidly increasing numbers of flu victims, and thus one morning the matron sent for four registered nurses from the wards and asked us each to open up a disused ward at the top.

We took the keys and opened up - wards which had not been used for a great many years, and were thick with dust and cobwebs, and the window panes all yellow with grime. We each had a team of three or four RAMC medical orderlies and got busy scrubbing and polishing at once. Even before we were halfway through this the deliveries began - palliasses, ward linen, cutlery and china, drugs and general ward equipment. Fortunately we had started the scrubbing in the linen room.

Almost immediately the patients began to arrive, and soon the beds were filled, and so more beds were squeezed in, and then some down the centre of the ward. It was basic nursing care, because any patient developing severe respiratory problems was transferred downstairs for more intensive care. But it was chaos all the same, we had our meals on the ward, brought up by the ACC, and nobody even asked about off-duty. When Matron did her rounds - usually such a dignified occasion - she rolled up her sleeves and helped with bed changing or bed baths! Just keeping water jugs full and emptying bottles seemed to be a full time job. This strain of the flu virus left patients very weak for several days after their temperatures dropped.

Nursing staff had had flu injections, but they were not 100% effective, and quite a few orderlies became patients themselves, stretching staff even more.

I left the services mid November, so I don't know just how long the wards were kept open, but things had certainly started to quieten down by then. Stephanie Lowe


Army School of Physiotherapy

Below is a photograph of the students and instructors at the Army School of Physiotherapy. It comes from the collection of Patricia Harvey (Cole). She asks if there is any information or ways of contacting QARANC and RAMC personnel who trained as Physiotherapists at the Army School of Physiotherapy. Patricia was a private promoted to L/Cpl and enlisted March 1961 and discharged at Aldershot March 1965. She graduated as an Army Trained Physiotherapist and as a member of The Chartered Society of Physiotherapists. She now lives in Canada and would also be interested in any reunions etc of RAMC and QARANC physiotherapists.





Radiographer Students

These photos have been kindly provided by Jim Glynn who was trained as an RAMC radiographer from May to November 1960. More of his pictures and memories can be found on the BMH Nairobi page.

Radiographer Students Outside






The canasta card game school






The full radiology class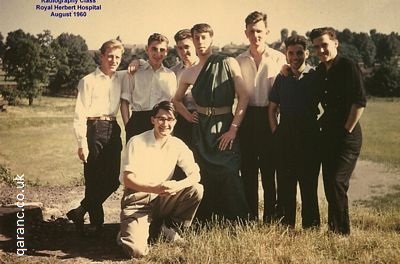 Relaxing in the evening at the male billets.







Military Maternity Hospital

Richard Challoner is seeking help to answer some questions about his birth. His birth certificate records the place of birth as 'Military Maternity Hospital Woolwich'. Can anyone e-mail Qaranc.co.uk if they know if this was a Unit within the Royal Herbert Military Hospital, Woolwich or a separate Unit?





The photograph above was taken in the Maternity Hospital a few days after his slightly premature birth in March 1962. It features his mother and himself with a Matron and two Sisters. Richard would like to identify the Matron and the Nurses in the photograph. His mother told him how wonderful and kind they were during a very difficult birth and he would love to know if any of them are still alive, so that he can contact them and thank them personally. He would also like to find out the name of the surgeon who delivered him. His mother told him that he was Russian or of Russian origin. If you can help please contact Qaranc.co.uk

We have since learnt that it was not in the same grounds but was situated at Mill Lane Woolwich, a turning off Woolwich New Road. It was demolished and a housing estate built. Memories of nurses who worked there can be read further below.

***********************************************


Derek served in the Royal Army Medical Corps and kindly helped us the more details of the Garrison Medical Centre and Garrison Medical Centre in Woolwich:

In 1952 I was posted there as a private, and later posted to the Married Family Hospital across the road from the Artillery Barracks. On entering the grounds the first building you saw was the Garrison Medical Centre - a long low building with a small parade ground in front of it. Directly opposite was the small barracks of the staff of the GMC. Two Lance bombardiers were on the staff of the GMC.

Going further into the grounds you saw the Married Family Hospital a long one storey Victorian building - I think about a twenty bed ward. Further into the grounds was a large Victorian - I suppose you would call it a mansion. This was the home of the staff - several Queen Alexandra officers, from lieutenant to a major who was a matron lived there. I remember a Captain McDonald, and the Major was W.D. Mc Cracken. The two doctors were Capt. W Begg. And Lt. Col. T. Mc Nee .

There was a kitchen on site which cooked for the nursing sisters and the patients. There were two lady cooks, Mrs. Sheen and Mrs. Noble. This is all I remember from nearly 60 yrs ago. I cannot remember any births while I was there. Derek RAMC.


***********************************************

Richard Speller kindly provided details from his baby book which also identified the same doctors as Derek. In addition the nursing sisters, who delivered him in 1952 in the Military Families Hospital, were Lieutenants Selby and Davis.

***********************************************

My first 2 daughters were born at Woolwich Military Maternity Hospital in 1975 & 1976. I first stayed on the antenatal ward as a very young mum to be. I was a bit frightened as it seemed so strict! Friends and family were only allowed to visit twice per week and babies were strictly kept in the nursery, only to be viewed from behind glass, although husbands were allowed daily. We had an on-site cook, and as there were only about 6 mothers we enjoyed delicious homely food. The on-site house keeper did all the washing and ensured we each had our pint of milk per day. Of a night time she would use our milk to make us all hot chocolate.

Both daughters were delivered by Sgt Brown and both years there were a group of QA student nurse in attendance. In June of 1976 we enjoyed a great heat wave and many of the mums spent a great deal of time in the beautiful garden. I actually discharged with a sun tan! Hot evenings were spent sitting on the huge steps in the garden, chatting with the students and nurses, enjoying our hot chocolate. My second daughter required surgery at 2 days old and was transferred to Queen Elizabeth children's hospital Hackney. However I was not allowed to be discharged until day 8 of my confinement (10 days for first child). But I was picked up in an army vehicle and transported to Hackney every day and the driver waited and brought me back later in the day, where I found a meal had been saved for me.

Sadly the hospital closed a short while later, but I cherish my memories of this marvellous hospital and the care I received.
Wendy


***********************************************

Qaranc.co.uk heard from a former RAMC nurse from the 1970s who told us:

When I served as a Nurse at RHH, there was a Military Maternity Hospital which was situated almost opposite the Artillery Barracks on a side road coming from the town. Just further up the road was the Academy where some of the Nurses lived and where the Garrison Swimming pool was located.


***********************************************

We were delighted to hear from a Royal Navy nurse who trained there and told us:


In my third year of training, May 1973, I was seconded to the army at Woolwich to do three months obstetrics. I remember this time very well as I come from London (Kennington) and used to nip home for a bit of mum's cooking now and then!

We lived at the Royal Military Academy in Academy Road and were taken each day, by minibus, to breakfast at the Royal Herbert Hospital on Shooters Hill. We were then transported to the Military Maternity Hospital which was on Woolwich New Road and locally known as the Millie Mat. At lunch and supper time we would be transported back up the road as there were no catering facilities for the staff on site. When we worked nights there was a civilian night domestic who would cook us a meal.

The maternity hospital was a single storey building with one ante natal and one post natal ward, a nursery, a delivery room and an operating theatre. There were smaller outbuildings that accommodated the antenatal clinic, baby clinic, school of nursing/obstetrics and common room. The floors were mostly wooden and they clattered under our leather soled shoes. There was almost a temporary feel about the buildings although they had been there for some time.

Our tutor was Major Sproston and I recall her horror at the milk bottle on the table in the student common room when we were having our coffee. I was duly despatched to buy a milk jug, 'and don't forget the receipt'!

There were six students, four army and two navy and we all had to witness so many births before we could do a supervised one ourselves. I can't remember how many (it was a long time ago!) but I do remember us all crammed into the delivery room on several occasions. One afternoon, Madge, one of the army nurses and I had stand off and were due back at 1700 but we got a call at about 1500 to say there was a birth imminent so we dashed off down the road on foot from the Academy (in starched apron and butterfly cap) to try and catch it. We were between bus stops when a bus came into sight and we ran to try and get to the next stop in time. We were most surprised when it pulled up between stops to pick us up. We explained our hurry and not only did he drop us as near to the hospital as he could, he refused to take any fare! We were just in time, hot and panting, to witness the birth.

I have attached a word document containing a map from an old London A-Z with the Academy, Millie Mat and Royal Herbert, before the area was redeveloped.





I have fond memories of my short time at the Millie Mat, I even went on to train as a midwife when I left the navy. Margaret Blanchard (nee Small)


***********************************************

We also heard from David Doughty who was a 15 year old soldier at Woolwich in the Royal Artillery and remembers the nurses fondly for their care when he became ill with Glandular Fever. He says:

I was a serving soldier in the 1960's and I know for sure that at the back of St George's Church, the one that was destroyed by a bomb in 1944, was a hospital manned by QARANC nurses for the sole purpose of delivering Babies and nothing else went through the doors. I know this because my daughter also was born there. David Doughty


***********************************************


The Military Maternity Hospital Woolwich was situated on Woolwich new road opposite the Artillery Depot. I believe that the midwives lived in the Garrison mess and not in the Royal Herbert Mess. There was always a QA other rank on duty from the Herbert at Nights. I was married to a QA OR and our first son was born in the military maternity unit in 1966. Bob Atkinson


***********************************************



St George's Church

During the Second World War St George's Church, the church for the RA was hit by a flying bomb on 13 July 1944. Only the apse remains which holds the Royal Artillery Victoria Cross Memorial.


The centenary celebrations of the Royal Herbert Military Hospital took place on 12 November 1965.

Wounded soldiers from Northern Ireland were flow there and transferred to the care of QAs on the helicopter pad (cited in the book Queen Alexandra's Royal Army Nursing Corps (Famous Regts. S)
by Juliet Piggott).

It closed in 1977 when the new Queen Elizabeth Military Hospital was opened in nearby Stadium Road.

The book Sub Cruce Candida: A Celebration of One Hundred Years of Army Nursing
cites the date of the closure as being the 25 June 1977.

See the new developments on our Photos Shooters Hill Woolwich London With Royal Herbert Buildings page.


Notable Nurses Of Royal Herbert

Notable members of staff include Superintendent of Nurses Miss A.E. Caulfield (some sources spell her surname as Caulfeild) who was on the 1883 Board of Inquiry that examined the medical care of troops during the 1882 Egyptian Campaign. From her recommendations and that of Nurse Miss C. Lloyd and Matron Mrs Deeble of Royal Victoria Military Hospital Netley the Army Hospital Services Committee recommended that the Army Nursing Service be expanded. Miss A.E Caulfield retired in 1894. Upon the retirement of Miss Caulfeild the position of Lady Superintendent at Woolwich was withdrawn (cited in the book Queen Alexandra's Royal Army Nursing Corps (Famous Regts. S)
by Juliet Piggott).



Royal Herbert Pavilions

It remained boarded up and not used for many years. In 1990 the site was purchased by a property developer and developed into 228 luxurious flats and apartments called the Royal Herbert Pavilions. Many of the original features were retained because of the Grade II Listing status. The historic building offers a blend of history with modern luxury which includes a lounge bar, a heated swimming pool with spa, sauna and steam room.


Ghost of Royal Herbert Military Hospital

Over the years there have been sightings of the ghost of the Royal Herbert Military Hospital by nurses and patients. Here are some accounts that was e-mailed to www.qaranc.co.uk:

Royal Herbert Hospital Ghostly Sounds

Don Johnson recalls his time in the RAMC and hearing the Royal Herbert Hospital ghostly sounds:

I was poster to RHH in October 1957 until June 1958. At that time it comprised Blocks A,B,C,D,E,F, and G. On one occasion I was on night duty on G3 and across the corridor was G4 and both were men's medical wards. We often got patients from Royal Hospital Chelsea.

I had completed a ward round and was in the office when, at 3am, I heard a bell tolling. It had a deep tone and was tolling slowly. I went out onto the open corridor and was listening and trying to work out where it could be coming from. The wind was blowing strongly from Woolwich but the sound seemed to be coming from Eltham but the only church that had tolling bells was the Anglican one but they didn't have a bell of this key. Just then the lad from G4 said something to the effect "So you have heard it as well". We discussed for a couple of minutes, with the bell still tolling and he suggested that I go to Reception and see if the Corporal there knew anything.

As soon as I told him he told me to sit down and told me that what I had heard was the 'Death Bell' and that it was always heard 3 days before someone dies on that ward. I told him that we had both heard it and he expressed surprise at that.

The next two nights passed without incident and on the third night I was told that several patients had been discharged and one Chelsea pensioner had been moved to Ward G4. At 02.55 my mate came across and asked me to look after his ward as well and that he had the Duty MO and Night Sister on their way but, at 3 am the pensioner we had transferred, died. He had been on my ward when the bell sounded but he died on G4 so we both heard it.

Don shares more memories of his time serving in BMH Nairobi , Colchester Military Hospital, BMH Nicosia, and Ghosts pages.

***********************************************


Re ghostly goings on!!

In early 1965, I was a private in the QARANC, working there. I had already completed civilian training as an orthopaedic Student Nurse, and so, felt that "I`d seen and heard it all....!" horror stories and hospital ghosts notwithstanding....so with the arrogance of youth, I felt quite smug towards my colleagues, as they told of feeling "spooked "doing Night Duty in most wards.

For most of our 12 hour duty we worked alone, with hourly visits from the Nursing Officers....

At about 3 am ,as I was quietly reassuring a young soldier recovering from a collapsed lung ,we both heard soft footsteps approaching the ward. I promised him a cup of tea once the visit from the expected Captain was over, and left his bedside to greet her.

As I reached the ward door, I saw that it was closed, but the measured tread seemed to pass me and continue into the ward itself. I`d love to claim that I bravely followed , but I stood rooted with terror to the spot. The spell was broken by the young soldier's strangled yelp, and I ran to his bedside (disobeying, of course, every rule about running , except in Fire or Haemorrhage! ) The unfortunate young man, gasping for breath told me that "The Sister" had come to his bed, but was "now vanishing"...His distress was acute, and I feared for his condition. The noise awoke the patient in the next bed, who put his light on, and my young soldier was able to draw long, if rasping breaths.

The atmosphere relaxed a little and whilst we did our best to reassure the poor soul, we were all very shaken. I stayed with the two (fortunately the rest of the ward remained asleep.) My soldier was convinced that he was dying , and that the event had been a forewarning. The minutes dragged by as I desperately tried to find the courage to go to the office to call for help and at the same time try to leave the soldier's bedside since he was clutching my hand and begging not be left alone!! It was with mixed feelings that we three heard the approaching footsteps, of what we all prayed were those of the Duty Officer (incarnate! )

My abiding memories of the Commissioned Qaranc were of their total dedication to the high principles of good nursing and the genuine care and concern with which they treated we Students. This officer was no exception, listening to each of us, accepting our distress and most importantly told of many others who had experienced the same thing in this ward and telling my young patient that all who had "been visited" by the spectral nurse recovered well and did not die.

As false dawn approached the Sister rang round the other wards to advise she was needed in ward four for some time yet and then went to make us all a cup of tea. She worked with me throughout, washing, changing bedpans and serving breakfast and she cheerily checked on the soldier, his neighbour and myself from time to time.

I was offered a new ward to transfer to in the morning, but felt that I didn't want to leave my young man again to face any further "visitations!" on his own. So said I`d stay if allowed in ward Four until posted elsewhere.

After the story spread like wildfire, I learned of so many others who had differing experiences (and severe shock!) whilst working in many departments and wards. The Officers and Children's wards one floor up seemed to be particularly lively at night, I heard.

Guess where my next duty was? That spooky cavern like huge building had many "cold spots" and I was to sense several presences, rather than see, over a few more months on nights. Still, the R.H.M.H. has a place in my affections of happy times and I am proud to have been a member of the Corps, if only briefly. Incidentally, I have memories of ghostly goings on whilst at PTS in Stanhope Lines, Aldershot, in 1964 but these seemed of a rather more sinister nature...

Does the ghost still haunt the Royal Herbert Pavilion flats at SE18 4PE? I you have a ghost story to tell qaranc.co.uk or have any photos then please contact us.



Another ghost sighting of the Victorian nurse was from someone on the children's ward.

As an ex-patient during 1965 to 1966 I would like to add a story of my own about the ghost nurse. I was in Ward 32 and as a treat I got the use of a wheelchair to roam about the ward between the playroom and the toilets/bathroom but on one particular day I was banned from using it and told to stay in bed. You see, I had a habit of speeding up and down the ward in my wheelchair and as you can imagine the width of the ward passage and should a nurse emerge from one of the rooms and seeing this little boy in a supercharged wheelchair speeding down the passage.

But while in bed I got bored and needed to go to the playroom to see if I can find a book to read but I couldn't get hold of a nurse - even though I did shout. So, I decided to carry out a secret mission and to go and get a book myself hoping that I don't get caught. I used one of my crutches to pull my wheelchair closer to the bed as it was placed out of reach, as soon as I got a hold of the wheelchair I eased myself inside and crept slowly towards the door, nobody to be seen, I then turned left and headed for the playroom. As I reached the playroom the toilets and bathroom were on the right and I heard footsteps in that area so, I quickly entered the playroom and got two books. As I left the playroom I looked to the right and I saw a nurse standing with her back to me.

What made me stare at her and found unusual was that she was not wearing a QARANC uniform but she was wearing a dark grey skirt which went down to her ankles, a lighter grey coloured shawl around her shoulders and a white bonnet style of hat which ended in a triangle shape down her back just about below her shoulders. She was just standing there. I zoomed out of the playroom and back into my room and in bed before she could see me. Later years I've learned that she was dressed like a Victorian nurse. I didn't mention this nurse in grey to any of the nurses because I wasn't supposed to be out on my wheelchair but I have heard the nurses chatting to one and another about seeing this nurse in grey. Alan



One ghost sighting at the Royal Herbert Pavilions was reported to Qaranc.co.uk by a mother whose nine year old son has seen a nurse wearing a white bonnet type of hat on her head. The ghost always appears in their hallway holding a candle. She and her husband have not seen the nurse ghost but both have sensed that someone or something is in their hallway since they moved to the building in September 2007. Their son has spoken to the lady and the ghost acknowledged him and spoke with him. She said her name was either Elaine, Ellen or Helen. The hallway would have been situated in Pavilion F, Ward 32, now the Panbro House.

The nurse ghost at the Royal Herbert has not been seen or felt anywhere else in the flat, just the hallway. The family have spoken to other residents and some have described that there have been previous ghost sightings and supernatural feelings. If you can help with any further information then please contact us.


I have been reading the ghost tales experienced. In the mid fifties my sister was Manageress of the NAAFI at the Herbert, she told me of something that happened late one night after the NAAFI had closed. She was courting one of the Despatch riders who called there regularly and they did their courting in the rest room at the back of the building. She says that one night, very late, the soldier was asleep with his head in her lap and his legs stretched out in front of him on the floor. He was woken by someone stroking his hair in a 'comforting' way, he looked back and my sister was also fast asleep but with her arms folded. Both of them were terrified and he always maintained that he could feel someone else in the room and he wasn't the type to scare easy. Bert

***********************************************




I just read some interesting ghost stories from your website about those seen and heard at the old Royal Herbert Hospital. I moved into the newer block of flats that have been recently built over the old Brook Hospital grounds. I had a couple of experiences back in 2007, nearly one year since I moved into my flat where the Elizabeth Fry wards were. I woke up in the early hours to hear a very loud echoing sound of a woman moaning in either pain or despair, I listened to it for a few seconds wide awake with my heart thumping then it just got quieter and the sound of the woman faded out. I did not think much if it after that but there was another time the same thing happened again about 2-3 months later. It was the same sound, no different from the first time I heard it. Again, my heart was thumping because it woke me up. It was an echoed voice and like the same moaning again. I have never really been a believer in ghosts in the past but after experiencing this it made me have second thoughts. There was one more occasion I woke up to see what looked like a young woman's face looking at me from my bedroom wall and as I jumped it disappeared quickly. I do not know if that was a dream or not. Anyway, I was just wondering what the Elizabeth Fry wards was and what did they treat patients with in the past? I have not had any other paranormal activities happen to me since then but I will never forget it. Raymond Dymond


Below are a collection of memories from former staff:

I recall that the female accommodation blocks had dense thorn bushes planted around them - it was rumoured that this was to make life painful for anyone jumping out of the window to escape a snap inspection of female quarters. I, of course, have no knowledge of whether this was effective or not! (Ken RAMC)


Read more about the history and development of the building with photographs and historic pictures at the website www.royalherbert.co.uk



Forces War Records

Forces War Records are a genealogy site where you can find military records of over 6 million British Armed Forces personnel cross matched with over 4000 Regiments, Bases and Ships. This link includes a free search and a special discount of 40% off membership offer for visitors who use the discount code AF40 if they decide to become a member.
Search Now. A unique feature is their WW1 Soldiers Medical Records section.








If you would like to contribute to this page, suggest changes or inclusions to this website or would like to send me a photograph then please e-mail me.



Official QARANC webpage.

QA Association website.

In The Company of Nurses Book.


***********************************************






The Grey Lady Ghost of the Cambridge Military Hospital Novel - a Book by CG Buswell


Read our posts on:

Facebook

Google+

Twitter


Offers

Army Discounts






Present Day

» Become An Army Nurse

» Junior Ranks

» Officer Ranks

» Abbreviations

» Nicknames

» Service Numbers

Ministry of Defence Hospital Units

» MDHU Derriford

» MDHU Frimley Park

» MDHU Northallerton

» MDHU Peterborough

» MDHU Portsmouth

» RCDM Birmingham



Field Hospitals

» Camp Bastion Field Hospital and Medical Treatment Facility MTF Helmand Territory Southern Afghanistan






Territorial Army

» TA Field Hospitals and Field Ambulances


Photos

» Florence Nightingale Plaque

» Photographs


Uniform

» Why QA's Wear Grey

» Beret

» Lapel Pin Badge


» Army School of Psychiatric Nursing Silver Badge

» Cap Badge

» Corps Belt

» ID Bracelet

» Silver War Badge WWI

» Officer's Cloak

» QAIMNSR Tippet

» Officer Medal


Events

» Armed Forces Day

» Recreated WWI Ward

» Reunions

» Corps Day

» Freedom of Rushmoor

» Re-enactment Groups

» Military Events

» Remembrance

» AMS Carol Service

» QARANC Association Pilgrimage to Singapore and Malaysia 2009

» Doctors and Nurses at War

» War and Medicine Exhibition

» QA Uniform Exhibition Nothe Fort Weymouth


Famous QA's

» Dame Margot Turner

» Dame Maud McCarthy

» Military Medal Awards To QAs

» Moment of Truth TV Documentary

» Sean Beech


Nursing Events

International Nurses Day


Info

» Search

» Site Map

» Contact

» Websites



We are seeking help with some answers to questions sent by readers. These can be found on the Army Nursing page.



» Find QA's

» Jokes

» Merchandise

» Mugs

» Personalised Poster

» Stamp

» Teddy Bears

» Pin Badges

» Wall Plaques

» Fridge Magnet



» The Abandoned Soldier