» Site Map

» Home Page

Historical Info

» Find Friends – Search Old Service and Genealogy Records

» History

» QAIMNS for India

» QAIMNS First World War



» Territorial Force Nursing Service TFNS

» WW1 Soldiers Medical Records

» Field Ambulance No.4

» Chain of Evacuation of Wounded Soldiers

» Auxiliary Hospitals

» War Graves Nurses




» Book of Remembrance

» Example of Mentioned in Despatches Letter

» Love Stories

» World War 1 Letters

» QA World War Two

» Africa Second World War

» War Diaries of Sisters

» D Day Normandy Landings

» Belsen Concentration Camp

» Voluntary Aid Detachment

» National Service

» Korean War

» Gulf War

» Op Telic

» Royal Red Cross Decoration

» Colonels In Chief

» Director Army Nursing Services (DANS)

» Colonel Commandant

» Matrons In Chief (QAIMNS)

Follow us on Twitter:




» Grey and Scarlet Corps March

» Order of Precedence

» Motto

» QA Memorial National Arboretum

» NMA Heroes Square Paving Stone

» Memorial Window

» Army Medical Services Monument

» Recruitment Posters

» Museum

» QA Association

» Standard

» QA and AMS Prayer and Hymn

» Books


Former Army Hospitals

UK

» Army Chest Unit

» Cowglen Glasgow

» CMH Aldershot

» Colchester

» Craiglockhart

» DKMH Catterick

» Duke of Connaught Unit Northern Ireland

» Endell Street

» First Eastern General Hospital Trinity College Cambridge

» Ghosts

» Hospital Ghosts

» Haslar

» King George Military Hospital Stamford Street London

» QA Centre

» QAMH Millbank

» QEMH Woolwich

» Medical Reception Station Brunei and MRS Kuching Borneo Malaysia

» Musgrave Park Belfast

» Netley

» Royal Chelsea Hospital

» Royal Herbert

» Royal Brighton Pavilion Indian Hospital

» School of Physiotherapy

» Tidworth

» Wheatley


France

» Ambulance Trains

» Hospital Barges

» Ambulance Flotilla

» Hospital Ships


Germany

» Berlin

» Hamburg

» Hannover

» Hostert

» Iserlohn

» Munster

» Rinteln

» Wuppertal


Cyprus

» TPMH RAF Akrotiri

» Dhekelia

» Nicosia


Egypt

» Alexandria


China

» Shanghai


Hong Kong

» Bowen Road

» Mount Kellett

» Wylie Road Kings Park


Malaya

» Kamunting

» Kinrara

» Kluang

» Singapore

» Terendak


Overseas Old British Military Hospitals

» Belize

» Falklands

» Gibraltar

» Kaduna

» Klagenfurt

» BMH Malta

» Nairobi

» Nepal


Middle East

» Benghazi

» Tripoli


National Memorial Arboretum
Information and photographs of the Armed Forces and QARANC Memorial and nominal roll of honour at the National Memorial Arboretum at Croxall Road Alrewas in Staffordshire


The QA Memorial at the National Memorial Arboretum (NMA) can be found at number 108 in the Purple Zone in the area between the entrance and the main buildings next to the Polish Armed Forces War Memorial and the newly relocated Ambulance men and women Memorial Garden. Do also look out for the NMA Heroes Square Paving Stone which was added in 2015.




In 2014 four marble benches with the badges of the QA Association, QARANC (Queen Alexandra's Royal Army Nursing Corps), TANS (Territorial Army Nursing Service) and QAIMNS (Queen Alexandra's Imperial Military Nursing Service) were placed in the garden. These were funded by the QARANC Association and made by Keith Rackam.





There is a blue plaque and tree in memory of WWII QA Sister Constance Nash.


NMA


The origins can be traced back to a visit to Arlington Cemetery and the National Arboretum in Washington, DC, in 1988 by the Director, David Childs. He had the idea that such concepts could be introduced to Great Britain and provide a meaningful memorial to those who have served the United Kingdom since 1945.






The then Prime Minister John Major launched the appeal to create it in November 1994. At this stage there was no land nor money for the project but this quickly changed when Redland Aggregates (now Lafarge) generously gifted 82 acres of reclaimed gravel working alongside the banks of the River Tame. This generous gift has now been extended to a further 70 acres which includes the wildlife lake. It was officially opened by HRH The Duchess of Kent on the 16 May 2001 and dedicated on 11th June 2002.

The design was carefully created to provide an area of peace so that visitors could have an area for peaceful contemplation whilst providing a living and growing environment for an assortment of trees and local wildlife.






Loved ones, family members, friends and comrades can come and remember their fallen comrades in a tranquil setting. It is set within 150 acres of parkland woods and was built in central England to provide easier access to families and visitors throughout Britain and the UK. It can be found at the National Forest in Staffordshire near to the A38 and Midlands motorways at Croxall Road in Alrewas, Staffordshire.





I have published a book which tells the story of The Grey Lady Ghost of the Cambridge Military Hospital which reveals her origins in the QAIMNS and where she meets a QA veteran of Afghanistan. She still walks her wards and tells her story by taking Scott Grey, a QARANC nurse, to the battlefields of World War One and beyond. This is the first in the series of Grey and Scarlet Novels by CG Buswell. Read the first chapter for free.




If you like this page and would like to easily share it with your friends and family please use the social networking buttons below:






Armed Forces Memorial

The Armed Forces Memorial (AFM) was built in 2007 and was dedicated by His Grace the Archbishop of Canterbury on the 12 October 2007. Her Majesty The Queen, Prince Phillip The Duke of Edinburgh, Prince Charles The Prince of Wales, Camilla HRH the Duchess of Cornwall and the Rt Hon Gordon Brown The Prime Minister were in attendance.

During a parade of standards the Royal British Legion branch standards and those of Regiments and Corps were carried, though this did not include the Queen Alexandra's Royal Army Nursing Corps standard.

A buffet in a marquee was arranged for guests which included representatives of branches of the RBL and this was followed by a fly past. Bad weather conditions prevented a planned parachute drop.

There are 8 names of QAs presently engraved upon it.


The photo below is of the QARANC Memorial. The Remembrance crosses were placed by a visiting party of QA's from RCDM Birmingham: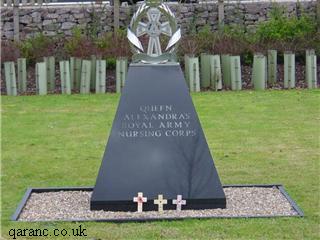 AFM

It was designed and built as a living and lasting memorial to members of the armed forces who have given their lives in the service of their country while on duty. This includes those who have died during conflicts, when training or from acts of terrorism since the end of World War Two.



Nominal Roll Of Honour

This figure reaches over approximately 16,000 service men and women and each name is engraved in stone panels around its internal walls. It was designed by Liam O'Connor with sculptural elements by Ian Rank-Broadley. The nominal roll of honour can be read at Veterans UK where there is a search facility that includes name, service and serial number to make finding a relative or comrade easier. It is also a United Kingdom's living and lasting memorial for military and civilian organisations and individuals to commemorate their comrades, families and friends by way of plots and gardens or individual plaques and trees.






Admission is free, though to support its upkeep it is hoped that visitors will make generous donations. The staff are volunteers.


QA Memorial

The QA Memorial is located in the purple zone of the Arboretum and assigned as number 108 and as can be seen in the photos in this article it features the white cross and QARANC emblem. Below is written Queen Alexandra's Royal Army Nursing Corps.





We would like to thank Mr Peter Howell, Phil Basford and Terry Hissey for taking the QA Memorial National Memorial Arboretum pictures displayed on this page.


Mr Peter Howell has also kindly helped us to trace the name and details of QAs who are honoured on the AFM and those who have died whilst in the service of the Queen Alexandra's Royal Army Nursing Corps and the Queen Alexandra's Imperial Military Nursing Service. More details by each QA can be found at the Forces Memorial website and where available their page is directly linked below. This gives the location of the cemetery, plot row and grave number in which they rest. There are 6 QARANC and 2 QAIMNS names on it. These are:

Pte. Dorothy Edna BROWN QARANC Date of Death 15 September 1954.

DOUGHERTY Linda Anne LCpl QARANC Date of Death 13 September 1988.

FENELON Patricia Mary Pte QARANC Date of Death 17 September 1953.

MacKAY Jean Laing Lt QARANC Date of Death 18 February 1967.

ROGERS Andrea Jayne Capt QARANC Date of Death 31 January 1993.

SMITH Lynda Maureen Capt QARANC Date of Death 22 April 1981.

PIGOTT Norah Kathleen Sister QAIMNS 09 September 1947.

WOODERSON Winifred Vera Sister QAIMNS 27 May 1947.


The montage below was kindly produced by Peter Howell and contains the 8 QA's names with their corresponding panel numbers: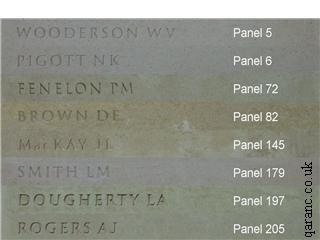 The photograph below is of Panels 5 and 6 showing Winifred Wooderson's and Norah Pigott's names:






The QAs below are also be on the Roll of Honour that was on public display in the Chapel of the Royal Hospital Chelsea, London. It is now on display at the QARANC Chapel at the Aldershot Garrison Church. Listed are their name, rank, corps and date of death (DOD):

Queen Alexandra's Royal Army Nursing Corps

BIRCH Jane Elizabeth Private 28-Mar-82


BRAMWELL Eileen Lt 04-Sep-59
BROWN Dorothy Edna Pte 15-Sep-54
BROWN Elspeth Islay Maj 20-Apr-51
BUGLER Amanda Jane Capt 15-Mar-66
COLLINS Nancy Pte 10-Aug-51
CONNOR Eileen Bourne Maj 11-Jul-63
DAVIES Dilys Eileen Tatlon Maj 20-May-82
DAVIES Robert Craighton Pte 06-Mar-05
DAWSON Jean Munro Maj 25-Nov-57
DE LATOUR Margaret Joanna Pte 17-Oct-65
DOUGHERTY Linda Anne LCpl 13-Sep-88
DUFFY Mary Lt 28-Aug-59
EVANS Edith Valerie Pte 21-Jun-64
FENELON Patricia Mary Pte 17-Sep-53
FINLAY Ann Norah Mary Maj 21-Jun-85
FULFORD Lynne Catherine Pte 09-Dec-78
GLOVER Marjorie Pte 20-Jul-69
GREENWOOD Roy WOII 28-Feb-93
HOGG Grace Margaret Maj 30-Nov-55
JOHN Sybil Lt 21-Sep-51
JONES Violet Marjorie Col 04-Jul-75
LATIMER Michelle Pte 16-Nov-78
MacCALLUM Rhoda Anne Maj 18-Jan-68
MacKAY Jean Laing Lt 18-Feb-67
MAPLE Christine Cpl13-Apr-88
McCAN Emily Mary Jaqueline Lt 25-Feb-55
McMILLAN Barbara Maj 25-Aug-66
McNICOL Fiona Cpl 21-Jun-64
MOIR Jennifer Patricia Lt 02-Dec-72
O'DRISCOLL Ann May LCpl 08-Jun-65
PARSONS Lynette Mair Vicary Pte 26-Oct-88
PENNEY Katharine June Edna Lt 16-Jan-94
PERKINS Sarah Eleanor Sister 18-Mar-50
PONTIN Vivienne Mary Capt 27-Nov-68
PORTER Jane Helen Capt 17-Mar-80
ROGERS Andrea Jayne Capt 31-Jan-93
SMITH Georgina Nellie Maj 10-Dec-79
SMITH Lynda Maureen Capt 22-Apr-81
SPENCE Elizabeth Lt 18-Apr-60
THOMSON Elizabeth Anderson Maj 23-Jan-66
TICE Janet Cpl 16-Jul-89
WARD Lindsey Denise Pte 20-May-72
WATERS Joan Winifred May Maj 09-Mar-51
WELCH Agnes Irene Maj 19-Mar-68
WILSON Elizabeth Evelyn Lt 26-May-53
WOODS Julia Mary Maj 14-Nov-68


Queen Alexandra's Imperial Military Nursing Service

PIGOTT Norah Kathleen Sister 09-Sep-47
WOODERSON Winifred Vera Sister 27-May-47
BUTTERWORTH Joan Cynthia Sister 28-Sep-48
HUNT Joyce Sister 11-Apr-48
McHARDY Mary Sister 28-Aug-48
PEGRUM Helen Sister 28-May-48
SUTHERLAND Barbara May Anderson Sister 31-Mar-48








Other areas of interest to fellow QAs include the Far East Prisoners of War Building which displays the names of each FEPOW.

The url homepage link to the official website is www.thenma.org.uk and they also use the web site thenma.org.uk both of which are run by the Royal British Legion.



If you would like to contribute any info or more photographs then please contact me.





Forces War Records

Forces War Records are a genealogy site where you can find military records of over 6 million British Armed Forces personnel cross matched with over 4000 Regiments, Bases and Ships. This link includes a free search and a special discount of 40% off membership offer for visitors who use the discount code AF40 if they decide to become a member.
Search Now. A unique feature is their WW1 Soldiers Medical Records section.








If you would like to contribute to this page, suggest changes or inclusions to this website or would like to send me a photograph then please e-mail me.



Official QARANC webpage.

QA Association website.

In The Company of Nurses Book.


***********************************************





In Living Memory BBC1

On Sunday 4 November 2007 at 5:10pm BBC1 Scotland broadcast a documentary about it called In Living Memory. For the rest of the UK the BBC broadcast In Living Memory at 5:50pm.

The television programme showed the construction of it and the producers interviewed the families of men and women who were honoured on it and they talked about what the AFM war memorial meant to them.

It also told some of the stories behind the names of those listed and showed clips of the opening ceremony.




Hotel Accommodation Near to the National Memorial Arboretum


For those looking for hotel accommodation near to the National Memorial Arboretum please try the Three Queens Hotel in Burton Upon Trent. It is about seven miles from it and is managed by an ex-serviceman and Falklands veteran. Visit www.3queenshotel.co.uk for more information.





The Grey Lady Ghost of the Cambridge Military Hospital Novel - a Book by CG Buswell


Read our posts on:

Facebook

Google+

Twitter


Offers

Army Discounts






Present Day

» Become An Army Nurse

» Junior Ranks

» Officer Ranks

» Abbreviations

» Nicknames

» Service Numbers

Ministry of Defence Hospital Units

» MDHU Derriford

» MDHU Frimley Park

» MDHU Northallerton

» MDHU Peterborough

» MDHU Portsmouth

» RCDM Birmingham



Field Hospitals

» Camp Bastion Field Hospital and Medical Treatment Facility MTF Helmand Territory Southern Afghanistan






Territorial Army

» TA Field Hospitals and Field Ambulances


Photos

» Florence Nightingale Plaque

» Photographs


Uniform

» Why QA's Wear Grey

» Beret

» Lapel Pin Badge


» Army School of Psychiatric Nursing Silver Badge

» Cap Badge

» Corps Belt

» ID Bracelet

» Silver War Badge WWI

» Officer's Cloak

» QAIMNSR Tippet

» Officer Medal


Events

» Armed Forces Day

» Recreated WWI Ward

» Reunions

» Corps Day

» Freedom of Rushmoor

» Re-enactment Groups

» Military Events

» Remembrance

» AMS Carol Service

» QARANC Association Pilgrimage to Singapore and Malaysia 2009

» Doctors and Nurses at War

» War and Medicine Exhibition

» QA Uniform Exhibition Nothe Fort Weymouth


Famous QA's

» Dame Margot Turner

» Dame Maud McCarthy

» Military Medal Awards To QAs

» Moment of Truth TV Documentary

» Sean Beech


Nursing Events

International Nurses Day


Info

» Search

» Site Map

» Contact

» Websites



We are seeking help with some answers to questions sent by readers. These can be found on the Army Nursing page.



» Find QA's

» Jokes

» Merchandise

» Mugs

» Personalised Poster

» Stamp

» Teddy Bears

» Pin Badges

» Wall Plaques

» Fridge Magnet



» The Abandoned Soldier