» Site Map

» Home Page

Historical Info

» Find Friends – Search Old Service and Genealogy Records

» History

» QAIMNS for India

» QAIMNS First World War



» Territorial Force Nursing Service TFNS

» WW1 Soldiers Medical Records

» Field Ambulance No.4

» Chain of Evacuation of Wounded Soldiers

» Auxiliary Hospitals

» War Graves Nurses




» Book of Remembrance

» Example of Mentioned in Despatches Letter

» Love Stories

» World War 1 Letters

» QA World War Two

» Africa Second World War

» War Diaries of Sisters

» D Day Normandy Landings

» Belsen Concentration Camp

» Voluntary Aid Detachment

» National Service

» Korean War

» Gulf War

» Op Telic

» Royal Red Cross Decoration

» Colonels In Chief

» Director Army Nursing Services (DANS)

» Colonel Commandant

» Matrons In Chief (QAIMNS)

Follow us on Twitter:




» Grey and Scarlet Corps March

» Order of Precedence

» Motto

» QA Memorial National Arboretum

» NMA Heroes Square Paving Stone

» Memorial Window

» Army Medical Services Monument

» Recruitment Posters

» Museum

» QA Association

» Standard

» QA and AMS Prayer and Hymn

» Books


Former Army Hospitals

UK

» Army Chest Unit

» Cowglen Glasgow

» CMH Aldershot

» Colchester

» Craiglockhart

» DKMH Catterick

» Duke of Connaught Unit Northern Ireland

» Endell Street

» First Eastern General Hospital Trinity College Cambridge

» Ghosts

» Hospital Ghosts

» Haslar

» King George Military Hospital Stamford Street London

» QA Centre

» QAMH Millbank

» QEMH Woolwich

» Medical Reception Station Brunei and MRS Kuching Borneo Malaysia

» Musgrave Park Belfast

» Netley

» Royal Chelsea Hospital

» Royal Herbert

» Royal Brighton Pavilion Indian Hospital

» School of Physiotherapy

» Tidworth

» Wheatley


France

» Ambulance Trains

» Hospital Barges

» Ambulance Flotilla

» Hospital Ships


Germany

» Berlin

» Hamburg

» Hannover

» Hostert

» Iserlohn

» Munster

» Rinteln

» Wuppertal


Cyprus

» TPMH RAF Akrotiri

» Dhekelia

» Nicosia


Egypt

» Alexandria


China

» Shanghai


Hong Kong

» Bowen Road

» Mount Kellett

» Wylie Road Kings Park


Malaya

» Kamunting

» Kinrara

» Kluang

» Singapore

» Terendak


Overseas Old British Military Hospitals

» Belize

» Falklands

» Gibraltar

» Kaduna

» Klagenfurt

» BMH Malta

» Nairobi

» Nepal


Middle East

» Benghazi

» Tripoli


QA World War Two Nursing

Information about the QAs during the Second World War:




QA World War Two Nursing and nurses were then known as the Queen Alexandra's Imperial Military Nursing Service (QAIMNS). Each QA had an officer status with equivalent rank but no actual commission status. This changed in 1941 when emergency commissions and rank structure were formulated to bring the QAs into line with the rest of the British Army. For the first time QAs wore rank badges and were able to be promoted and receive financial benefits along with ranks from Lieutenant through to Brigadier.


During World War II from 1939 to 1945 members of the QAIMNS served in many countries ranging from Africa, Burma, China, Egypt, France, Gibraltar, Hong Kong, Iceland, Italy, Malaya, Malta, Normandy, Palastine and Singapore.

Grey and Scarlet : letters from the war areas by army sisters on active service
cites that at the outbreak of World War Two there was a peace establishment of 624 members of the QAIMNS serving in Military Hospitals at home and abroad.

Memories and photos of QAs who served in Africa can be viewed on the Africa Second World War page and extracts from war journals can be read on the War Diaries Nursing Sisters page.


The book Sisters In Arms: British Army Nurses Tell Their Story
has quotes and recollections taken from QAIMNS private papers and diary extracts that were written during the Second World War. Many are preserved in full at the Army Medical Services (AMS) Museum collection. The book also includes interviews with QA survivors of WWII. This includes extracts from the then Matron in Chief Dame Kathleen Jones and QA Sisters Molly Budge, Brenda McBryde, Phil Dyer, Daphne Van Wart, Olive Spedding, Catherine Maudsley, Mary English, Dorothy Mackie and Dame Margot Turner who later became the Director Army Nursing Services (DANS) and Matron-in-Chief (Army) of the QARANC. More Information.


British Army nurses served aboard hospital ships and in field hospitals.




Many Matrons of civilian hospitals remembered or served in the First World War and knew of the importance of nursing care for wounded soldiers and would encourage their best nurses to enlist for the QAIMNS Reserves. At the same time civvy hospitals increased their recruitment of student nurses to eventually fill vacant staff nurse posts.


Emergency Military Nursing Service

Such civilians nurses formed a new branch of the QAs which was called the Emergency Military Nursing Service (EMNS) and there is more written about them and their war letters to their Matron In Chief in Grey and Scarlet : letters from the war areas by army sisters on active service
.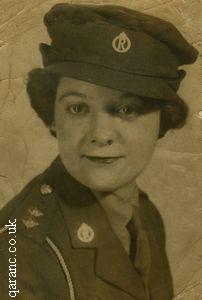 Numbers of the QAIMNS were supplemented with the help of Matrons in civilian hospitals, particularly teaching hospitals. They "requested" suitable trained nurses to join the QAIMNS(R) in 1938 when war in Europe was anticipated. Such nurses were interviewed at the War Office and given a sealed packet which bore the words Open only in the event of war.



At the outbreak of World War Two there were about 640 regular members of the QAIMNS. This number was increased with the mobilisation of the QAIMNS(R) and the TANS (Territorial Army Nursing Service).

The Second World War QAIMNS Nursing Officers drawings above were kindly sent to Qaranc.co.uk but we do not know their origin or history. If you can help with any further information then please contact me.

Qaranc.co.uk have since learnt that they were included in the book Grey and scarlet : letters from the war areas by army sisters on active service
from 1944.

The artist was Robert Austin. A.R.A. (Associate of the Royal Academy?)

In her book Quiet Heroines: Nurses of the Second World War
Brenda McBryde compares this 640 (1939) and 12000 (1945) members of the QAIMNS to the Navy and Royal Air Force and cites their figures as 171 personnel for the Princess Mary's Royal Air Force Nursing Service (PMRAFNS) at the start of WWII with 1215 (which includes the reserves) at the end of the war. There were 78 members of the Queen Alexandra's Royal Naval Nursing (QARNN) at the start of World War Two with 1341 at the end of the war, though these figures include the VADs.

A more recently published book, Surviving Tenko: The Story of Margot Turner
, cites the figures as 624 Queen Alexandra's Imperial Military Nursing Service regular members at the outbreak of World War Two and states that "in an attempt to protect their status, no regulars were recruited into the military nursing services during the war" hence why there were so many reserve nurses.

The Matron in Chief at the start of WWII was Miss Roy (RRC, MM) and the Principal Matron in France was Miss Katharine Jones who later became the Matron-in-Chief after the Dunkirk evacuation in 1940.

The Phoney War

At the start of World War Two members of the QAIMNS along with VAD nurses were mobilised to France as part of the British Expeditionary Force (BEF). Grey and Scarlet : letters from the war areas by army sisters on active service
cites that the first six Army Sisters landed in France on the 10 September 1939 and by the summer of 1940 1300 Nursing Sisters were evacuated with the BEF. There was little to do because French troops were holding back the German army at the Maginot line. QAs kept themselves busy by treating the French local civilians and holding clinics. They had a good social life enjoying French culture and kept fit playing a variety of sports. Because there was little action in the first year the time was called The Phoney War or the Bore War.

As the troops of Hitler invaded Holland, Belgium and then France in May 1940 the British troops had to withdraw and this included the QAs and VADs (Voluntary Aid Detachment) who had set up hospitals in field conditions and in buildings in the forward areas. The retreat was fast and rather than leave valuable medical equipment for the enemy the Royal Engineers Sappers destroyed the buildings and QAs helped to destroy equipment. Many QAs came under fire from the German pilots along with troops of the British Expeditionary Force (BEF).




In the photo above of a group of World War Two QAIMNS Sisters Sister Kathleen Evans is pictured on the bottom left. She trained at Kings College and after WWII she married John Morris in 1950 and continued her nursing career at The Royal Liverpool Children's Hospital.

Sister Blanche Juler is in the centre of the top row. Her son, John Hughes does not know where the photo may have been taken, whether in the UK or abroad, but does know that she was in Sicily towards the end of the Second World War.



In this photograph of World War Two hospital staff Sister Evans is pictured second right kneeling on the front row.

If you can help to identify the locations or other people in the photos please contact Qaranc.co.uk



Dunkirk Evacuation

Many QAs made their way to Dunkirk to await evacuation. One of the last nursing sisters to leave France was Lillian Gutteridge who bravely defended her patients. A German SS officer tried to take over her ambulance and ordered his men to throw out the stretcher bound patients. Lillian Gutteridge was so outraged that she slapped the SS Officer's face. He stabbed her in the thigh with his dagger and he was killed by passing Black Watch soldiers before he could hurt her anymore. Despite her wound she drove the ambulance and her wounded patients to the railway siding and persuaded the French driver to take on board her patients. They went to Cherbourg and during their journey took on board another 600 French and British wounded troops. Several days later Lillian and her patients arrived safely in England.

No QAs were left behind during the Dunkirk Evacuation and all returned to England (cited in the book Queen Alexandra's Royal Army Nursing Corps (Famous Regts. S)
by Juliet Piggott).


There is a collection of photos of QAs during World War Two in the book Sub Cruce Candida: A Celebration of One Hundred Years of Army Nursing
.

Grey and Scarlet : letters from the war areas by army sisters on active service
has extracts of the writings of a Captain of a Hospital Ship of what he witnessed during the evacuation of Dunkirk. He wrote:

As Captain of this ship I should like to give expression to my admiration and deep regard for the Nursing Sisters aboard. We recently made two trips to Dunkirk and two to Cherbourg, in each case being the last Hospital Carrier to enter and leave the ports. Our second trip to Dunkirk was under extremely severe conditions, bombs and shells dropping all about us and men being wounded and killed alongside our ship on the pier. We had numerous narrow escapes and a nerve racking experience. During all this our Sisters were really splendid. Never a sign of excitement or panic of any kind. They just carried on under the able leadership of our Matron, calmly and efficiently. I feel quite sure that their magnificent behaviour was an important factor in steadying the members of the RAMC personnel with whom they worked.



63rd British General Hospital in Athens

Whilst researching papers in the Kew Record office, David Grant came across a copy of a report sent to Miss Jones, the Matron in Chief of the QAIMNS, by Miss Sharpe who was the Matron of the TANS (Territorial Army Nursing Service) at the 63rd British General Hospital in Athens in 1940 and 1941 before and during the evacuation from Greece.

Miss Sharpe describes her work at No. 58 General Hospital, leaving Palestine, the arrival in Athens, setting up a hospital at Kephissia which was in the Aphergis Hotel with the Cecil for surgical cases and the Olympus for ENT and dental treatment. Miss Sharpe talks about meeting the King the Crown Prince General Metaxas, Princess Fredricka, Princess Nicholas, Princess Alexandra and General Sir Archibald Wavell.

How the QAs celebrated Christmas with their patients is described.

As air raids started Matron talked about the care of the Greek wounded and the special attention needed by the Greeks. The air raids did not specifically target the hospital buildings but they were sited near to the heavily bombed Menidi aerodrome and the QA nurses were able to see many dog fights.

As the Germans advanced to Athens Miss Sharpe had to make the difficult decision to evacuate some of the QAIMNS Nursing Sisters. Miss Weekly and 24 more QAs were chosen but had to remain at Kephissia after more orders were received. Hours later eight Sisters were evacuated aboard a ship. During this time the Matron had to help with the stomach wash out of the hospitals Maltese chef who tried to commit suicide by swallowing aspirin and quinine pills.

The Commanding Officer, Registrar and patients were evacuated in another ship, but this was attacked with three direct hits. Miss Sharpe seeing the lads again but with fresh wounds. The CO also survived and went back to work at the 63rd BGH.

The next day the staff were evacuated and made their way to the Port where a Destroyer was to evacuate the nurses. They found a small jetty and merchant ship was awaiting them and they sailed to Crete miracously avoiding the heavy bombing. They were reunited with the other eight nurses who had been evacuated earlier.

The full report can be read at his website www.grantonline.com/pugh-family-genealogy/pugh-jane-1915/matron-greece/matron-greece-1.htm

David's mother, Sister Jane Pugh QAIMNS, was evacuated to Crete and more can be read about her on the British Military Hospital Egypt BMH Alexandria page.


Far East


It was thought that those soldiers, their families and QAs serving in the Far East would not be involved in World War Two. This changed when Japan bombed Pearl Harbor and America and Britain declared war on the Japanese. Within hours Hong Kong came under attack and the worst war atrocities on members of the QAIMNS took place. This dark chapter in the QAIMNS history can be read in the BMH Bowen Road Hong Kong page.

The first members of the QAIMNS to be taken as a POW in WWII by Japanese Forces were Sisters from the BMH Bowen Road, Hong Kong on Christmas Day in 1941.

In Singapore many QAs were captured by Japanese forces after the fall of Singapore in 1942 and their evacuation from BMH Singapore and were interred into concentration camps as prisoners of wars. This included Dame Margot Turner who survived the sinking of her ship and was captured by a Japanese Destroyer after being afloat on a raft. Read her remarkable story.

In Imphal Hospital in the summer of 1944 the unit security officer advised that each QA Sister be issued with a hand gun with at least one bullet so that in the event of capture by the Japanese she could shot herself ( cited in the book Women Who Went to War
by Eric Taylor).

QAs were caring for the Gurkhas as they bravely fought against the Japanese troops. This meant having to quickly learn about the Gurkha soldier and his battle customs. For example Eric Taylor in his book Women Who Went to War
writes about Sister Winifred Beaumont who was going to remove a smelly bundle that was around a wounded Gurkha warrior and was warned by the doctor not to touch it. The bundle contained the ears of the enemy he had killed.






I have published a book which tells the story of The Grey Lady Ghost of the Cambridge Military Hospital which reveals her origins in the QAIMNS and where she meets a QA veteran of Afghanistan. She still walks her wards and tells her story by taking Scott Grey, a QARANC nurse, to the battlefields of World War One and beyond. This is the first in the series of Grey and Scarlet Novels by CG Buswell. Read the first chapter for free.




If you like this page and would like to easily share it with your friends and family please use the social networking buttons below:







As the war progresses and QAs found themselves in dressing stations and field hospitals their impractical ward dresses and veils were temporarily no longer worn. Instead they wore more practical battle dress and khaki from around 1942. Many were forced to adapt their uniform or the uniform of men after being shipwrecked from troop carriers or hospital ships.

Millions Like Us: Women's Lives in War and Peace 1939-1949
tells the story of one Matron who did not want her nurses in khaki to be mistaken for the ATS so insisted that the Nursing Sisters wear their scarlet capes over their khaki slacks.

Personal hygiene for the QAs was equally as impractical at times of water shortage, lack of privacy and poor resources. This was particularly problematic for the QA nurses in France and in South Africa. In her book Desert Nurse: A World War II Memoir
Betty C Parkin describes the difficulties of using a canvas bath and the joys of discovering a convent that allowed the nurses to use their baths.



The photos below are of Vera Ethel Warren from Enfield. She had been employed as a Nurse at St Giles Hospital, Camberwell, from 1938 to March 1942. Vera Warren then enrolled with the QAIMNS from the 01 June 1942 when she was commissioned as a Nursing Sister. She commenced duty at Barming Heath Military Hospital on the 18 June 1942 before embarking overseas on the 27 August 1942 and disembarking in Iraq on the 05 Nov 1942. Sister Warren then embarked for the MEF (Mediterranean Expeditionary Force) on the 17 March 1943. She then embarked for the UK on the 24 May 1944 arriving on the 01 July 1944.Sister Vera Warren de-enlisted from the QAs for family reasons. Her daughter would like to hear from anyone who can pass on any information about Sister Warren or add any information about the photographs. Please contact Qaranc.co.uk and we shall pass on the info. Thank you.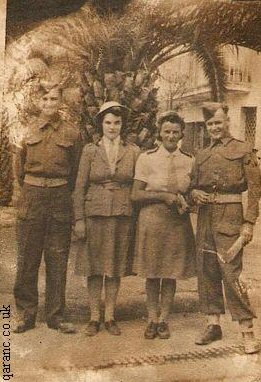 ************************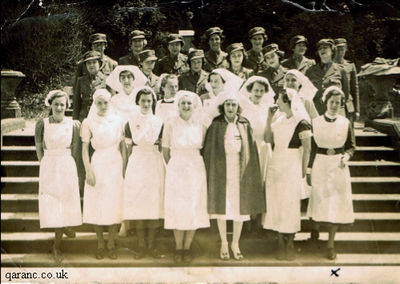 Help Needed: The world war two nurses photo above was sent to the qaranc.co.uk website from someone who is researching her family tree and ancestry. In the photograph is Miss Mabel Fryer Kelsey from the North London area. She served as a nurse during the Second World War and is thought to have been awarded the Legion of Honour or the Croix de Guerre for her work with the Free French Resistance. She is also thought to have been taken POW twice, perhaps in France or Italy, and escaped on both occasions.

Mabel Kelsey worked with the Hadfield Spears hospital of the 1st Free French Division. She also worked as a nursing sister alongside colleagues like Colonel Fruchaud in places such as Dakar and Bir Hakeim. She is mentioned in several books written about the Spearettes.

The back of the picture states M Fryer Kelsey, Oxford. Mabel Kelsey is the nurse in uniform on the front row at the right above the cross. After WWII Miss Kelsey became the Matron of Hertford General Hospital. If you can add any information then please contact me and I can pass the info on. Thank you!


************************


Recruitment for army nurses was so successful that many highly qualified staff nurses joined the war effort either as a QA or VAD nurse. In 1943 and for the duration of the Second World War a restriction was put into place that decreed that only newly qualified nurses could enlist. This now meant that more experienced nurses stayed in Britain to care for civilian air raid casualties and nurse evacuated soldiers back to health to rejoin their corps and regiments. A Nurse's War
by Brenda McBryde is the true story of one such civilian nurse who then joined the QAIMNS(R) after qualifying. Her army nursing service career started in Peebles, Scotland where the Hydro Hotel had been temporarily converted into the 75th British General Hospital (BGH). As the Second World War progressed she saw service with the 81st British General Hospital just after the Normandy Allied landings. Brenda McBryde was then volunteered to work at a Field Dressing Station near the front line at Hermanville under the direction of Matron Ellen Davies and nurses of the Voluntary Aid Detachment of the Red Cross. From here she went to the push into Caen then Brussels in Belgium.


Sicily

In July 1943 Britain and Allied troops invaded Sicily to take on the German and Italian army. QA's accompanied the servicemen aboard the Hospital Carrier Leinster. Surgeons and QAIMNS nurses worked for over 48 hours without a break during the early days of the invasion of Sicily. Even when the theatres had to be closed to be cleaned the doctors and nurses went to give blood or assist in dressings and injections. The casualties were taken to Bizerta in Tunisia. There is more written about the work and life aboard hospital ships and carriers of the First World War and the Second World War on the Hospital Ships page.


Penicillin use in World War Two

The first use of Penicillin in a military hospital during World War Two was described by Brenda McBryde in Quiet Heroines: Nurses of the Second World War
which was at the 98th British General Hospital (BGH) at Chateaudun on the Constantin Plateau.

Professor Alexander Fleming worked with army doctors in choosing suitable patients to trial his new antibiotic drug. The first use of penicillin by the military is described in Quiet Heroines: Nurses of the Second World War
and was a soldier with gas gangrene in his wound. The bubbles could be felt under the tissues and this normally meant the patient would die despite the best efforts of the nurses and doctors. He was given penicillin and made a recovery. Other patients were given penicillin such as servicemen with wounds exposed down to the bone. These too survived and the mortality rate fell.

QAs and medical officers were estimated to have saved up to 15% of lives with the new super drug penicillin. This new antibiotic was used extensively for military patients who had undergone amputation and other major operations or had extensive wounds. QAs would administer penicillin every three hours and often would no sooner finish one drug round of penicillin injections than they would have to start all over again. Even preparing the wonder drug was time intensive and these early preparations would have to be drawn up from their orange yellow coloured powder and mixed with sterile saline - no easy to pop and draw up ampoule for WWII QAs.

Nor was there easy to use disposable syringes and needles. Each life saving penicillin injection was administered with a glass syringe and had to be sterilised between usage. The syringes were wrapped in gauze and boiled but would often crack in the steriliser despite the best care of the QA Sisters.

It was said that the yellow powder penicillin drug smelt like old hay (cited in the book Women Who Went to War
by Eric Taylor).

The early production of penicillin was expensive and the drug was in short supply until American and Australian laboratories set up production plants and supplied Allied medical services with the life saving medication.

The commercial production of penicillin was developed by Ernest Chain and Howard Florey and together with Professor Alexander Fleming they were awarded the 1945 Nobel prize for Medicine (cited in the book Women Who Went to War
by Eric Taylor.

Sir Winston Churchill became ill in early 1944 with a chest infection. He was nursed by QAIMNS nursing sister Elizabeth Lavinia Clarke in his Flower Villa at Marrakesh (also spelt Marrakech) in Africa. She had been secretly flown from Egypt to nurse the Prime Minister back to health and he was soon able to plan the capture of the German Tenth Army at the Gustav Line.

Some of this valuable penicillin was left over after the Prime Minister had been treated by Brigadier Bedford of the Eighth Army. It was urgently dispatched to Delhi to be used to treat Brigadier Marriott. He was an RAMC consultant physician who developed septicaemia after a hernia operation. He was on the Dangerously Ill List but responded to the intra muscular injections and made a full recovery (cited in Quiet Heroines: Nurses of the Second World War
by Brenda McBryde).

Sub Cruce Candida: A Celebration of One Hundred Years of Army Nursing
describes how the South East of London and particularly London saw heavy bombardment from the Luftwaffe and by 1944 damage to buildings and loss of life from V1 and V2 rockets was so severe that a Holding Unit for the QAIMNS was set up at Anstie Grange, South Holmwood near Dorking in Surrey. This then became the first Depot and Training Establishment of the newly formed QARANC. The QA depot then moved to Aldershot in 1967 to the QA Centre.


Normandy

Four years into World War Two the QAIMNS and TANS went back to France with the Allied troops of the Battle of Normandy of D Day on the 6 June 1944. As part of Operation Overlord they pushed into mainland France, Belgium and Holland as the Allies made their way to Germany. One such Sister was Constance Nash.

Lessons had been learned about the medical evacuation of wounded or injured troops and Landing Ship Tanks (LST) and hospital carriers were used to take patients from the battlefield and the beaches to nearby hospital ships such as Amsterdam, the Isle of Jersey, the Duke of Lancaster and the Duke of Rothesay (cited in Quiet Heroines: Nurses of the Second World War
by Brenda McBryde).

Each Landing Ship Tank could hold 350 stretchers and 160 walking wounded.

The wounded were evacuated back to England within hours of being wounded and the hospitals in the South of England were evacuated further North in preparation of receiving the wounded of Op Overlord. Large stocks of medical supplies had been collected in the weeks leading up to Op Overlord and this included a huge amount of blood, plasma and penicillin that had been mass produced in Allied laboratories.

As part of the preparations for Operation Overlord QA's had physical and military training for the first time. They were taught soldierly things like how to climb and ascend a rope ladder on a ship, jump from a ship to a boat, marching, how to scramble through barbed wire barricades and self defence. For Operation Overlord the QA's took off their veils and scarlet and grey uniforms and wore boots and battledress (cited in Quiet Heroines: Nurses of the Second World War
by Brenda McBryde).


D-Day Diaries

D-Day Diaries of QAs can be read in Millions Like Us: Women's Lives in War and Peace 1939-1949
and includes extracts from QA Maureen Gara and Joy Taverner. An extract from Joy reads:

Finally we were put on a Landing Ship Tank (LST) and tied up in the Solent for three days waiting for the Mulberry to be taken over and for troop to take over the beaches. Finally we went to the Mulberry and one of the trucks with all our kit and belongings went over the side into the sea!

Eventually we landed and sniped at by Germans. One of our doctors was killed and an orderly was shot and we had to amputate his leg at the side of the road. We had to be careful because everywhere was mined. Notices ("Achtung Minen") were on the roadsides. Lots of dead bodies.

We went to St Lô and put tents up in a field as a front-line hospital. In the operating theatre for three days and nights – ony having a few hours off. Polish men, Germans and Canadians came in – as well as our own troops.

Her D-Day diaries also write about the preparations for the D-Day landings at East Anglia which included fitness training at Peebles near Edinburgh and continues with her experiences at St Lô which included the constant shelling, the accommodation, administering the new penicillin drug and nursing SS Officers.


Clearing Station at a Dutch school in Nijmegen

In the intro to the book Queen Alexandra's Royal Army Nursing Corps (Famous Regts. S)
by Juliet Piggott, Lt General Sir Brian Horrocks tells of a visit to a Casualty Clearing Station at a Dutch school in Nijmegen during which the CCS was shelled by the Germans during the Battle of Arnhem (Operation Market Garden). He wanted to take cover as he heard one shell approach but the QA Sister did not and bravely got on with attending to her patients. The shell landed nearby causing the window to blow in. What a bore - we shall have to get all that repaired said the Sister demonstrating to General Horrocks the resilience, humour and bravery of the army nurses who also had "the gentlest of touches when it came to tending a wounded soldier".




Battle Shock

The treatment and care of soldiers, airmen and sailors suffering from battle shock was much improved during World War two though still rarely spoken off at the time. So much so that there were eighteen psychiatric hospitals in secret locations throughout Britain that specialised in caring for servicemen with mental health problems. Many were set up in stately homes to provide peaceful and seclusion to aid their healing. One such example was Cholmondeley Castle. Post Traumatic Stress Disorder (PTSD) was still little understood and many psychiatric patients were labelled as NYDN (Not Yet Diagnosed Neurosis) as a diagnosis. There is more written about such centres with photographs in the book Combat Nurse
.


Concentration Camps Liberated by Allied Soldiers

When concentration camps were liberated by Allied soldiers there were many QA sisters on hand to care for the survivors of Nazi atrocities at concentration camps such as Belsen. Few were prepared for the horrors that they were to witness, emaciated people who had survived torturous conditions. Piles of bodies, torture pits, gallows, ovens, torture cells and whipping posts and gas chambers. The camps were infested and disease ridden. At Auschwitz two doctors and one QA who were treating the survivors caught typhus and sadly the QA sister died.

The survivors of German concentration camps were cared in specially set up British General Hospitals. Here nurses had to work hard to gain their trust whilst coping with multiple illnesses, neglect and diseases. Brenda McBryde talks about the challenges of caring for the survivors of Sandbostel, North Germany with the 86th BGH in her book A Nurse's War
. She describes how ex prisoners would hoard food because they did not know when they would not next be fed and how even the sickest would not rest on their bed for fear of being executed because they could not work for the Germans. It took weeks and months for some to learn to trust the British nurses.

There is more written about the liberation of the Bergen Belsen Concentration Camp and the Nazi truce because of a typhus outbreak on the Belsen Concentration Camp page.


Copies of Second World War documentation such as authority to enter Belsen Concentration Camp, release from active military duty from the War Office, reference from Principal Matron of the QAIMNS and Red Cross Identity Certificate can be viewed on the Belsen Concentration Camp page.



World War Two was coming to a close and Adolf Hitler shot himself in his bunker on the 30 April 1945. His Third Reich collapsed and the German army surrendered.

There was still work for the QAIMNS though in caring for the prisoners of the Germans. For example Quiet Heroines: Nurses of the Second World War
by Brenda McBryde describes the work of the 79th British General Hospital at Oslo Airport in Norway where Russian prisoners had been forced to work for the Germans in labour camps. They were forced to build defences along the Norwegian border because Germany feared an invasion from Russia. Despite this arduous work they were given meagre rations and all were suffering malnutrition and many disease.

War in the Far East with Japan was still not over and troopships, with QA's on board, set sail. By this time the Japanese Navy had been destroyed and the Japanese army were fighting to the death. Japan ignored the Allies request that they unconditionally surrender. They chose to keep fighting and the Allies were forced to drop Atomic bombs on the two Japanese cities of Nagasaki and Hiroshima which then brought about the unconditional surrender of Japan.

By the end of World War Two there were 12,000 members of the QAIMNS.

The book Sisters In Arms: British Army Nurses Tell Their Story
describes the care of Far East Prisoners of War (FEPOW) and the difficulties they had to overcome as they learned how to cope with their unique experiences. Sisters In Arms: British Army Nurses Tell Their Story also describes how members of the QAIMNS coped after the Second World War

The British Journal of Nursing (BJN) published recruitment statistics post World War Two that are cited in Surviving Tenko: The Story of Margot Turner
which reads:

We learn that while hospitals are finding great difficulty in recruiting nurses, applications greatly in excess of vacancies are being received by the nursing services of the Royal Navy, Army and Royal Air Force. All these nurses are granted officer status. Travel and distinctive uniforms are further attractions. Only 109 of the 455 nurses applying can be accepted by the Queen Alexandra's Imperial Military Nursing Service, as the service is being reduced from the peak wartime figure of 12,000 to its normal complement of 624. For 11 vacancies in Queen Alexandra's Royal Navy Nursing nearly 600 nurses are competitors.

Four years after World War Two the QAIMNS became a British Army Corps and were renamed the Queen Alexandra's Royal Army Nursing Corps (QARANC) in 1949.

For the history of the QAIMNS please visit the World War I Queen Alexandra's Imperial Military Nursing Service QAIMNS Nurses page.

For an overview of British Army Nursing please read the History of the QARANC page.

If you have any more information or photographs about QAs and Nursing during World War Two that could be included on this page then please contact me.


World War Two Photos

Below is a collection of World War Two photos from the Gordon Highlanders. If you would like to add any World War Two Photos to this page then please contact me.


George Main

View more World War Two photos and read about Private George Main who was a Prisoner of War in Malaya with an example of service record obtainable from Army Personnel Centre on the George Main - Gordon Highlanders WW2 page.




Freda Laycock

Read about QA Freda Laycock and her service during World War Two in West Africa, the 10th British Casualty Clearing Station in Normandy and at the Stalag XB concentration camp at Sandbostel in Germany at the website www.fredalaycock.org.uk which was created from her war diaries.



Occupational Therapy

During the Second World War many organisations and companies were active in the rehabilitation of wounded soldiers. One form of Occupational Therapy provided for troops was needlework and more about this form of OT with photos can be read on the Needlecraft for HM Forces page.





Forces War Records

Forces War Records are a genealogy site where you can find military records of over 6 million British Armed Forces personnel cross matched with over 4000 Regiments, Bases and Ships. This link includes a free search and a special discount of 40% off membership offer for visitors who use the discount code AF40 if they decide to become a member.
Search Now. A unique feature is their WW1 Soldiers Medical Records section.








If you would like to contribute to this page, suggest changes or inclusions to this website or would like to send me a photograph then please e-mail me.



Official QARANC webpage.

QA Association website.

In The Company of Nurses Book.


***********************************************






The Grey Lady Ghost of the Cambridge Military Hospital Novel - a Book by CG Buswell


Read our posts on:

Facebook

Google+

Twitter


Offers

Army Discounts






Present Day

» Become An Army Nurse

» Junior Ranks

» Officer Ranks

» Abbreviations

» Nicknames

» Service Numbers

Ministry of Defence Hospital Units

» MDHU Derriford

» MDHU Frimley Park

» MDHU Northallerton

» MDHU Peterborough

» MDHU Portsmouth

» RCDM Birmingham



Field Hospitals

» Camp Bastion Field Hospital and Medical Treatment Facility MTF Helmand Territory Southern Afghanistan






Territorial Army

» TA Field Hospitals and Field Ambulances


Photos

» Florence Nightingale Plaque

» Photographs


Uniform

» Why QA's Wear Grey

» Beret

» Lapel Pin Badge


» Army School of Psychiatric Nursing Silver Badge

» Cap Badge

» Corps Belt

» ID Bracelet

» Silver War Badge WWI

» Officer's Cloak

» QAIMNSR Tippet

» Officer Medal


Events

» Armed Forces Day

» Recreated WWI Ward

» Reunions

» Corps Day

» Freedom of Rushmoor

» Re-enactment Groups

» Military Events

» Remembrance

» AMS Carol Service

» QARANC Association Pilgrimage to Singapore and Malaysia 2009

» Doctors and Nurses at War

» War and Medicine Exhibition

» QA Uniform Exhibition Nothe Fort Weymouth


Famous QA's

» Dame Margot Turner

» Dame Maud McCarthy

» Military Medal Awards To QAs

» Moment of Truth TV Documentary

» Sean Beech


Nursing Events

International Nurses Day


Info

» Search

» Site Map

» Contact

» Websites



We are seeking help with some answers to questions sent by readers. These can be found on the Army Nursing page.



» Find QA's

» Jokes

» Merchandise

» Mugs

» Personalised Poster

» Stamp

» Teddy Bears

» Pin Badges

» Wall Plaques

» Fridge Magnet



» The Abandoned Soldier