» Site Map

» Home Page

Historical Info

» Find Friends – Search Old Service and Genealogy Records

» History

» QAIMNS for India

» QAIMNS First World War

» Territorial Force Nursing Service TFNS

» WW1 Soldiers Medical Records

» Field Ambulance No.4

» War Graves Nurses




» Book of Remembrance

» Example of Mentioned in Despatches Letter

» Love Stories

» World War 1 Letters

» QA World War Two

» Africa Second World War

» War Diaries of Sisters

» D Day Normandy Landings

» Belsen Concentration Camp

» Voluntary Aid Detachment

» National Service

» Korean War

» Gulf War

» Op Telic

» Royal Red Cross Decoration

» Colonels In Chief

» Director Army Nursing Services (DANS)

» Colonel Commandant

» Matrons In Chief (QAIMNS)

Follow us on Twitter:




» Grey and Scarlet Corps March

» Motto

» QA Memorial National Arboretum

» NMA Heroes Square Paving Stone

» Memorial Window

» Army Medical Services Monument

» Recruitment Posters

» Museum

» QA Association

» Standard

» QA and AMS Prayer and Hymn

» Books


Former Army Hospitals

UK

» Army Chest Unit

» Cowglen Glasgow

» CMH Aldershot

» Colchester

» Craiglockhart

» DKMH Catterick

» Duke of Connaught Unit Northern Ireland

» Endell Street

» Ghosts

» Hospital Ghosts

» Haslar

» King George Military Hospital Stamford Street London

» QA Centre

» QAMH Millbank

» QEMH Woolwich

» Musgrave Park Belfast

» Netley

» Royal Chelsea Hospital

» Royal Herbert

» Royal Brighton Pavilion Indian Hospital

» School of Physiotherapy

» Tidworth

» Wheatley


France

» Ambulance Trains

» Hospital Barges

» Ambulance Flotilla

» Hospital Ships


Germany

» Berlin

» Hamburg

» Hannover

» Hostert

» Iserlohn

» Munster

» Rinteln

» Wuppertal


Cyprus

» TPMH RAF Akrotiri

» Dhekelia

» Nicosia


Egypt

» Alexandria


China

» Shanghai


Hong Kong

» Bowen Road

» Mount Kellett

» Wylie Road Kings Park


Malaya

» Kamunting

» Kinrara

» Kluang

» Singapore


Overseas Old British Military Hospitals

» Belize

» Falklands

» Gibraltar

» Klagenfurt

» BMH Malta

» Nairobi

» Nepal


Middle East

» Benghazi

» Tripoli


Royal Red Cross Medal
Information about the Military Nursing Medal the Royal Red Cross Decoration and the Associate Royal Red Cross

The Royal Red Cross medal (or more accurately decoration) was introduced to Military Nursing by Royal Warrant by Queen Victoria on 27 April in 1883 which was St George's Day. The decoration is awarded to army nurses for exceptional services, devotion to duty and professional competence in British military nursing. Queen Victoria wanted a special award for the distinguished service by women nursing sisters in South Africa.

The Royal Warrant said that it be given:

upon any ladies, whether subjects or foreign persons, who may be recommended by Our Secretary of State for War for special exertions in providing for the nursing of sick and wounded soldiers and sailors of Our Army and Navy.

During the reign of King George V the words or Our Air Force in the field were added to the Royal Warrant (cited in the book Queen Alexandra's Royal Army Nursing Corps (Famous Regts. S)
by Juliet Piggott).


Florence Nightingale

The first recipient of The Royal Red Cross was Florence Nightingale for her work in the Crimea War at Scutari Hospital where she attended to injured and ill soldiers and officers.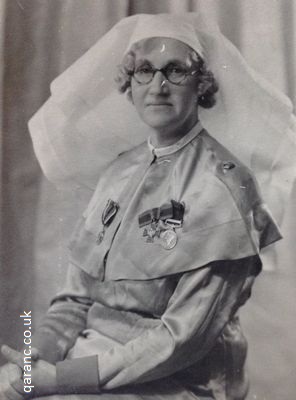 Matron Annie Hughes RRC QAIMNS shown wearing her Royal Red Cross decoration.


Sister Janet Wells

The second nurse to receive the Royal Red Cross was Sister Janet Wells. She was only 18 years old when she was posted to Zululand to command a medical post. She earned the nickname Angel of Mercy. Her medals are on display at the Tenterden and District Museum in Kent, England. Read more about Sister Janet Wells in the book Sister Janet: Nurse and Heroine of the Anglo-Zulu War 1879
.


As well as being awarded the RRC decoration, Janet Wells was awarded the South African Medal for the care of soldiers and Zulus in the Anglo Zulu War and also the Russian Imperial Order of the Red Cross for earlier nursing work during the 1877 to 1878 Russo Turkish Balkan War
(cited in Rorke's Drift by Adrian Greaves
).

The following are extracts from Sister Janet: Nurse and Heroine of the Anglo-Zulu War 1879
and are reproduced on www.qaranc.co.uk with kind permission of Dr Adrian Greaves of the Anglo Zulu War Historical Society. The book Sister Janet was published by Pen & Sword whose website is www.pen-and-sword.co.uk and the authors were Best & Stossel and Sister Janet was Edited by Dr Adrian Greaves.

From David Rattray Fugitives' Drift Lodge
South Africa

The Anglo Zulu War of 1879 caused many British soldiers and Zulu warriors' terrible wounds, and disease was rife. Hospital care was in its infancy, especially in the British army, and so it is remarkable that in the midst of this terrible war a nineteen-year-old English nurse, Sister Janet Wells, was sent from London to take charge of the isolated British army hospital at Utrecht. Already a decorated veteran of the 1878 Balkan War, she was highly experienced in treating war wounds. In her first two months at Utrecht she treated over 3,200 patients, both British soldiers and Zulus, many from the battles of Hlobane, Khambula and Ulundi.

She performed numerous operations, tended the sick and wounded, and brought an air of discipline, tempered by her charm and femininity, into a chaotic and desperate situation. Towards the end of the war she was sent to Rorke's Drift where she administered to the remaining garrison. She walked the battlefields of Rorke's Drift and Isandlwana where she collected flowers for her scrapbooks – already containing many sketches and photographs, which survive to this day.

After the war she returned to her home and family in London, just in time for her twentieth birthday. Recognition by Queen Victoria followed, who decorated her with the Royal Red Cross, the nursing equivalent of the Victoria Cross. The previous recipient was Florence Nightingale.

Hers is an astonishing story, of bravery and determination, which I commend to everyone who loves an adventure; it will especially fascinate students of the Anglo Zulu War – to whom this true account will come, I am sure, as something of a surprise.

David Rattray
Zululand
South Africa
September 2005


The British Journal of Nursing 26th June 1920

The little bronze cross, of no intrinsic value, bearing the words For Valour instituted by Queen Victoria on January 29th 1856 as the decoration of the Victoria Cross – is probably more coveted than any other; for it indicates that the wearer showed conspicuous bravery, initiative and resourcefulness where valiant men were all – under circumstances of extreme peril. So far, it has only been awarded to men, but the recent war (Zulu War of 1879) has proved beyond question that women are capable, not only of enduring danger unflinchingly and heroically, but of voluntarily assuming responsibilities which involve exposure to, and disregard of, great dangers, from motives of patriotism, or in order to save life.

Prior to the South African War (Boer War 1900) the Royal Red Cross was regarded as the Nurses' Victoria Cross. It also was instituted by Queen Victoria, on St George's Day 1883, For zeal and devotion in providing for, and nursing, sick and wounded sailors, soldiers, and others with the army in the field, on board ship or in hospitals. It was only rarely awarded and conferred real and well-maintained distinction on its possessor.


The Royal Red Cross Parliamentary Papers

1. Balmoral

To Mr Childers. The War Office.

The Queen thinks it would be very desirable to establish a decoration for nurses who are employed on active service, and for those who assist them at home, and commands me to give you her views on the subject.

Miss Nightingale and a very few of the nurses under her and associated with her got a badge after the Crimean War: but that was only for that special occasion and very expensive, and not in the form of an Order, which the Queen now wishes to establish.

The badge or cross need not be of an expensive nature, and might be worn with a ribbon on the shoulder.

It should be awarded to nurses sent out by the War Office and also to others who have made themselves useful in the field, such as the Bloemfontein Sisters, in whose praise you wrote to the Queen last March.

Her Majesty would wish to confer this decoration on the nurses who served in the South African Wars as well as on those now in Egypt.

Sir Henry Ponsonby, Her Majesty's Private Secretary. 12th September 1882


To Sir Henry Ponsonby

May I ask you to say to the Queen in reply to the command contained in your letter of the 12th instant about a decoration for nurses, that I will lose no time in considering the question, which, however, may require a good deal of inquiry and thought. Do you happen to be able to tell me, or to tell me where I can obtain, any information of the St. Katherine's foundation, of which William Ashley used to be the treasurer, and which, at his death, was, I think, utilized by her Majesty's special wish, for nursing purposes, to some extent? No one here has any information on the subject.


Mr Childers. The War Office. 14th September 1882


To Mr Childers. The War Office.

I did not mean to convey to you that the Queen preferred a 'decoration' for nurses to an 'order' because I do not clearly understand the difference.

Both must be conferred under certain regulations, and both are honours given by the Queen. Your proposal that the cross should be granted to nurses engaged in time of peace is a good one. It is considered very desirable that 'those who have assisted at home' should be included. Would you take into consideration the rules it would be desirable to make for this order or decoration?

The Queen has had a Cross made as a model. Her Majesty is not quite pleased with it and will make some alterations. I send it to you to look at.


Sir Henry Ponsonby, Her Majesty's Private Secretary. 23rd October 1882

N.B. Those who have assisted at home would include the Queen and the Princesses.


4. To Sir Henry Ponsonby. Cantley

I send you a draft of the Royal Warrant which I propose to submit in due course for her Majesty's approval, establishing the new decoration for nurses.

The title has been a difficulty with us: but, upon the whole, I don't think that anything can be better devised than the 'Royal Red Cross'.

The Royal Red Cross has now been adopted by the whole Christian world as the symbol of aid to the sick and wounded in war; and it is the badge of our own Army Hospital Corps. You will observe that it may be conferred on princesses or any ladies for special services in providing for aid to sick and wounded soldiers, and on nursing sisters, whether serving in the field or in hospital.

I would strongly urge that the statutes of St Katherine's Hospital should be simultaneously altered so as to admit of pensions being granted to a limited number of the new décorees. This would have a very good effect in showing that the object is both titular and substantial.


Mr Childers. The War Office. 12th December 1882.


The Times obituary of Sister Janet

Saturday June 10, 1911

The death took place on Tuesday last at Wood View, Purley, of Mrs. George King (Sister Janet, Royal Red Cross and Imperial Red Cross of Russia).

Janet Helen King (nee Wells) was the daughter of Mr. Benjamin Wells, ARAM., and was born in London. When she was but 18 years of age, deeply impressed by the accounts of those suffering of those fighting in the struggle between Servian independence and Turkish supremacy, and impelled by a high sense of duty, she entered the Protestant Deaconesses's Institution to be trained for nursing the sick and wounded in war.

Quickly becoming proficient, she was selected as one of a party of nine sent out by that institution to assist in nursing the sick and wounded among the troops engaged in the war between Russia and Turkey in 1877-78. The party proceeded to Bukarest under orders to the Russian National Red Cross Society, and were there directed to join the army of the Tsarevitch, which was operating on the Lom. Travelling by railway as far as Fratesti, they journeyed thence in rough carts to Semnitza and crossed the Danube by the bridge of boats to Sistova, where they waited for an escort to Vardin. Sistova was at the time of their arrival not only crowded with wounded from Plevna, but was being ravaged by typhus, so that the sisters found plenty of work to do while they were detained there. The escort having been provided, the sisters continued their journey in country carts, suffering on the way from much privation from the bitter cold.

At Vardin they found their services sorely needed, and throughout the winter months they worked from early morning till late at night. Sister Janet was placed in charge of 200 patients who lay in huts scattered among the hills. More than once as she passed from hut to hut on her daily mission she was attacked by the wild dogs, and twice she was attacked by Bashi-Bazook patients. Communication across the Danube was stopped, coarse black bread was the only diet, and there was no news from home. When the army of Suleiman Pasha was driven back on Rustchuk the sisters were sent there, experiencing another terrible journey. Half of them were down with typhus, and Sister Janet was so severely tried in nursing her companions that on the capitulation of Rustchuk she returned to England, having been decorated for her services with the Imperial Order of the Red Cross of Russia.

Later Sister Janet was appointed superintendent of the hospital at Newcastle-on-Tyne, and was selected by the Stafford House Committee for service with Surgeon-General Ross in the Zulu War. At Utrecht, 3,200 sick and wounded passed through her hands, many of her patients being Zulus. Sir Garnet Wolseley, when he visited the hospital at Utrecht, personally thanked Sister Janet for her work, and on the conclusion of the war, she was awarded the South Africa medal and received from Queen Victoria the decoration of the Royal Red Cross for 'the special devotion and competency displayed in nursing duties with her Majesty's troops'.

Sister Janet married Mr George King in 1882.

The funeral service takes place today at St. Mark's, Purley at half-past 2.


Qaranc.co.uk would like to thank Dr Adrian Greaves of the Anglo Zulu War Historical Society for his kind help.




Forces War Records

Forces War Records are a genealogy site where you can find military records of over 6 million British Armed Forces personnel cross matched with over 4000 Regiments, Bases and Ships. This link includes a free search and a special discount of 40% off membership offer for visitors who use the discount code AF40 if they decide to become a member.
Search Now. A unique feature is their WW1 Soldiers Medical Records section.


If you like this page and would like to easily share it with your friends and family please use the social networking buttons below:






Type Of Royal Red Crosses

There are two levels:

Royal Red Cross (RRC)

Associate Royal Red Cross (ARRC)

The second class Associate Royal Red Cross grade was added during the First World War in November 1915 with bars to the first class RRC being introduced in 1917. Those who are awarded this medal can still gain the RRC when they are awarded a bar. Bars are awarded in both classes to those nurses who perform further acts of devotion or bravery.

Those awarded the 1st class RRRC are known as members whilst those awarded the 2nd class are known as associates. Bars were first introduced in the year 1931.





The photograph to the left is an ARRC medal from the First World War. The recipient was also award the Military Medal (MM). The collection of medals now belongs to a medal collector who wishes to trace the history of the owner. There is more details on the Military Medal Awards To QA Nurses page.





Why Is The Royal Red Cross Awarded To Nurses

Special exertions in providing for the nursing of the sick and wounded soldiers and sailors of our Army and Navy.


It was introduced to award nurses in the army, in the then Army Nursing Service which then became the QAIMNS before becoming the QARANC (Queen Alexandra's Royal Army Nursing Corps), for exceptional services in military nursing. This can include:


Devotion in the performance of nursing duty


Competency in nursing care over a long time


Examples of compassionate nursing


An exceptional act of bravery


Devotion at a post of duty




They were only awarded to female nurses until 30 December 1976. Male nurses can now be awarded the medals.

The award can be given to any member of the army, regardless of their rank, both ordinary ranks and officer ranks.

Recipients of the Royal Red Cross are entitled to use the post-nominal letters RRC or ARRC.

The nickname of the Royal Red Cross decoration is the Victoria Cross (VC) of nursing.

The register of the Royal Red Cross recipients is kept at the National Archives in Kew.



What Does The RRC Look Like?

It is in the shape of a cross. It measures 41mm in height and 35mm in width. It is enamelled red with an edge of gold. It has a circular medallion which bears an effigy of the reigning monarch in the centre of the medal. The centre of the early decorations had a medallion of the veiled head of Queen Victoria.

The original Royal Red Cross was gold and silver. These are now considered rare and much sought after by collectors. Only 50 first class and 100 second class were awarded before the metal change in 1899 to silver-gilt.

The four limbs of the medal are inscribed with the words Faith, Hope and Charity with 1883, the year of original issue on the lower limb. The original RRC medals had a crown and veil portrait in the centre of the obverse.

A bar can be added to the medal and would be linked to the cross. This is made of red enamel. A rosette is worn on the ribbon in undress to denote a bar to the RRC.

The ribbon is dark blue with a red crimson edge stripes. It is 25mm wide and shaped into a bow.

The Associate Royal Red Cross is silver with the same design of the RRC, though the inscriptions on the arms appear on the reverse.

Awards of the RRC and ARRC which have been issued since 1938 have the year of issue engraved on the reverse of the lower arm.


An example of a letter sent to the recipient is cited in the book Sister Janet: Nurse and Heroine of the Anglo-Zulu War 1879
and reads:

The Queen commands the decoration of the Royal Red Cross, which Her Majesty has been pleased to confer upon you for the special devotion and competency which you have displayed in your nursing duties with Her Majesty's Troops.



QA's Who Have Been Awarded The RRC or ARRC

After Florence Nightingale and Sister Janet Wells the next nurses to be awarded the Royal red cross were the Stafford House nurses who saw active service in South Africa. These were Sisters Edith Horner, Emma Durham and Edith King. Then the RRC was awarded to the staff of Netley Hospital who went to Natal with Sister Jane Deeble. More can be read about them on the Royal Victoria Military Hospital Netley page - cited in the book Sister Janet: Nurse and Heroine of the Anglo-Zulu War 1879
.


Miss H Campbell Norman

The fifteenth was awarded to Miss H Campbell Norman who was the first nurse into Egypt in 1882 when Britain seized control of the Egyptian Government to protect its investments and the Suez Canal. Miss H Campbell Norman was also awarded the Egypt 1882 medal (Tel-El_Kebir bar) and the Khedives star for her service in Egypt.

During her nursing career Miss Norman was the Matron at Royal Victoria Military Hospital Netley. She died in Gunnar, Teneriffe in 1913, (cited in the British Journal of Nursing August 9 1913 pg 112).

The book Sub Cruce Candida: A Celebration of One Hundred Years of Army Nursing
has a photo of Miss H Campbell Norman.



I have yet to trace the numbers of the following recipients but early recipients include Mrs Jane Deeble, Sister Sarah Anne Terrot and Miss Loch.



Mary Jane West Armfield

Mary Jane West Armfield was an Australian/British nursing sister who was awarded the RRC in 1884. Mary Jane West Armfield was one of seven trained nurses who sailed for Africa in June 1879 to nurse British soldiers involved in the Zulu War. Mary Armfield and the others, which included Sister Janet Wells, were a group brought together by the Stafford House South African Aid Committee. Mary Armfield grew up in Australia and left her RRC to the Australian War Memorial in her will.


Eleanor Laurence

Another nurse to receive it because of her nursing duties during the Boer War was Eleanor Laurence. Though a civilian nurse she was awarded the RRC and the South African War Medal for her gallantry whilst under enemy fire in 1901.


Maud McCarthy

Dame Maud McCarthy was awarded the RRC for her nursing duties during the South African War and was awarded a bar to the Royal Red Cross after the First World War.Read about Dame Maud McCarthy.


Miss Katherine Blanche Brereton

Miss Katherine Blanche Brereton, MBE, RRC, JP, went out to South Africa on the Staff of the first Imperial Yeomanry Hospital at Deelfontein in 1899. She was appointed as a member of the Boer War Concentration Camp Commission in 1901. She received her Royal Red Cross decoration in 1902 and there is more about her life at frayedtextilesontheedge.wordpress.com


Ada Yorke

Ada Yorke (nee Hind) was awarded it following her service in the Sudan and then a Bar was added after her service in the First World War. Read more about this remarkable woman and her devotion to military nursing in the foot of the Queen Alexandra's Military Nursing Service for India page where there is also a photo of Ada Yorke.



Royal Red Cross India Medal

The Royal Red Cross India Medal was awarded to several nurses during World War Two to members of the Indian Military Nursing Service who served in locations such as the Indian Military Hospitals (IMH). One such example was Principle Matron Lt Col Edna Burrows. Read more about this remarkable lady on the Queen Alexandra's Military Nursing Service for India page.



Ethel Smithies


Ethel Smithies served with the QAs during World War One and saw service at Mesopotamia at the hutted hospital No 3 General hospital Basra under Matron Graham. She also served aboard a hospital ship or barge which was used to evacuate casualties up and down the river Tigris and was awarded it for the exceptional nursing care she administered to Turkish Prisoners of War.

Her nephew, William, recalls her tales aboard the hospital ships and one in particular stands out:

I have a vague recollection of being told that she caused a bit of a stir having to wash her smalls on board! Presumably privacy was a problem. She died when I was in my mid teens and as I am nearly 64 I am trying to recall over 50 years.

The photograph above is of Ethel Smithies and her fellow QAIMNS nursing sisters enjoying a well deserved cup of tea during WWI. Ethel is pictured on the far left without her cape. Click on the photo to see a larger image. On the back of the photo Ethel had written the names of the other nursing sisters who were furthest from the camera, Blakemore with Parker being nearest to the camera. Unfortunately the name of the other nurse to the right cannot me made out.

Ethel Smithies survived The Great War and continued her nursing career and became a Matron at a London Children's hospital.

Miss Smithies was held in high esteem by her patients and colleagues as can be read in her Nurse Reference by her QAIMNS Matron.

If you have any information about Ethel Smithies her nephew would love to learn more about her. He has kindly supplies images of Miss Smithies Example of Mentioned in Despatches Letter From The Secretary of State for War From World War One for readers to view.

Miss Smithies collection of World War One photos can be viewed on the Mesopotamia World War One Photographs page.



Angel of Mons


After the Battle of Mons in World War One a group of nurses administering care to the wounded soldiers were affectionately nicknamed The Angels of Mons. One Angel of the Mons whose photo is on the left was Miss Kathleen Cambridge. She served first with the Red Cross Wembley Division and was one of the first nurses to enter the battlefields of the Great War. The night before the Battle of Mons she passed through the British lines. This Angel of Mons took wounded soldiers to a nearby house where she had been staying with a Belgium family. They turned their home into a hospital for the care of wounded soldiers. Unfortunately she was not entitled to any campaign medals because she was not a member of the military. However Sister Kathleen Cambridge did join the Queen Alexandra's Imperial Military Nursing Service (QAIMNS) in 1916 upon her repatriation. Then a special case was raised and for her bravery Sister Kathleen Cambridge was awarded the Mons Star by King George V. In 1919 Sister Kathleen Cambridge of the QAIMNS was awarded the Royal Red Cross (RRC).

Prior to the war Sister Kathleen Cambridge nursed in the private nursing home of Edith Cavell at Casteau, about 11 miles from Mons.

When the German Army entered Belgium they imprisoned several nurses. The first English woman to be imprisoned by the Germans was Miss Carter who was in prison for one year. Another nurse, Miss Church, was imprisoned for three months for speaking against the Kaiser in a cafe.

Qaranc.co.uk would like to thank Peter Howell for the information and photo of Kathleen Cambridge who was the Grand Daughter of his Great Great Grandfather who was Master Gunner Daniel Cambridge VC, Yeoman of the Guard and more can be read about this brave hero and his Victoria Cross award at http://en.wikipedia.org/wiki/Daniel_Cambridge



Alice Alanna Cashin

The first Australian nurse to be awarded the Royal Red Cross was Alice Alanna Cashin. She was nursing at the General Hospital in Calais, France at the outbreak of the Great War and then became a member of the QAIMNS(R) on the 19 July 1915. She became the Sister at the General Hospital at Ras-el-din in Egypt on the surgical ward. Sister Cashin had a distinguished career in the QAs and was mentioned in dispatches twice. This included a mention by Sir Archibald Murray who was the Commander-in-Chief of the Egyptian Expeditionary Force.

In June 1916 Sister Cashin became the Matron of the hospital ship Gloucester Castle. Sister Cashin was awarded the Royal Red Cross medal in January 1917. On the 30 March 1917 the HS Gloucester Castle was torpedoed by a German U-Boat in the English Channel. For ensuring the safety of her wounded patients and her nursing staff before leaving for the lifeboat she was awarded a bar to her RRC. Her commendation read that Matron Cashin ...showed an example of coolness and devotion to duty, and rendered invaluable service.It is said that she only took her cape given to her by Her Majesty Queen Alexandra, her prayer book and her crucifix. The Croix de Guerre award was also received by Matron Cashin from the French.

Matron Alice Cashin then took charge of the 400 bed military hospital at Whittington Barracks, Lichfield in England on the 7 May 1917 until July 1919. After World War One she returned to Australia on the 18 October aboard the Morea. Miss Cashin nursed her father and later worked in sales.

Alice Alanna Cashin was born on 26 March 1870 in Melbourne, Australia. Alice Alanna Cashin trained at St Vincent's Hospital in Darlinghurst from October 1893 and remained there after qualifying until January 1897. She then became a private nurse and joined the Australasian Trained Nurses' Association on 30 July 1901.

On 30 July 1901 Alice Cashin travelled to London to study for the Diploma of the International School of Therapeutic Massage.

Alice Alanna Cashin died on 4 November 1939 in Marrickville and was buried in Woronora cemetery.



Sister Ellen Disney


Pictured to the left is Ellen Disney who was a staff nurse at the Isolation Hospital in Baghdad and was awarded the Associate of the Royal Red Cross in 1919.

Sister Ellen trained at Nottingham Hospital at Bagthorpe, she then nursed at the Military Hospital in Parkhust before going out to Mesopotamia. The hospital staff are pictured below.





Sister Ellen Disney returned to the UK in 1920 where she worked at Selly Oak Hospital in 1938. The two other nurses in the photo in Baghdad to the left are Miss Isaac and Miss Dalton.

Sister Disney went out to Ceylon as a nurse at the age of 70 and was there for a couple of years. She went there and back twice over a period of 3 years.

(With thanks to Helen Coan (Nee Disney) the Great Niece of Sister Disney.)





Barbara Carol Maunsell

Sister Barbara Carol Maunsell served with the QAIMNS during World War Two and whilst at Burma she volunteered to work with the field ambulances of Number 20 Division right at the demarcation line at the Irrawaddy River. Nurses would not normally have been at the front line but volunteers had been requested to help the RAMC cope with the many casualties. Despite the constant bombardment by mortars and machine gun fire Sister Barbara Carol Maunsell got stuck in and tended to the wounded. She knew that if caught by the near Japanese troops if they overran the British, Indian and Gurkha troops she would be horribly treated by the Japanese who were known to rape and mutilate women before killing them or keeping them alive to torture.

Many lives were saved by her diligent nursing and emergency care and she even started to improve conditions in the camp for the patients as the days went on. Morale increased because of her cheery attitude during her long hours of work. She was awarded the Royal Red Cross for her devotion to duty. There is more written about Barbara Carol Maunsell in the book Front-line Nurse: British Nurses in World War II
by Eric Taylor.

Many more QAIMNS nursing sisters were awarded it during World War Two. Their stories have been written within the pages about each WWII section and these include:

Sister Mary Currie



Sister Aggie McGeary RRC QAIMNS

Sister Aggie McGeary of the QAIMNS was awarded it for her work in looking after the Chindits during the Second World War who were under the command of General Orde Wingate. The Chindits were a group of Allied service men who were dropped by parachute behind enemy lines into the Burma jungle to disrupt Japanese movements, communications and supplies. They would blow up bridges, roads, ammunition dumps and supply depots. They would have to travel for miles in difficult terrain deep within enemy territory to reach their targets then retreat deep into the jungle. The Chindits of the Second World War were supplied by canister parachute drop and these often fell into enemy hands which meant they missed out on rations, ammunition and necessary equipment because they had to travel light and relied on these drops.

General Orde Wingate wanted his men to have the best medical and nursing care and requested Sister Aggie McGeary to be the Matron of the CCS at Silket near Imphal where the wounded and injured Chindits would be treated. The General had been nursed back to health by Sister Aggie McGeary of the QAIMNS when he suffered from typhoid and knew he lived because of her diligent nursing care. She nursed the Chindits with the same compassion and diligence. Many of their lives were saved when they returned with serious injuries and the common condition of malnutrition and exhaustion. She ensured they had the best treatment and conditions no matter what she had to do, she certainly ruffled a few feathers of the more formal QA Matrons. For a small lady she packed a heavy punch and often raided stores, berated doctors and senor officers or just went straight to the General for her requests to ensure her beloved Chindits got the best.

When any Chindit under her care died she would write personally to their next of kin and always keep replying to any correspondence back from the bereaved.

After WWII Miss Aggie McGeary was awarded the RRC and the MBE for her distinguished nursing service at the Eastern Frontier of India. In 1948 she was the Matron of BMH Nicosia and then Sister Aggie McGeary became the Deputy Matron of the Cambridge Military Hospital (CMH Aldershot) in the early 1950s. In her book A British Army Nurse In the Korean War
Captain Jilly McNair of the QARANC recalls being taught how to make huge quantities of tea in a bucket by Major McGeary!

In 1953 she was the Matron of BMH Kamunting.

Aggie McGreary was born at Mossend in Glasgow, Scotland and died of cancer in 1954. She was nursed by her fellow QA Sisters which included QA Helen Hiley who served with her at Silket CCS (cited in Quiet Heroines: Nurses of the Second World War
by Brenda McBryde).



Matron Audrey Hayward

Lieutenant Colonel Audrey Hayward was a Territorial Army QA when she was awarded the ARRC. Read more about her eventful career and recollections on the Africa Second World War page.


Captain Margot Turner

Captain Margot Turner was awarded the RRC in 1957. Read more about her on the Dame Margot Turner page.



First NCO To Receive The ARRC

The first NCO to receive the ARRC was WO2 Maggie Harris in 1980. She learnt the news a day early because New Years Eve was a Sunday and she read it first in the Telegraph in the Sergeants Mess in Aldershot. WO2 Maggie Harris then received the good news of her Associate Royal Red Cross award by the Commanding Officer of the Cambridge Military Hospital. He also gave WO2 Harris her letter informing her of the award. Prior to the citation Maggie Harris was an NCO running ward 13 which was the male medical ward at the time. Normally wards at the CMH were run by QA Nursing Sisters but the Consultant Chest Physician, Colonel Mike Brown, had requested WOII Harris to be in charge of the ward. Her 2i/c was a Sgt 'Taff' Malcolm Eldrige who later took a commission and was also awarded the ARRC some years later. WOII Harris was commended for her efficient running of the ward.

Celebrations were aplenty at the CMH when it was thought that WO2 Harris was the first non commissioned officer to receive the Associate Royal Red Cross award. Though it was thought that another NCO had been awarded the ARRC in the 1960s.

At the time her husband was serving at BMH Nepal. With no telephone at the time he was sent a signal which took a week to reach him! Hard to imagine in these days of e-mails and mobile phones. He was given time off and was able to join his wife at Buckingham Palace in February 1981.



Gulf War Honours



If you or a relative have been awarded the RRC or ARRC, or know of a QARANC who has been awarded the medal, and would like to appear on this page as an example then please contact me with details.

If you have a photograph of the RRC or ARRC or a photo of a QARANC wearing the medals that you would like to appear on this webpage then please e-mail me.


The National Archives website has links where you can get information about the Royal Red Cross Medal roll and the nurses who have been awarded them and why the RRC was awarded. The RoyalRedCross records are held at The National Archives, Kew. See www.nationalarchives.gov.uk for the info.



Manufacturers of the Royal Red Cross Medal Award

The current manufacturers of the Royal Red Cross medal award for the Ministry of Defence (MOD) are Gladman and Norman Ltd whose website is www.gladman-norman.co.uk which is currently being updated. They have another website at www.worcmedals.com which is the site for Worcestershire Medal Services Ltd


Members of the Territorial Force Nursing Service Awarded the RRC

Matron Volta Ann Billing









If you would like to contribute to this page, suggest changes or inclusions to this website or would like to send me a photograph then please e-mail me.



Official QARANC webpage.

QA Association website.

In The Company of Nurses Book.


***********************************************





Read our posts on:

Facebook

Google+

Twitter


Offers

Army Discounts

Free Waterloo Campaign Medal





Present Day

» Become An Army Nurse

» Junior Ranks

» Officer Ranks

» Abbreviations

» Nicknames

» Service Numbers

Ministry of Defence Hospital Units

» MDHU Derriford

» MDHU Frimley Park

» MDHU Northallerton

» MDHU Peterborough

» MDHU Portsmouth

» RCDM Birmingham



Field Hospitals

» Camp Bastion Field Hospital and Medical Treatment Facility MTF Helmand Territory Southern Afghanistan






Territorial Army

» TA Field Hospitals and Field Ambulances


Photos

» Florence Nightingale Plaque

» Photographs


Uniform

» Why QA's Wear Grey

» Beret

» Lapel Pin Badge


» Cap Badge

» Corps Belt

» ID Bracelet

» Silver War Badge WWI

» Officer's Cloak

» QAIMNSR Tippet

» Officer Medal


Events

» Armed Forces Day

» Recreated WWI Ward

» Reunions

» Corps Day

» Freedom of Rushmoor

» Re-enactment Groups

» Military Events

» Remembrance

» AMS Carol Service

» QARANC Association Pilgrimage to Singapore and Malaysia 2009

» Doctors and Nurses at War

» War and Medicine Exhibition

» QA Uniform Exhibition Nothe Fort Weymouth


Famous QA's

» Dame Margot Turner

» Dame Maud McCarthy

» Military Medal Awards To QAs

» Moment of Truth TV Documentary

» Sean Beech


Nursing Events

International Nurses Day


Info

» Search

» Site Map

» Contact

» Websites



We are seeking help with some answers to questions sent by readers. These can be found on the Army Nursing page.



» Find QA's

» Jokes

» Merchandise

» Stamp

» Teddy Bears

» Pin Badges

» Wall Plaques

» Fridge Magnet



» The Abandoned Soldier