» Site Map

» Home Page

Historical Info

» Find Friends – Search Old Service and Genealogy Records

» History

» QAIMNS for India

» QAIMNS First World War



» Territorial Force Nursing Service TFNS

» WW1 Soldiers Medical Records

» Field Ambulance No.4

» Chain of Evacuation of Wounded Soldiers

» Auxiliary Hospitals

» War Graves Nurses




» Book of Remembrance

» Example of Mentioned in Despatches Letter

» Love Stories

» World War 1 Letters

» QA World War Two

» Africa Second World War

» War Diaries of Sisters

» D Day Normandy Landings

» Belsen Concentration Camp

» Voluntary Aid Detachment

» National Service

» Korean War

» Gulf War

» Op Telic

» Royal Red Cross Decoration

» Colonels In Chief

» Director Army Nursing Services (DANS)

» Colonel Commandant

» Matrons In Chief (QAIMNS)

Follow us on Twitter:




» Grey and Scarlet Corps March

» Order of Precedence

» Motto

» QA Memorial National Arboretum

» NMA Heroes Square Paving Stone

» Memorial Window

» Army Medical Services Monument

» Recruitment Posters

» Museum

» QA Association

» Standard

» QA and AMS Prayer and Hymn

» Books


Former Army Hospitals

UK

» Army Chest Unit

» Cowglen Glasgow

» CMH Aldershot

» Colchester

» Craiglockhart

» DKMH Catterick

» Duke of Connaught Unit Northern Ireland

» Endell Street

» First Eastern General Hospital Trinity College Cambridge

» Ghosts

» Hospital Ghosts

» Haslar

» King George Military Hospital Stamford Street London

» QA Centre

» QAMH Millbank

» QEMH Woolwich

» Medical Reception Station Brunei and MRS Kuching Borneo Malaysia

» Musgrave Park Belfast

» Netley

» Royal Chelsea Hospital

» Royal Herbert

» Royal Brighton Pavilion Indian Hospital

» School of Physiotherapy

» Tidworth

» Wheatley


France

» Ambulance Trains

» Hospital Barges

» Ambulance Flotilla

» Hospital Ships


Germany

» Berlin

» Hamburg

» Hannover

» Hostert

» Iserlohn

» Munster

» Rinteln

» Wuppertal


Cyprus

» TPMH RAF Akrotiri

» Dhekelia

» Nicosia


Egypt

» Alexandria


China

» Shanghai


Hong Kong

» Bowen Road

» Mount Kellett

» Wylie Road Kings Park


Malaya

» Kamunting

» Kinrara

» Kluang

» Singapore

» Terendak


Overseas Old British Military Hospitals

» Belize

» Falklands

» Gibraltar

» Kaduna

» Klagenfurt

» BMH Malta

» Nairobi

» Nepal


Middle East

» Benghazi

» Tripoli


Photographs of QARANC Army Nurses and Hospitals

If you would like to share your photographs or pictures with serving or former QARANC members and people with an interest in the Queen Alexandra's Royal Army Nursing Corps then please use the e-mail address or mailing address on the contact page.


Please do give us a brief description of the photo so that we can describe the picture to readers of the website. We would especially welcome any historical pictures of QA's and the places they have served such as Netley or the Royal Herbert Hospital.


We would encourage you to scan the original QARANC related picture and e-mail us a copy; we cannot be responsible for any pictures or photographs lost in the post. Digital photographs are most welcome.





A reader is seeking further information on this photo he found in a collection belonging to his great aunt who he believes might have been a nurse in Dublin Castle tending to soldiers from the Somme. The Red Cross hospital there was setup by Lady Aberdeen in 1915. Family members think it might be taken in Ireland possibly Dublin and near the 1916 'rising' period.

They recently discovered that prior to her secondment to Dublin she was a nurse somewhere in England and knew Florence nightingale as there was correspondence.

If you can help please contact us.


QAIMNSR Bracelet

The following photos are thought to be of a bracelet which belonged Sarah (Daisy) Ann Louisa Salmon who was in the QAIMNSR and served in France from about mid 1916. Her Grandson would like to know if the QAIMNSR bracelet was official issue or a personal purchase and what does the initials CONG stand for? The front of the bracelet states Republic Francaise.





A reader thinks the inscription stands for Congregational, as religious denomination was often identified in this way.

Below is a photograph of a group of third year nurses who names are written above each nurse, sister and matron. It was taken in 1916 at Camberwell Infirmary. One of the nurses, McAlister, was lost on the HS Salta in 10 April 1917 (front row, second left). Daisy Salmon is on the top row, second from the right.






***********************************************


The super photograph below was kindly provided by Angela Burgoyne. She recognises the QA officer as Major Lilias M Tibbs who saw service in Singapore and went on to become a Matron. The picture is entitled 'About to begin the tour of the Hospital June 9 1956'. Unfortunately Angela does not know which military hospital the photo was taken at nor who the other dignitaries were though she thinks some may be Naval or Red Cross staff? Angela recalls Major Tibbs as being a wonderfully modest lady and would, despite having witness dreadful things, only modestly say of her lifetimes work I'm just an old has-been.

If you can help to identify the other personnel or the location please contact us.




Qaranc.co.uk were delighted to hear from retired Major Daphne Brewer-Dudfield who informed us that it is Lady Louis Mountbatten on the far left. She also thinks that the photo with Lady Louis Mountbatten was not taken in Singapore on the date shown because she arrived in November 1955 and Lady Mountbatten had just visited Singapore prior to her posting. Major Daphne Brewer-Dudfield also notes that as the people in the photo are not wearing tropical uniforms, but winter uniforms, it is not likely to be in a hot place.


Larger photos can be seen at:

QAIMNS Nurses Photo

Example of Mentioned in Despatches Letter From The Secretary of State for War From World War One


Example of Nurse Reference

Mesopotamia World War One Photographs (Modern day Iraq and Iran).




Oh What a Lovely War

The photos below were taken by photographer Adrian Bowd during the Lewes Theatre Club June 2009 production of the First World War stage musical Oh What a Lovely War which was devised by Charles Chilton, Gerry Raffles and Joan Littlewood's Theatre Workshop. It was directed by Pat Shrimpton.





It is tradition in productions of Oh What a Lovely War for the actresses playing the nurses to wear pierrot costumes and the director and dressmaking member made five QAIMNS tippets. The costumes were then hired out to another Group who are performing the play at Hever Castle





Qaranc.co.uk would like to thank Adrian Bowd and Pat Shrimpton for kind permission to display the photos of Oh What a Lovely War.


The photographs below are of a double sided brooch that belonged to Catherine Sarah Jones who served in the Queen Alexandra's Imperial Military Nursing Service (QAIMNS) during the First World War. She was christened Catherine Sarah Jones and born in 1888 in Harlow, Essex, England and then took her mother's maiden name and changed her name to Katherine Sarah Beale Jones and an inscription on the back of the brooch says B.K.S.JONES B.R.C.S (British Red Cross Society ) and O.S.J.J (Order of Saint John of Jerusalem).

There is an inscription on one side of the brooch in letters which look to be Turkish - they are not Arabic but there are letters like capital Omega,P,V,O,T,Y,Epsilon,a six backwards and an M with a small Omega on the top.

Her nephew is trying to find out some information about the brooch and his aunt. Click on the pictures to see larger photos.

Her sister recalls that she trained as a nurse somewhere in the midlands beginning with 'L' but then paid for herself to go to Dublin to the Rotunda hospital for her midwifery training. The family have her 1914 - 1915 WW1 star medal and think she must have enlisted into the QAIMNS quite early on during the Great War. Her nephew describes her as a fairly eccentric but very knowledgeable old aunt who died in 1970 aged 82.

If you can help identify the brooch and give a history of it then please contact me.





JK Militaria have kindly identified the brooch as being a Serbian Order of Takovo - Commander's class which was no longer awarded after World War One and was a fairly rare award. The Serbian Order of Takovo - Commander's class was issued for various services to Serbia (or citizens of) prior to and during the Balkan Wars and WW1. For more information visit www.jkmilitaria.com

Queen Victoria's Jubilee Institute Badge





The photograph above was thought to have been of a World War I nurse. It is a postcard photo and we were asked to help identify the medal and ribbon she is wearing. The nurse is thought to be Miss Jepson who was nicknamed Jeppie. Staff Nurse Milly Jepson served during the Great War. The postcard photo was taken by a studio in Leicester called Fisher & Potter Ltd. Click the photo to see a larger image.

We received the help of Sue at Scarlet Finders who is a specialist at tracing former nurses and military nurses. Here's what Sue was able to say - within an impressive 5 minutes of my e-mail!

The badge is that of Queen Victoria's Jubilee Institute - if you see one close up, it's the letters QVJI intertwined, and came in different metals depending on the grade of the nurse. The QV Jubilee Institute nurses were the original district nurses, and later on, the 1930s I think, the name got shortened to 'Queen's Nurse' which stuck until the 1970s. Even I did my district training in the days of 'Queen's nurses'. So they were trained nurses who worked in the community, normally under the auspices of the local council, rather than hospitals. An internet search for Queen Victoria's Jubilee Institute throws up lots of hits.

My immediate impression was that the photo was post war - probably early 1920s, particularly in view of the hairstyle, and that is born out by the attached extract from the British Journal of Nursing, dated 12 November 1921, page 307 which gives Millie Jepson, as a QVJI nurse being transferred to Clacton [right hand column]. As she has a file at The National Archives, it should give more details of her time during the war, and hopefully details of where she trained.





I have published a book which tells the story of The Grey Lady Ghost of the Cambridge Military Hospital which reveals her origins in the QAIMNS and where she meets a QA veteran of Afghanistan. She still walks her wards and tells her story by taking Scott Grey, a QARANC nurse, to the battlefields of World War One and beyond. This is the first in the series of Grey and Scarlet Novels by CG Buswell. Read the first chapter for free.




If you like this page and would like to easily share it with your friends and family please use the social networking buttons below:






By sending photos to QARANC.co.uk you give permission for us to publish them on the website.


Please ensure that you have the permission of the people in each photograph or picture before sending them to QARANC.co.uk and that if appropriate you have the permission of your Commanding Officer or Matron.



Please note that any photographs and images that appear on the www.qaranc.co.uk website will be watermarked with qaranc.co.uk to prevent editors, journalists and other websites lifting the photo or image and claiming it is theirs and to prevent hotlinking. This in no way implies that the photo is the copyright of this site but is done to avoid bandwidth theft and over usage. With permission from the owner we always add an acknowledgement to the photo owner and link to their website if they have one. Qaranc.co.uk are most grateful to image owners for their kind permission to display their historically important images.

If you would like to use any pictures from the qaranc.co.uk site then please contact us using the link on the right of this page and we will seek permission from the owner.



Below is a copy of a Christmas card sent from British Military Hospital Kluang Malaya with the tri service cap badges: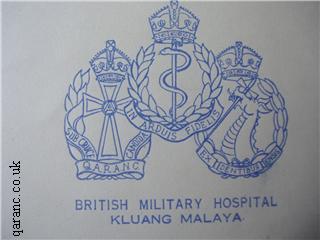 Forces War Records

Forces War Records are a genealogy site where you can find military records of over 6 million British Armed Forces personnel cross matched with over 4000 Regiments, Bases and Ships. This link includes a free search and a special discount of 40% off membership offer for visitors who use the discount code AF40 if they decide to become a member.
Search Now. A unique feature is their WW1 Soldiers Medical Records section.








If you would like to contribute to this page, suggest changes or inclusions to this website or would like to send me a photograph then please e-mail me.



Official QARANC webpage.

QA Association website.

In The Company of Nurses Book.


***********************************************






The Grey Lady Ghost of the Cambridge Military Hospital Novel - a Book by CG Buswell


Read our posts on:

Facebook

Google+

Twitter


Offers

Army Discounts






Present Day

» Become An Army Nurse

» Junior Ranks

» Officer Ranks

» Abbreviations

» Nicknames

» Service Numbers

Ministry of Defence Hospital Units

» MDHU Derriford

» MDHU Frimley Park

» MDHU Northallerton

» MDHU Peterborough

» MDHU Portsmouth

» RCDM Birmingham



Field Hospitals

» Camp Bastion Field Hospital and Medical Treatment Facility MTF Helmand Territory Southern Afghanistan






Territorial Army

» TA Field Hospitals and Field Ambulances


Photos

» Florence Nightingale Plaque

» Photographs


Uniform

» Why QA's Wear Grey

» Beret

» Lapel Pin Badge


» Army School of Psychiatric Nursing Silver Badge

» Cap Badge

» Corps Belt

» ID Bracelet

» Silver War Badge WWI

» Officer's Cloak

» QAIMNSR Tippet

» Officer Medal


Events

» Armed Forces Day

» Recreated WWI Ward

» Reunions

» Corps Day

» Freedom of Rushmoor

» Re-enactment Groups

» Military Events

» Remembrance

» AMS Carol Service

» QARANC Association Pilgrimage to Singapore and Malaysia 2009

» Doctors and Nurses at War

» War and Medicine Exhibition

» QA Uniform Exhibition Nothe Fort Weymouth


Famous QA's

» Dame Margot Turner

» Dame Maud McCarthy

» Military Medal Awards To QAs

» Moment of Truth TV Documentary

» Sean Beech


Nursing Events

International Nurses Day


Info

» Search

» Site Map

» Contact

» Websites



We are seeking help with some answers to questions sent by readers. These can be found on the Army Nursing page.



» Find QA's

» Jokes

» Merchandise

» Mugs

» Personalised Poster

» Stamp

» Teddy Bears

» Pin Badges

» Wall Plaques

» Fridge Magnet



» The Abandoned Soldier