» Site Map

» Home Page

Historical Info

» Find Friends – Search Old Service and Genealogy Records

» History

» QAIMNS for India

» QAIMNS First World War



» Territorial Force Nursing Service TFNS

» WW1 Soldiers Medical Records

» Field Ambulance No.4

» Chain of Evacuation of Wounded Soldiers

» Auxiliary Hospitals

» War Graves Nurses




» Book of Remembrance

» Example of Mentioned in Despatches Letter

» Love Stories

» World War 1 Letters

» QA World War Two

» Africa Second World War

» War Diaries of Sisters

» D Day Normandy Landings

» Belsen Concentration Camp

» Voluntary Aid Detachment

» National Service

» Korean War

» Gulf War

» Op Telic

» Royal Red Cross Decoration

» Colonels In Chief

» Director Army Nursing Services (DANS)

» Colonel Commandant

» Matrons In Chief (QAIMNS)

Follow us on Twitter:




» Grey and Scarlet Corps March

» Order of Precedence

» Motto

» QA Memorial National Arboretum

» NMA Heroes Square Paving Stone

» Memorial Window

» Army Medical Services Monument

» Recruitment Posters

» Museum

» QA Association

» Standard

» QA and AMS Prayer and Hymn

» Books


Former Army Hospitals

UK

» Army Chest Unit

» Cowglen Glasgow

» CMH Aldershot

» Colchester

» Craiglockhart

» DKMH Catterick

» Duke of Connaught Unit Northern Ireland

» Endell Street

» First Eastern General Hospital Trinity College Cambridge

» Ghosts

» Hospital Ghosts

» Haslar

» King George Military Hospital Stamford Street London

» QA Centre

» QAMH Millbank

» QEMH Woolwich

» Medical Reception Station Brunei and MRS Kuching Borneo Malaysia

» Musgrave Park Belfast

» Netley

» Royal Chelsea Hospital

» Royal Herbert

» Royal Brighton Pavilion Indian Hospital

» School of Physiotherapy

» Tidworth

» Wheatley


France

» Ambulance Trains

» Hospital Barges

» Ambulance Flotilla

» Hospital Ships


Germany

» Berlin

» Hamburg

» Hannover

» Hostert

» Iserlohn

» Munster

» Rinteln

» Wuppertal


Cyprus

» TPMH RAF Akrotiri

» Dhekelia

» Nicosia


Egypt

» Alexandria


China

» Shanghai


Hong Kong

» Bowen Road

» Mount Kellett

» Wylie Road Kings Park


Malaya

» Kamunting

» Kinrara

» Kluang

» Singapore

» Terendak


Overseas Old British Military Hospitals

» Belize

» Falklands

» Gibraltar

» Kaduna

» Klagenfurt

» BMH Malta

» Nairobi

» Nepal


Middle East

» Benghazi

» Tripoli


Voluntary Aid Detachment

Information and photographs of the Voluntary Aid Detachment who worked in military hospitals in Britain and overseas such as in France. Includes info about VAD Nurses and the history


The Voluntary Aid Detachment worked alongside military nurses during the two World Wars. The VAD were formed in August 1909, as part of Lord Keogh's Scheme for the Organisation of Voluntary Aid, because of the fear that there was a shortage of nurses should war come and the role of the Voluntary Aid Detachment nurses and assistants were to provide nursing and medical assistance during a time of war. They were organised by the British Red Cross Society and in later years the Order of St John helped.





By April 1911 the British Red Cross and the Order of St John had raised 659 detachments which consisted of 20,000 personnel (cited in Medical Services in the First World War
by Susan Cohen).

Initially they were trained to provide meals for soldiers at train stations and to nurse the wounded during transfers and in 1912 a small number went to the Balkan War. This saw the VADs grow in number and work in a variety of roles which included nursing assistants, ambulance drivers, chefs, and administration roles. The majority of VADs worked within Britain and some were posted overseas such as those with the British Expeditionary Force (BEF) in France during the Great War and in other countries such as Belgium (where some became Prisoners of War of the Germans), Egypt France, Gallipoli, Malta, and Mesopotamia. In 1914 there were 40,000 working in 1800 detachments. By the end of World War One there had been 126,000 with 243 killed, 364 decorated and 1005 Mentioned in Despatches (cited in Soldier Magazine 1951).



Information sought about this photo which has written on it "Minehead VAD 4 vowles porlock" and was contributed by a reader researching the Neate family.

In the Company of Nurses: The History of the British Army Nursing Service in the Great War
cites that an Isolation Hospital in the British sector in Ypres was established in a convent in Mallassise where twelve BRCS VADs were deployed and that Dame Maud McCarthy acknowledged this as the first use of VAD members employed in a Military Hospital in France.

The war diaries of Mrs Katharine Furse, the Commandant of the VAD, and various VAD nurses who served in France and Belgium can be read in Women in the War Zone: Hospital Service in the First World War
.



VAD WWI

The Voluntary Aid Detachments cared for wounded soldiers in a variety of wards in British Military Hospitals such as The Royal Herbert Hospital in London and in the many convalescent hospitals that were set up in buildings throughout England, Scotland and Wales.

Reminiscences of a V.A.D.
is a wonderful book which collects poems, cartoons, sketches and photographs from patients to VAD Grace Pulvertaft who served from 1914 to 1918 working in various locations which included on the military ward (Luke Ward) at Croydon and Brighton Hospital . It also includes a fine example of a letter from Katherine Furse the Commandant-in-Chief which was included in every VAD pocket book. It also includes diary extracts describing day to day duties, photographs of wards and military and naval patients and letters from grateful patients.


Extracts of the war memoir of VAD Lucilla Andrews who nursed at a military hospital on Salisbury Plain can be found in Millions Like Us: Women's Lives in War and Peace 1939-1949
. An extract reads:

Men too tired to remember to swallow a mouthful of soup or keep their eyes open, but not to mumble "Thanks, nurse"…Day after day of washing from the bodies of exhausted men the sand of Dunkirk, the grime of St Malo, of Brest, of Cherbourg, the oil of wrecked ships, the salt from the Channel.

The British Royal Red Cross Society trained the Voluntary Aid Detachment in roles such as first aid, bed making, giving a patient a blanket bath, feeding a patient and keeping a ward clean.


Mrs Katharine Furse was the first Commandant of the British Red Cross VADs. She arrived in Boulogne in October 1914 where she started the No 1 British Red Cross Voluntary Aid Detachment Unit Rest Station at the Gare Centrale (cited in Women in the War Zone: Hospital Service in the First World War
by Anne Powell).

Miss Crowdy took over from Katharine Furse as the Commandant of VAD in France and Belgium.



In the book Women in the War Zone: Hospital Service in the First World War
by Anne Powell one nickname given by troops for the VADs is Very Adorable Darlings. Other nicknames of the VAD include the Starched Brigade.

21 members of the British Red Cross Society including VADs were awarded the Military Medal during the Great War. Honours and Awards to Women: The Military Medal
has details of these along with why they were awarded the MM.

Vera Brittain in Testament Of Youth
describes her award of an efficiency stripe as:

a length of scarlet braid which VAD's were entitled to wear on their sleeve if they had served for more than a year in military hospitals and had reached what their particular authority regarded as a high standard of competence.






I have published a book which tells the story of The Grey Lady Ghost of the Cambridge Military Hospital which reveals her origins in the QAIMNS and where she meets a QA veteran of Afghanistan. She still walks her wards and tells her story by taking Scott Grey, a QARANC nurse, to the battlefields of World War One and beyond. This is the first in the series of Grey and Scarlet Novels by CG Buswell. Read the first chapter for free.




If you like this page and would like to easily share it with your friends and family please use the social networking buttons below:





An example of a beautiful VAD certificate awarded to Miss Dorothy Fisher can be seen in Medical Services in the First World War
.

Between the two World Wars the VAD were reorganised and its role changed to one of supporting the medical services which included the ability to volunteer to mobilise with the Territorial Army. They could also work in roles such as nurses, radiographers, pharmacists, clerks and laboratory assistants.

During WWII many women became VADs when they were already overseas, such as in the Far East where they may have been accompanying their husbands during peace time. Some became prisoners of the Japanese. Numbers for those employed in Britain, which included those to be posted abroad, were broken down as 14,155 of the Red Cross, 1695 from the Order of St John's Cross and 21 from the St Andrew's Ambulance Association.


This Voluntary Aid Detachment Bermondsey group photo comes from the collection of Mary Walters (nee Hicks) who was a stationed at Tower Bridge, London as a VAD.





The Army Council wanted to assimilate the Voluntary Aid Detachment into the Auxiliary Territorial Service (ATS) in 1942 but was met by fierce opposition by the Red Cross and Order of St John along with a campaign by The Times newspaper. A War Office commission of enquiry ruled that they should retain their identity and new responsibilities were given along with Warrant Officer rank, new pay scales, having to adhere to military law and the loss of officer privileges like first class travel. As an example of the new duties 8000 male orderlies were replaced by the VAD. It also meant that they could apply for a commission in the ATS. These changes were implemented in January 1944 and though the term Voluntary Aid Detachments officially ceased to exist they were still fondly called this.




This lovely image was taken by a photographer working for Paramount Press Pictures outside Buckingham Palace on July 3, 1945. The young VAD in the centre is thought to be Beatrice Jane Hayward and she has just been made an Associate of the Royal Red Cross. The woman on the left of the photograph is Mrs. Florence Mary (Molly) Gurdon, née Pleming, whose husband, John E. Gurdon was an ace fighter pilot (twenty-eight victories) with the RAF in WW1, and enlisted again at the start of WW2. Molly's three sons, Rob, Philip and David, also served in WW2. Sadly we don't know what she did, or why she was present. Their son Philip Gurdon flew Spitfires during WW2 and sadly Rob died when his bomber was shot down in April 1943 whilst David served in the army without incident. Unfortunately we do not know who the lady on the right is.

The last member of the VAD to serve with the Army was cited in Soldier Magazine in October 1951 as Staff-Serjeant Florence Begley who was a senior x-ray clerk. She left in 1947 and immediately rejoined the Army and eventually became the ward master at Chapstow Military Hospital The Royal Navy continued to employ VADs onboard HMHS Maine during the Korean War.




VAD Records

VAD records from World War One and the Second World War are stored with the British Red Cross Museum and Archives. Sadly they are incomplete but staff can help with information requests including dates of service, duties performed, where the VAD served and any honours awarded. A written request is needed and further information can be found at www.redcross.org.uk/index.asp?id=3423



If you would like to contribute any info, photographs or share your memories of being a VAD then please contact me.



The war diary of VAD Miss Lesley Smith can be read in Women in the War Zone: Hospital Service in the First World War
and brings to the reader the horrors of nursing in France during the Battle of The Somme. It describes the mental anguish of the soldiers and her own terrors:

It was not possible for me to attune myself to the existence of head wounds. Death has its own clean finality; but these men, whose admirable bodies lay inert and helpless at the mercy of a grotesque, obscenely rolling head, seemed a denial of everything beautiful and fair. And I was trapped in their horror. I saw and admitted the triumph of ugliness and evil, and knew that wherever I went afterwards, I would take my own bedlam with me.


Sister Edith Appleton served with the QAIMNS(R) during the Great War and her war diary was recently published as A Nurse at the Front: The Great War Diaries of Sister Edith Appleton
. Her nephew has also published extracts at
www.edithappleton.co.uk/VADs/voluntary_aid_detachment.asp
where extracts that mention working alongside the VAD are available to read.




Forces War Records

Forces War Records are a genealogy site where you can find military records of over 6 million British Armed Forces personnel cross matched with over 4000 Regiments, Bases and Ships. This link includes a free search and a special discount of 40% off membership offer for visitors who use the discount code AF40 if they decide to become a member.
Search Now. A unique feature is their WW1 Soldiers Medical Records section.








If you would like to contribute to this page, suggest changes or inclusions to this website or would like to send me a photograph then please e-mail me.



Official QARANC webpage.

QA Association website.

In The Company of Nurses Book.


***********************************************





VAD Nurse

These photographs are of Gwendoline Sophia Connolly (nee Ashley) who was a VAD working with the British Red Cross, BRCS Staffs No. 134.






She joined the VAD Hospital in Alcester, Warwickshire in 1941.






She was then posted to RN Hospital Haslar and got married in February 1943 and was posted to "Sea Level" HMS Valkyrie II (a shore base on Douglas, Isle of Man), which is the group photo at the top of this page. Gwendoline is the end person sitting down on the first row on the right.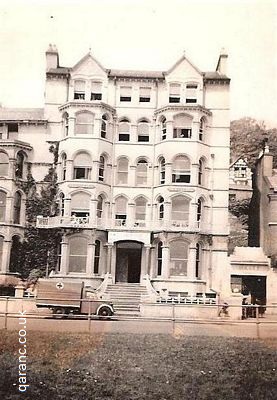 San Toy Sick Quarters:


Barbara Greene

Below is an information request from a visitor to qaranc.co.uk who is researching details about her mother, Barbara Greene, who was an young British actress who appeared in the films Wedding Group, Blind Man's Bluff, Moonlight Sonata, Money for Jam and Many Tanks Mr Atkins, before volunteering as a Voluntary Aid Detachment nurse when Great Britain declared war on Germany. Barbara Greene's brother, who is in the first photo, volunteered for the Army on 12 September 1939 and joined the RASC, and went with the BEF to France. It is thought that Barbara Greene must have volunteered for the VAD between October and late December of 1939, but relatives have no records. Barbara Greene served at Lambeth Military Hospital and also a military hospital in Croydon, which is thought was a temporary hospital set up at the Croydon Aerodrome Hotel.




Barbara Greene's daughter, Barbara Lawrence is working on a book about her British family and would be thrilled to find someone who served in either of those locations and might have known her mother, or to find someone who could do research for her. She says:

I would also be grateful for any help you can give me in verifying that the uniform in the second photo is the dress uniform of the VAD, and in what, if anything, you can learn from the patches or badges.

When I began to research my British family's experiences during World War II, I found that the uniform my mother Barbara Greene is wearing in these photographs suggested she served with the Voluntary Aid Detachment. Sue Light, from www.scarletfinders.co.uk confirmed that the uniforms seem right for a VAD of the Second World War, but noted that "her hair had probably been arranged for the photograph, and for day to day work she would have to have it pinned up and off her face rather more." I also learned that the cross on my mother's tie in the second photo and on her bib in the first show she worked for the Red Cross, not the ambulance service.

It seemed likely to me that my mother worked as a VAD because she never told us she was a fully trained nurse, or worked as a nurse later in her life. She could have taken the weekly VAD trainings started before the war, but there would not have been time for her to get more instruction between ending her acting career and working in hospitals.

She sometimes joked about practicing giving shots on a grapefruit, and later on a tough old nurse who bared her arms and let students prick her until she couldn't feel what they were doing. Only then did they pass. A newspaper article written after she left Great Britain revealed that she flew a small plane around the Eastern US to raise money for Bundles for Britain and hints at what she did as a VAD.

She abandoned her acting career in mid-stream to become a Red Cross nurse, and before long was assigned to Lambeth Hospital. It was there she learned to scrub floors. "Not mop 'em,' she insists with a dazzling smile, "but scrub 'em - on our knees. It was hard work though there were no complaints from any of us." She was promoted to the operating room just about the time her brother Kent, a Captain in the Infantry, escaped from Dunkirk. There were narrow escapes for her too, like the night a 600-pound bomb burst through the roof of the nurses home. Luckily they were all on duty at the hospital and it meant only the 'inconvenience' of losing their belongings.

Other articles stated that she worked at military hospitals in Lambeth and Croydon, but the article may have the order wrong as it contains other information I know is wrong such as my Uncle's rank. He was a Lieutenant is the RASC when he was evacuated from Dunkirk. Records on the VAD staff were scanty during the war and rarely retained and I haven't been able to find any information about Mummy's service or find people she worked with. I don't know, for example, if she worked first at Lambeth and then at Croydon Military Hospitals. The only bombing of a Nurses Home I've found occurred on January 11, 1941 at Lambeth Hospital, and ten nurses were killed. However, the article suggests it happened in late May, 1940 when my uncle Kent was fighting in France, and doesn't mention casualties. My mother suffered severe hearing loss in one ear because she was working in surgery when the bomb hit the Nurses Home. I haven't found evidence of any bombing of a Nurses Home in Croydon, so I think she must have been at Lambeth Hospital on January 11, 1941.

I would be very grateful to hear from anyone with information about the VADs, particularly anyone who may have served at Lambeth Military Hospital or the temporary military hospital at Croydon Aerodrome Hotel.

Please e-mail Qaranc.co.uk if you can help Barbara and we shall pass on details. Thank you.


Barbara continues her research by adding:

Thank you very much for putting the story about my mother Barbara Greene on the website. I appreciate that very much. I write to thank you, and to give you an update of my search for information about my mother's record of service. The British Red Cross museum and archives responded to my inquiry and sent me a copy of my mother's record, which confirms that she enrolled in the VAD on December 8, 1939. I've recently found a letter that stated she worked at Netherne Emergency Hospital in Coulsdon, and the record of service confirms that she was "mobilized as C.N.R." (Civil Nursing Reserve) to that hospital on June 6, 1940. The record also tells me that she was in Detachment No. 358, and that her V.A.D. Personal No. was W/588971. It states that she was discharged on October 20, 1941, which is puzzling because by then she had lived in the US for ten months, earned her pilot's license, and was flying a plane around the eastern US on a tour to raise money for Bundles for Britain! I don't know if the date of 1941 is in error and she was really released in October 1940, perhaps not coincidentally at the time she applied for and received a visa to the US, or if perhaps she was still working with the Red Cross in the US. As she appeared in a play on Broadway for two weeks in May 1941, that seems unlikely, but I can't explain the discrepancy.

The record does not say anything about her service at Lambeth Military Hospital, or at the small hospital at Croydon Aerodrome Hotel where I thought she had worked. I'm more confident that she was at Lambeth because articles about her in US newspapers during her tour for Bundles for Britain state that she was there. However, the same articles mention a hospital in Croydon that was near an airport, but don't give the name. I don't know if I'm trying to identify three hospitals, or if the Netherne Emergency Hospital in Hooley near Croydon where I know she worked, was really the second hospital identified in the newspaper reports.

It's certainly been a fascinating piece of research for me and I am getting to know my mother in ways I did not before she died at the age of 47 in 1973. I deeply appreciate the help you and others have given me over the past two years that have made this possible.

Do any readers know how long the usual training period was for women enrolling in the Voluntary Aid Detachment? I'm guessing my mother trained at Lambeth Hospital for six months between the time of her enrolment in December, 1939 and posting to Netherne in June. But - that's just a guess.



Trunk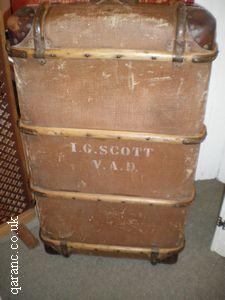 This old large trunk which has the initials VAD and I G Scott printed on it was purchased from an antique dealer. It is thought that it may have belonged to a Voluntary Aid Detachment Nurse. The trunk was made in Edinburgh by a prestigious luggage maker and the new owner would like to learn more about it. If you can help please contact qaranc.co.uk




VAD



The VAD helmet image above is of a military helmet that was found in France. It is thought to be a WWI helmet worn by a Voluntary Aid Detachment member. It is green in colour and has a red cross with VAD written on the front. It looks original and was most likely painted on by the wearer during the war. With the same shade of red paint is written Miss J. RHYS on the inside of the helmet which is the photo below.





The finder of the helmet is keen to learn more about World War One VAD Helmets and to learn how to trace information about this particular VAD member. If you can help in the VAD helmet research or know of any site or information about any WWI VAD member listing then please contact qaranc.co.uk

One reader does not think that it is a First World War helmet because it seems to have a rim piece and these were either on WWII helmets or retro-fitted to rimless WWI versions.


VAD Medal

The photograph below is thought to be a VAD medal, brooch or badge which belonged to a VAD from World War One and the present owner would like some help to identify it and give some history about the VAD medal such as why it was awarded.





The VAD Medal is a diamond shaped metal badge, on bronze or brass, and is about an inch across and slightly more top to bottom. The face is enamelled with a red cross edged in brass on a white background. The centre square of the cross is still red but has a star drawn in. The ends of the cross do not quite reach the corners of the diamond.

The photo below is a picture of the reverse of the VAD Medal.





The reverse is slightly concave and at the bottom is engraved Reg no. 491257. There is what looks rather like a hallmark of three boxes with (probably) an S in the first, a shield in the second and an I in the third. Beneath that are initials GKS which fit with the lining of the case box, which is printed with G Kenning & Son, London, Liverpool, Manchester, Glasgow.

The badge is fixed by means of a brass ring which is just over a quarter of an inch diameter to a dark green ribbon. The ribbon is about an inch wide and almost two inches long. The top of the ribbon is fixed to a metal bar which carries the initials SRIA. The bar does not have a brooch type pin, but a single long downwards pointing spike about two inches long.

The badge or VAD Medal is believed to have belonged to a VAD who did not see any service overseas and was probably based in Yorkshire.

The family are keen to learn more about the VAD Medal and if you can help please contact qaranc.co.uk and we will be pleased to pass on the information about this Voluntary Aid Detachment medal.


Societas Rosicruciana in Anglia

Qaranc.co.uk received some information about the VAD Medal and it is a SRIA Jewel made in 1906 related to a Masonic male only organisation called Societas Rosicruciana in Anglia (SRIA) rather than having anything associated with the Voluntary Aid Detachment. Societas Rosicruciana in Anglia has nine grades and the medal is worn by those who hold grades one to four. Thereafter this would then change to a similar medal that has a yellow ribbon for grades five through to seven and then changes to a red ribbon for grades eight and nine.

Another reader thinks it is possible that this was either a civilian nursing award not related to VAD service or that is a commemorative piece issued to the staff of the War Hospital, the clue maybe in the lettering at the top SRIA. It is likely that the IA stands for Idiots Asylum, which pre 1914 would have been the acceptable term for such a hospital. Candidates include the Midland Counties which was located in Solihull or the Royal Earlswood (? Surrey Royal Idiots Asylum). It would be possible to confirm the civilian theory with an identified date from the hallmark. Unfortunately the letter I was not used after 1908 for Birmingham (Anchor , lion and letter) although it is possible that it could be a J or even an L? Any of those letters for either London or Birmingham hallmarks would be earlier than a 1914-18 date which a VAD medal might suggest. The third possibility is that it is a First Aid award for the Southern Railways??


The photograph below is Doris Mills who served with the VAD in Portsmouth during WW1. If you can help with any further information about the uniform or photo then please contact qaranc.co.uk






We have since learnt that she is wearing a Great War Land Army outdoor uniform, though her records have her as serving as a VAD.





The Grey Lady Ghost of the Cambridge Military Hospital Novel - a Book by CG Buswell


Read our posts on:

Facebook

Google+

Twitter


Offers

Army Discounts






Present Day

» Become An Army Nurse

» Junior Ranks

» Officer Ranks

» Abbreviations

» Nicknames

» Service Numbers

Ministry of Defence Hospital Units

» MDHU Derriford

» MDHU Frimley Park

» MDHU Northallerton

» MDHU Peterborough

» MDHU Portsmouth

» RCDM Birmingham



Field Hospitals

» Camp Bastion Field Hospital and Medical Treatment Facility MTF Helmand Territory Southern Afghanistan






Territorial Army

» TA Field Hospitals and Field Ambulances


Photos

» Florence Nightingale Plaque

» Photographs


Uniform

» Why QA's Wear Grey

» Beret

» Lapel Pin Badge


» Army School of Psychiatric Nursing Silver Badge

» Cap Badge

» Corps Belt

» ID Bracelet

» Silver War Badge WWI

» Officer's Cloak

» QAIMNSR Tippet

» Officer Medal


Events

» Armed Forces Day

» Recreated WWI Ward

» Reunions

» Corps Day

» Freedom of Rushmoor

» Re-enactment Groups

» Military Events

» Remembrance

» AMS Carol Service

» QARANC Association Pilgrimage to Singapore and Malaysia 2009

» Doctors and Nurses at War

» War and Medicine Exhibition

» QA Uniform Exhibition Nothe Fort Weymouth


Famous QA's

» Dame Margot Turner

» Dame Maud McCarthy

» Military Medal Awards To QAs

» Moment of Truth TV Documentary

» Sean Beech


Nursing Events

International Nurses Day


Info

» Search

» Site Map

» Contact

» Websites



We are seeking help with some answers to questions sent by readers. These can be found on the Army Nursing page.



» Find QA's

» Jokes

» Merchandise

» Mugs

» Personalised Poster

» Stamp

» Teddy Bears

» Pin Badges

» Wall Plaques

» Fridge Magnet



» The Abandoned Soldier