» Site Map

» Home Page

Historical Info

» Find Friends – Search Old Service and Genealogy Records

» History

» QAIMNS for India

» QAIMNS First World War



» Territorial Force Nursing Service TFNS

» WW1 Soldiers Medical Records

» Field Ambulance No.4

» Chain of Evacuation of Wounded Soldiers

» Auxiliary Hospitals

» War Graves Nurses




» Book of Remembrance

» Example of Mentioned in Despatches Letter

» Love Stories

» World War 1 Letters

» QA World War Two

» Africa Second World War

» War Diaries of Sisters

» D Day Normandy Landings

» Belsen Concentration Camp

» Voluntary Aid Detachment

» National Service

» Korean War

» Gulf War

» Op Telic

» Royal Red Cross Decoration

» Colonels In Chief

» Director Army Nursing Services (DANS)

» Colonel Commandant

» Matrons In Chief (QAIMNS)

Follow us on Twitter:




» Grey and Scarlet Corps March

» Order of Precedence

» Motto

» QA Memorial National Arboretum

» NMA Heroes Square Paving Stone

» Memorial Window

» Army Medical Services Monument

» Recruitment Posters

» Museum

» QA Association

» Standard

» QA and AMS Prayer and Hymn

» Books


Former Army Hospitals

UK

» Army Chest Unit

» Cowglen Glasgow

» CMH Aldershot

» Colchester

» Craiglockhart

» DKMH Catterick

» Duke of Connaught Unit Northern Ireland

» Endell Street

» First Eastern General Hospital Trinity College Cambridge

» Ghosts

» Hospital Ghosts

» Haslar

» King George Military Hospital Stamford Street London

» QA Centre

» QAMH Millbank

» QEMH Woolwich

» Medical Reception Station Brunei and MRS Kuching Borneo Malaysia

» Musgrave Park Belfast

» Netley

» Royal Chelsea Hospital

» Royal Herbert

» Royal Brighton Pavilion Indian Hospital

» School of Physiotherapy

» Tidworth

» Wheatley


France

» Ambulance Trains

» Hospital Barges

» Ambulance Flotilla

» Hospital Ships


Germany

» Berlin

» Hamburg

» Hannover

» Hostert

» Iserlohn

» Munster

» Rinteln

» Wuppertal


Cyprus

» TPMH RAF Akrotiri

» Dhekelia

» Nicosia


Egypt

» Alexandria


China

» Shanghai


Hong Kong

» Bowen Road

» Mount Kellett

» Wylie Road Kings Park


Malaya

» Kamunting

» Kinrara

» Kluang

» Singapore

» Terendak


Overseas Old British Military Hospitals

» Belize

» Falklands

» Gibraltar

» Kaduna

» Klagenfurt

» BMH Malta

» Nairobi

» Nepal


Middle East

» Benghazi

» Tripoli


War Graves
The war graves and memorials to nurses of the Great War and Second World War and other armed conflicts including Sisters of the QAIMNS

This War Graves Memorials to Nurses page is dedicated to those brave nurses, nursing sisters and assistants who gave their lives in the line of duty whilst caring for sick, wounded and injured soldiers.


Below are pictures of their graves and QARANC.co.uk would like to further honour their sacrifice by requesting any additional information about any nurse on this page and those who should be added. For example any info about their nursing skills, examples of dedication, photograph, etc would be gratefully received for inclusion onto this page. Please contact us if you can help. Thank you.



Nurses Memorial
Wimereux War Grave Cemetery in France was located near military hospitals during the Great War. There are several members of the Queen Alexandra's Imperial Military Nursing Services and Royal Army Medical Corps buried there. The Commonwealth War Graves are located in a separate area of the civilian graves.


Unlike other war grave memorials the headstones lies flat against the ground because of the soil in the graveyard is sandy and does not support the weight of the uprights headstone. There are 2845 war graves from the First World War and 14 war graves from the Second World War. Wimereux War Grave Cemetery is now called the Wimereux Communal Cemetery.




As you can see from the postcard photos below of Wimereux cemetery, taken soon after burials, there were originally crosses above each grave until the earth mounds settled. The left hand side of the photograph shows the first grave with a dark cross as reading Sister but sadly the surname is not readable.

Commonwealth War Graves
Sister Wilson
One war grave of a nurse buried at Wimereux Cemetery is Sister Myrtle Wilson of the Queen Alexandra's Imperial Military Nursing Service (QAIMNS). Sister Wilson died on the 23 December 1915 aged 38 years. She was the daughter of Andrew Wilson and Catherine Wilson of Melbourne, Victoria, Australia. Sister Wilson left Queensland to join the service in April 1915. Her headstone reads Sister M.E. Wilson Q.A Imp. Nursing Sce. 23 Dec 1915 Queensland Australia Behold I Come Quickly



Lieutenant Colonel John McCrae Grave




The grave of Lieutenant Colonel John McCrae can be found at Wimereux Cemetery.

Lt Col McCrae wrote the war poem In Flanders Fields. In the cemetery is also a memorial stone seat with lines from In Flanders Fields poem which reads:






We are the Dead. Short days ago
We lived, felt dawn, saw sunset glow,
Loved, and were loved, and now we lie
In Flanders fields.

Lieutenant Colonel John McCrae served in the Canadian Army Medical Corps as a physician. His health deteriorated during the war, especially after a gas attack in Flanders. He suffered from asthma and after a bad bout of flu he developed a lung infection and then a brain haemorrhage from which he died on the 28 January 1918 aged 45 years.


There are some of the artefacts of Lieutenant Colonel John McCrae on display at Eilean Donan Castle in the Highlands of Scotland. In the grounds is a replica memorial of that erected in his memory at Wimereux Cemetery at Flanders. There is more written about this with photographs at our other website Aboutaberdeen.com on the Eilean Donan Castle Ghosts page.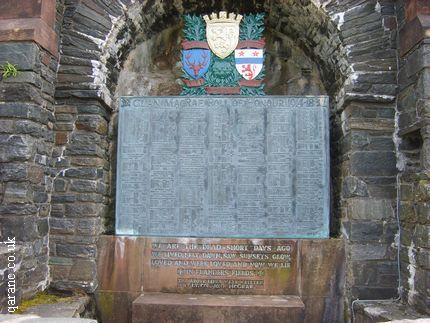 In Flanders Fields Music

Canadian composer, singer and songwriter Anthony Hutchcroft has written a moving tribute to Lieutenant Colonel John McCrae called In Flanders Fields Music. His song is a musical interpretation of Lt Col John McCrae's poem from the Great War. For more information or to hear and see a performance of In Flanders Fields Music please visit www.flandersfieldsmusic.com






I have published a book which tells the story of The Grey Lady Ghost of the Cambridge Military Hospital which reveals her origins in the QAIMNS and where she meets a QA veteran of Afghanistan. She still walks her wards and tells her story by taking Scott Grey, a QARANC nurse, to the battlefields of World War One and beyond. This is the first in the series of Grey and Scarlet Novels by CG Buswell. Read the first chapter for free.




If you like this page and would like to easily share it with your friends and family please use the social networking buttons below:







Photographs Of War Graves

The Nursing Sister Grave below is of Sister Lucy Duncan. Her headstone reads Q.A. Imp. Nursing Sce. 1 March 1917





QAIMNS War Grave

The QAIMNS War Grave below is of Sister Jessie Olive Hockey. Her headstone reads Q.A. Imp Mil. Nursing. Sce. 14 August 1917. Youngest Daughter of J.T. Hockey Cape Colony South Africa.





Territorial Army Nurse Grave

The Territorial Force Nursing Service Nurse Grave below is of Nurse Alice Hilda Lancaster of the Territorial Nursing Service (TFNS) who died on the 3 June 1918. Her headstone reads Many Waters Cannot Quench Love.






Canadian Nursing Services Grave

The photograph of a Canadian Nursing Services Grave below is of the gravestone of Sister A.E Whitely of the Canadian Nursing Service who died on the 21 April 1918.





Headstone War Grave

The Headstone War Grave is of Sister C.M. Wilson. It reads Q.A.Imp. Mil. Nursing Sce. 1 March 1916 Eldest Daughter of the Late Thomas Wilson Glasgow


Nelly Spindler
Staff Nurse Nelly Spindler was a member of the QAIMNS during the Great War. Nelly Spindler nursed with the British Expeditionary Forces (BEF) in the 44th Casualty Clearing Station (CCS) Brandhoek. This area was shelled on the 21 August 1917 and despite this the QAs and doctors of the RAMC continued to care for their patients. Sadly one shell landed on the tented hospital and wounded Nelly Spindler. Her colleagues tried in vain to treat her abdominal wound but she died within minutes.

The 44th CCS moved that day to Lijssenthoek where Nelly Spindler was buried the next day. The British Commonwealth Grave Lijssenthoek in Belgium contains 10750 burials which includes 9901 Commonwealth graves. More can be read about Nelly Spindler at www.wakefieldfhs.org.uk/Nelly Spindler.htm








www.qaranc.co.uk would like to thank Mr Ron Teague for the photographs of the war graves and memorials of the nurses used on this page.






Brookwood Memorial

Sadly many QA's were lost at sea during the two World Wars and though they have no war grave maintained by the CWGC they are remembered in a variety of ways. For example the name of Sister Winnie Harrison is on the Brookwood Memorial. She died on the Hospital Carrier, St David during World War Two. There is more written about the sinking of the Hospital Carrier St David on the Hospital Ships page.

Below is a photo of the Brookwood Memorial (with thanks to Terry Hissey)


Aldershot Garrison Church

The following photos are of the Aldershot Garrison Church memorial plaques to the QAs of the Great War and Second World War. The building is more formally named the Royal Garrison Church of All Saints Aldershot or the Royal Garrison Church. For more information visit www.royalgarrisonchurch.co.uk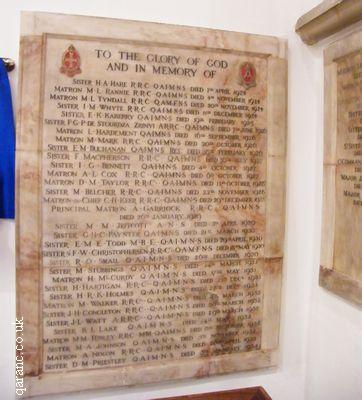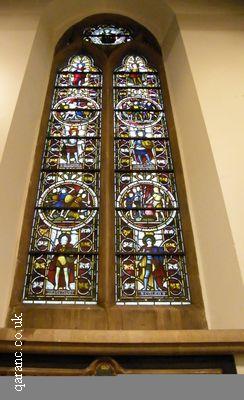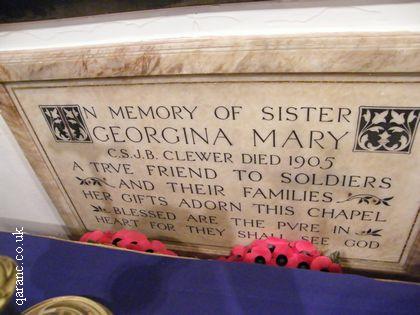 With thanks to Paul White, WO2 Williams at Deepcut and the Padre of Aldershot Garrison Church for the photography and information about the plaques.

There is more written about the history of the plaques on the Queen Alexandra's Military Hospital Millbank page.


The altar cloth in the Aldershot QARANC Chapel was donated by Director Army Nursing Services (DANS) upon her retirement in 1995. The front has the badge os the QARANC whilst the sides of the cloth have those of the QAIMNS, QAIMNS(R), TFNS and TANS.

The altar cloth in the Aldershot QARANC Chapel was donated by Director Army Nursing Services (DANS) Brigadier Hilary Dixon-Nuttall upon her retirement in 1995. The front has the badge os the QARANC whilst the sides of the cloth have those of the QAIMNS, QAIMNS(R), TFNS and TANS.

There is also a plaque dedicated to Dame Margot Turner which was funded by the QA Association and dedicated in 2006.


Ramleh War Cemetery Israel

There are three QA graves at Ramleh War Cemetery in Israel:



Sister Frances Alexander Millar





P/208771 Sister Frances Alexander Millar Queen Alexandra's Imperial Military Nursing Service Died 24 May 1943.



Sister Norah Kathleen Pigott





209642 Sister Norah Kathleen Pigott Queen Alexandra's Imperial Military Nursing Service Died 9 September 1947.



Sister Winifred Vera Wooderson





309557 Sister Winifred Vera Wooderson Queen Alexandra's Imperial Military Nursing Service Died 27 May 1947

The photographs of the graves of Sisters Millar, Pigott and Wooderson were taken by Andrew Laidlaw in Israel and are displayed here with kind permission. Read more about the Ramleh War Cemetery in Israel at www.forthefallen.co.uk



Five Sisters Window

Below are photos and the names of the QAIMNS Sisters who lost their lives in the two world wars. The glass screens can be found in the North Transept of York Minster, England and are known as the Five Sisters Window.







ANDREWS Ellen
ARMSTRONG Ellen
ASTELL Ethel F
BATES Frances M
BEAUFOY Kate
BENNETT Helena S
BERESFORD Rebecca R
BERRIE Charlotte
BLACKLOCK Alice M
BLAKE Edith
BLENCOWE Mabel E
BOLGER Kathleen
BOND Ella Maude
BRACE Frances E
BRETT Norah V
BRINTON Gertrude
BROWN Euphemia L
BUCKLER Elinor
BUTLER Sarah E
CALLIER Ethel F M
CAMMACK Edith M
CHALLINOR E Annie
CHANDLER Dorothy M
CLIMIE Agnes M
CLOUGH Mary
COLE Dorothy H
COLE Emily Helena
COMPTON F D'Oyley
CONSTERDINE V C
COOKE Ella Kate
COX Annie
CROYSDALE Marjorie
CRUICKSHANK I
DALTON Joan Glassford
DANAHER Mary
DAWES Emily
DAWSON Eveline M
DEWAR Margaret S
DOHERTY Mary A
DONOVAN Bridget
DUCKERS M E
DUNCAN I L M
EDGAR Elizabeth
ELIFFE Margaret
ELLIOTT E
EVANS Jane
FARLEY Martha
FEARNLEY Ethel
FERGUSON Rachel
FLINTOFF Alice
FORBES B G F
FOYSTER Ellen L
GARLICK Hilda
GARNER A E C
GASKELL Lily
GLADSTONE E M
GLEDHILL Annie
GOLDSMITH A A V
GRANT May
GORBUTT Martha
GRAY Emily
GREENWOOD HOPPER J E
GREATOREX Janet
GRIFFIN Lillian
GRIFFITHS Janet L
GROVER Alice Jane
GURNEY Elizabeth
HALL Frances Mary
HAMILTON Margaret
HANNAFORD Ida D
HARKNESS Bessie
HASTINGS Helen M
HAWLEY Florence
HAWLEY Nellie
HENRY Charlotte E
HILLING Sophie
HILLS Maud Ellen
HOBBES Narrelle
HODGSON Eveline M
HOOK Florence M L
HOWARD Florence G
HUGHES Gladys C
IRWIN Winifred H
JACK Christina
JAMIESON Jessie S
JOHNSTON M Hessie
JONES Gertrude E
JONES Hilda Lilian
KEMP Christina M F
KEMP Elise Margaret
KENDALL Rose E
KYNOCK Alison G
LANCASTER Alice H
LEA Hilda
MANN Agnes Grieg
MANNELL Dorothy W
MACBETH M Ann
MACGILL Mary
MACKENZIE I
MACKINNON M
MCALLISTER C
MCCOMBIE C
MCDONALD E
MCGIBBON Rose
MCROBBIE J E
MARK Hannah D
MARLEY Grace M
MARMION M
MARNOCH M B
MARSHALL M B
MASON Fanny M
MELDRUM Isabel
MILLER CATHERINE
MILLER Frances
MILNE Helen
MILNE Mabel
MORETON Ada
MURRAY Mabel
NICOL Christina
O'BRIEN Moyra
ROBERTS Eleanor
O'GORMAN Eileen M
PARKER Elsie K D
PATTERSON Jessie J
PEARSE Phyllis Ada
PEPPER Edith D
PHILIPS Jessie J
PILLING Doris
RADCLIFFE Ethel B
REID Annie C
RITCHIE Jessie
ROBERTS Anne L
ROBERTS Jane
ROBERTS Margaret D
ROBINETTE Caroline
ROBINSON Elizabeth
RODWELL Mary
ROWLANDS Helena M
RUSSELL Alice M
SAXON Ethel
SEYMOUR C Mary
SIMPSON Edith
SIMPSON Elizabeth
SMITH Frances F
SMITH Jeanie B
SMITHIES Ettie L
SPINDLER Nellie
STACEY Dorothy L
STANLEY Ada
STEPHENSON G Annie
STEVENS Lottie M
STEWART E Grace
STEWART Wilma B
STURT Kate Rosina
SWAIN Lucy Melton
TEGGIN Eugenie
THOMAS Lilian
THOMAS M E
THOMSON E R
THOMSON Kerr M
TINDALL Fanny
TOWNSEND M
TREVITHAN Rita
TULLOCH Edith
TURTON Alice M
VINTER Bertha
WAKEFIELD J
WALLACE E
WALSHE Mary A
WATSON D M
WATSON E H
WATSON Mary
WELFORD Alice
WHEATLEY Annie
WILLS Mary E
WILLISON Nellie
WILSON C M
WILSON Myrtle E
WOODLEY Ada
WRIGHT Hannah E






With thanks to David at For The Fallen.


To Read about Sister Wort who is buried in Digboi War Cemetery please visit the QAIMNS for India page.



Woolwich Cemetery




The grave of Sister Maud M (Gladys) Richards-Lockwood who died on 30 August 1955 aged 60 years can be found at Woolwich Cemetery. Gladys Maud M. Lockwood was born in Woolwich, London in 1894. Her father, Charles, was a dockyard labourer from Nottinghamshire and her mother, Mary, came from Devon. Her headstone has a beautiful artwork of a QAIMNS sister.




If you can add more details about Sister Richards-Lockwood please contact Qaranc.co.uk


Matron Martha S. Farley

Below are two photos of the grave of Matron Martha S. Farley, RRC, QAIMNS at Mount Jerome Cemetery, Harold's Cross, Dublin. Her grave is located in Section 411, plot 281. Matron Farley is listed in the Commonwealth War Graves Commission website as an official WW1 death but seems to have been buried privately and does not have a CWGC headstone.






Sister Sarah Alice Fisher Ingram

Sister Sarah Alice Fisher Ingram is interred at Mount Jerome Cemetery, Harold's Cross, Dublin. She is not listed in the CWGC website. Sister Sarah Alice Fisher Ingram served in Royal Victoria Military Hospital Netley in WW1, and died on 26 December 1915. Her death is not recorded in the Irish Registers, so it is thought that she died in Netley or nearby.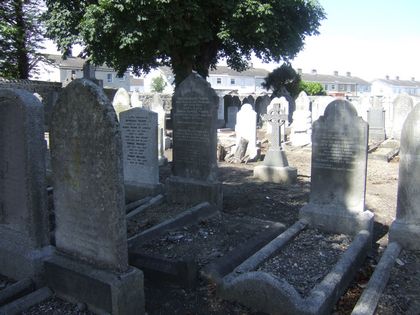 Her headstone reads:

In Loving Memory of
THOMAS JONES FISHER
who fell asleep in Jesus
23rd June 1896
also his wife
SARAH KEPPEL FISHER
entered into rest 24th May 1904
in her 82nd year

erected by their children

also
SARAH ALICE INGRAM
eldest daughter of the above
Sister R.A.N.S. Netley Hospital
died St. Stephen's day, 1915

also
JOHN EDWARD ALMENT FISHER
their only son
died 25th November 1935
and their daughter
FLORENCE KATE FISHER
died Christmas Eve, 1939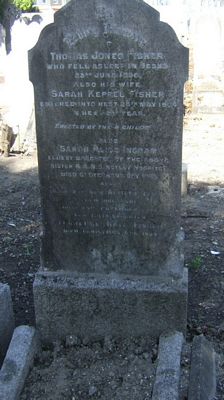 Cairo Egypt War Memorial Cemetery


Below are the gravestones of members of the QAIMNS and VAD who died during the Great War and are buried at the Cairo Egypt War Memorial Cemetery. Photos: Mike Booker.





This headstone is inscribed:
STAFF NURSE M.H. JOHNSTON Q.A. IMP. MIL. NURSING SCE. 5th SEPTEMBER 1915





NURSING MEMBER L. LIDDELL VOLUNTARY AID DETACHMENT 29th SEPTEMBER 1918





NURSING MEMBER S.J. ARMSTRONG V.A.D. MEMBER 12th DECEMBER 1918





NURSING MEMBER M.S.STEPHENSON VOLUNTARY AID DETACHMENT 9th NOVEMBER 1918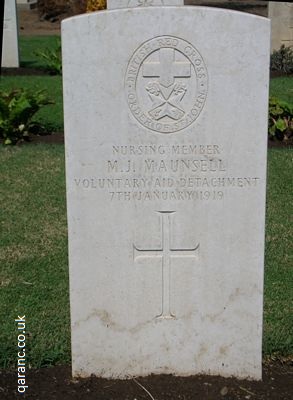 NURSING MEMBER M.J. MAUNSELL VOLUNTARY AID DETACHMENT 7th JANUARY 1919



Hadra Cemetery Alexandria Egypt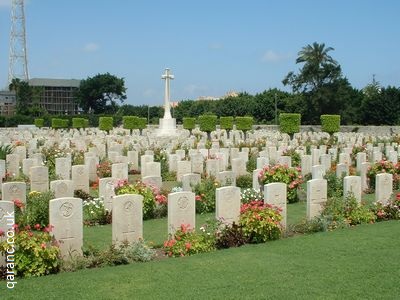 Below are the QA graves at Hadra Cemetery Alexandria Egypt. Photos: Mike Booker.

This first grave is inscribed:

Catherine Ball Nursing Member Voluntary Aid Detachment 31st December 1917 Though many miles from home in memory ever dear.






This grave is inscribed:

Una Marguerite Duncanson Nursing Member Voluntary Aid Detachment 31st December 1917 She hath done what she could.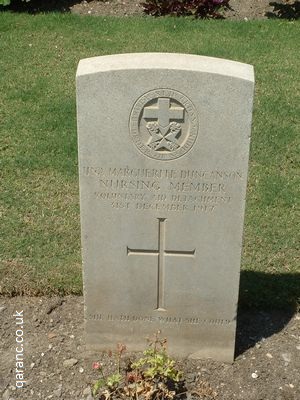 Heliopolis War Cemetery Cairo




These nursing graves are at Heliopolis War Cemetery Cairo. Photos: Mike Booker.

The grave below is inscribed:

The British Red Cross Society Inter Arma Caritas W/808537 Private Nancy Edith Bailey Voluntary Aid Detachment 14th March 1943 Age 30


Chatby Military Cemetery Alexandria




Photos: Mike Booker.

Sister Sarah Elizabeth Dixon

The Northumberland church of South Charlton, just off the A1 north of Alnwick, has a memorial tablet to Sarah Elizabeth Dixon, Sister QAIMNS-R who was lost at sea on 24 January 1942 by enemy action. There is a photo at northernvicar.wordpress.com

See also:

Brookwood Military Cemetery Surrey

First nurse to die in World War One.

Greenwich Cemetery London WWI QAIMNS War Graves.

Herne Bay Cemetery - Sister Eileen M Spellen.

Imtarfa Military Cemetery Malta Lieutenant Eileen Bramwell QARANC Grave.

Kranji War Cemetery and Memorial - Sister Mavis Joy Jones.

Mary Tattersall Crimea War Nurse Veteran.

Queen Mary's Army Auxiliary Corps Graves.

Sai Wan War Cemetery.

St Giles Cathedral Edinburgh Scottish War Memorial to Nurses Great War.

St Hildas Church Whitby.

St Mary Churchyard West Malling - Sister Agnes Christine Mills.

Sister Jessie Darnell St Herbert's Church Darlington.

Stanley Military Cemetery.

Ste Marie Cemetery Le Havre Normandy France.

Ventnor Cemetery Isle of Wight.

Vera Judkins Cape Town





Forces War Records

Forces War Records are a genealogy site where you can find military records of over 6 million British Armed Forces personnel cross matched with over 4000 Regiments, Bases and Ships. This link includes a free search and a special discount of 40% off membership offer for visitors who use the discount code AF40 if they decide to become a member.
Search Now. A unique feature is their WW1 Soldiers Medical Records section.








If you would like to contribute to this page, suggest changes or inclusions to this website or would like to send me a photograph then please e-mail me.



Official QARANC webpage.

QA Association website.

In The Company of Nurses Book.


***********************************************






The Grey Lady Ghost of the Cambridge Military Hospital Novel - a Book by CG Buswell


Read our posts on:

Facebook

Google+

Twitter


Offers

Army Discounts






Present Day

» Become An Army Nurse

» Junior Ranks

» Officer Ranks

» Abbreviations

» Nicknames

» Service Numbers

Ministry of Defence Hospital Units

» MDHU Derriford

» MDHU Frimley Park

» MDHU Northallerton

» MDHU Peterborough

» MDHU Portsmouth

» RCDM Birmingham



Field Hospitals

» Camp Bastion Field Hospital and Medical Treatment Facility MTF Helmand Territory Southern Afghanistan






Territorial Army

» TA Field Hospitals and Field Ambulances


Photos

» Florence Nightingale Plaque

» Photographs


Uniform

» Why QA's Wear Grey

» Beret

» Lapel Pin Badge


» Army School of Psychiatric Nursing Silver Badge

» Cap Badge

» Corps Belt

» ID Bracelet

» Silver War Badge WWI

» Officer's Cloak

» QAIMNSR Tippet

» Officer Medal


Events

» Armed Forces Day

» Recreated WWI Ward

» Reunions

» Corps Day

» Freedom of Rushmoor

» Re-enactment Groups

» Military Events

» Remembrance

» AMS Carol Service

» QARANC Association Pilgrimage to Singapore and Malaysia 2009

» Doctors and Nurses at War

» War and Medicine Exhibition

» QA Uniform Exhibition Nothe Fort Weymouth


Famous QA's

» Dame Margot Turner

» Dame Maud McCarthy

» Military Medal Awards To QAs

» Moment of Truth TV Documentary

» Sean Beech


Nursing Events

International Nurses Day


Info

» Search

» Site Map

» Contact

» Websites



We are seeking help with some answers to questions sent by readers. These can be found on the Army Nursing page.



» Find QA's

» Jokes

» Merchandise

» Mugs

» Personalised Poster

» Stamp

» Teddy Bears

» Pin Badges

» Wall Plaques

» Fridge Magnet



» The Abandoned Soldier